Testimonials: Singapore Local Photographer Reviews & Recommendation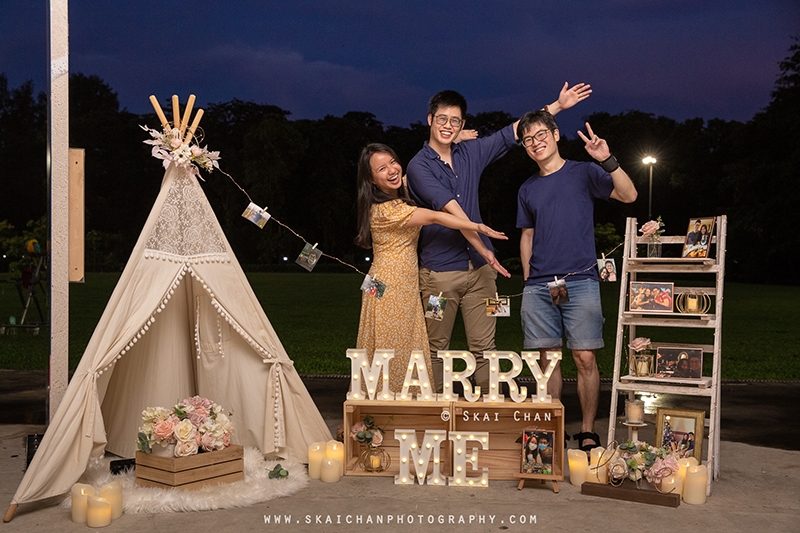 Hey friends! If you have benefited from my photography services before, do write me a testimonial too! You can simply add a review directly on Google Review and/ or my Facebook page.

I believe my professionalism and under-promise and over-deliver working style (eg. number of photos and speed of delivery) deserve some honest compliments.
Background
I started receiving generous reviews in Facebook by clients/friends voluntarily but I had disabled the feature for years due to bots' spamming (Facebook didn't allow deletion of them). I'm playing a catch-up starting year 2020 to request for testimonials.

Eventually, I started my Google Business Page at the last week of year 2021, which would be my primary focus.
Tips for writing me a review
If you wish to write something to show your appreciation for me and is at a loss at where to start, you can consider the following points:

1. How's our discussion?
2. How's the actual shoot?
3. How professional I was?
4. How comfortable you felt during the shoot?
5. Did I go to the extra mile for you?
6. How are the final photos?
7. Would you recommend my photography services to your friends?

---
Keagan Foster // Google Page Review


I booked Skai for a proposal photography session, and was extremely pleased with photos taken on the day. Skai helped me choose the perfect location for a quiet and intimate proposal, and was very helpful with planning the whole proposal out. I don't have much experience posing for photos, but thankfully he is very patient, friendly and professional, helping guide us on the day. Very thankful for Skai for helping capture this special moment in my life, would highly recommend to anyone.
Carissa Yeo // Google Page Review
Wanted to have corporate and fun pictures taken. Love the photos taken! Skai is very professional, patient and will advice on angles where to look at etc. He will also take test shots first to test if the lighting is good. He doesn't rush through the whole photo taking process instead he wants you to be satisfied with the pictures taken.
Clifton Lim // Google Page Review
I have read many good reviews about Skai. But only today have I experienced it myself. He has earned the good reviews with his professionalism, hardwork, passion and dedication to his craft. For first timers who are afraid or shy in front of a camera, fret not. Skai is very patient and understanding and is frankly a very nice person to be around with. I was skeptical about having my pictures taken by a professional because I thought what difference could it make if I can take my own selfies. Trust me, having a professional taking your pictures is a whole world of difference. The lighting and quality of your pictures will be calculated and executed to a perfection. Engage him and experience it for yourself.
Edwin Kwan (Interior Designer) // Google Page Review
Punctual & professional photographer. He also made my clients at ease while he moved around taking his shots. Overall the photos turn out good. 👍🏻
Koreen Hong (HMUA) // Google Page Review
Fun and enjoyable! Pictures come out great and beautiful! Friendly & humble guy! Thumbs up!
Anthony Tan // Google Page Review


Skai went the extra mile to capture quality photos for our photoshoot and we were very pleased with the final product. Easy to work with and bounce ideas off as well. Would recommend!
Lukas Berger // Google Page Review


Nice guy who really takes the time to capture all the pictures you want and experiment with different scenes and settings. Recommend in Singapore
Zack Xu (Interior Designer) // Google Page Review

Will always do his best to get beautiful shots. I can trust his work
Douglas Dunkerley // Email, Google Page Review

Note of Commendation

This is a short note of recommendation for Skai Chan Photography

I was looking to commission a professional photographer for a collection of stylish / fun portrait pictures, to celebrate a landmark birthday of mine. I shortlisted Skai Chan and I am so pleased that I did. I had clear ideas what results I wanted and I was quite picky. I met up with Skai several weeks before the shoot, for quite an extensive briefing session, to discuss concepts, locations etc. I could tell that he was a very good listener & very patient and picked up on all the features that I was trying to achieve. He assisted with ideas on themes, wardrobe, time of day for the shoot, logistics etc. The shoot itself covered 3-4 locations in one afternoon and was so well planned, it was seamless. With his subtle approach and mild manner, he convinced me that some of my ideas would not work and he did indeed come up with better ideas. He was very diligent, with a good eye for detail, open to explore other ideas and was extremely professional. The pictures that he took were great and I couldn't have wished for better results. The aftercare service was also excellent with touching up, cropping and resizing all pictures, several times. I have absolutely no hesitation in recommending Skai Chan Photography for any portrait photography, at very competitive rates. Bravo Skai

Douglas – Singapore PR
Jade Koh // Google Page Review

Skai is a friendly Photograher with an eye for detail, in creating beautiful pictures.
Nancy Quek // Google Page Review

Professional service and great eye to details. 👍🏼👍🏼
Carol Lim // Google Page Review


Skai Chan is extremely patient with me and makes me feel at ease during our indoor photoshoot. Not to mention he is also highly professional and did not display any inappropriate behaviour towards me. During our photoshoot, Skai guided me verbally for adjustments to my outfit and hair. Overall, it was a very comfortable and safe experience for my first indoor photoshoot.
Liu Wing Lun // WhatsApp


This was my first photoshoot of any kind, and after some initial enquiries to a few photographers I had a good feel about Skai. He was very open and informative during our discussions on what I was looking to do, and we bounced a few ideas between us.

For the shoot itself, Skai was highly accommodating and patient. It was not rushed at any point, and I felt at ease and relaxed from the moment we met up. I enjoyed myself throughout, and it felt like I was chatting to a friend.

I was delighted with the final set of photos I received. Skai worked on the pics and returned to me very quickly. Some of the direction I received on different poses during the shoot, they came out much better than I had in my mind at the time. I thank Skai so much for such an excellent experience for my maiden shoot.
Jane // IG DM, Google Page Review


I was so impressed with how comfortable and relaxed Skai made me feel. When I saw the finished pictures, I was so pleased and never thought I could feel so beautiful and sexy at the same time!"

Skai is so, so talented! His relaxed personality made this such a fun experience. Skai had such a great eye for posing me in ways that were very flattering! The pictures are simply beautiful!
Esther Pai // Facebook Messenger


I had already twice the chance to get a photo shoot with Skai, first solo and second time together with my hubby. Both times I was from beginning on amazed by Skai's passion, patience and eye for detail during the shoot. Not only did he sacrifice hours of sleep to catch the perfect light, but also endured high energetic to-be professionals. Having a photo shooting with Skai you can just be yourself and natural.
Chia Yaozhong // Facebook Page Review


I engaged Skai for a corporate portrait photoshoot, and it was a great experience. Skai was very professional and patient, and provided good direction and advice to produce quality results. Very impressed and highly recommended!
Meron // Facebook Page Review, Google Page Review


Very professional photographer that works and very knowledgeable, he provides and helped me in improving poses and expressions, and very good at capturing my good angle 😂it was a good experience and i highly recommended Skai for different types of shoots, very versatile
Charis Tan Meixuan // Google Page Review


Skai is a really friendly and patient photographer. During the shoot, i was pretty awkward at first but he managed to lighten and liven the atmosphere to make the shoot goes smoothly. Skai is very detail orientated when it comes to post processing of photos making all pictures look really beautiful and as natural as possible. He is a very dependable photographer to work with!
Puang Shujuan // Google Page Review


I have known Skai for 6 years and my first impression of him is a very humble and professional photographer who takes his work seriously. I remember my first shoot with him was at Pinnacle @ Duxton rooftop garden. I was very new to photoshoot and he guided me along on how I should pose and smile. He is very patient to a newbie like me! Because of him, I have the opportunities to do many more shoots together - Lifestyle shoots at IKEA, at the alley at Duxton Hill, collaboration with MUA Yuko and mostly recently, a casual shoot with my husband at Jurong Lake Park! He is definitely someone you will find joy to work with! I will highly recommend to anyone who is looking for a professional photographer!
Cheryl Alicia Chua Dong Yi // Facebook Page Review, Google Page Review


I first worked with Skai in 2017 and it was my first professional photoshoot. I remember being nervous and unsure about poses but he was very patient and understanding. He did not get upset or angry when I was not able to portray the concept he initially wanted but instead tried his best to work with what I was comfortable with.

His friendly character made the photoshoot very smooth and I had a second recent shoot with him. His professionalism and passion still impresses me after three good years. Despite trying implied for the first time, I was in good hands and Skai never laid a hand on me. He treated me with a lot of respect and always made sure I was comfortable with the photos taken. I enjoyed shooting with him and will recommend him to others!
Jasmine Lee (former Tsao Foundation staff) // Facebook Page Review, Google Page Review


I worked with Skai for several community events in my ex workplace and was very satisifed.. Hes proactive and took good angles of the participants. He was also very friendly and could help to engage the participants. What i liked most about him is he would offer to help us when he noticed we were busy running around.
Katherine Whiteway (Nekotsurin) // Facebook Page Review, Google Page Review


skai was the first professional photographer i ever worked with and i really enjoyed the experience! hes a friendly and funny person, and the shoot flowed naturally. as hes a very experienced photographer in the field, i was comfortable doing the sexy poses i thought of, and i think hes someone really reliable and trustworthy for these matters. he takes his post editing very seriously too and the results are worth it!
Huiqing // Facebook Page Review, Google Page Review


Skai is a professional photographer and it's a pleasure working with him. He was very patient with me, providing advices on how to improve poses, and he doesn't touch us at all. Overall, it's a great experience and I would recommend him for any photoshoots!
Jasmine Tan // Facebook Page Review, Google Page Review


Skai is a very friendly and passionate photographer. It was comfortable working with him during the shoot and he is also very professional towards the model. Definitely highly recommended!
Gilbert Lew // WhatsApp


Skai has always been the sincere and under-promise then over-deliver kind of guy! He is very hardworking and passionate about photography and will make sure the shoot is well planned from the timing to the equipment and other creative elements. This also includes checking with the client if they have any preference and whether they are happy with his proposal before the day of the shoot. He has always been very adventurous and flexible at the same time, an important quality in photography to bring out the best possible results and making each project interesting and unique. Being patient and polite also makes the model feels at ease as the last thing anyone would want is to have stressed-out kind of expression in the photos!
Havanah Zandrea // Facebook Page Review


Skai was a delight to work with. We communicated about ideas for months — once I found out I would be travelling to Singapore; I also appreciated bouncing ideas back on forth on attire and venue. Moreover, Skai was more than accommodating with my travel plans with my family.

We had a fun shoot! There were many laughs and some interesting experiences. Skai wasn't afraid to instruct, yet was also able to keep things light-hearted. He is passionate about photography and that shines through in everything he does; he lives and breathes photography. You can tell how knowledgeable he is in his trade by the tips he offers, and ultimately, the results you will see through his photos.

We had a few obstacles to overcome together, not including working around a crowd. The first challenge was shooting in a world-class hotel: photography equipment needed to be inconspicuous. Skai did a good job packing lightly. With this, came our second challenge: lighting. When it isn't raining, or having extremely harsh sun, Singapore is cloudy! It is almost hazy. Skai prides himself with impeccable lighting in his photography. In this instance, we were not allowed to set up in normal circumstances; Skai had to think on the fly. It was remarkable how clever he was, to balance lighting props with one hand, and a camera with the other. I enjoyed the shooting process and the photos. We did what we could in very little time, and with many hotel restrictions.

Feedback, instruction, and consideration would be my top three favourite traits from this shoot. Overall, our photo session was a blast! It was a beautiful experience working with a photographer who has now turned into a friend.
Ko // Google Page Review


Skai is a wonderful person to work with. Not only he knows his art very well but also is a real people's personality. He chats with you and make you feel relaxed. I enjoyed the whole process. Looking forward to work with him again.
Su Huiting // Facebook Page Review


Yes! Very trustworthy guy here and we enjoyed the shooting! Thumbs up for the professional work!
Cho // WhatsApp


Skai is very professional and easy to work with. Although it was my first time working with him, I've known him on IG for almost a year before our shoot. I felt very comfortable working with him as he remains professional throughout the whole session. Go read his terms and conditions: he never touch the model. He will just verbally instruct u instead. He's also very receptive to my feedbacks and give me freedom to work on the poses I wanted to try. Overall, it was a very good experience and the results were amazing! I've never loved my body more than ever after the shoot. It's a great confidence boost!
Lovelle Cengiya // WhatsApp


I've known Skai for years. I really like his photography style. His photos are sharp and natural. He's very precise when it comes to lighting and photo editing. Also, he's a very nice photographer to work with. I never had to worry about getting sexually harassed, he always keep his distance with his models, he doesn't touch us in any event.

Throughout the years we have worked in multiple shoots and subsequently, he's also hired as my wedding day's photographer. This is how much I trust him, giving him my one and only actual wedding day.
Angela Arlene Quek // WhatsApp


Skai is a respectable and professional photographer. It had been my honour to work with him in the nature settings where I witnessed his skills in creating a good lighting when the sunlight reaches inner canopy. Skai is a responsible, passionate and determined photographer too as he carried the very heavy equipments throughout the 15KM hike with me, also he watched out for my danger when we hiked as I almost fell down when I was walking. He was very patient with the me as well because he didn't mind retaking over and over again when I wasn't satisfied with the shot and he compromised when I said I got to rush back home when it was about 4pm.. at the end of the trip he even offered me his energy bar when I got really hungry! He is one of the nicest person I know and I would recommend him to any models.
Vanessa // WhatsApp


Skai is an amazing friend and photographer. He is super patient and adhere to my many requests. Even though I'm not the easiest person to work with, he remains professional and makes people feel at ease with him around. Can't express how glad I am to be able to work with this talented man!
Rina // Instagram


Skai Chan (@skaichanphotography) is a very respectful and professional photographer. It was very comfortable doing a boudoir shoot with him. There were lots of trust, honesty and respect, hence everything went very smoothly during the shoot without any problems or discomfort. It was my first time doing a boudoir shoot, and he was very patient with me when I struggled with some poses. Overall, I absolutely respect Skai Chan's professionalism and efforts he put into his work. He is a highly recommended photographer and it has been a huge pleasure working with him!
Bianca Pietersz // Facebook Page Review


I have known Skai for many years at this point. He is a phenomenal photographer. He is creative and takes his time playing with the angles to get the right shots. I first met Skai in 2014 when I traveled to Singapore and we had an impromptu shoot. It was so much fun and I had all the creative freedom to play around with outfits, hair, and makeup. The photos were stunning! The next time I flew to Singapore was in 2019 where I did a boudoir shoot with him. He's super nice and professional. It was very comfortable like taking photos with a close friend. At this point we had known each other and talked regularly for years. Again I was happy with the results of the shoot and have continued a great friendship with Skai. He's a great person and it has been a pleasure to work with him!

Bianca Pietersz
Rachel Liew // Google Page Review


Skai (@skaichanphotography) is a very respectable and professional photographer. His principle is to never touch any models, and he sticks to it even if it means the poses may take longer to do because sometimes its not easy to readjust my pose just based on verbal feedback. Despite that, he has been very patient, telling me what poses are flattering and what are not. He gives honest feedback throughout the shoot, and turns away whenever I had to readjust my pose, especially when I am potentially in compromising positions. He also takes great effort to adjust the lighting to ensure the most flattering angles are captured. Highly recommended photographer! I also hired him as my wedding photographer 3 years ago and his work didn't disappoint❤️❤️
Janice Sui // Google Page Review


I've worked 2 times with you and I must praise you are a very professional photographer whom make me feel rather comfortable to be with at shoot, especially since it's my first time shooting however there was no stress at all. All I need to do is be myself so that you can capture the true me!
Dan Teng Daoxiong // Facebook Page Review

Super awesome guy
Beverley Angkangon // Facebook Page Review


Skai is the most hardworking and professional photographer around, good in creating friendly and comfortable atmosphere, making the models feel relax throughout the shooting journey. Thumbs up !
Angela Ni // Facebook Page Review


Skai is someone who is professional and takes his work very seriously. He also looks out a lot for his models. Since the first time I met him, his photography skills has improved by a lot. I definitely had a nice time collaborating with him!
Nathalie Blue // ModelMayhem Credits


Skai is one of the most patient photographer I've known, we delayed our shoot for God knows how long due to both timing clashed whenever I visited Singapore. They say patient is a virtual, it pays off from all the waiting. Looking forward to our next arranged theme ;)
April // Facebook Page Review


Trustworthy and hardworking photographer you can trust for quality pictures!
Ahpa SaeYeoh // Facebook Page Review
Skai is a very passionate photographer who gives his best for every assignment! Also the most down to earth person ever and someone who's super trustworthy!
Michael Crowe // Facebook Page Review


We engaged Skai to photograph our wedding this month - we couldn't be more happy with the pictures he took. He has an excellent eye for detail and managed to capture all the special moments of our wedding without getting in the way of our celebrations. This is the second time we've engaged Skai and we would definitely engage him again in future. Thanks very much Skai.
Amelia Chang // Facebook Page Review
Skai is one photographer who is honest and nice to work with. His pictures paints a thousand words.
Chan Kai Wei // Facebook Page Review
Great work and nice shots! Continue to take fantastic photos of life-long memories for others!
ET Ong // Facebook Page Review
i love what skai is doing with his page:) long live passion, dreams and artists!!
⚠️ Note

I'm unable to list all albums in this list because:


Some clients have paid extra to keep their photographs private.
Some albums were taken long ago and don't represent my work anymore.
I also have problems finding time to upload some of the albums.
Some clients hired me for event, interior or other non-portrait photoshoots.

You may click on any available photograph to view its entire album and write-up.