Recommendation: Singapore Local Photographer Reviews & Testimonials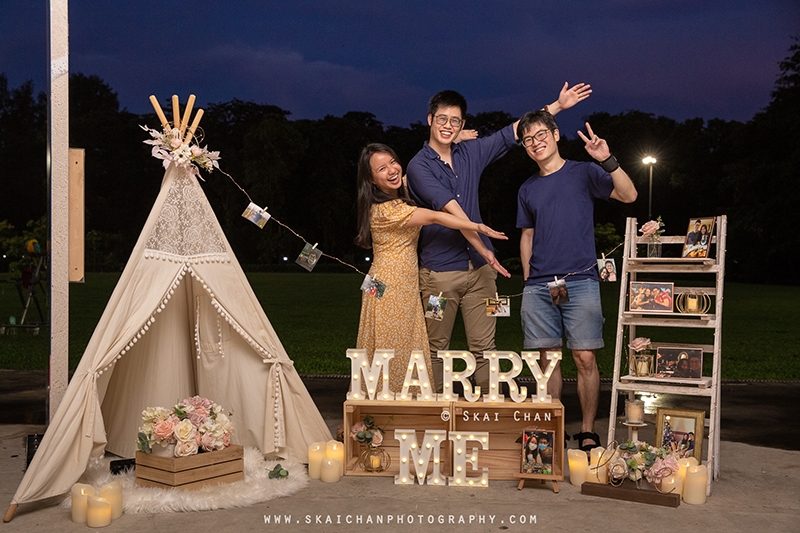 Quick Navigation:
Photographer Recommendation
I'm blessed to have worked with many like-minded locals and foreigners in Singapore to create interesting pictures to achieve their needs. They have found me either through the internet or recommendations by friends and existing clients.

A generous review from everyone helps potential clients to understand more about me and my photography services. Every little effort can make a huge impact.

If you wish to see new interesting artwork by me, please help to write me a generous recommendation in Google Page and Facebook Page.
The Honest Reviews
As my clients post my recommendations on different platforms such as Google Page, Facebook Page, Instagram and WhatsApp, I have gathered the testimonials on this page.

You may like to click on any of the photographs to view the entire photo album and write up about the shoot.
Pris Lim
Found Skai's portfolio via google search.

As someone who is quite camera shy and lacks confidence in front of the lens, Skai is friendly and assuring.

took the time to understand my preferences, knowing that I like natural and authentic look, guided me throughout the entire process, offering good suggestions and ensuring that I felt confident and relaxed in front of the camera.

Happy with the results, Thank you!
@ Google Page Review
Vinay Nagpal
Skai Chan is one of the most professional and very personable photographers whom we have worked with. His photographs are of excellent quality and he always has a smile on his face! :-) I would highly recommend him to anyone looking at getting their event captured in the most memorable way! With best wishes, Vinay Nagpal
@ Google Page Review
Pearlyn Chiam
Skai helped us with a few weeks back, and the results were lovely. He was generous with options, quick during the shoot, and overall very professional in his working style. Enjoyed the process!
@ Google Page Review
Chung Tze Khit
Wonderful experience doing a gym photoshoot with Skai. Really professional. Highly recommended.
@ Google Page Review
Won Jae


Skai was very nice and and patient and he would give his absolute best to get the best pictures for you! He seems to be extremely passionate in what he's doing and would help you throughout the whole photoshoot session and also check with you constantly to make sure you feel satisfied with all the photos he takes for you. He is really kind and hardworking, so I would definitely recommend him as your photographer too!
@ Google Page Review
Jay Zheng


What made Skai stand out from the others, beside the excellent photoshoot, was the personal touch throughout the entire photography experience. His attempt to understand his clients prior to the shot helped greatly in fulfilling their individualised goals. His humble and patient personality struck a good balance between offering professional advice and respecting clients' own preference. The interaction with Skai was more of that between a friend than a photographer-to-client relationship.

Signed up for a proposal photography session at a hotel and the overall experience exceeded my expectation. Skai came exceptionally early on the day to get familiarised with the site. He provided professional advice on how the shots could be done to maximise quality (lighting etc) while fulfilling our multiple requests. Communicating with Skai was a breeze and I felt at ease to voice out my enquiries.

Despite his busy schedule, Skai was committed to roll out the final edited photos without much delay. Overall, highly recommended!
@ Google Page Review
Raymond Chan


Skai is my helpful photographer for my beach and indoor event. He is helpful and experienced during the events. He is generous and can be particular about the outcome of the photo shoots.

Appreciate the fun times, and thanks for being a part of my important moments. =)
@ Google Page Review
Daniel Stephen


I worked with Skai on a major personal photoshoot project comprising different concepts and venues such as a gym, at the beach, a bar and some street photography too. He is a versatile and committed photographer who is attentive to your needs and willing to go the extra mile to realise the vision of his clients. Highly recommended!
@ Google Page Review
Kailing


Skai is a very professional photographer who takes pride in his work. A very enjoyable photo taking experience. Would really love to work with him again in future!
@ Google Page Review
Erica Brunoehler


Skai did the most wonderful job capturing our solemnization ceremony! He was punctual, reliable, friendly and so easy to work with. Not only that, but the pictures came out absolutely stunning and for that we are so grateful :). Would highly recommend his services!
@ Google Page Review
Itay Alfia


Strongly recommend, Skai had a lot of patience to plan the shooting and the photos turned out amazing
@ Google Page Review
Lunden Khandarmaa
Skai is very attentive and greatly skilled photographer! Highly recommend his natural light photo shoot ( i did it at home and it turned out GREAT)
@ Google Page Review (posted using Josh Saunders' account)
Derrick Koh


Booked Skai for a proposal shoot very last minute, was satisfied with the whole process. Skai provided very insightful comments and advise which led to the end result.
Skai was well versed with the unexpected lighting equipment provided at the location i booked. Definitely very professional.
@ Google Page Review
Christine Teow


Skai photography was the best decision I made for my solemnisation. From the first point of contact, to the final photos, things were seamless. When I visited his website, the way how he built up his website and those FAQs, can tell he is a detailed person. On our solemnisation day, he reached earlier than the time he was supposed to be there to get himself prepared.

We appreciated his knowledge of taking nice photos around Registry of Marriage, his friendliness and professionalism, and of course, his great eye in photography. Thanks Skai!
@ Google Page Review
Pauline Ranasingha


Pauline
Skai took beautiful pictures for my son's wedding. He is very genuine and did his job from the heart. Friendly and professional. Gets along well with all the guests in the event. The guests praised your beautiful pictures taken.Very patient,humble, honest and always smiling.Very happy with the wedding photos. Strongly Recommended.
@ Google Page Review
Deepraj Puri


I was visiting Singapore from London and wanted to get a outdoor beach photoshoot done and Skai was amazing in all communication prior to the shoot. He has great vision and local knowledge that helped make our shoot a success.
On the day he was friendly and put me at ease, he works hard to get the right shot not afraid to get wet or uncomfortable as long as the client is happy!
The pictures came out great and he offered genuine advise on any retouching never trying to upsell which is refreshing. Would highly recommend!
@ Google Page Review
Isabel Yeo


Engaged Skai for a fitness indoor photoshoot and he was great! Skai is really patient and understanding, especially when I can be a demanding clientzilla (which I did not turn into) because of how professional and attentive he was. Skai was easy to speak with, which made the whole process smooth as we spoke through our expectation and reality at the beginning. He was very prompt in delivering the contact sheet and final images. Will recommend him :)
@ Google Page Review
Andrew Tran


I booked Skai for a surprise proposal photoshoot and it was absolutely perfect. Skai was very easy to communicate with and is very prompt with his responses. He gave great recommendations in terms of where the best locations and spots were to do the proposal and made the actual proposal/photography session flow seamlessly. Best of all, Skai had the photos all ready for viewing within 1-2 weeks and the photos were of great quality. I would recommend Skai's services for any kind of photography services in Singapore.
@ Google Page Review
Kin Koon


Kai Lun helped to take lovely photos of my daughters' birthday party at Once Upon a Time. He interacted well with the kids and managed to snap photos of them laughing.
@ Google Page Review
Constance Huang


Skai is by far the most professional photographer I came across. He is willing to spend time to understand and know what his clients need. Appreciate his efforts and work on the photos after photoshoot and for making each photoshoot a fun one!
@ Google Page Review
Matt and Tika


Skai is a kind, friendly, and talented professional photographer. We did outdoor night shoot family (of 5) photos which pretty challenging however we loved the results! Its unique and beautiful. Definitely recommended!
@ Google Page Review
QZ
Had a great photography session with Skai. Skai was very understanding and attentive to my needs. He was friendly and creative in thinking of ways to get good candid pictures. He was also very helpful in helping me feel relaxed and not nervous during the shoot. The photos turned out great as well! Highly recommended.
@ Google Page Review
Peh Huiyi


We engaged Skai for our baby's 1st birthday party and we were so pleased with the photos. The lighting was perfect and expressions of everyone were well-captured. Skai's gentle disposition and frequent interaction with the baby made baby warmed up to him very quickly that he could even calm her down. It was a pleasant experience having Skai to capture our special moments and we hope to engage him again for future celebrations and family photo shoots.
@ Google Page Review
Jerome Cheze


The photo shooting was a great experience. Skai was very understanding and attentive to my needs. He was available, and thoughtful in finding surroundings, frames and positions on the photos, guiding me and allowing myself to give it a try to some ideas I could have. It was very easy to feel comfortable with Skai: something came out that was very natural. Many thanks Skai.
@ Google Page Review

I engaged Skai for a dating photoshoot. Skai was patient, thoughtful, open-minded and available to listen to my needs and the ideas I could propose and at the same time, he was providing his directions because he knew what to do to produce the best results. It was very easy for me to work with Skai, I could be really natural. So our collaboration was excellent, and the experience was great. thank you Skai!
@ Facebook Page Review
Kylie Murr


Skai is an amazing photographer and took great photos! I was very impressed with his skills and happy with the results :)
@ Google Page Review
Barry Chow Wei Jian


Skai is a very professional and patient photographer. This was my first time doing photo shoot and he was really nice enough to guide me through it. Thanks again!
@ Google Page Review
Elaine Tay

Worked with Skai at the recent 7&8Sept2022 Submarine Network World 2022 event at the singapore suntec convention centre. Skai is dependable and responsible. He helps out cheerfully when we need extra hands and i enjoyed the partnership with him. He has a knack of engaging the person behind his camera to bring out the joyous smile at the event. His professional attitude and aptitude will bring him far and wide. Give him a call and find out what he can do for you, whether it's a work or personal event like celebrating your love one's birthday. You will surely find him going above and beyond his call of duty :)
@ Google Page Review
Bridget Hsu


very professional and dedicated!! makes us look our best in his shots!!
@ Google Page Review
Oliver C. Dominic


Contacted Skai a week before our event as there was a change in event date. He was really accommodating. We booked for 2 hours of his time, and because he had such a great attitude, we hired him for an additional 2 more hours. Pictures turned out great! Totally would recommend.
@ Google Page Review
Sarisha


really pleasant experience! the shots were very focused and also had a lot of fun working with Skai! i highly recommend as he also give tips for good angling of the shots which allows us to get clearer and nicer photos! thank you so much!!
@ Google Page Review
Keagan Foster


I booked Skai for a proposal photography session, and was extremely pleased with photos taken on the day. Skai helped me choose the perfect location for a quiet and intimate proposal, and was very helpful with planning the whole proposal out. I don't have much experience posing for photos, but thankfully he is very patient, friendly and professional, helping guide us on the day. Very thankful for Skai for helping capture this special moment in my life, would highly recommend to anyone.
@ Google Page Review
Carissa Yeo


Wanted to have corporate and fun pictures taken. Love the photos taken! Skai is very professional, patient and will advice on angles where to look at etc. He will also take test shots first to test if the lighting is good. He doesn't rush through the whole photo taking process instead he wants you to be satisfied with the pictures taken.
@ Google Page Review
Clifton Lim


I have read many good reviews about Skai. But only today have I experienced it myself. He has earned the good reviews with his professionalism, hardwork, passion and dedication to his craft. For first timers who are afraid or shy in front of a camera, fret not. Skai is very patient and understanding and is frankly a very nice person to be around with. I was skeptical about having my pictures taken by a professional because I thought what difference could it make if I can take my own selfies. Trust me, having a professional taking your pictures is a whole world of difference. The lighting and quality of your pictures will be calculated and executed to a perfection. Engage him and experience it for yourself.
@ Google Page Review
Edwin Kwan (Interior Designer)
Punctual & professional photographer. He also made my clients at ease while he moved around taking his shots. Overall the photos turn out good. 👍🏻
@ Google Page Review
Koreen Hong (HMUA)
Fun and enjoyable! Pictures come out great and beautiful! Friendly & humble guy! Thumbs up!
@ Google Page Review
Anthony Tan


Skai went the extra mile to capture quality photos for our photoshoot and we were very pleased with the final product. Easy to work with and bounce ideas off as well. Would recommend!
@ Google Page Review
Lukas Berger


Nice guy who really takes the time to capture all the pictures you want and experiment with different scenes and settings. Recommend in Singapore
@ Google Page Review
Zack Xu (Interior Designer)


Will always do his best to get beautiful shots. I can trust his work
@ Google Page Review
Douglas Dunkerley

Note of Commendation

This is a short note of recommendation for Skai Chan Photography

I was looking to commission a professional photographer for a collection of stylish / fun portrait pictures, to celebrate a landmark birthday of mine. I shortlisted Skai Chan and I am so pleased that I did. I had clear ideas what results I wanted and I was quite picky. I met up with Skai several weeks before the shoot, for quite an extensive briefing session, to discuss concepts, locations etc. I could tell that he was a very good listener & very patient and picked up on all the features that I was trying to achieve. He assisted with ideas on themes, wardrobe, time of day for the shoot, logistics etc. The shoot itself covered 3-4 locations in one afternoon and was so well planned, it was seamless. With his subtle approach and mild manner, he convinced me that some of my ideas would not work and he did indeed come up with better ideas. He was very diligent, with a good eye for detail, open to explore other ideas and was extremely professional. The pictures that he took were great and I couldn't have wished for better results. The aftercare service was also excellent with touching up, cropping and resizing all pictures, several times. I have absolutely no hesitation in recommending Skai Chan Photography for any portrait photography, at very competitive rates. Bravo Skai

Douglas – Singapore PR
@ Email, Google Page Review
Jade Koh

Skai is a friendly Photograher with an eye for detail, in creating beautiful pictures.
@ Google Page Review
Nancy Quek

Professional service and great eye to details. 👍🏼👍🏼
@ Google Page Review
Carol Lim


Skai Chan is extremely patient with me and makes me feel at ease during our indoor photoshoot. Not to mention he is also highly professional and did not display any inappropriate behaviour towards me. During our photoshoot, Skai guided me verbally for adjustments to my outfit and hair. Overall, it was a very comfortable and safe experience for my first indoor photoshoot.
@ Google Page Review
Liu Wing Lun


This was my first photoshoot of any kind, and after some initial enquiries to a few photographers I had a good feel about Skai. He was very open and informative during our discussions on what I was looking to do, and we bounced a few ideas between us.

For the shoot itself, Skai was highly accommodating and patient. It was not rushed at any point, and I felt at ease and relaxed from the moment we met up. I enjoyed myself throughout, and it felt like I was chatting to a friend.

I was delighted with the final set of photos I received. Skai worked on the pics and returned to me very quickly. Some of the direction I received on different poses during the shoot, they came out much better than I had in my mind at the time. I thank Skai so much for such an excellent experience for my maiden shoot.
@ WhatsApp
Jane


I was so impressed with how comfortable and relaxed Skai made me feel. When I saw the finished pictures, I was so pleased and never thought I could feel so beautiful and sexy at the same time!"

Skai is so, so talented! His relaxed personality made this such a fun experience. Skai had such a great eye for posing me in ways that were very flattering! The pictures are simply beautiful!
@ IG DM, Google Page Review
Esther Pai


I had already twice the chance to get a photo shoot with Skai, first solo and second time together with my hubby. Both times I was from beginning on amazed by Skai's passion, patience and eye for detail during the shoot. Not only did he sacrifice hours of sleep to catch the perfect light, but also endured high energetic to-be professionals. Having a photo shooting with Skai you can just be yourself and natural.
@ Facebook Messenger
Chia Yaozhong


I engaged Skai for a corporate portrait photoshoot, and it was a great experience. Skai was very professional and patient, and provided good direction and advice to produce quality results. Very impressed and highly recommended!
@ Facebook Page Review
Meron


Very professional photographer that works and very knowledgeable, he provides and helped me in improving poses and expressions, and very good at capturing my good angle 😂it was a good experience and i highly recommended Skai for different types of shoots, very versatile
@ Facebook Page Review, Google Page Review
Charis Tan Meixuan


Skai is a really friendly and patient photographer. During the shoot, i was pretty awkward at first but he managed to lighten and liven the atmosphere to make the shoot goes smoothly. Skai is very detail orientated when it comes to post processing of photos making all pictures look really beautiful and as natural as possible. He is a very dependable photographer to work with!
@ Google Page Review
Puang Shujuan


I have known Skai for 6 years and my first impression of him is a very humble and professional photographer who takes his work seriously. I remember my first shoot with him was at Pinnacle @ Duxton rooftop garden. I was very new to photoshoot and he guided me along on how I should pose and smile. He is very patient to a newbie like me! Because of him, I have the opportunities to do many more shoots together - Lifestyle shoots at IKEA, at the alley at Duxton Hill, collaboration with MUA Yuko and mostly recently, a casual shoot with my husband at Jurong Lake Park! He is definitely someone you will find joy to work with! I will highly recommend to anyone who is looking for a professional photographer!
@ Google Page Review
Cheryl Alicia Chua Dong Yi


I first worked with Skai in 2017 and it was my first professional photoshoot. I remember being nervous and unsure about poses but he was very patient and understanding. He did not get upset or angry when I was not able to portray the concept he initially wanted but instead tried his best to work with what I was comfortable with.

His friendly character made the photoshoot very smooth and I had a second recent shoot with him. His professionalism and passion still impresses me after three good years. Despite trying implied for the first time, I was in good hands and Skai never laid a hand on me. He treated me with a lot of respect and always made sure I was comfortable with the photos taken. I enjoyed shooting with him and will recommend him to others!
@ Facebook Page Review, Google Page Review
Jasmine Lee (former Tsao Foundation staff)


I worked with Skai for several community events in my ex workplace and was very satisifed.. Hes proactive and took good angles of the participants. He was also very friendly and could help to engage the participants. What i liked most about him is he would offer to help us when he noticed we were busy running around.
@ Facebook Page Review, Google Page Review
Katherine Whiteway (Nekotsurin)


skai was the first professional photographer i ever worked with and i really enjoyed the experience! hes a friendly and funny person, and the shoot flowed naturally. as hes a very experienced photographer in the field, i was comfortable doing the sexy poses i thought of, and i think hes someone really reliable and trustworthy for these matters. he takes his post editing very seriously too and the results are worth it!
@ Facebook Page Review, Google Page Review
Huiqing


Skai is a professional photographer and it's a pleasure working with him. He was very patient with me, providing advices on how to improve poses, and he doesn't touch us at all. Overall, it's a great experience and I would recommend him for any photoshoots!
@ Facebook Page Review, Google Page Review
Jasmine Tan


Skai is a very friendly and passionate photographer. It was comfortable working with him during the shoot and he is also very professional towards the model. Definitely highly recommended!
@ Facebook Page Review, Google Page Review
Gilbert Lew


Skai has always been the sincere and under-promise then over-deliver kind of guy! He is very hardworking and passionate about photography and will make sure the shoot is well planned from the timing to the equipment and other creative elements. This also includes checking with the client if they have any preference and whether they are happy with his proposal before the day of the shoot. He has always been very adventurous and flexible at the same time, an important quality in photography to bring out the best possible results and making each project interesting and unique. Being patient and polite also makes the model feels at ease as the last thing anyone would want is to have stressed-out kind of expression in the photos!
@ WhatsApp
Havanah Zandrea


Skai was a delight to work with. We communicated about ideas for months — once I found out I would be travelling to Singapore; I also appreciated bouncing ideas back on forth on attire and venue. Moreover, Skai was more than accommodating with my travel plans with my family.

We had a fun shoot! There were many laughs and some interesting experiences. Skai wasn't afraid to instruct, yet was also able to keep things light-hearted. He is passionate about photography and that shines through in everything he does; he lives and breathes photography. You can tell how knowledgeable he is in his trade by the tips he offers, and ultimately, the results you will see through his photos.

We had a few obstacles to overcome together, not including working around a crowd. The first challenge was shooting in a world-class hotel: photography equipment needed to be inconspicuous. Skai did a good job packing lightly. With this, came our second challenge: lighting. When it isn't raining, or having extremely harsh sun, Singapore is cloudy! It is almost hazy. Skai prides himself with impeccable lighting in his photography. In this instance, we were not allowed to set up in normal circumstances; Skai had to think on the fly. It was remarkable how clever he was, to balance lighting props with one hand, and a camera with the other. I enjoyed the shooting process and the photos. We did what we could in very little time, and with many hotel restrictions.

Feedback, instruction, and consideration would be my top three favourite traits from this shoot. Overall, our photo session was a blast! It was a beautiful experience working with a photographer who has now turned into a friend.
@ Facebook Page Review
Ko


Skai is a wonderful person to work with. Not only he knows his art very well but also is a real people's personality. He chats with you and make you feel relaxed. I enjoyed the whole process. Looking forward to work with him again.
@ Google Page Review
Su Huiting


Yes! Very trustworthy guy here and we enjoyed the shooting! Thumbs up for the professional work!
@ Facebook Page Review
Cho


Skai is very professional and easy to work with. Although it was my first time working with him, I've known him on IG for almost a year before our shoot. I felt very comfortable working with him as he remains professional throughout the whole session. Go read his terms and conditions: he never touch the model. He will just verbally instruct u instead. He's also very receptive to my feedbacks and give me freedom to work on the poses I wanted to try. Overall, it was a very good experience and the results were amazing! I've never loved my body more than ever after the shoot. It's a great confidence boost!
@ WhatsApp
Lovelle Cengiya


I've known Skai for years. I really like his photography style. His photos are sharp and natural. He's very precise when it comes to lighting and photo editing. Also, he's a very nice photographer to work with. I never had to worry about getting sexually harassed, he always keep his distance with his models, he doesn't touch us in any event.

Throughout the years we have worked in multiple shoots and subsequently, he's also hired as my wedding day's photographer. This is how much I trust him, giving him my one and only actual wedding day.
@ WhatsApp
Angela Arlene Quek


Skai is a respectable and professional photographer. It had been my honour to work with him in the nature settings where I witnessed his skills in creating a good lighting when the sunlight reaches inner canopy. Skai is a responsible, passionate and determined photographer too as he carried the very heavy equipments throughout the 15KM hike with me, also he watched out for my danger when we hiked as I almost fell down when I was walking. He was very patient with the me as well because he didn't mind retaking over and over again when I wasn't satisfied with the shot and he compromised when I said I got to rush back home when it was about 4pm.. at the end of the trip he even offered me his energy bar when I got really hungry! He is one of the nicest person I know and I would recommend him to any models.
@ WhatsApp
Vanessa


Skai is an amazing friend and photographer. He is super patient and adhere to my many requests. Even though I'm not the easiest person to work with, he remains professional and makes people feel at ease with him around. Can't express how glad I am to be able to work with this talented man!
@ WhatsApp
Rina


Skai Chan (@skaichanphotography) is a very respectful and professional photographer. It was very comfortable doing a boudoir shoot with him. There were lots of trust, honesty and respect, hence everything went very smoothly during the shoot without any problems or discomfort. It was my first time doing a boudoir shoot, and he was very patient with me when I struggled with some poses. Overall, I absolutely respect Skai Chan's professionalism and efforts he put into his work. He is a highly recommended photographer and it has been a huge pleasure working with him!
@ Instagram
Bianca Pietersz


I have known Skai for many years at this point. He is a phenomenal photographer. He is creative and takes his time playing with the angles to get the right shots. I first met Skai in 2014 when I traveled to Singapore and we had an impromptu shoot. It was so much fun and I had all the creative freedom to play around with outfits, hair, and makeup. The photos were stunning! The next time I flew to Singapore was in 2019 where I did a boudoir shoot with him. He's super nice and professional. It was very comfortable like taking photos with a close friend. At this point we had known each other and talked regularly for years. Again I was happy with the results of the shoot and have continued a great friendship with Skai. He's a great person and it has been a pleasure to work with him!

Bianca Pietersz
@ Facebook Page Review
Rachel Liew


Skai (@skaichanphotography) is a very respectable and professional photographer. His principle is to never touch any models, and he sticks to it even if it means the poses may take longer to do because sometimes its not easy to readjust my pose just based on verbal feedback. Despite that, he has been very patient, telling me what poses are flattering and what are not. He gives honest feedback throughout the shoot, and turns away whenever I had to readjust my pose, especially when I am potentially in compromising positions. He also takes great effort to adjust the lighting to ensure the most flattering angles are captured. Highly recommended photographer! I also hired him as my wedding photographer 3 years ago and his work didn't disappoint❤️❤️
@ Google Page Review
Janice Sui


I've worked 2 times with you and I must praise you are a very professional photographer whom make me feel rather comfortable to be with at shoot, especially since it's my first time shooting however there was no stress at all. All I need to do is be myself so that you can capture the true me!
@ Google Page Review
Dan Teng Daoxiong

Super awesome guy
@ Facebook Page Review
Beverley Angkangon


Skai is the most hardworking and professional photographer around, good in creating friendly and comfortable atmosphere, making the models feel relax throughout the shooting journey. Thumbs up !
@ Facebook Page Review
Angela Ni


Skai is someone who is professional and takes his work very seriously. He also looks out a lot for his models. Since the first time I met him, his photography skills has improved by a lot. I definitely had a nice time collaborating with him!
@ Facebook Page Review
Nathalie Blue


Skai is one of the most patient photographer I've known, we delayed our shoot for God knows how long due to both timing clashed whenever I visited Singapore. They say patient is a virtual, it pays off from all the waiting. Looking forward to our next arranged theme ;)
@ ModelMayhem Credits
April


Trustworthy and hardworking photographer you can trust for quality pictures!
@ Facebook Page Review
Ahpa SaeYeoh
Skai is a very passionate photographer who gives his best for every assignment! Also the most down to earth person ever and someone who's super trustworthy!
@ Facebook Page Review
Michael Crowe


We engaged Skai to photograph our wedding this month - we couldn't be more happy with the pictures he took. He has an excellent eye for detail and managed to capture all the special moments of our wedding without getting in the way of our celebrations. This is the second time we've engaged Skai and we would definitely engage him again in future. Thanks very much Skai.
@ Facebook Page Review
Amelia Chang
Skai is one photographer who is honest and nice to work with. His pictures paints a thousand words.
@ Facebook Page Review
Chan Kai Wei
Great work and nice shots! Continue to take fantastic photos of life-long memories for others!
@ Facebook Page Review
ET Ong
i love what skai is doing with his page:) long live passion, dreams and artists!!
@ Facebook Page Review
Dear Clients, a Big Thank You!
Hey there, my lovely clients!

I just wanted to take a moment to send a huge virtual hug and thank you for taking the time and effort to write such wonderful testimonials about my photography services. As someone who has also written testimonials and feedback for other local services, I understand how much time and effort goes into crafting them. So, thank you!

As a professional photographer in Singapore, I understand the trust and confidence that you have placed in me to capture the special moments in your lives. Your testimonials not only mean the world to me, but they also serve as a valuable resource for future clients looking to understand more about my services and style.

I want to remind you that I will always remember the great time that we had during our photoshoots. I am truly humbled by your kind words and it warms my heart to know that I have been able to capture memories that you will treasure for a lifetime. I am honoured to have been able to be a part of your special moments and I am grateful for the opportunity to continue to do so in the future.

Thank you for your continued support and for taking the time to share your experiences with others. Your testimonials are a true reflection of the passion and commitment that I have for my craft.

With heartfelt appreciation,
Skai
I Need Your Kind Reviews
I started receiving generous reviews on my Facebook Page in the year 2013. Due to (spambots) spamming problems that Facebook didn't address nor provide any feature for page owners to handle, I disabled the review feature for many years. I started requesting testimonials in the year 2020 and it was difficult. Eventually, I started my Google Business Page in the last week of the year 2021.

I believe my professionalism and under-promise and over-deliver working style (eg. the number of photos and speed of delivery) deserve some honest compliments.

If you have ever benefited from my photography services, do write me a generous testimonial! You can simply write them on a notepad, then copy and paste them on both my Google Review and Facebook page to recommend people to work with me.
How Do You Review a Photographer?
Your generous recommendation can help me greatly.

If you wish to write a photographer recommendation to show your appreciation for me, you may consider the following points:
What were your concerns and did I manage to address them?
How was my communication with you?
How was the experience of the actual photoshoot? Did you feel comfortable?
What did I do that left a big impression on you or what were the things that I go the extra mile for you?
How do you feel about the finished photographs?
Why would you recommend my photography services to your friends?
FAQs
Why do some of your photographer recommendations not include any photo album?
There are many possibilities. Firstly, due to lack of time, I'm only able to upload (not all) my portrait work and there are clients who hire me for an event or interior photography. Some clients do pay an extra fee to keep their photographs private. Lastly, some photo albums were taken long ago and no longer represent my work anymore.
Do all your clients write recommendations for you?
Although I always go the extra mile for every client (you can read the albums' write-ups), and most of them have reacted extremely well to the pictures, not all of them have helped me with the testimonials.

Some of my clients took weeks or even over a month to pen down their honest gratitude for me and I feel quite bad for taking up their precious time. I understand everyone has his own commitments, and thus I usually try not to "chase" them. Most of my clients are sincere and appreciative throughout and I believe their work has overwhelmed them, including those who have yet to deliver their promises.