Gothic Dark Themed Night Photoshoot with Hilary Tay




This was the second and last session of the day. Although I wasn't a fan of baggy pants, Hilary had a special love for them.

The concept was modified from one of my ideas, which I was aiming for a pretty look instead. We made use of the same messy location I had originally planned.

By the time we started the shoot, the sun had set and darkness threatened to swamp over the blue sky. The place was dimly lighted by only a few street lamps.

I tried to minimise my set-up as the darkness would make it difficult for setting up and keeping my equipment; I didn't want to risk losing any equipment at the location. Moreover, I also wanted to speed up the shoot.

I started with a main light and later decided to add in another light to separate her hair from the dark background. Hilary was curious about my lighting and I showed her using of the ambient light, which was from street lamps far away. Eventually, after pushing my camera and lens (aperture of F2.8) to their limit, the photographs would still appear too dark due to the extreme low light condition.

The try-hard way to do without adding in artificial light would be to use a super fast prime lens and open it to the widest, while slowing down the shutter speed and increasing the ISO.

However, a large aperture would mean that the background details would be lost while it would be difficult to focus and let the eyes be the sharpest point of the photograph. Slowing down the shutter speed would cause blurriness easily while increasing the ISO would add noise to the photographs.

Of course, if the photographs were to be used only for social media, most people would be fine with the quality on the small screen of smart phones.

Eventually, Hilary proved my judgment right again as she unleashed her talent. From a feminine beauty, she transformed herself into an edgy rock girl.
Featuring ↬
Hilary Tay
Hairstylist ↬
Nicole
Makeup Artist (MUA) ↬
Nicole
Wardrobe ↬
Hilary Tay
Credits ↬
The Muses
Camera ↬
Canon 6D
Lens ↬
Canon 24-70mm F2.8L II
Lighting ↬
Yongnuo YN560 EX-III, Yongnuo YN560 EX-IV
Place ↬
Pearl's Hill Terrace
Date ↬
27 April, 2019
Photo Editing type ↬
Advanced
Disclaimer for write-up
Other Themed Photoshoot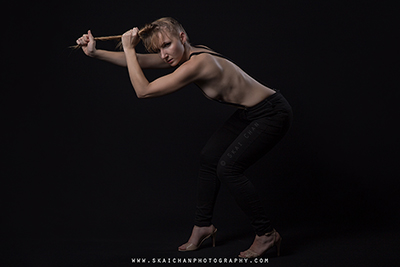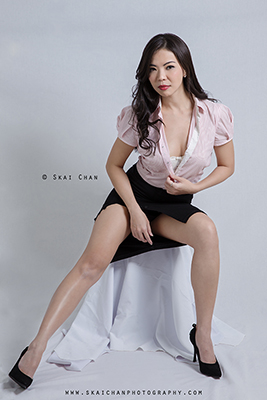 More
Themed
albums Portrait photography > All albums > All Themed albums
Page last modified on Thu, 26 August 2021