Pet Photographer in SG
Quick Navigation:
Pet Photography Portfolio
Portfolio: Pet Photo Albums
🔍4

1. Prakash's Doggies
@ Marina Barrage
🌞 Natural light photography

🔍15

2. Prakash, Darsheni & Doggies
@ Marina Barrage
🌞 Natural light photography

🔍2

3. Ah Girl
@ Home
💡 Ambient light photography

🔍10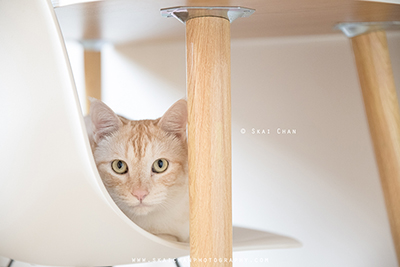 4. Ginger, Mino & Meow Mee
@ Home, Bukit Batok
🌞 Natural light photography

🔍6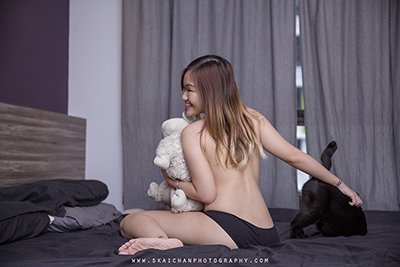 5. Rachel Liew
@ Home, Tampines
⚡ Flash photography

🔍7

6. Rachel Liew, Floofy, Quinn & Mochi
@ Home, Tampines
⚡ Flash photography

🔍4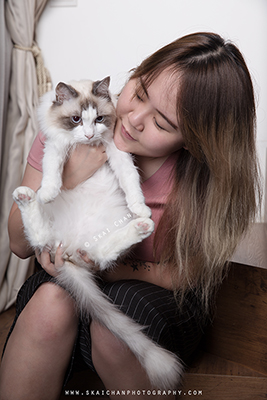 7. Kelly Lim, Misha & Sky
@ Home, Bukit Panjang
⚡ Flash photography

🔍16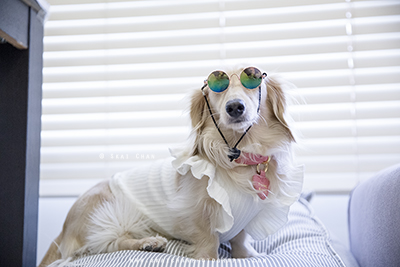 8. Ttang Kong
@ Indoor, Yishun
🌞 Natural light photography

🔍28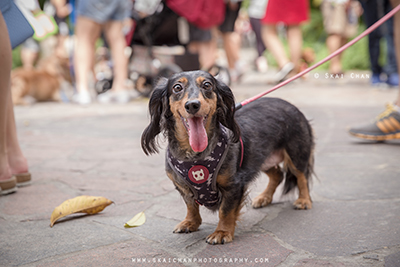 9. Singapore Dachies
@ Singapore Botanic Gardens
🌞 Natural light photography

🔍3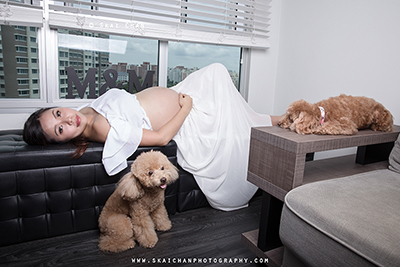 10. Monica Weng-Ong
@ Home, Hougang
⚡ Flash photography

🔍4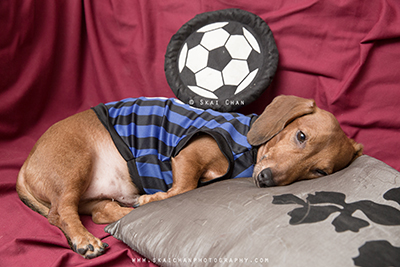 11. Luckie Chan
@ Home
⚡ Flash photography

🔍21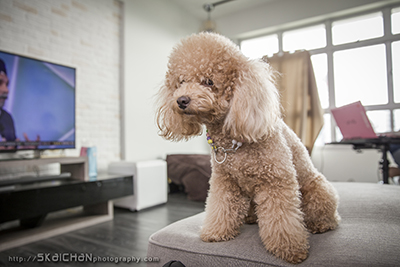 12. Elmo & Eby
@ Home, Hougang
⚡ Flash photography

🔍2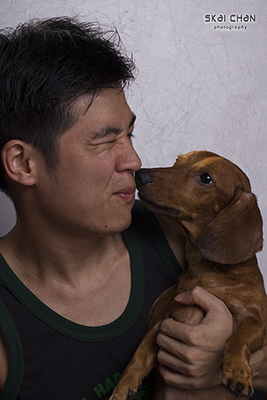 13. Skai Chan & Luckie
@ Makeshift Studio @ Home
⚡ Flash photography

🔍9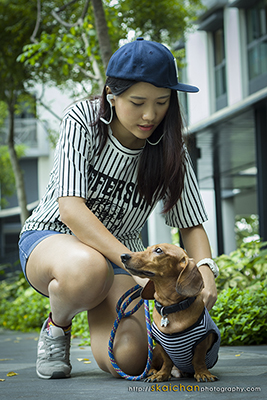 14. Maisie Chew & Luckie Chan
@ Pinnacle@Duxton
⚡ Flash photography

🔍7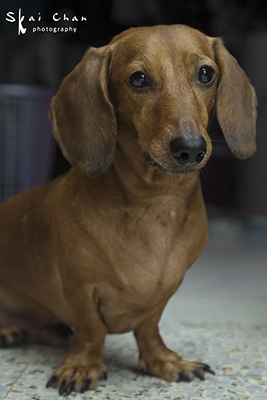 15. Luckie Chan
@ Indoor
⚡ Flash photography

Testimonials: What Clients Say about Skai


"Skai (@skaichanphotography) is a very respectable and professional photographer. His principle is to never touch any models, and he sticks to it even if it means the poses may take longer to do because sometimes its not easy to readjust my pose just based on verbal feedback. Despite that, he has been very patient, telling me what poses are flattering and what are not. He gives honest feedback throughout the shoot, and turns away whenever I had to readjust my pose, especially when I am potentially in compromising positions. He also takes great effort to adjust the lighting to ensure the most flattering angles are captured. Highly recommended photographer! I also hired him as my wedding photographer 3 years ago and his work didn't disappoint❤️❤️" - Rachel Liew
Thinking about choosing my pet photography services? I invite you to read the testimonials from my past clients to get a better understanding of my style and commitment to capturing your pet's unique essence. Their words speak volumes about the quality and care I bring to every photoshoot. Explore the testimonials and discover what sets me apart in the world of pet photography.
Pet Photography Services in Singapore
My pet photography services are tailored to a diverse clientele, accommodating both private individuals and companies seeking portraits of their beloved dogs and cats.

Whether you desire casual, heartwarming images or high-end, elegant portraits, I can meet your specific needs. I'm skilled in working with both natural light and professional lighting equipment, ensuring that your pet's unique personality shines in every shot.

My speciality lies in bespoke photography, where I collaborate closely with you to craft customized concepts that hold personal meaning. Additionally, I offer on-location photography, including nighttime sessions, providing flexibility and convenience, whether it's capturing precious moments in your home or an outdoor setting.
Pet Portraits
When it comes to pet portraits, I take the time to get to know each pet's individuality. These sessions go beyond just pictures; they aim to capture the essence of your furry friends. Whether it's their sparkling eyes, their playful quirks or their dignified poise, I focus on their unique features and personalities. I work with you to create images that reflect the heart and soul of your pets, providing you with cherished memories that last a lifetime.
Pet with Owner Portraits
These sessions are all about celebrating the deep and beautiful connection between pets and their owners. We capture the love, companionship and shared moments that make your bond so special. These heartwarming images serve as a testament to the unique relationship you share with your pet. They're a treasure that allows you to relive those precious moments over and over again.
Artistic Pet Photography
This service is all about pushing the boundaries of creativity and imagination. It's where photography becomes art. Through artistic pet photography, I create stunning and unconventional images that are truly works of art. Using innovative techniques, lighting and settings, I transform your pets into captivating subjects. These images are perfect for those looking to showcase their pets in a unique and extraordinary way, turning them into masterpieces that transcend the typical pet portrait.
Pet Event Photography
Whether it's a pet's birthday party, a special gathering or an event dedicated to pets, I'm there to ensure every moment is beautifully documented. I don't just capture images; I capture the atmosphere, the excitement and the joy that surrounds these events. From candid shots of pets playing and interacting to those happy, celebratory moments, my goal is to preserve the happiness and festivities of these special occasions.
Booking Information
Hey there, interested in booking a pet photography session with me? Great choice! Let me give you all the information you need to get started.
Contact me with the purpose: Firstly, to book a pet session with me, simply head to my contact page where you can find the link to text me via WhatsApp. Please indicate your purpose and the package you are interested in, or otherwise, I may mistake your text as a spam.
Consultation: We will have a consultation to discuss the type of event, the date, location and your preferred style of photography. This will help me understand your vision and see if we are a perfect match. We will also go over the package options and pricing. However, do note that I will only provide advices and suggestions after you have confirmed and booked my services officially.
Place deposit: To secure your booking, a 50% non-refundable deposit is required. Once your deposit is received, your date and time will be reserved exclusively for you.

Don't worry, I'll send you all the necessary payment details when you decide to book with me. Payment can be made via PayNow or PayPal (PayPal requires extra fee).

The remaining balance is due on the day of the photoshoot.
Remember that it's best to book my photography services in advance to ensure availability. So don't hesitate to contact me as soon as possible to secure your date!
Prices & Packages for Pet Photography
Quick explanation: The most considerable portion of my photography cost is calculated based on the (1) duration booked, (2) equipment required (natural light/ flash), (3) type of editing (basic/ advanced) and (4) extensiveness of planning required.

Please read the full explanations so that you can make a better decision.
🌞 Natural Light Photography
Up to 1 Hour: $320
Up to 2 Hours: $420 $450

Additional Hour: $150/block hr
Deliveries
Up to 30 photos/hr
Basic Edit (exposure & colour correction)
Digital copies (high resolution JPG)
Photos selection in low resolution PDF
Special Requests/ Add-Ons
(Subject to availability)
Face to Face discussion:
Starting from +$100
Photographer to scout venue(s):
Starting from +$100
Shoot at beach/ sandy/ dirty venue:
Starting from +$50
Additional photos (basic edit):
+$5/photo
Same-day photo edit (basic edit):
+$50/photo
Expedited photo edit (basic edit: 3 days after shoot):
+$50/hr booked
Advanced edit (skin retouching):
+$50/photo
Revision of photo edit (advanced edit):
+$15/photo
Privacy of photos:
+$100/hr booked
⚡ Flash Photography (High-End)
Up to 1 Hour: $450
Up to 2 Hours: $600

Additional Hour: $150/block hr

⚡ Flash photography (one-light set-up)
🌞 Use of natural light when necessary
Pace of shoot: Slow
Deliveries
Up to 30 photos/hr
Basic Edit (exposure & colour correction)
Digital copies (high resolution JPG)
Photos selection in low resolution PDF
Special Requests/ Add-Ons
(Subject to availability)
Face to Face discussion:
Starting from +$100
Photographer to scout venue(s):
Starting from +$100
Shoot at beach/ sandy/ dirty venue:
Starting from +$50
Additional lighting set-up: +$50/light
Additional photos (basic edit):
+$5/photo
Same-day photo edit (basic edit):
+$50/photo
Expedited photo edit (basic edit: 3 days after shoot):
+$50/hr booked
Advanced edit (skin retouching):
+$50/photo
Revision of photo edit (advanced edit):
+$15/photo
Privacy of photos:
+$100/hr booked
⚡ Studio (Flash)
1) My photo studio,
2) Your booked external studio, or
3) Makeshift studio @ your location
Hairstyling & Makeup
$180 /Female
$120 /Male
1x Hair & Makeup Artist (HMUA)
Up to 1 hour
1 Look (Hairstyling for a neat look & Makeup)



Add-Ons

Follow through the photoshoot: +$70/hr

Details: makeup artists and hairstylists
NOTE
⏳

All booked duration

Includes changing of equipment, wardrobe, makeup, hairstyle and travelling (if applicable) during the shoot.
📰

Please read

(1) Checklist for hiring a photographer, (2) FAQ and (3) Service Agreement and Privacy Policy before making enquiries.
💡

Ideas and advice

Will only be given to serious clients after a booking fee is being placed.


✆ Contact me now for a customised package tailored to your personal needs.
Surcharges
My photography packages are designed to help my clients save cost. I'm able to provide affordable photography rates because I don't include the additional services, which most clients don't need.

I have listed the common special requests from clients at the bottom of the packages. For the uncommon ones, do look through the full list of surcharges to avoid miscommunications.
Skai the Pet Photographer
I might be known for my work in portraiture, event and interior photography, but there's a corner of my heart that's dedicated to capturing the world of pets. Hey there, I'm Skai, a photographer based in the vibrant city of Singapore. It's not just a job; it's a passion. When it comes to pets, there's a unique connection that I strive to portray through my lens. Every wag of a tail, every purr, every quirky little habit - it all tells a story.

You see, I'm not just about taking pictures of dogs and cats. I'm all about seizing those extraordinary, candid moments that make our pets so special. Those times when your furry friend is at their most genuine, most charming and most "them."

I'm on a mission to make these fleeting moments last a lifetime, etched into your memory and framed on your wall. My camera is a tool but it's also a bridge, connecting me to your pets, and through them, to you.

So, let's make memories. Whether it's a portrait, an action shot or a candid capture in their natural habitat, I'm here to bring out the best in your pets and create images that will warm your heart for years to come. Let's capture the essence of your furry family members and tell the story of your unique bond.
What Sets Skai Apart from Other Pet Photographers
As a pet photographer, I strive to stand out from the large pool of talented photographers by offering personalised and unique photography services. Here are some things that set me apart from others:
My love for pets: I'm a pet lover who feels more comfortable interacting with pets than human beings. My genuine love for the animals will make the photos great because of the interactions.
Customised photo sessions: I work closely with my clients to create bespoke photo sessions that truly capture the essence of their pets. Whether it's incorporating special props or using a specific location, I aim to make each session one-of-a-kind.
Specialisation in lighting: Unlike many other pet photographers who rely solely on natural light, I do specialise in using professional lighting equipment (high-end photography) to create eye-catching and 3-dimensional pictures. This expertise in lighting enables me to produce high-quality images that stand out from the rest.
Inclusivity: I cater to all kinds of pets, whether they're dogs, cats, birds or even horses. I am also happy to work with pets of all ages and sizes, and those with special needs.
Range of photography services: In addition to pet portraits and pet-with-owner photography, I also offer pet birthday party photography. This service is perfect for those who want to capture the special moments of their pets' birthdays in a fun and unique way.
Overall, I believe that my passion for pet photography, expertise in lighting and personalised approach truly set me apart from other pet photographers.
Skai's Vision for Pet Photography
As a passionate pet photographer, I have a vision for what I want to achieve in this field. I believe that pet photography is not just about taking pretty pictures of animals, but also about capturing the essence of the animal's personality and the special bond between them and their owners.

My goal is to create images that are more than just photos - they should tell a story, evoke emotions, and be a tangible representation of the love between a pet and their human. To do this, I always try to personalise each session and tailor it to the unique personalities of my furry subjects.

I also strive to bring a sense of artistry to my pet photography. I believe that pets are more than just cute and cuddly creatures - they are works of art in their own right, with unique features and characteristics that make them truly special. With my lighting techniques and compositional skills, I aim to create images that highlight the beauty of each pet and turn them into stunning pieces of art.

Ultimately, my vision for pet photography is to help pet owners immortalise the memories of their beloved furry companions and celebrate the joy and love that they bring to our lives. Whether it's through a portrait, a candid shot, or capturing special moments at a pet's birthday party, I hope to provide a meaningful and unforgettable experience for both pets and their owners alike.
How Skai Began Doing Pet Photography
My journey into pet photography started as a simple hobby. I would take pictures of stray animals and my friends' pets as a way to pass the time and capture their unique personalities. It wasn't until I got my own family dog, who quickly became my favourite model, that I realised my passion for capturing the essence of these furry creatures on camera.

As my skills improved, I began to volunteer my pet photography services at dog gathering events, taking photos of the pooches in attendance. I genuinely did my best to try to capture every paw friend instead of focusing only on my own family dog, so that I could help every owner leave a good memory. Fortunately, my work was well received and I began to gain recognition for my ability to capture the dogs' individual personalities.

I showcased my work on my social media profiles and online portfolio, where it caught the attention of many who appreciated my ability to create stunning, artistic images of their furry family members. Eventually, pet owners began to approach me, asking me to photograph their own beloved pets.

Since then, I have made a name in the pet photography scene in Singapore, known for my ability to capture the unique personalities of each pet I photograph.
Why Skai Loves Pet Photography
First and foremost, it's my love for animals that drives me to do what I do. Interacting with all sorts of furry friends and capturing their unique personalities and special moments on camera is truly a joy for me. It's a highly rewarding experience.

Pet photography is also a great creative outlet for me. I love experimenting with different lighting, poses and compositions to showcase each pet in its best light. And, I find that with each photoshoot, I build a special connection with the pets, getting to know their personalities and quirks.

But, the best part is being able to create lasting memories for pet owners. It's truly an honour to be able to capture these special moments and provide them with cherished memories that will last a lifetime. And, with the variety of animals, I get to work with, from dogs and cats to birds and horses, every photoshoot is a new adventure and keeps me on my toes!

So, as you can see, there are many reasons why I love doing pet photoshoots. The animals, the creativity, the connections and the memories - it all adds up to a truly fulfilling and rewarding career for me.
How Doing Pet Photography has Helped Skai Grow
Pet photography has played a significant role in my personal and professional growth. Here's how it has contributed to my development:
Emotional Healing: Engaging with pets during photography sessions has been a therapeutic experience for me. It's not just fun; it's a healing process that allows me to find solace and blessings in the midst of life's complexities. The pure, unconditional love and joy that pets bring can be remarkably rejuvenating.
Simplicity and Relaxation: Pets, with their innocence and straightforwardness, provide a refreshing change from the complexities of human interactions. This simplicity makes working with pets a relaxing and enjoyable experience. It's a welcome break from the more demanding aspects of human photography.
Diversified Skillset: Pet photography requires a unique set of skills. It involves a lot of interaction with these adorable creatures, which has broadened my skill set. I've learned to understand and communicate with pets effectively. This diversity in skill has contributed to my personal growth, enhancing my overall creativity.
Genuine Connections: My genuine and heartfelt interaction with pets is reflected in my work. Clients appreciate the authenticity they see in the photographs, as well as the happiness on my face during these sessions. This has allowed me to build a strong reputation and connections in the photography industry. Clients trust me not only as a skilled photographer but also as someone who deeply cares about capturing the true essence of their pets.
In summary, pet photography has been a source of emotional healing and personal growth. It has offered me the chance to unwind, diversify my skillset and build genuine connections with clients and their pets. This journey has enriched my photography career and brought a sense of fulfilment and joy that continues to drive my passion for pet photography.
What is Pet Photography?
Pet photography is a specialised field of photography wherein a professional captures images of domestic animals, primarily dogs and cats, although it can encompass a broader range of pets such as birds, rabbits and more.

The focus is on documenting the unique personalities, characteristics and special moments of pets, either in a studio setting or at various locations.

The primary goal is to create visually engaging and emotionally resonant images that serve as cherished keepsakes for pet owners, celebrating the beloved animals in their lives.
What is Pet Photography also Known as?
Pet photography, also known as animal photography, pet portraiture, petography, fur-tography and paw-traits, encompasses a diverse field of capturing the essence of pets and animals.

Animal photography extends to various creatures, including wildlife and farm animals. Pet portraiture focuses on creating artistic and detailed portraits that reveal the unique features and personalities of pets. Petography adds a playful and creative touch, while fur-tography emphasizes pets with fur, like dogs and cats. Paw-traits cleverly connects pets and their owners, highlighting not just physical features but also the endearing qualities of pets.

These terms reflect the multifaceted nature of pet photography, from capturing natural behaviour to celebrating the individuality of each pet.
What is a Pet Photographer?
A pet photographer is someone who loves capturing the unique personality and beauty of our furry friends. They specialise in taking photos of pets, including dogs, cats, birds, horses and more. Whether it's in a studio or on location, pet photographers offer a range of services such as portrait sessions, action shots, and candid photos of pets just being themselves in their natural environment. They strive to create memories that pet owners can cherish forever.
Pet Photography in Singapore
Pet photography has become increasingly popular in recent years as pet owners seek to capture the unique personalities and special moments of their beloved pets. Singaporeans are well-known for their love of pets and this is reflected in the growing demand for pet photography services.

Pet photography in Singapore is a thriving industry, driven by a growing appreciation for pets as important members of the family. Pet owners value the opportunity to capture and preserve memories of their beloved pets, and professional photographers are more than happy to help them do so with their expertise and creativity.
Why are Pet Photographers Important?
Pet photographers play a significant role in preserving the memories of our furry friends. They are more than just a person with a camera - they have a special talent for capturing each unique personality and the special moments of our pets, which can be cherished for a lifetime.

For pet owners, our pets are often like family members. They bring us so much joy and comfort that we want to hold onto those memories forever. Pet photography is a way to do just that. It's a way to freeze a moment and remember the special bond long after they're gone.

Pet photography also serves a significant purpose in the commercial world of pet-related products, businesses and communities. It's required for creating a pet product, promoting a pet business, showcasing a pet on social media, entering a pet show or just for personal use. Pet photography helps to share our endless love for our pets with the world.
Challenges in Doing Pet Photography
Pet photography can be a challenging industry, as animals can be unpredictable and difficult to control. Some of the main challenges that pet photographers may face are:
Getting the animal to cooperate: Some animals may be shy or easily frightened, making it difficult to get them to pose or hold still for the camera. Photographers may need to use treats, toys or other forms of positive reinforcement to coax the animal into the desired position.
Capturing the animal's personality: Pets have their unique personalities and photographers may need to work hard to capture this on camera. This can be very challenging when working with animals who are shy or easily frightened.
Dealing with natural light: Pet photography often takes place outdoors and photographers may need to work with changing light conditions. This is challenging, as bright sunlight can create harsh shadows, while overcast skies can make for flat, uninteresting photos.
Handling the animal safely: Photographers must be aware of the animal's well-being and manage them safely during the session. This includes understanding the animal's body language and behaviour and being aware of the potential dangers.
Despite these challenges, many pet photographers find the work extremely rewarding, as they can capture beautiful and meaningful images that pet owners will treasure for years to come.
Should I Hire a Professional Pet Photographer?
Whether or not you should hire a professional pet photographer depends on your individual needs and preferences. Here are a few things to consider when making your decision:
Quality of the photographs: Professional pet photographers have the skills, knowledge and equipment necessary to take high-quality photographs that capture the unique characteristics and personalities of your pets. They can also help to create a relaxed and comfortable environment for your pets during the photoshoot.
Specialised experience: Pet photographers have experience working with animals and know how to handle them to get the best results. They are also familiar with the best lighting and poses that will show your pet in the best possible way.
Timeless memories: A professional pet photographer can capture moments where you might not have been able to on your own. These photographs can provide lasting memories of your pet that you can treasure for a lifetime.
Purpose: If you intend to use the photographs for commercial or professional purposes, such as for pet-related products, pet-related businesses, social media, pet shows or personal use, hiring a professional pet photographer is a must.
Ultimately, the decision to hire a professional pet photographer should be based on your specific needs and goals. If you think that having high-quality, professional photographs of your pets is important to you, then it may be worth the investment.
FAQs
How do I prepare my pet for a photoshoot?
Prepare your pet by ensuring he's well-rested, fed and comfortable. Bring his favourite toys or treats to keep him engaged during the photoshoot. It's also a good idea to groom him, so he looks his best.
What's the ideal location for the photoshoot?
The ideal location can vary depending on your preferences. We can do the photoshoot in a studio, at your home or in an outdoor location. It all depends on the style and atmosphere you desire for your pet's portraits.
How long does a typical pet photoshoot take?
A typical pet photoshoot can take around 1 to 2 hours. However, the duration may vary depending on your pet's comfort and cooperation, and also the number or variety of photos you are seeking. We prioritise a relaxed and enjoyable experience, allowing extra time if needed.
What should we bring to the photoshoot?
Feel free to bring your pet's favourite toys, treats and any props or accessories you'd like to include in the photos. We can discuss specific items that might enhance the images during the consultation.
Can I be in the photos with my pet?
Absolutely! Many clients choose to be in the photos with their pets to capture those special moments and connections. It's a great way to celebrate your bond with your furry friend.
What should I expect during the photoshoot?
During the photoshoot, you can expect a relaxed and enjoyable experience for both you and your pet. We'll work at your pet's pace, capturing candid moments and posed shots that showcase his personality.
Can I schedule a photoshoot for a special event, like my pet's birthday?
Certainly! I specialise in capturing special moments, including pet birthdays. I'd be happy to document your pet's celebration and provide you with beautiful memories.
What's the cost of your pet photography services?
My pricing varies depending on the type of session and any additional services you may need. Please refer to the rates and packages section.
How will I receive the final photos and in what format?
You'll receive the final photos digitally, typically through a secure web link for instant download.
Can you retouch or edit the photos if needed?
Yes, I offer post-processing services, including retouching and editing. We can discuss your preferences during the consultation and ensure the final images meet your expectations.
What's your cancellation and rescheduling policy?
There's no refund for any cancellation and your booking fee will be forfeited to compensate me for the consultation and/or booked timeslot.

My rescheduling policy is designed to be flexible and fair. I understand that unforeseen circumstances can arise, and I work with my clients to accommodate their needs.
Do you have references or examples of your work?
Certainly. Feel free to explore my portfolio to get a sense of my style and expertise. However, do take note that I may not have time to keep my portfolio updated.
How far in advance should I book a photoshoot?
I recommend booking your photoshoot well in advance to secure your desired date. The lead time can vary depending on my availability, so it's best to contact me early to ensure your preferred time slot.
What happens if my pet is uncooperative during the photoshoot?
It's not uncommon for pets to be a bit uncooperative during photoshoots. I will be patient and flexible to ensure a successful session. We can discuss strategies to make your pet more comfortable and cooperative during the consultation.
Conclusion
In conclusion, pet photography is a remarkable art that celebrates the joy, love and unique personalities of our beloved pets. It's a powerful way to create lasting memories, preserving those precious moments we share with our furry companions. The true goal of any pet photoshoot should be to capture the essence of your pet, to showcase their individuality, and to strengthen the bond you share. This journey is not just about photographs; it's about the heartwarming stories they tell.

The key to a successful pet photoshoot lies in patience, understanding and a passion for bringing out the best in your pets. It's about creating a relaxed, enjoyable experience where pets can be themselves, resulting in authentic and emotionally resonant images. Setting these goals ensures that your pet's unique beauty and character shine through every frame.

Remember, pet photography is more than a service; it's an art that connects people and their pets through imagery. It's about cherishing the moments that make our pets so dear to us. If you're interested in capturing these special moments and would like to explore the possibilities of pet photography, don't hesitate to reach out. I'm here to assist in your journey, offering my expertise and commitment to celebrating your pet's unique charm in a way that feels meaningful and sincere.