Bridal Photo Shoot - Hilary Tay




When I first saw Hilary's social media profile, I was excited because I could tell she had a very interesting personality from the few photographs she had uploaded.

The two main factors that would lead to producing attractive photographs are the looks and personality of the model. In my personal view, the latter is more important although both are critical. I could get a professional hair and makeup artist to style up a model but I can't change her personality.

After Nicole set up a group chat for the three of us, I was stunned by Hilary's reactions to my cold jokes. Hilary sounded like an angel who was able to beautify everything. Even when I jokingly self boasted, she followed my pace. She was the girl with one of the highest EQ I had communicated with and that was sexy.

We began the styling work at Nicole's studio in the early morning before sunrise. Hilary made no complaint about having to wake up in the wee hours. Since there was nothing I could do during the early stage of the makeup, I took my time in dragging my equipment over to join them. In fact, I was troubled over the equipment to bring along.

My first impression of Hilary was that she was very demure looking. Her voice was music that would shame the birds. Communicating with her in real person was even more comfortable than texting and it was insane.

To be fair to everyone, I also tried to tease her as well. It was one of my ways to build rapport with my models. While Nicole was curling her hair, I teased that she reminded me of an auntie character (bao zhu po) in Stephen Chow's movie - Gong Fu. As expected, she held no grudges, or rather, she wasn't offended by any of my jokes and unglamorous snapshots of her in the midst of the styling.

It started raining but I wasn't as worried as usual for somehow the atmosphere was very good. We ordered McDonald's breakfast while enjoying Xinhao's freshly brewed premium Chinese tea. The fragrance of tea, the sight of a beauty, the conversation with great people and able to consume one of my favourite fast food meals was an exotic experience. It was the best morning I ever had.

With all the chit-chatting and enjoyment, we managed to delay the shoot, unfortunately. By the time we set off from the studio, it was already near 10am to my horror.

Our initial plan was to begin the shoot at an installation but we didn't research enough to find out that it was just a temporary structure. I didn't panic since I had confidence to get some good photographs no matter what, as long as the team trusted me and was ready to explore with me.

We started off at the carpark in front of the Gillman Barracks building. Luck was on our side as the gray cloud blocked off the direct sunlight most of the time to reduce the harshness. Eventually, it wasn't as bad as I had expected.

As we moved up to the building, I was able to witness more of Hilary's charm and talent. She unleashed her quirkiness and turned the photographs into pieces of art work. The warm-up was too quick to my joy. Looking at her in action should require buying of tickets like a concert.

Hilary displayed her positive attitude and made effort to try ideas. She even took the trouble to get over to the other side of the corridor, which required her to climb down the stairs and take the other flock of stairs from the other end; we weren't even sure if the doors would be locked and she might be making a wasted trip.

By then, the hostile sunlight started caressing us. I was very worried about Hilary's makeup while Nicole had to sacrifice herself by hiding (from the camera) at the open area of the corridor to endure greater direct heat. Hilary showered us with love as she waited patiently for me while I scrambled to get the correct exposure under the constantly changing sunlight power.

Since I had set up a large softbox to create beautiful light, which would sacrifice the efficiency of my 600-watts strobe, I had to fire each shot at full power, which could damage the strobe easier. I didn't want to waste time to set up another (smaller) softbox since Nicole had something on later and that the light condition would be worse off as we dragged it nearer to noon time.

Apart from these, another worry was that I was actually standing at the edge of a flock of stairs and I was very sure my strobe would be destroyed if any sudden strong wind were to assault it. I tried to stretch my leg to secure the light stand and it was another awful experience for someone who couldn't do splitting.

We tried to utilize the compound around the building. It was insane to take the big risk to shoot under the open sky as the shoot marched towards noon time. Hilary and I went ahead while I carried my big lighting, and Nicole helped me to move the remaining equipment along, and thus we were able to speed things up. We set a cut off time as it was getting late but the shoot was eventually overrun.

Battling with the open sky at the terrible hour proved to be one of the greatest decisions I had ever made as Hilary was able to perform well although she had to wait patiently for me to battle the changing ambient light due to the fickle-minded clouds. During the session that she was playing with the veil, both Nicole and I were totally mesmerized by her and it was a very bad distraction when I was dealing with the clouds.

Back at Nicole's studio, after getting changed into her own clothes, I was impressed by Hilary once again, and this time for her fashion sense. She was feminine and gorgeous.

The last culture shock she gave me was when I jokingly asked her to for a massage and she started giving some gentle knocks on my shoulders. I had to stop her since I had been sweating since the early morning when I dragged my equipment over, and I didn't want to dirty her hands. I was stunned because most people would react either with sarcasm or simply throwing some items at me. Hilary is a gem.

Shooting with Hilary was one of the easiest and enjoyable moments. She's good-looking, creative, patient, accommodating and her modelling style is to my liking. She's the type of model who doesn't need to show skin because she's an art. It seems as though I have worked hard over the past few years to upgrade my skill and equipment, enduring difficult clients at times, just to wait for Hilary's appearance in my photography journey.
If you appreciate my work, passion and character,
do show some support by following my
Instagram
&
Facebook
, both at
@skaichanphotography
.
If we have worked together before, do write me a
testimonial
!
Disclaimer for write-up
Other Wedding / Bridal Photoshoot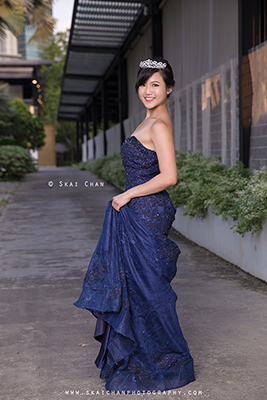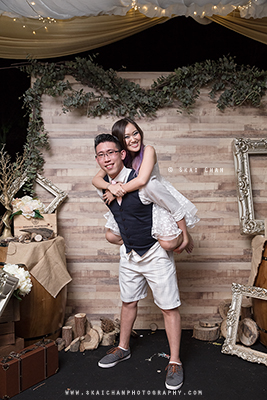 More
Wedding / Bridal
albums

View ALL albums