Boudoir Photoshoot with Bianca Pietersz




The hyperactive girl who appreciated me and my work tremendously finally returned to Singapore after many years. Bianca contacted me excitedly to announce the good news weeks before that and it was a dream comes true to get to see my good friend from the other side of the globe again.

On the first evening when she came over, we met up together with her boyfriend and had a long chat till late night. The two of us warmed the seats of the hotel's cafe until even the staffs had left.

I had some mixed feeling about the shoot because I wanted her to accompany her boyfriend to more places since they wouldn't be staying over for long. I was also worried that she would be too tired for the shoot. In the first place, I wasn't even sure what time she would be arriving and we initially talked about shooting immediately upon her arrival. Eventually, we fixed the time before I went home.

We began the shoot in the mid morning, just hours after we bid goodbye. Needless to say, she trusted me completely and thus we were able to do the shoot without any awkwardness. Being an artist, Bianca astonished me with her creativeness once again. Bianca's talent in modelling, with her expression and ability to pose, would make many people think she's a professional model.

Initially, I began with using of my strobes as the sunlight was piercing through the gaps of the curtains. My strobes helped to eliminate the ugly and unnecessary light that would be causing distraction on the photographs. I was also able to control the direction of light.

Into the second session of the shoot, the direction of the sun was good and I switched to natural light with the help of the day windows sheer. I was blessed with very nice sofa and a carpet ground that complemented it beautifully. The natural look of Bianca turned the photographs into master pieces of art.

It was a pity that Bianca had injured her back quite badly before coming over to Singapore. It was also very amazing of her to be able to perform so well during the shoot. I felt wasted that we didn't have more time to work on more concepts.

I went out with the couple till late. We had lunch and dinner together, and visited the Art Science Museum in between.

I was grateful to her for introducing me to her generous boyfriend and I was glad that she was well taken care of. Photography brought me happiness.
Featuring ↬
Bianca Pietersz
Hairstylist ↬
Bianca Pietersz
Makeup Artist (MUA) ↬
Bianca Pietersz
Wardrobe ↬
Bianca Pietersz
Camera ↬
Canon 6D
Lens ↬
Canon 24-70mm F2.8L II
Lighting ↬
Godox AD600B, Cononmark B4, Yongnuo YN560 EX-III
Place ↬
InterContinental Singapore
Date ↬
14 May, 2019
Photo Editing type ↬
Advanced
Disclaimer for write-up
Other Boudoir / Intimate Photoshoot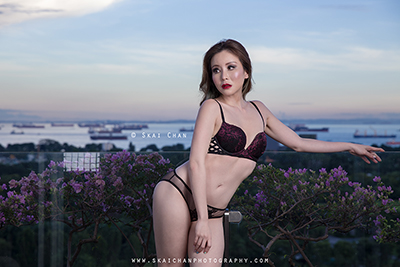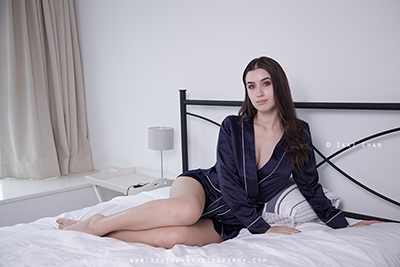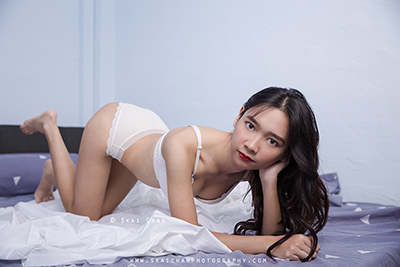 More
Boudoir / Intimate
albums Portrait photography > All albums > All Boudoir / Intimate albums
Page last modified on Thu, 26 August 2021