School Girl Themed Night Photoshoot with Ng Shinyi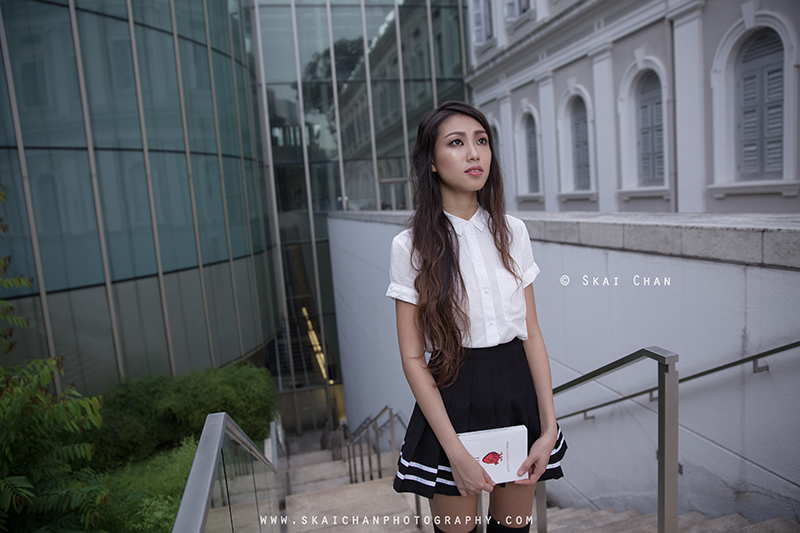 This idea of a school girl theme came about after browsing through Shinyi's social media. I was very excited for I knew she had an interesting range of outfits and she was absolutely accommodating and open to ideas.

The outfit wasn't made for any school use although she had worn it to attend classes in her university (and for casual wear). She was supposed to give an emotionless feel, unlike the usual "act cute" or extremely sexy themes that others would do with "school uniform". I knew it was going to be a good shoot when she added that she had high socks as well. The black and white colours of the entire outfit suited the theme very well.

I was stressed and exhausted.

Shinyi and I, in fact, had another outdoor shoot the night before and thus the three shoots were actually closely aligned. I wasn't in the clearest mind while doing the planning work after the first shoot. Since Yuko needed to rest after arriving in Singapore, we couldn't start the (second) beauty shoot early, which made time very tight for this (third and final) outdoor shoot. Furthermore, I had to plan the logistic (equipment) so that we could set off for this outdoor shoot soon after the indoor beauty shoot.

Shinyi was helpful enough to give some suggestions of location for the shoot while I also had a few ideas in mind. I was rather indecisive because of my struggle for perfection and I didn't have enough information to choose the most suitable location for this shoot. I didn't want to waste anyone's time and I couldn't afford the time to redo any shoot.

I took the risk to decide on the location. I loved the design of the European styled architecture of the National Museum of Singapore. I assumed Singapore's museums wouldn't allow any professional photoshoot inside their premises unless we had a good budget to pay them, but I wasn't sure if they would stop us at outside the buildings, which was actually still within their compound. I did see couples doing pre-wedding shoots at one side of the museum and it was probably an overly used spot in Singapore.

Yuko did a quick touch-up and add-on of the hair and makeup right after our indoor beauty shoot. Then, Shinyi and I made our way to the location on our own. We squeezed into the trains with the office crowd. Although I had the minimal amount of equipment with me, it was not easy to travel with them at such timing.

Shinyi was nice enough to carry my bulky beauty dish again. I chose it as my main light modifier for it was quicker to set up and more portable compared to other softboxes after being set up for outdoor shoots. It was during the shoot, I realized one side of it was dented, and I was rather stressed for the damage might cost more funding for replacement.

At the start of the shoot, I was a little taken back for it was one of the few times I had totally forgotten about discussion of props for such themed shoot. Shinyi turned into an angel again for she had brought along a book and a spectacle. She could read my mind and keep her shirt buttoned up till the top for this shoot - for my usual shoots, it would be unbuttoned down more instead to inject some sexiness.

Shinyi's easygoingness and trust in me (my character and my decision for the effect of the products) allowed me to execute the shoot without any worries.

We started off the shoot at the side nearer to the escalator leading up to Fort Canning Park. The gigantic doors and windows, together with the colour, made very good background for this themed shoot (and probably most other shoots). Although we were losing quantity of ambient light due to the retreating sun, the quality of light was good and thus I was able to create the type of lighting I wanted easily. My monolight added a punch to the photograph, lighting up Shinyi to draw the viewers' attention to her.

She nailed it totally right at the first scene. With my lighting, we managed to create the mood that I wanted. I could confidently end the shoot if I just wanted one very good photograph. However, being greedy as usual, I wanted to create a series of photographs out of the shoot by utilizing the spots at the location.

When I suggested her to sit on top of the parapet wall next to the stairs leading down to the basement of the museum, she did it without any hesitation. Very soon, the security guard came out to stop us from doing it because he received a "complaint from the public" that it was dangerous. As a matter of fact, the wall was rather thick and low near the top of the stairs, and Shinyi was seated, it's not easy for any accident to occur.

I knew he was making the story up for (1) there were very few people entering that part of the building at that point of time when the staffs were already knocking off, (2) it's very rare for any member of the public to be concerned over such rather non-dangerous "action" and (3) we weren't so "lucky" to have encountered a busybody who would make a complaint within such short span of time.

Anyway, we were in time to capture many nice photographs of Shinyi sitting on the parapet walls and I was actually too spoiled for choice when choosing the photographs for that scene. We were polite with the security guard who was just doing his job, although he over-reacted. It was, however, a good chance to confirm with him whether we could do professional shoot around the exterior of the buildings. It left us with a peace of mind, or perhaps, it was just me being overly cautious with the experience of being chased off while doing photoshoot; Shinyi seemed to be more adventurous.

We did panic in the midst of the shoot. Shinyi misplaced her mobile phone and I even went back to the earlier spots to search for it. Calling her using my phone didn't help. Eventually, it was found underneath her belonging.

As darkness fell, my 600-watt monolight became a burden when I wanted to capture the light at the background for even its lowest power would overexpose the photographs at the high ISO. Although I had tried to keep my equipment to the minimal, I had brought along two additional speedlites. My beauty dish remained as the light modifier with the help of the correct bracket for speedlites. However, I had to adjust the power of the speedlite manually since I didn't set a budget to buy additional transmitter that could control the setting of the speedlite right on top of my camera.

We managed to continue the shoot while getting the lighting that I wanted, although I did face some difficulties in the focusing. In fact, I wasn't expecting Shinyi to be as crazy as me but she was angelic enough to not waste the opportunity to get more good photographs with a different setting (night). The shoot went very well and we ended it under the threatening sky.

Throughout the shoot, I got to chat with her. It was amazing for a girl to compliment her loving dad for being very cute, smiling genuinely as she talked about how sweet her dad had been treating her. It was enjoyable working with a model with very good attitude.
Featuring ↬
Ng Shinyi
Makeup Artist (MUA) ↬
Yuko Imoto
Wardrobe ↬
Ng Shinyi
Props ↬
Ng Shinyi
Camera ↬
Canon 6D
Lens ↬
Canon 24-70mm F2.8L II
Lighting ↬
Cononmark I6M, Yongnuo YN560 EX-III
Place ↬
National Museum of Singapore
Date ↬
11 May, 2018
Photo Editing type ↬
Advanced
Disclaimer for write-up
Other Themed Photoshoot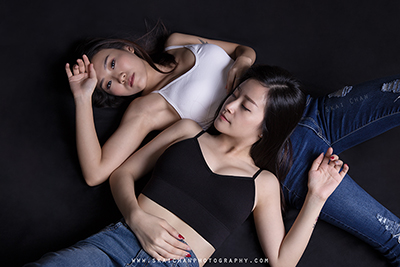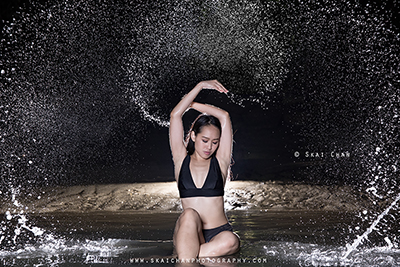 More
Themed
albums Portrait photography > All albums > All Themed albums
Page last modified on Thu, 26 August 2021