Certified Professional Hair & Makeup Artist (HMUA) in Singapore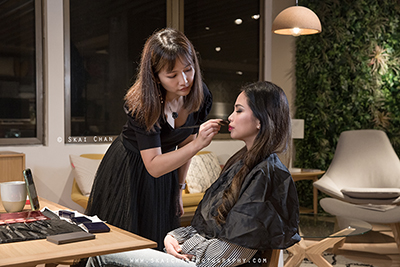 "Makeup is not only about concealing the flaws but also highlighting the good features and improving vitally; styling is not only about making you look prettier but also transforming you into the look that the theme requires."
---
#1: Hair & Makeup Rates
Personal hairstyling & makeup:
$150/look
Photoshoot / Fashion:
$200/look
Pre-wedding hairstyling & makeup:
$250/look
Bridal hairstyling & makeup:
$300/look
Mummy/Bridesmaid hairstyling & makeup:
$140/look
Follow through photoshoot:
$60/hr
Face painting:
$70/hr
Different hair and makeup artists may have different rates; therefore, do contact me with your requirements for more accurate quotation.

Note: I don't collect any commission from the hair and makeup artists so that they can provide their best services at the best rates to clients referred by me.
#2: Different levels of Makeup Artists
I personally categorise makeup artists into a few levels, with no mean of insulting anyone.
Amateur
An amateur refers to a girl who doesn't know how to apply makeup properly. She may know what's foundation and blusher but she's just randomly applying them. When I began portrait photography as an amateur photographer, I did work with some female friends under this category.
Enthusiastic
With the ease of free makeup tutorials online, such as YouTube, many young girls nowadays have started learning doing makeup by themselves. Some girls are able to pick up the skill that's enough to make themselves look good. However, most of these girls are by birth, already quite good looking. A girl who is good enough with her own makeup may not be good in doing makeup for others because everyone has different flaws on her face.
Trained or certified
A makeup artist who has undergone training and gotten a certificate from either an experienced private teacher or makeup school knows the basics to doing good makeup. She may know the concepts and theories but may need more hands-on experience in order to learn how to deal with different kinds of faces.
Experienced
There are tens or hundreds of new hair and makeup artists graduating from the makeup schools (including makeup studios) in Singapore yearly. Most of them are only taught the basics and it takes lots of practices to be proficient. An experienced makeup artist not only knows how to do good makeup for everyone but also knows what kind of makeup suits a girl. They usually command higher rates.
Master
A master not only knows what kind of makeup suits a girl but also how to style the girl to a specific theme or concept to bring out the feel.

For examples, a client may need a special styling in order to participle in her company DND or a young girl needs to be transformed into a mature looking girl.
#3: The Importance of Good Makeup and Hairstyling

"After and before" female makeover by hair & makeup artist Ivy Tan. Photo by Ivy Tan.



"Before and after" male makeover by hair & makeup artist Ivy Tan. Photo by Ivy Tan.
When you organise an event or portrait shoot that you have spent lots of time and money on, you probably want to get a good photographer to capture the moments. Similarly, you should be thinking how to look in your best during the probably once-in-a-lifetime event or when you want to do a photoshoot. This is the reason you need a good hair and makeup artist.

A good makeup does not only hide your flaws like acnes and scars, it also sharpens your features and bring life to your face, and at the same time, make your face look natural. A good makeup artist can make your face look slimmer and eyes look bigger, or uses colours to change mood and hide your puffy eyes.

Hairstyling makes a big difference not only to present the feel that you want to display, it also helps to shape your face. For example, if you have a high forehead, the hairstylist can try to make it less obvious.

More does not necessary mean good. Covering face with thick layer of foundation is likely going to make the person look fake. It may also make the face "crack" faster. While some girls know how to do very basic makeup, many do not care about their eyebrows. Eventually, the makeup will make the unattended eyebrows look very obvious. Wrong use of colour tones can make puffy eyes look worse. While differences in colour of face and neck make the model look weird too.

I'm not a makeup artist nor a girl but I will never underestimate the power of makeup.
#4: The Value of Makeup and Hairstyling
It's similar to the case of appreciating photography - not everyone knows how to tell the quality of the work. If you are given a single photograph, you probably won't realise it can be done much better. If you put two photographs taken by different photographers together, you can roughly tell which is a better photograph even though you may not be able to point out the differences. It takes time for me to improve my judgement even though I'm being guided.

The same problem of lack of skill to judge the art is giving the good HMUAs a hard time. Even for an experienced photographer like me, despite I can judge bad makeup, I'm not an expert in differentiating good and excellent makeup jobs. If a person does not see the value of good hair and makeup, the professional has no extra value and the person won't be willing to set a good budget for it.

I get to work with freelance models often and some of them do not even know the importance of having good makeup. A couple of them have told me that they prefer doing makeup by themselves as they think they know their faces better. Eventually most young models only know how to put layers and layers of foundation over their faces to cover acnes and pimple scars.

I also have clients who insist that makeup artists do not make much differences. One client has told me that she can get free makeup done at cosmetic stores while the result is similar to her previously engaged makeup artist's work.

No hair and makeup artist can produce good work simply by signing up to a makeup course. Everyone makes mistakes and faces new challenges, and it takes lots of practices and real-life experiences to learn. No client has the exact same face and skin colour, and that is why every assignment is different.

It is very insulting to professional hair and makeup artists by saying their quality of work for the couple of hours is nothing impressive.
#5: The Cost behind the Makeup Job
Eventually, it all boils down to money. No matter how rich a person is, there is a high tendency that she wants to cut cost. The situation is similar to engaging a photographer.

The basic tools of HMUAs do not cost as much as photography equipment but the bits and pieces of small items will cost a bomb altogether. For examples, items such as lipsticks and eyeshadow have various colours. There are also different types of false eyelashes and even wigs. Many tools do wear and tear too.

Cheaper products can produce far less pleasing results - for examples, they cannot be blended well onto your skin or they fade off fast. Thus, most professional HMUAs insist in using quality ones that will require higher cost. If you happen to get a cheap grab, the HMUA may be using less expensive (quality) products on your face.

Travelling takes into account too. The tools of HMUAs are heavy and bulky and they require to take cab. This is why some HMUAs will charge extra for transportation if it is an early morning shoot that cab fare is usually higher. This is also the reason why some HMUAs will charge a lower cost if you are willing to travel over to their houses.

Therefore, when you are engaging a HMUA, you are paying for not just her creativeness, skill and time, but also all the expenses of the tools and transportation.
#6: My Choice of Hair and Makeup Artists
I enjoy meeting and working with new people but I prefer sticking to just a few HMUAs. The reasons are obvious that (1) they have good working attitude, (2) passionate in the art, (3) a certain standard of skill and (4) I have already built up good rapport with them. Eventually, having good communication between the entire team would help to produce better work, especially for portrait shoots.

A major benefit of working with my hair and makeup artist friends is that some of them are willing to lower down their rates just to work with me. Therefore, it's something very beneficial for my clients.

Below are the HMUAs who are still staying in touch with me, together with the portrait project(s) they have done together with me. The HMUA list is in order by the date of our first project.
1. Tricia Lee
Tricia used to work as a commercial hair and makeup artist before she gave up her full-time job in order to take care of her three children. Her past adventure with all the established photographers had trained her to spot the tiniest details. Due to her pro-activeness and eagerness to learn, she had also picked up many skillsets from the photographers, less how to operate the camera and lighting.

She has the perfect eyes for fashion and styling, and she can easily visualize the final outcome of her work. She is a magician who can turn a little girl into a gorgeous lady and a plain lady into a stunning lady. She loves the process of transformation of looks. She can direct models well and also pose them elegantly and naturally.

Tricia is more than a HMUA to me. She is a great friend who always goes all the way out to help others without seeking any reward. She guides me in my photography journey well, such that my shooting style is being influenced. She has also been going through my work with me to select the best photos out of the albums.

Unfortunately, Tricia is very much occupied and thus has very limited time in taking up requests.

Projects:
---
2. Mandy Yeo
Mandy is an extremely easy-going, generous and self-less lady. Apart from being emotional and sincere, she also injects fun to the shoots, especially when her sister is present. She is eager to improve herself by taking up more makeup courses on top of her vast knowledge and experience. She has a wide collection of accessories and wardrobes that often come handy for any kind of shoot.

Mandy may not have the athletic build, however, her stamina can easily put many guys in shame. She is one of the fittest HMUAs I have worked with. Despite holding onto her own heavy and bulky makeup tools, she has volunteered to carry mine during outdoor shoots - and she does it when I get too carried away with the model(s).

Her working style is quite similar to mine.

Projects:
---
3. Yuko Imoto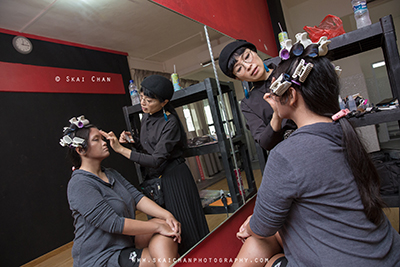 Yuko Imoto working on hair and makeup for Nathalie Blue
Currently stationing in Japan.

Yuko is a hair and makeup artist from Japan who speaks quite good English. She is a mature, independent, gentle and hardworking person who does not mind spending extra effort to make everyone look pretty. She would go to the extra miles by hiding the model's scars on the legs.

Apart from being just a hair and makeup artist, Yuko is very strong in her styling and she could come out with great concept for photoshoot, which is impactful. She is also good in guiding models.

Projects:
---
4. Koreen Hong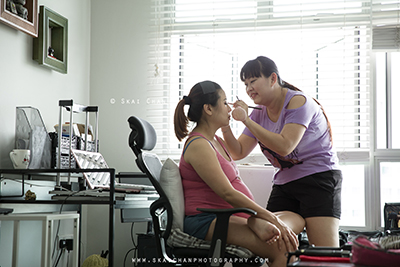 Koreen Hong working on hair and makeup for Monica Weng
Koreen is an easygoing and accommodating hair and makeup artist. She has the never-give-up attitude that keeps the shoot going even when the shoot has overrun, continuing to put in her full effort. She is someone who will not complain about waking up early even though she had a full day the day before. Koreen is pretty easy to be pleased just like me; she will "dance like a kid" when people appreciate her work.

Projects:
---
5. Kelly Lim
The first thing that comes to my mind when I think of Kelly is responsible. There were a few incidents that she had to drop her project, she actually forked out money out of her pocket to get a replacement. The second thing that comes to my mind is helpfulness. She is willing to share knowledge with me even when she is not involved in the project. We hit off very well since the first time we met.

Projects:
---
6. Jessica Chia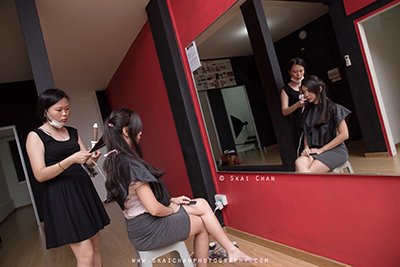 Jessica Chia working on hair and makeup for Boon Hui
I'm embarrassed whenever I recall about the first time Jessica and I worked together. I reminded her a few times to text me once she was waiting for the bus but I was too busy setting up the equipment that I neglected my phone. She was, however, able to find her own way to the shooting location. Therefore, she is known to me as a patient, forgiving and independent lady. Even though the makeup was done indoor, I did not give her the most conducive environment as the air-conditioner in the hall was broken down and she had to move to the room as the model started perspiring. Next, I witnessed her running in and out of the room to fetch her tools that were already laid out at the first location. It was probably a more tiring shoot compared to her usual outdoor ones.

Project: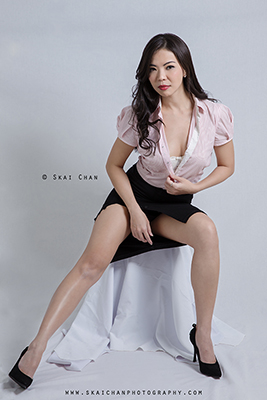 ---
7. Ivy Tan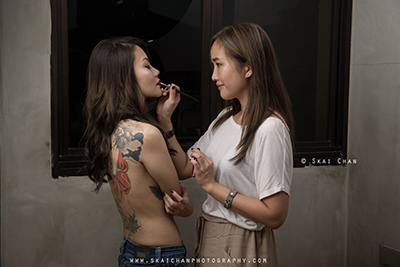 Ivy Tan working on makeup for Eva Loa
I initially thought Ivy was an ice queen, probably because she was too focused on her work. I didn't interact much with her during the shoot. Since the couple we were working together with were my old friends, Ivy was rather stunned with the words I used. Eventually, she proved me wrong in judging people when we started discussing for further collaboration. From then on, I have to think thrice whenever she tells me a problem because she can be just trying to bully me back.

Ivy is a very potential hair and makeup artist. I may not be a good critic of makeover work but she is pretty and hot, and thus simply showcasing herself has won half of the battle to gain the trust of clients.

Projects:
---
8. Joey Yu
Joey is a very soft-spoken and easy-going lady and thus talking to her is an enjoyment. With her looks, she could have become a model as well. She can also share very detailed analysis of photographs with me.

Project: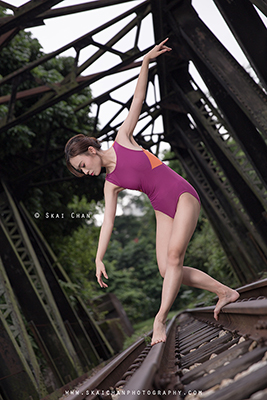 ---
9. Neetha Neha
Neetha also conducts makeup courses for makeup artists. She helped to organise a shoot between a client and I. During the shoot, she also asked me for opinions on the makeup.

Projects:
---
10. Thao Lee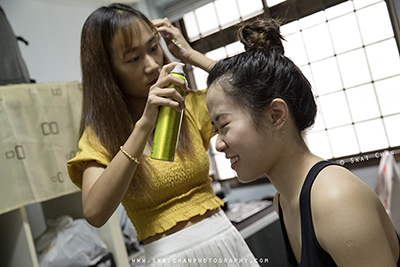 Thao working on makeup for Ye Qi
Thao Lee is a very flexible hair and makeup artist who's able to do her work at any kind of environment. She doesn't complain. She's also very quick-witted and creative. Working with her is very easy.

Projects:
#7: Requirements of my HMUAs
Appreciates my work and character
The main reason someone wants to work with me should be that she appreciates my work and character. For a stranger to understand me, she should have spent a lot of time and effort to go through my website to observe my work and writing. If the reasons for a HMUA to work with me, for examples, are to get a kick start due to my large social media follower base or that she's simply desperate to get a photographer, the relationship likely won't last long. Without knowing and appreciating me, there won't be enough trust for any long term collaboration.
Positive vibe
I need positive vibe. If someone in my team is giving "black" face from time to time, it will affect the entire team. Imagine in the midst of a shoot, the HMUA looks restless or grumpy, I would be wondering, "Is she expecting us to end the shoot now?" I have experienced it and it's very awkward, especially when I'm someone who wants to take good care of the entire team.
Open-minded
The genre of some of my shoots may be more sensual. Therefore, the HMUA has to be open-minded and comfortable with models who are not dressed up commonly. The HMUA has to understand that professional photographers already have lots of experience and should be treated with respect.

There are many ways a HMUA can make things awkward. For example, she tries to cover up the model and make it seem like she's protecting the model from a pervert. She may be making the model more tensed.
Upholds values
Our work involves a lot of models. We should be doing things that can keep the models safe and we should not get involved with people who are obviously black sheep in the market. By working with black sheep, innocent girls may mistake that we have verified the person's character by associating with him and let down their guard.

I did have an encounter that a HMUA friend was approached by one such black sheep. She told me he was previously being charged for outrage of modesty of a model under him. She insisted in meet him up in real person because he was offering her business opportunities and I turned her down. To her, I didn't want to make money.
Good stamina
I do all kinds of shoots, including a lot of on-location shoots. During my outdoor shoots, if the HMUA were to follow through, she should at least have the stamina to walk and stay alive. Clients do pay a lot for a professional HMUA to follow through the shoots so that the HMUA can touch up on their makeup and hair when necessary. Having poor stamina may give a negative vibe.
Keeps secrets between us
We will be discussing a lot about the models, including their strong points and flaws, in terms of their looks, attitudes, demands and reactions. There is no perfect person in this world and thus it's inevitable to highlight about negative things. If the HMUA happens to tell any model about our discussion, it is sowing of discord because the words may be brought across wrongly or in a negative way, or perhaps, not all facts will be acceptable.

I did experience once when I told a HMUA not to expect too many good photographs from the shoots, due to many constraints. It was out of good will because I had been producing a lot of good photographs with many varieties, and thus I didn't want her to be disappointed. Eventually, the HMUA, after bearing lots of displease with me over time, told the model that I had told her not to expect too many good photographs. The model confronted me immediately.
Shares all problems regarding the shoot with me
We are working as a team and a photographer is supposed to oversee everything for the shoot. Eventually, the photographer has to communicate with the model to make her feel comfortable. Although I'm a guy, it doesn't mean that I should be kept away from knowing girls' stuff that would affect the shoot.

I had an awkward experience during a shoot. The model forgot to bring/buy nipple stickers for the shoot and she asked for some normal tapes from the HMUA. I could sense something was wrong and the HMUA refused to tell me about the issue. Her reaction and tone made it seem like I was an outsider and that kind of drew a border between the model and I.
Able to communicate well in English via texting
I'm bilingual in both English and Chinese but it's difficult for me to communicate via Chinese in texting. I'm not good in English and if someone has a much weaker command in the language than me, it doesn't spell good. If the HMUA is weak in the English language, she will not be able to communicate well with me.

My experience communicating with a HMUA with a bad command of English via texting cast lots of miscommunication. In the long run, it caused lots of miscommunication and frustration.
Good rapport with me
We often have to do discussion with other project member. The HMUA has to be in the same frequency in order to deliver the ideas. We are also working with a lot of female models and there are things that are better to be conversed via a female - the HMUA.

There was once when I had a group chat with a HMUA and model to discuss over the theme. The HMUA and I knew what we wanted to do. I dropped many obvious hints in the chat but the HMUA didn't play along, while the model was obviously not interested in the concept. The HMUA then blamed me in private for not speaking up directly when it was easier for a female to speak up. She then insisted that the model didn't understand my concept although I understood the model wasn't a retarded. Eventually, I stated directly in the group chat and the model turned us down directly as well.
Able to work within timeframe
If we want to do a morning outdoor shoot, we would be trying to grab the "first light" at around the golden hour (near 7am). If the HMUA arranges to start the makeup at 5am and yet we could only reach the venue only around 9am or even later, it would make no sense for the entire team to meet up so early (at 5am), having to battle with bad sunlight eventually. Similar for early evening shoots, if the makeup takes up extra time, the day shoot would end up becoming a night shoot instead.

I did experience such problem many times, which had affected the quality of my work greatly and some of the concepts had to be changed on the spot after reaching the location late.
Does the actual work
If the HMUA is staying through the shoot, the primary duty is to take care of the model's image. She has to touch up the model's makeup when necessary and always keeps a lookout for strands of hair covering the face. The HMUA may want to excuse herself for a while to give the photographer and model some private time because having a third person around can be awkward at times, however, the HMUA has to do regular checking on the model. Without doing that, the photographer has to spend extra time removing strands of hair during post-production, which will prolong the process and also affect the quality of work greatly.
Does the "contact" work
Since I'm a male photographer and most models are female, I will try not to have any body contact with any model. The HMUA has to help to adjust the model's outfit and posture if necessary. We work as a team.
Keeps a proper hygiene of tools
We have to have clear conscience and not let anyone be affected by infection or whatever. For example, the brushes should be properly washed.
Quick response
When I have a project on hand, I need a quick confirmation (not just a reply to acknowledge) to whether the HMUA is interested or not. It's okay to turn down any shoot because I can contact other HMUAs instead. However, if the HMUA drags the confirmation until the date is nearer, it's extremely difficult for me to find another HMUA with a short notice.
High EQ
With a high EQ, most of the problems listed would not appear.

During one sensual shoot with a very open-minded model, we wanted to try to get the model to do some hot poses that she hadn't tried before. I gave some suggestions and let the model digest to see if she wanted to do or not. It was near midnight (the model turned up late for the night shoot) and the HMUA was kind of frustrated (she later admitted she was sleepy). Instead of guiding the model, the HMUA lectured me like a student, telling me to speak up (when I had already given clear instruction to the model and waiting for her response). I was totally stunned by how the HMUA put me in an awkward situation.
You may like to read:
- Special photoshoots you can hire a professional photographer to do
- Freelance Models in Singapore
- Freelance Photographer in Singapore
- Talents you should avoid working with

Page last modified on Mon, 02 August 2021