Portrait Photographer in Singapore
Personalized High End Photography for You
Approach me if you wish to get personalized pictures that are: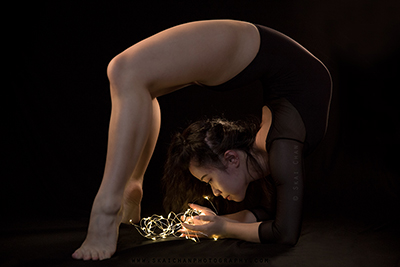 Eye-catchy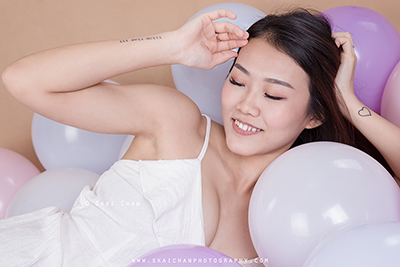 Flattery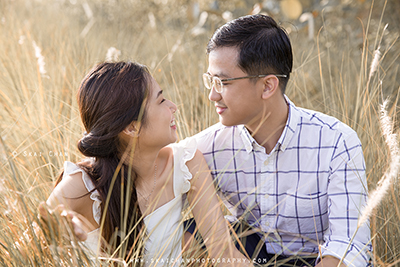 Natural
Eye-catchy   . creative concepts and lighting
Creativity is in my genes; my pursuit of uniqueness helps to create special art work. My professional lighting equipment enables me to take control of the lighting and create the mood to suit the specific themes. My forte includes dimming down the background while lighting up my models, so as to draw viewers' eyes to them. Photography shoots can be taken at any location of your choice, including photography studio, your residence and even outdoor (during the night). I will keep you visible so that viewers can recognise you, which is the main purpose of doing a shoot.
Flattery   . flattering light & styling
I create flattering light to make you look gorgeous. I take care of styling (outfit, hair and makeup). I select outfits that look flattering on you and suit both the concept and background. I also work with professional hair and makeup artists.
Natural   . natural lifestyle shoot & editing
My lifestyle and casual style of work not only gives a more natural feel, but also allows every inexperienced model to feel comfortable. My respectful behaviour towards models make them feel safe and relaxed, such that they would be more comfortable during the session. I lean towards the commercial style for photo editing. I know what to edit, what not to edit and how to edit. I take extra effort to keep the photographs look unedited (natural).
Photo Galleries:
My Portraiture Style
I began photography with a "crash course" from an experienced photographer friend. Then, a masterclass commercial hair and makeup artist (HMUA) friend drilled me hard on professional styling and commercial standard of photo editing for over a year. Due to these blessed and extraordinary encounters, I've managed to build my foundation, including appreciating models and spotting flaws in photos, differently and have the edge over most other photography enthusiasts.
Ideas / Concepts
I don't like to be mainstream and thus I often make special suggestions. I also love exploiting the creativity of my teams, including models, to combine with my own idea to create unique work together.
Model's hair & makeup
I prefer a natural makeup for my portrait photoshoot, unless it's a special concept, such as creative makeup shoot. Hence, the HMUA (hair and makeup artist) who works with me must know my style and I will trust her in her craft.
Model's wardrobe
I'll go through the outfit together to select the most suitable set and avoid fashion disasters. An outfit may be nice but it may not necessary suit a person, the style we want to create for her, the mood of the concept or even the background. The design, colour and texture do make a difference.
Model's poses
I don't like to over-pose models and I usually go for lifestyle poses that are natural.
Body contact
None. I've been practising safe-distancing since the start of my photography journey and way before the pandemic. I'll correct the model verbally and refrain from having any skin contact with her. Any hair and outfit adjustment will be made only with the model's consent if no female assistant is around.
Camera & lenses
I'm using a full frame DSLR. My favourite lens is 24-70mm F2.8L, which is sharp, has good depth of field and covers the range of distance that I usually need, which helps to avoid switching of lenses during the photoshoots. I may also bring along a wide angle zoom lens or a prime lens.
Photography lighting
My expertise is on using of professional lighting to create eye-catching and flattering light to make the model stands out and look good.
Pace of photoshoot
I work on a slow pace to ensure the best quality of work possible. I try to get everything correct during the actual photoshoot. Working on professional lighting requires much more time than natural lighting.
Timing of photoshoot
For outdoor photoshoots, I'll schedule them at the best timing (golden hours) possible to produce the best photographs.
My attire
Shorts and Sandals usually. I'll be in the most comfortable wear possible to be able to move around freely and also get dirty and wet if necessary.
Post production
For advanced enhancement, I work towards the commercial standard, which may require hours to work on every picture.
My Portraiture Vision
"Beautify subject and bring the best out of her"

I love portraiture photography because I love making people look good and happy, which in turn will increase their confidence. I take pride in the transformation of girls into beauties through my photography, and help them to build confidence and make everyone happy; and I believe happiness is contagious.

Art is a way of life and I'm determined to deliver it in a tasteful way. Due to my frankness and respectfulness, my models trust me, get comfortable and eventually able to produce nice pictures together even for sensual genres such as art and boudoir.

Everyone has his or her own flaws and I have the desire to hide them. With the help of a professional hair and makeup artist (HMUA) and both my photography equipment and skill, the good features of the model can be highlighted. Together with proper props, poses and expression, everyone can be beautified.

I've been working mostly with non professional models (as featured on my portfolio) and most of them had no experience nor confidence in photoshoot. Portraiture photography isn't about getting the most beautiful model to work together but is about how the photographer can bring the best out of the model. Photography is also about capturing the moment to implant the desired looks and improving the visual pleasure of the viewers. Without doubt, working with an appealing and experienced model has an edge over working with an average one. However, I do like to challenge myself, as long as the model is willing to cooperate fully.

"What shines through most is the model's personality while her looks complement it beautifully."


View:
FAQ
#1 Portrait Portfolio
#2 Portrait Working Style
Page last modified on Tue, 14 September 2021