Indoor Lifestyle Photoshoot with Greg




This indoor lifestyle photography was done at Greg's home, displaying his talent in music (bass guitar) and proficiency in the Japanese language. Since these were just part of the entire day's photoshoot, we had to race with time.

In order to keep the photographs as natural as possible, I tried to work with natural light at the first scene, which was next to the full length glass windows next to the main door. The area was nicely designed with carpet, beam bags, coffee table and some very cool decoration items.

Greg's clothes collection were mainly blue in colour. He had to dig out a brown top since his bass guitar was blue in colour.

In order to showcase Greg's talent in languages, I made him write some Japanese characters. The area was further away from the glass windows and I used the ceiling lamp as the light source. Eventually, I bounced some light on the wall to fill up the shadows.
Featuring ↬
Greg
Hairstylist ↬
Ivy Tan
Makeup Artist (MUA) ↬
Ivy Tan
Wardrobe ↬
Greg
Camera ↬
Canon 6D
Lens ↬
Canon 24-70mm F2.8L II
Lighting ↬
Canon 600 EX-RT
Place ↬
Home
Date ↬
11 April, 2021
Photo Editing type ↬
Basic
Disclaimer for write-up
Other Lifestyle Photoshoot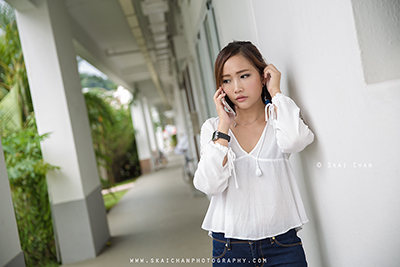 More
Lifestyle
albums Portrait photography > All albums > All Lifestyle albums
Page last modified on Thu, 26 August 2021