Boudoir Photoshoot with Syriicyaniide




Syriicyaniide was one of the nice girls who would reply to my Instagram stories and gave me advices. Her straightforwardness had even helped me to uncover a dark secret that someone had been backstabbing me.

I brought along more equipment than usual for the shoot and I was delighted by the PHV (private hire vehicle) driver who was friendly and helpful. We had great chat along the way.

A sudden lostness did fill me after reaching the place. Although it wasn't as messy as my house, there were still quite a big chunk of items to be shifted in the living room. Syriicyaniide was a quicker mover than me and I felt quite bad that she had to help me to clear the stuff.

Another sweet thing about her was that she wasn't a big fan of artificial light but she accommodated and cooperated with me. During the shoot, she made funny faces and sometimes acted like a kid; it helped to reduce any awkwardness - even if there was any.

We moved into the bedroom and I decided to reward her by using natural light instead since we had the windows next to the bed. Unfortunately, it was a difficult task since the position of the sun was at side of the short length of the L-shape windows. At that point of time, the sun was setting and thus it was very dim.

Another challenge was that the ground was as messy as she had warned before the shoot. I didn't want us to exert more energy by doing housekeeping again. Therefore, I made do with whatever we had, proceeding the shoot with very limited angles to avoid capturing the items as background.

Since I could only face the windows, I had to battle with back-lighting. While I was troubling over the bad shadow, Syriicyaniide took out a table lamp to aid me. However, its cable wasn't long enough to place it nearer and at a higher angle.

I was glad with the quality of the final work, although I was looking at having more varieties of backgrounds.
Featuring ↬
Syriicyaniide
Hairstylist ↬
Nicole
Makeup Artist (MUA) ↬
Nicole
Wardrobe ↬
Syriicyaniide
Camera ↬
Canon 6D
Lens ↬
Canon 24-70mm F2.8L II, Canon 50mm F1.4
Lighting ↬
Godox AD600B, Cononmark B4, Yongnuo YN560 EX-III
Place ↬
Tiong Bahru (bedroom)
Date ↬
30 April, 2019
Photo Editing type ↬
Advanced
Disclaimer for write-up
Other Boudoir / Intimate Photoshoot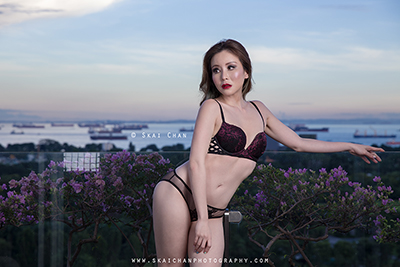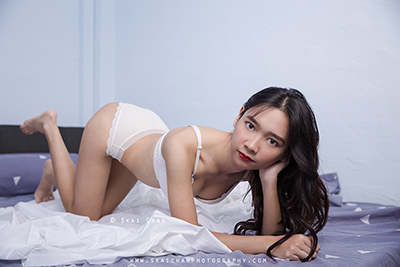 More
Boudoir / Intimate
albums Portrait photography > All albums > All Boudoir / Intimate albums
Page last modified on Thu, 26 August 2021