Clients from Hell (Photography Services)
While clients choose their photographers, I believe in photographers choosing their clients as well. There are photographers who will do anything for the sake of money but there are also some who are more into art (of course, require to make money as well but not desperate). I belong to the group who chooses his clients and thus able to reduce the number of problems. This is probably the reason why many people say artists are poor people.
Case 1: Private portrait shoot (boudoir)
The first time a client was dissatisfied with my photography services was due to the number of photographs she received, even though we had agreed on just five final photographs with advanced editing. The rate was quite low as I was simply trying to test the portrait market and thus she was actually a "budgeted client" (although many "photographers" were charging much lower than my rate even at that point of time).

It was when I was new to shooting for clients and I thought I could accumulate some experiences. This client was asking for a boudoir shoot and I agreed too early to take up the project without interacting more with her. She was weird and seemed to be skeptical of people. I could only see a small number of her photographs in her Facebook profile and they were taken many years back. When I asked her for more recent photographs, she sent me two similar ones that were taken by her friend, which she called it a "photoshoot". When I asked her when they were taken so that I could roughly judge her looks, she refused me in a shocking "tone" like "does it matter?" and I could see she was hesitating to give me more information about herself. I was unable to communicate a lot with her before the shoot.
There were plentiful of obvious reasons why there was a "low quantity" of photographs given back to her for the two-hour shoot.
I had to set up the place
It was a terrible timing (near noon time) and the sky was probably clear, such that very harsh light was entering the studio. Besides, I had to use the backdrop for more varieties of photographs - that was the purpose of booking a studio. I had to draw the curtains to block the harsh sunlight and since they were poorly maintained, I had to even find clips to secure some parts that could not be closed. There was a glass door next to the backdrop that didn't have any curtain to cover up and I had to find something to block part of it.
I had to set up unfamiliar lighting equipment
I did bring my speedlites along but since there were some splitting of light through the curtain and especially the glass door, I decided to use the existing studio strobe, which was much stronger. At that point of time, I had not tried working with any studio strobe before and the radio trigger the staff passed me didn't seem to work. Eventually, I used my speedlite to fire the strobe in slave mode. I had to go down to ISO 50 and around F8 or smaller to kill off the harsh light.
She wanted to print and sign a contract
Even though she was the one who had approached me, she did not seem to trust me. So, she had to get the staff to print out the service agreement on my website with a some amendments to indicate the privacy of the photographs. Then, both of us had to sign on all pages on both copies. Of course, I also had to do a little checking of the contents since the thumbdrive was brought by her.
There was a CCTV that made private shoots awkward
I had given my best advice to do the shoot at her house. Instead, she booked this studio because it was one of the cheapest she could find. She was proud to highlight to me that the website had indicated that we would have our privacy. I was professional enough to check the surrounding and spot the CCTV. However, it seemed to make both of us more awkward. Besides, the boss of the studio was a photographer who did not have very good reputation. It was disgusting if he were to look through the recording of a boudoir shoot for "free show".
The staff entered two to three times
As much privacy as the studio had offered to users, the staff came in to take things two or three times. Of course, both of us paused due to the awkwardness.
Restricted angles
It was a big rectangular layout studio. One long side was actually full length glass while the opposite side was occupied by equipment. The curtains were made of reflective material that didn't cover the entire glass, leaving a gap at the bottom. For boudoir shoot, the reflective material would kill the "soft" feel and besides, the gap at the bottom was ugly with some light coming in. Therefore, we weren't left with too many angles to shoot.
She could not differentiate between right and left
She had issues with her sense of direction (in both English and Chinese Mandarin) although she had her driving license. It made directing her extremely difficult.
She was an awkward person with very stiff body
I thought she was rather too self-conscious, which made her worry a lot about her poses. Her body was stiff. Even when I got her to lie down normally like how she would laze around at home, her postures were weird. It was difficult for her to get any good posture.
She didn't bring along a prop
I got her to bring along a prop, which would help her a lot since she couldn't pose. Using of a prop would make her more relax and she would definitely look more natural in front of the camera. No, she didn't.
She insisted in imitating a photograph
She had found a nice photograph of a girl laying partially on a nice ground and a white mattress. The room seemed to be located at the corner of a building with natural light coming in from two sides of windows 90 degrees apart. It was a high key photograph with very soft light somehow. After taking a few shots, I knew it was impossible to replicate the photograph because of both the setting and lighting. However, she insisted in doing it on the floor with the cushions she had brought along. The overall feel was awkward and we wasted a lot of time on it.
She had to change into her outfits
Changing of outfits required time.
She told me to filter the photographs taken
I did take quite a few shots for each pose we attempted, however, most of them were awkward either due to her poses or expression. Therefore, I had filtered away most of them and chosen the best for each pose. Given the limited time, it was impossible to give her hundred(s) of photos. I did not want to give her like five similar photographs for each pose just to make up the number.
We were aiming for only five good photographs
The agreement was that she would only pick five best photographs for advanced editing and I did not realise quantity mean a lot to her. I had already emphasized a lot about quality over quantity on my website.
We ended before the booked two hours
We had to stop earlier to pack up and she had to get changed - we did not have the full two hours to shoot.
I wasn't that experienced YET
For the price she paid for the quality of photographs with basic editing (although I wasn't that experience), it was really a good price for her. I could have insisted in communicating more with her before the shoot, even at the expense of her getting annoyed.
She paid me in full as agreed, except for the advanced editing, at the end of the shoot. However, she borrowed some money from me to pay for the studio. After I was done with the filtering and basic editing, she was displeased with the quantity of photographs.

She used example of her shoot with her friend who had given her around 200 photographs. However, the two photographs she sent me were similar and I would not be shocked if the rest of them were mostly similar. They were taken without any professional lighting and they were both underexposed. She was actually playing her musically instrument, which made her look more relax.
She did not know the difference between the shoot done by her friend and the shoot done by me.
I used professional light instead of just ambient light
I wanted to produce soft light to make the model's skin look better and avoid causing noise on the photographs due to using of high ISO. Given the situation of an indoor place with windows covered (to avoid harsh sunlight), artificial light was required. Whereas, it took time to test both the ambient light and the artificial light just to get the correct setting. Besides, everytime the model switched position, I had to test the light again. The end result was having better lighting on her skin to make her look younger even before doing any advanced editing.
We had tried more varieties of poses
At least, it seemed to be - the two photographs she sent me were similar. We shot at the sofa, floor and with the backdrop. I could have done the entire shoot at the same spot and move 360 degrees around the model to get "360" photographs. Then, I could also shoot from different heights. Eventually, I could have given her one thousand similar photographs. I do not do stupid things.
She didn't bring the prop along
I had already planned something with the prop and it could really help to get many nice photographs, including to get her warmed up quick.
She asked for discount of $50 (the amount I loaned her at the studio) and I refused because I had already done my best. She returned me the $50 and did not want any advanced editing to be done to any photograph as she claimed she wanted to use the money to pay for better photographers.

Generally, she is not a bad person, but definitely not someone easy to work with for a portrait shoot. She is also the very budgeted type of client whom I'm not going to target.
Case 2: Special project
My good friend got my help to take up a project together from a very reputable institution. The client didn't state all the special ridiculous requirements before I gave the quotation. After realising it, I didn't want to do the job but the client has already unofficially confirmed my services and I didn't want to put my friend in a tight spot. Eventually, more ridiculous things came out.

One of the worst things was the planning of schedule from 9am to 10am and 4pm to 5pm, wasting my three entire days. Besides, there was no clear instruction and thus I was very lost during the shoot. The person-in-charge was a photography hobbyist who did some insulting things to me unintentionally.

Eventually, even getting the payment took months.
Case 3: Event shoot (ROM)
This is the most disheartening incident because of the extra effort I have done for an old client. She was very happy with both my work and personality that she had referred a few clients to me.

This time, she personally wanted to engage me for her younger brother's ROM and she asked for a big discount. After some casual chit-chatting with her, I actually gave an open ended answer and stopped replying when it came to the money issue again. A week later, she approached me again and I hesitated before accepting her request.

The reasons for accepting her request were (1) the rate I charged her previously was much lower as I was newer, (2) we treated each other as friends, (3) she appreciated my work, (4) she had recommended me clients, (6) she and her husband were very good people, (6) her brother looked decent and nice and I assumed would not give me any issue, and (7) she did not give up after the first try to engage me.
The things that I had done professionally and the extra things I had done as a friend:
I usually would not bother with any lowballer but I gave her a lower rate and she had only booked me for two hours (my minimum booking block), which made the trip less worthwhile.
The timing that she requested for me to be there was the starting time for the solemnization. If I did not check with the groom who then told me to reach 15 minutes earlier, there could be some problems.
I reached much earlier and started shooting to capture some of the "behind the scene" moments even though it was not yet the official time. I did not charge her for the extra time.
I was not informed of the presence of a videographer who seemed to be the groom's good friend and I did not get to communicate with him. However, I tried my best to work with him to not get into his lens and also tried shooting from other angles to avoid capturing him. Unfortunately, he did block me from the best angle during half of the solemnization process.
Despite asking her for the programme outline, I was only informed on that day itself that the dad would be receiving the bride at the lobby like as if she was not present earlier on. The nightmare was that nobody informed me when the bride had left to make a round trip back. I played by ear and managed to find her dad to capture the moment.
When the bride and her dad was entering the function room (the doors were congressed, together with the videographer), I made effort to dash to the other end of the room to enter using the other door just to capture the moments from their front view.
Due to the fact that the original plan was to take group photographs at the park nearby under the hot noon sun, which was going to give harsh and bad angle of natural lighting, I brought along extra lighting equipment (portable studio strobe), on top of the heavy spare equipment (just in case my main set would give problem).
During the shoot, my client and some of the elderly had repeatedly asked me to eat but I refused to because the couple might need me to take some photographs and I was trying hard to see if there was any special moment I could snapshot while the guests were still around. I wanted to give them more photographs.
While I could idle or take short breaks when there was nothing interesting to capture, I took photographs of my client's kids as requested by her earlier.
I took very little food so that I could continue with the shoot (already over the engaged time) to capture more good moments/expression.
I stayed on much later to try to capture more things, even until most guests had already left. It was when my client's dad was about to drive his car over to drop me at the nearest train station, I quickly packed up.
For post-production, I tried to give back as many photos as possible, including some that I did not like the background (for example, I was told to take group photographs with backlighting, although I did advise them to change location) - they were bad photographs to me but definitely good enough to show the happy faces. Even for most of the group photographs, I took insanely a lot to increase the chance of getting good photographs (everyone with their eyes opened). I even gave two of each (close up and full body) for their personal selection.
It was my reservist period, which I had already informed my client before taking up the shoot, and I had to do other daily task at night after booking out everyday. I also fell sick due to lack of sleep. However, I spent time working on the photographs and managed to return to the couple very soon after reservist, which was about two weeks after the shoot. Besides, the due date was two months after the shoot, as indicated on my service agreement.
My sixth sense of an upcoming trouble came during the actual shoot when the bride asked me if I would "edit" the photographs. I sensed that she could be the type of girl who would "photoshop" all her selfies before she could post them anywhere. Immediately, I told her that there would only be basic editing.

After receiving the photographs from me, the groom messaged me to see if they could request for editing. I was horrified but stayed professional and replied him my standard rate for editing each photograph. I was not even interested in making the extra money since I thought event shoot not worthwhile to be edited with advanced enhancement because I could not pose the models, set the best lighting and avoid the crowds (their guests) or other distracting elements at the background. Anyway, there was no reply from him after that.

On the next day, I received a Facebook message from a net friend whom I had not spoken for years. In fact, we had only exchanged a few messages when I was new to portrait photography. She told me someone had posted something bad about me and she detested such poster because no evidence was included. After confirming with this net friend regarding the contents and location, I found out that the poster was the bride whom I had done a lot for and the post was located on a secret Facebook group "Budget Brides (Singapore)".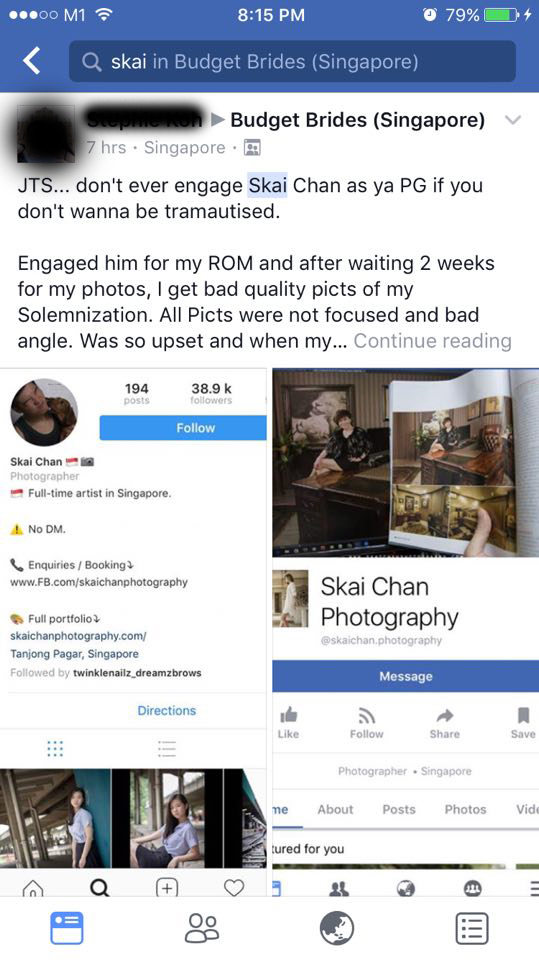 Printscreen of the dramatic allegation post
"JTS... don't ever engage Skai Chan as ya PG if you don't wanna be tramautised.

Engaged him for my ROM and after waiting 2 weeks for my photos, I get bad quality picts of my Solemnization. All Picts were not focused and bad angle. Was so upset and when my..."
She made it sound like two weeks was long but she did not know some professional photographers would return photographs only three to four months later, which I had personally witnessed through my elder brother and other friends' wedding. I had no idea which full-time photographer could return clients wedding photographs within three to four days without outsourcing the editing work and if his schedule was packed.
She claimed all photographs were not focused and bad angle. I shared the photographs and nobody could find any fault with them. My net friend monitored the post and told me the reaction was far little compared to the rest of the posts there. There were only a few people who had shown support to her and they were discussing that editing of each photograph should only cost a few cents, which was a big insult to professional photographers/retouchers. She also called me by "that idiot" in her post.
I was in a dilemma because it was a super good marketing opportunity for me and yet it was in the wrong group since I was not interested in "budgeted clients". I was sure not everyone inside was "budgeted" people as my net friend was somehow added in after her wedding and she was not a "budgeted" person, at least not for her wedding.
Anyone with a sound brain who had seen the post could easily tell it was an allegation.
The bride did not post any evidence to support her claim. She behaved just like a spoilt kid who was randomly accusing someone had killed her family.
She was far too dramatic with her accusation "all picts" - not many people with common sense would buy her words. She could have thought of other ideas to accuse me or my work but definitely not say "all".
Married couple who did not go for budget wedding would know she was being ridiculous for complaining when she had received her wedding photographs so fast - two weeks.
She had added a screenshot of my Instagram and Facebook accounts, which would lead viewers to my work if they really cared. After viewing my work, they could easily judge the quality and see through her plot.
What I could do was to simply upload all the photographs into Facebook, write as per normal to describe the shoot, then include her accusation at the last paragraph to shock everyone and get my net friend to post the URL to the "budget" group. It would definitely backfire on her badly and the story would become an internet sensation. People would take pity on a photographer who is being wrongfully taken revenge on for refusing unreasonable demand (she was expecting free advanced editing).

However, since my client was the one paying me for the photographs, I tried to contact her to sort it out before I would do anything. She then got the bride to remove the false accusation to end her childish wrongdoing.
Analogy
Imagine you are an organic fruit seller who imports quality goods from reputable countries. A regular customer buys a watermelon from you to give to her sister-in-law. You kindly put the watermelon into a nice bag and carry it home for her even though you are busy and not feeling well. Her sister-in-law comes back to request you to do a sculpture on the skin, which the effort, time and skill surpass the actual price of the watermelon by a lot, and no customer would request for. You quote her your usual price for the work and she is unhappy that it costs "additional" money. Then, she starts posting online in a "China products" forum to accuse that you are selling rotten watermelon and she has waited very long time for the watermelon to be delivered to her. She does not even post photograph of the "rotten watermelon".
Case 4: Asking for More
When the HMUA approached me for my rates for the client, I quoted her an hourly rate, together with the number of photos to be returned with editing. She assured me that the client was satisfied with the rates. Since she sounded very experienced, I thought she could manage her client well.

The HMUA initially told me the shooting venue would be at Marina Bay, near the LV building and Helix bridge. She told me to start shooting by between 4.30pm to 5pm since she would start the makeup at 2pm. Eventually, she wanted to include the shoot at the hotel room.

However, on the day itself, the HMUA suddenly told me to meet at 5.30pm instead and then further postponed it to 6pm when I had already left my house. I reached the hotel and contacted her by 5.35pm.

The HMUA's assistant came down to the hotel lobby to fetch me near 6pm. The hotel room wasn't a good place for shoot because of many reflective surfaces and I told them of the constraints immediately. I got them to give me samples of how they (the HMUA and client) wanted to get the shoot done inside the hotel room while I set up my equipment. They also told me the plan was to work with two outfits inside the hotel room. The outfits were not easy to be shot with.

I was a little lost since I wasn't sure whether to take the HMUA or the client's instruction. Although the HMUA told me I was able to use my creativity, they had samples to try to imitate. Thus, I followed their instructions on the poses and backgrounds, while I focused on producing the best lighting possible and at the best angle.
Due to various factors such as location, lighting, makeup for different looks and preparation, we spent quite an amount of time for the shoot. We ended the shoot at 10pm.

The client told me she wanted 15 photographs and thus I quoted her the rates for four hours of shoot with 15 photographs. She told me to choose the best 15 photographs for her. I tried to reassure with her and the instruction was clearly to choose around five photographs for each of the three outfits. I was paid the full amount in cash.

A week later, the HMUA texted me politely and I told her all was fine. Suddenly, she called me and said the client was concerned with the editing. She told me the client wanted to get the raw photographs as well, so that she could get more photographs edited in Malaysia (cheaper). I told her the agreement was to provide only the edited photographs and my policy was that I would not send any raw photograph. She said she would get the client to contact me directly.

On the next day, a lady called me and claimed she's working for the client. She said all photographers would give to them all the raw photographs - like as if they had been engaging photography services often. She twisted the fact and said the client (her boss) told me to choose the best photographs for her to choose the best 15 photographs. However, I highlighted to her that the client had specifically asked me to choose 15 photographs to edit and she also mentioned that I could choose around five photographs for each of the three outfits. I also explained that the client didn't need too many similar photographs while I had already chosen the best photo for each of the scenes - we didn't have a lot of photographs. She then told me that she would need the extra photographs just for keepsake. Next, she bargained for 30 photographs instead. I turned her down and asked her to get the client to contact me directly.

It was weeks or a month later, this lady contacted me using the same number and introduced herself before I realised she's the HMUA's assistant. Eventually, I realised she's actually the assistant of the client and the HMUA used her as the makeup assistant on the day. She asked me for the delivery of the 15 photographs, marking the end of the drama.

After running through the entire encounter, I had high suspicion that this assistant was mastermind of the cheapo request. The HMUA told me that the client was rich and from my interaction with her, I thought she was generous and easygoing. On the other hand, the young assistant seemed a little crafty.
You may be interested in:
- Photographers from hell
- Talents you should avoid working with
- Cheapo the photography story
- Ways to insult a professional photographer
- Disadvantages of being a freelance photographer
- Photography is a sunset industry