Bikini Photographer in SG
Quick Navigation:
Portfolio: Bikini Photoshoots
🔍8

1. Kai Ling
@ Palawan Beach, Sentosa
🌞 Natural light photography

🔍6

2. Kai Ling
@ Palawan Beach, Sentosa
🌞 Natural light photography

🔍20

3. Kai Ling
@ Palawan Beach, Sentosa
🌞 Natural light photography

🔍14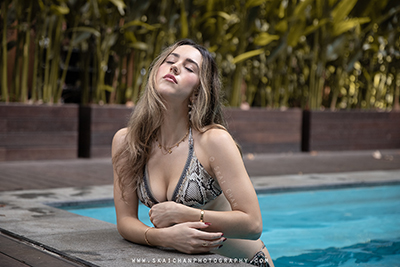 4. Kylie Murr
@ Swimming pool @ Hmlet Cantonment hotel
🌞 Natural light photography

🔍6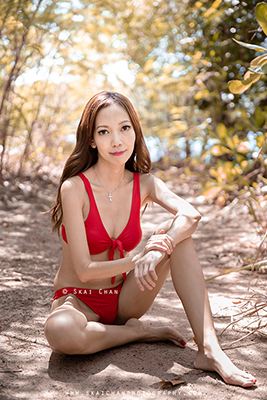 5. Isabelle
@ Palawan Beach, Sentosa
🌞 Natural light photography

🔍6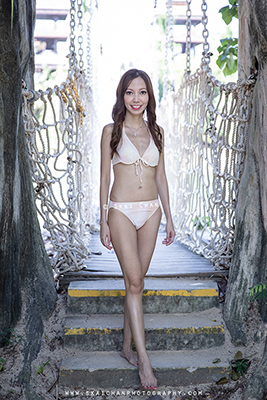 6. Isabelle
@ Palawan Beach, Sentosa
🌞 Natural light photography

🔍4

7. Cheryl Alicia Chua
@ Photography studio @ Tanjong Pagar
⚡ Flash photography

🔍2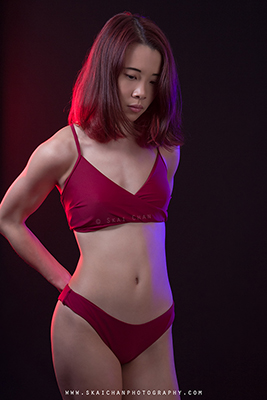 8. Cheryl Alicia Chua
@ Photography studio @ Tanjong Pagar
⚡ Flash photography

🔍6

9. Cheryl Alicia Chua
@ Photography studio @ Tanjong Pagar
⚡ Flash photography

🔍8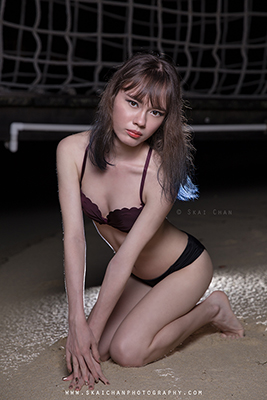 10. Katherine Whiteway (Nekotsurin)
@ Palawan beach, Sentosa
⚡ Flash photography

🔍8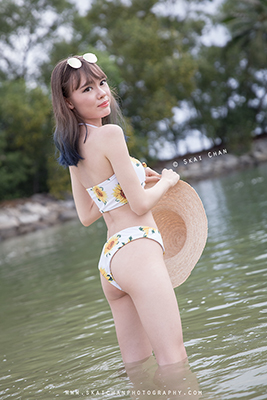 11. Katherine Whiteway (Nekotsurin)
@ Palawan beach, Sentosa
🌞 Natural light photography

🔍20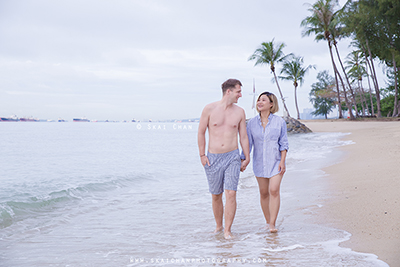 12. Couple: Alexander Stiegler & Esther Pai
@ East Coast Park (ECP)
🌞 Natural light photography

🔍11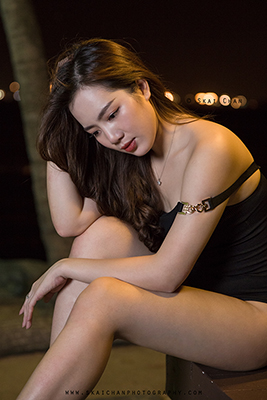 13. Rosy Mai Xuan
@ Palawan Beach, Sentosa
⚡ Flash photography

🔍14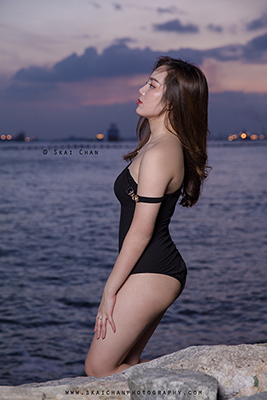 14. Rosy Mai Xuan
@ Palawan Beach, Sentosa
⚡ Flash photography

🔍10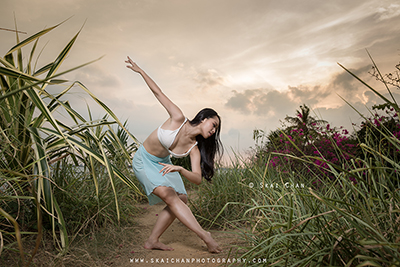 15. Jasmine Lim
@ Palawan Beach, Sentosa
⚡ Flash photography

🔍6

16. Regina Umali
@ Swimming pool, Palm Isle
⚡ Flash photography

🔍4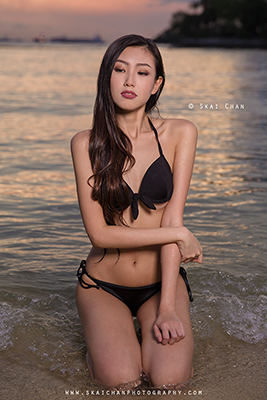 17. Ng Shinyi
@ Palawan Beach, Sentosa
⚡ Flash photography

🔍4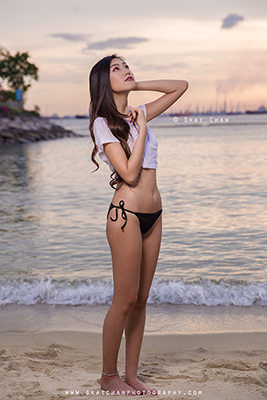 18. Ng Shinyi
@ Palawan Beach, Sentosa
⚡ Flash photography

🔍14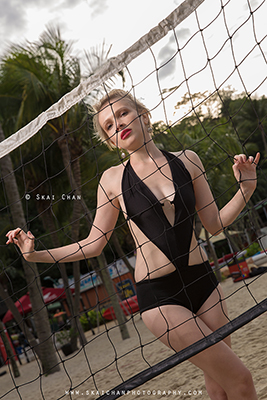 19. Peggy
@ Siloso Beach, Sentosa
⚡ Flash photography

🔍8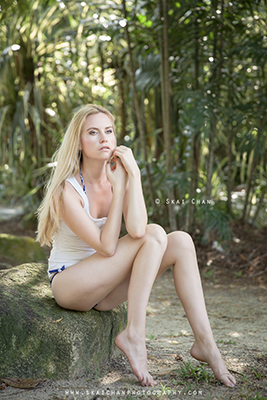 20. Martina Novotna
@ Tanjong Beach, Sentosa
⚡ Flash photography

🔍12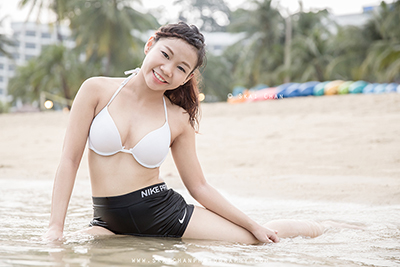 21. Beverley Angkangon
@ Siloso Beach, Sentosa
🌞 Natural light photography

🔍3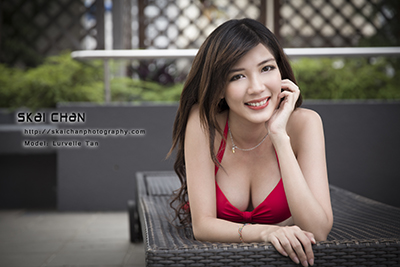 22. Lovelle Cengiya
@ Novotel Singapore Clarke Quay
🌞 Natural light photography

🔍5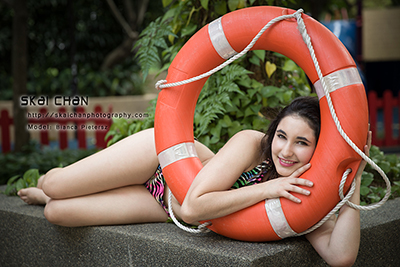 23. Bianca Pietersz
@ Swimming pool, Tanglin View
🌞 Natural light photography

🔍18

24. Esther Choey
@ Swimming pool, Kovan Melody
🌞 Natural light photography

🔍15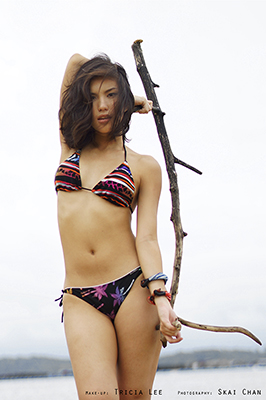 25. Jade Anastasia Fox Lee
@ Pasir Ris Park
🌞 Natural light photography

Bikini Photography Services in Singapore
Hey, it's Skai, your bikini photographer in Singapore. From bikinis to swimsuits, I offer professional swimwear photography services to private individuals and businesses. If you're a swimwear company wanting to showcase your products or an individual desiring to capture your perfect beach day or document your body, I've got your back!

My on-location photography capability allows us to shoot wherever your heart desires - the beautiful beach or swimming pool, your cosy house or even a photography studio. The choices are endless and we can work together to find the ideal spot for your bikini photos.

With my proficiency in both natural light and professional lighting equipment, I can create the perfect shot, be it a more natural and relaxed vibe or a dramatic and eye-catching photo.

So, if you're seeking a photographer to capture your perfect bikini or swimwear shot, this page is for you. Give it a read - I promise you won't regret it.
Casual Bikini Photo Sessions for Individuals
Capture your unique beauty and confidence in a relaxed and comfortable setting. Whether it's a beach, poolside or scenic location, these sessions are designed to showcase your natural charm and personality. We'll work together to create stunning images that reflect your individual style and make you feel empowered.
High-End Bikini Photo Sessions for Models
For aspiring and professional models looking to build or enhance their portfolios, I offer high-end bikini photo sessions that elevate your image to the next level. With the use of professional lighting equipment and careful attention to detail, we'll create striking images that highlight your versatility and potential, capturing your presence and charisma.
Catalogue Shoot for Swimwear Fashion Businesses and Designers
If you're in the swimwear fashion industry, I provide catalogue shoots tailored to your brand's vision and aesthetics. These sessions are meticulously planned to bring out the best features of your swimwear designs, helping you present them in a way that resonates with your target audience. With my expertise in lighting and composition, we'll create captivating images that showcase your swimwear collection.
Testimonials: What Clients Say about Skai


"skai was the first professional photographer i ever worked with and i really enjoyed the experience! hes a friendly and funny person, and the shoot flowed naturally. as hes a very experienced photographer in the field, i was comfortable doing the sexy poses i thought of, and i think hes someone really reliable and trustworthy for these matters. he takes his post editing very seriously too and the results are worth it!" - Katherine Whiteway (Nekotsurin)
Hey there! Before you go ahead and book your bikini photography session with me, make sure to take a moment and read through all the testimonials from my past clients. These lovely people have been in your shoes before and can give you an idea of what to expect from my services. From the quality of my work to my professionalism and friendliness, they've got it covered. Don't just take my word for it, hear it from those who have experienced it first-hand. Trust me, you won't regret it!
Booking Information
Hey there, interested in booking a bikini photography session with me? Great choice! Let me give you all the information you need to get started.
Contact me with the purpose: Firstly, to book a bikini session with me, simply head to my contact page where you can find the link to text me via WhatsApp. Please indicate your purpose and the package you are interested in, or otherwise, I may mistake your text as a spam.
Consultation: We will have a consultation to discuss the type of event, the date, location and your preferred style of photography. This will help me understand your vision and see if we are a perfect match. We will also go over the package options and pricing. However, do note that I will only provide advices and suggestions after you have confirmed and booked my services officially.
Place deposit: To secure your booking, a 50% non-refundable deposit is required. Once your deposit is received, your date and time will be reserved exclusively for you.

Don't worry, I'll send you all the necessary payment details when you decide to book with me. Payment can be made via PayNow or PayPal (PayPal requires extra fee).

The remaining balance is due on the day of the photoshoot.
Remember that it's best to book my photography services in advance to ensure availability. So don't hesitate to contact me as soon as possible to secure your date!
Prices & Packages for Bikini Photography
Quick explanation: The most considerable portion of my photography cost is calculated based on the (1) duration booked, (2) equipment required (natural light/ flash), (3) type of editing (basic/ advanced) and (4) extensiveness of planning required.

Please read the full explanations so that you can make a better decision.
🌞 Natural Light Photography
Up to 1 Hour: $320
Up to 2 Hours: $420 $450

Additional Hour: $150/block hr
Deliveries
Up to 30 photos/hr
Basic Edit (exposure & colour correction)
Digital copies (high resolution JPG)
Photos selection in low resolution PDF
Special Requests/ Add-Ons
(Subject to availability)
Face to Face discussion:
Starting from +$100
Photographer to scout venue(s):
Starting from +$100
Shoot at beach/ sandy/ dirty venue:
Starting from +$50
Additional photos (basic edit):
+$5/photo
Same-day photo edit (basic edit):
+$50/photo
Expedited photo edit (basic edit: 3 days after shoot):
+$50/hr booked
Advanced edit (skin retouching):
+$50/photo
Revision of photo edit (advanced edit):
+$15/photo
Privacy of photos:
+$100/hr booked
⚡ Flash Photography (High-End)
Up to 1 Hour: $450
Up to 2 Hours: $600

Additional Hour: $150/block hr

⚡ Flash photography (one-light set-up)
🌞 Use of natural light when necessary
Pace of shoot: Slow
Deliveries
Up to 30 photos/hr
Basic Edit (exposure & colour correction)
Digital copies (high resolution JPG)
Photos selection in low resolution PDF
Special Requests/ Add-Ons
(Subject to availability)
Face to Face discussion:
Starting from +$100
Photographer to scout venue(s):
Starting from +$100
Shoot at beach/ sandy/ dirty venue:
Starting from +$50
Additional lighting set-up: +$50/light
Additional photos (basic edit):
+$5/photo
Same-day photo edit (basic edit):
+$50/photo
Expedited photo edit (basic edit: 3 days after shoot):
+$50/hr booked
Advanced edit (skin retouching):
+$50/photo
Revision of photo edit (advanced edit):
+$15/photo
Privacy of photos:
+$100/hr booked
⚡ Studio (Flash)
1) My photo studio,
2) Your booked external studio, or
3) Makeshift studio @ your location
Hairstyling & Makeup
$180 /Female
$120 /Male
1x Hair & Makeup Artist (HMUA)
Up to 1 hour
1 Look (Hairstyling for a neat look & Makeup)



Add-Ons

Follow through the photoshoot: +$70/hr

Details: makeup artists and hairstylists
NOTE
⏳

All booked duration

Includes changing of equipment, wardrobe, makeup, hairstyle and travelling (if applicable) during the shoot.
📰

Please read

(1) Checklist for hiring a photographer, (2) FAQ and (3) Service Agreement and Privacy Policy before making enquiries.
💡

Ideas and advice

Will only be given to serious clients after a booking fee is being placed.


✆ Contact me now for a customised package tailored to your personal needs.
Surcharges
My photography packages are designed to help my clients save cost. I'm able to provide affordable photography rates because I don't include the additional services, which most clients don't need.

I have listed the common special requests from clients at the bottom of the packages. For the uncommon ones, do look through the full list of surcharges to avoid miscommunications.
Skai the Bikini Photographer
Hey there! My name is Skai and I'm a professional bikini photographer hailing from sunny Singapore. I'm a beach bum at heart and have made it my life's work to capture the essence of people's summertime beauty.

With years of experience under my belt, I've mastered the art of crafting tasteful and breathtaking images that showcase the one-of-a-kind beauty of each of my clients. From fun and flirty shoots to sultry and intimate ones, I strive to make every client feel comfortable and confident while I'm behind the lens.

In my view, a successful photo session is a true collaboration between the client and the photographer. By understanding your goals and preferences, I work tirelessly to bring your vision to life through my lens. With my eagle eye for detail and composition, I'm always on the hunt for that perfect shot that'll make your jaw drop.

When I'm not clicking away, you can find me exploring all the nooks and crannies of Singapore. But honestly, nothing makes me happier than bringing out my clients' inner goddesses and showcasing their unique beauty through my craft.

So if you're looking for a photographer who can bring out your best features and create stunning images that make you feel like a million bucks, look no further! Let's chat and start planning your next shoot today.
What Sets Skai Apart from Other Bikini Photographers
Hey there! As a bikini photographer, I have a unique approach that sets me apart from others in the field.
High-quality and professional work: When it comes to my work, I always strive for professionalism and high-quality. I believe that every photograph should be a masterpiece, and I take the time to perfect each shot until it meets my high standards.
Stylish and professional: I take pride in my work and strive to keep it classy and artistic, even when shooting in the skimpiest of bikinis. It's all about creating beautiful art, not just selling sex. So, if you're looking for a photographer who can capture stunning, high-quality bikini photos, look no further!
On-location photoshoots: Unlike some photographers who are limited to shooting in a studio, I offer on-location photography. This gives you more freedom to choose the location that best suits your style, whether it's at a breathtaking beach or a cosy indoor spot like your own home. We'll work together to create the perfect atmosphere for your photos.
Bespoke photography: Every client is special and this is why I'm proud to offer bespoke photography. I take the time to understand your vision and customise your photoshoot to make it completely unique and meaningful to you. This means I can incorporate specific props or capture the exact mood or vibe you're going for. I'm always willing to go the extra mile to ensure you get precisely what you want.
Natural and professional lighting: Lighting is essential to creating a professional-looking photograph, and I'm skilled at using both natural light and professional equipment to achieve the perfect shot. Whether you're looking for a natural, relaxed vibe or a dramatic and eye-catching picture, I can make it happen.
No body contact: Don't worry, unlike many other photographers, I always avoid any awkward body contact with my models! I'm always respectful and my goal is to make my clients feel comfortable and safe.
So, if you're looking for a bikini photographer who offers on-location photoshoots, bespoke photography, and creates stylish and high-quality work while maintaining a professional and respectful environment, look no further. Book a session with me and let's create something beautiful together.
Skai's Vision & Goals for Bikini Photography
As a bikini photographer, I've got a vision that's all about capturing the raw beauty and confidence of women in their element. I reckon every woman deserves to feel like a goddess, no matter what shape or size they are. That's why I'm all about creating images that inspire and uplift women, that makes them feel proud of who they are and the bodies they're in.

My approach to bikini photography isn't just about taking a pretty picture; it's about telling a story. Every snap's got a deeper meaning, a message that I want to get across. I aim to challenge the traditional ideas of beauty and body image, encourage women to embrace their individual qualities and show that there's beauty in diversity.

But I don't want my work to be just a bunch of beautiful shots. I want it to be a celebration of uniqueness and individuality. That's why I work to capture the essence of each person I shoot with, to bring out their personality in every image. When people are feeling comfortable and confident, their true beauty shines through.

Ultimately, my goal is to make a positive impact with my work. I want my photographs to inspire women to love and appreciate their bodies, break free from society's unrealistic standards, and feel empowered to be their authentic selves. Every photoshoot I do brings me closer to achieving my vision and goals for bikini photography, and I'm grateful for the chance to create something beautiful every day.
How Skai Began Doing Bikini Photoshoots
When I first started out as a photographer, my portfolio was pretty dull, to be honest. I had only done some basic fashion shoots, nothing too exciting. And it seemed like the only models who were interested in working with me were looking for the same kind of "boring" photography genre. I was stuck in a rut, and I didn't know how to break out of it.

But then, one day, a friend introduced me to an aspiring model who was open-minded and willing to try something new. She was up for doing a bikini photoshoot, and I saw an opportunity to break out of my rut. I grabbed the chance and decided to go for it.

To make the shoot even better, a commercial makeup artist friend of mine joined in and helped with the makeup and directing the model. It was an exhausting shoot, but the result was fantastic. The images were stunning, and I was ecstatic. It was like a breath of fresh air, and it inspired me to do more shoots like this.

From then on, I always seized the chance to do bikini photoshoots with aspiring models. I knew that this genre of photography was something I was passionate about, and it showed in my work. And as my portfolio grew with these unique and exciting images, clients started approaching me for their own photoshoots.

You won't believe how one shot at something can flip your life on its head! I'm blessed for that break that came my way!
Why Skai Loves Doing Bikini Photoshoots
Appreciation of human body: The human body is a canvas, a masterpiece waiting to be captured, and that's why I love doing bikini photoshoots. There's something so alluring about the curves and lines of the female form, and it's my pleasure to capture it in all its glory.
Boosting confidence: Doing bikini photoshoots is more than just capturing pretty pictures. It's about building up women's confidence and making them feel empowered. These shoots help women embrace their unique beauty, capturing their strength and confidence in a transformative way that can help them see themselves in a new light. The vulnerability and trust required during these shoots can be a powerful tool for overcoming insecurities and embracing one's body. Seeing the positive impact that this genre has on women is truly rewarding for me as a photographer.
More special than usual genres: It's a genre that's a breath of fresh air compared to the usual photography genres like fashion shoots. Bikini photography isn't just about showcasing the latest trends; it's about capturing the unique beauty of each person and the essence of who they are. That's what draws me to it like a moth to a flame.
Room for creativity: Bikini photography is a playground for creativity. From exploring different poses, locations, and angles, the possibilities are endless. It's like being a kid again, where the world is your canvas, and your imagination is your only limit.
Love being trusted: I treasure the trust that women place in me during these shoots. It's an intimate experience that requires vulnerability and openness, and I'm humbled to be a part of that. My goal is to make them feel comfortable and empowered, to showcase their confidence and strength through my lens.
Proves that decent male photographers exist: Being a decent male photographer in this genre is a challenge that I take seriously. I'm aware of the exploitation and objectification that happens in this industry, and I strive to be different. My aim is to capture the beauty of the female form without crossing that line, to showcase that it's possible to appreciate someone's beauty without making them feel uncomfortable or objectified.
Demonstrate tasteful artwork: Lastly, I believe that my art can help show the difference between tasteful and distasteful work done by others. Bikini photography can be a true art form when done correctly, and I'm passionate about creating work that showcases that. It's about creating a vision, a moment frozen in time that tells a story and evokes emotion. That's what I strive for in every shoot.
What Skai Dislikes about Doing Bikini Photoshoots
Bikini photoshoots may seem like a glamorous genre, but they can actually be a nightmare for professional photographers. There are several reasons why photographers might not be too thrilled at the prospect of shooting bikini-clad models.
Logistical nightmare: Firstly, logistics can be a real headache when shooting outside. Outdoor bikini photoshoots require a lot of planning and coordination, from finding the right location to dealing with unpredictable weather. If it's too hot or too cold, it can make the model uncomfortable and less willing to cooperate. Plus, the photographer has to haul all their equipment to the location, which can be a real pain in the neck.
Damages to equipment: And let's not forget the potential damage to equipment. Water and sand can wreak havoc on expensive cameras and lenses, not to mention the risk of getting them wet or dropping them in the water. This can cause a major headache for photographers, who need their gear to be in tip-top shape to capture the perfect shot.
Difficulty in setting up professional lighting: Setting up lighting equipment can be difficult due to permits (swimming pools) and the ground (beaches), which can make it hard to position the lights where they need to be. This can be frustrating and time-consuming, and it takes away from the photographer's ability to focus on capturing great images.
More Photoshop work: Finally, the more skin the model reveals, the more editing work the photographer has to do. This can be a real headache, especially when dealing with body imperfections like cellulite or scars. Retouching these images can be time-consuming and require a lot of skill and attention to detail, which can be a real pain for photographers.
All of these factors combine to make bikini photoshoots less than ideal for many professional photographers. While the genre may be popular and lucrative, it's not without its challenges. For those who are up for the task, bikini photography can be a great way to hone their skills and expand their portfolio. But for others, it may be a genre they prefer to steer clear of altogether.
How Doing Bikini Photography has Helped Skai Grow
When you think of professional photography, bikini photoshoots may not be the first genre that comes to mind, but they can be an excellent way for photographers to improve their craft.

Firstly, bikini photography requires a great deal of technical skill. From the lighting and angles to the poses, everything needs to be carefully considered to capture the beauty of the female form without objectifying the subject. This requires photographers to be precise and intentional in their choices, which can help them to improve their technical abilities.

Beyond that, bikini photoshoots offer a great opportunity for creativity. With endless possibilities for locations, poses and angles, photographers can explore and experiment with their craft. It's like a playground for the imagination, where photographers can break out of their usual routines and try new things, ultimately helping them grow in their craft.

Not only that, but bikini photoshoots also require a sense of empathy and connection between the photographer and the subject. Trust and vulnerability are key to creating authentic and empowering images, which can help photographers develop a deeper understanding of their subjects and create more meaningful work.

In addition, bikini photoshoots can also help photographers develop their business skills. Coordinating and planning these shoots require attention to detail, and photographers who can manage the logistics and create a seamless experience for their clients can build a strong reputation and loyal client base.

However, it's important to note that bikini photography isn't for everyone. It requires a certain level of professionalism, sensitivity and respect for the subject. Nonetheless, for those who are up for the challenge, bikini photoshoots can be an incredible tool for growth and development in the world of professional photography.
Tips & Tricks for Bikini Photoshoots
How to Plan for a Successful Bikini Photoshoot
Hey there! As a professional bikini photographer, I want to make sure you're fully prepared for our upcoming photoshoot. Here are some tips to help you plan for a successful shoot:
Discussion: Firstly, let's discuss the "look" you're going for. Do you want a natural, beachy vibe or something more editorial and posed? Let me know your preferences and any specific ideas you have in mind.
Natural light or flash: Natural light gives a softer and more natural look to the images. However, if we're shooting in a low-light environment or if we want to experiment with creative lighting effects, we can use flash to enhance the photos. It really depends on the style and mood we're going for, so we can discuss this together before the shoot.
Location: Think about the location that you want to shoot at. Do you prefer a beach, a pool, or an indoor studio? Think about the vibe you want to achieve and choose a location that aligns with that. Research locations that fit your vision and ask me for recommendations. I have shot at various locations in Singapore and can suggest some great options for your shoot. Keep in mind that some locations may require permits or fees. It's important to check with the relevant authorities and factor that into your planning.
Day and time of the shoot: It's important to choose a day and time that works well for both of us. Usually, early mornings or late afternoons are the best times to shoot, as the lighting is softer and more flattering. Weekdays are also usually less crowded than weekends, so we may have more privacy and flexibility for the shoot.
Wardrobe: Choose a few different swimsuits and snap some selfies so that we can pick the most suitable ones for the concept, location and your body. Make sure the suits fit you well and are comfortable to move around in. We want you to feel confident and beautiful, so don't be afraid to include some cover-ups that can add to the overall look.
Props: Consider what props you want to include in your shoot. Props can add visual interest and help you tell a story. For example, you could bring along a surfboard, a hat or sunglasses. Think about what items will complement your swimsuit and the overall look you are going for. If you are unsure, feel free to ask me for ideas or suggestions. Don't overdo it with props. Remember, the focus of the shoot is on you and your swimsuit. Props should enhance the photos and not detract from them.
Makeup & hairdo: Arrive with your hair and makeup done in a natural style that complements your look. If you need help finding a makeup artist, I'm happy to make some recommendations.
Communicate with me: Don't be shy to speak up during the shoot. If you feel uncomfortable with any poses or have a specific idea in mind, let me know! We're a team, and your input is valuable to me. Communication is key to ensuring we both leave the shoot feeling satisfied with the final results.
Confidence is key: Keep calm and have fun! The shoot should be enjoyable, not stressful. I know it's normal to feel nervous but try to let go and enjoy the moment. When you're relaxed and confident, the photos will turn out even better. These photos are meant to capture your unique beauty, so let it shine through!
Trust me: I've been doing this for years, so trust me to guide you through the process and bring out your best features. Don't be afraid to try new poses or follow my directions during the shoot. As a professional photographer, I have a keen eye for what works well in photos. With your trust and my expertise, we'll make magic together.
How Skai Plans for Bikini Photoshoots
There are actually many planning and consideration involved in doing a bikini photoshoot. Below are some of the bikini photoshoots that I have done before. The description and limitations are based on the time of the photoshoots.
Jade Lee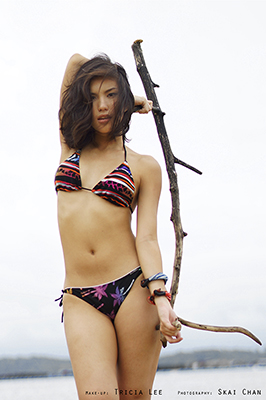 Jade was playful, confident and open-minded. She had a couple of bikini sets and a few stylish outerwear that could be worn over the bikinis. With the involvement of an extremely experienced and creative commercial hair and makeup artist who beautified her on the spot within a short timeframe, we went for a very lifestyle and stylish looks.

We made good use of the existing props on the location to further nail the shoot. I depended on the late afternoon's natural light and without the use of lighting equipment allowed the model to move around conveniently to push her creativity to the maximum.
Esther Choey
Esther was energetic and open-minded. Unfortunately, she only had a set of bikinis and very limited tops that could match her bikini. No hair and makeup artist was involved and she did not have very strong makeup skills. With all the limitations, I decided not to be too ambitious and thus chose a lively kind of bikini shoot that could make full use of her energy and cute bikini set. I chose the most suitable hairstyle that I could find inside her Facebook photographs and got her to do her basic makeup. I also planned some props that would suit the theme well.

I was not sure the management of the condominium would allow me to set up my light modifiers by the poolside. I chose to shoot in the early morning to get the best light possible and with the aid of the venue that blocked most of the direct sunlight, I was able to shoot using natural light. There was only a slight problem of strong reflection of sunlight from the glass of the buildings.
Bianca Pietersz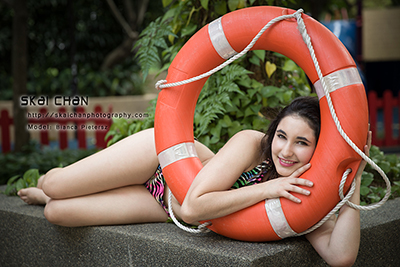 Bianca was energetic, open-minded and creative. It was the last second morning of her short holiday in Singapore and we had to shoot in the early morning just a few hours after she contacted me. The shooting location was at the condominium where she was staying and thus I needed not have to worry about her outfits - I could get her to change her outfits any time and we just had to use whatever she had with her for her trip. She was able to do her own basic makeup. Since she was a Caucasian, I decided it was good to do a lifestyle shoot that could display emotion.

Since I was unsure if I could set up my lighting again, I could only make use of the ambient light. It was a partially cloudy day and the constant changing of the brightness of the sun posed difficulty for me. After getting some good expressive shots of the non-bikini outfits, she was very satisfied with them and her energy level increased. Thus, I made use of her creativity and hyper-activeness to work on the set for the bikini to show a different side of hers. We also used existing props like the buoy.


Lovelle Cengiya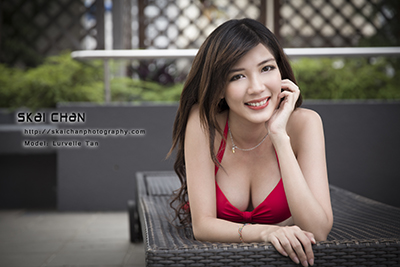 Lovelle was composed and had this lady-like look. She did her own makeup. I was invited to her group shoot and thus I did not make any planning on the outfits, location, timing and props. After she ended her shoot, I had only two choices of outfits - a red bikini and an unattractive designed swimsuit. Since she had been doing "supermodel" kind of shoots with her customers (hobbyist photographers), I decided to keep this shoot lifestyle. As I was quite unlikely to be able to set up my lighting equipment over there, I was in no hurry to begin the shoot but to wait for better natural lighting.

The hotel's pool was not super crowded but there were still guests all over the place and thus it was difficult to find good spots and angles. She was a non-swimmer and it was not safe to make her go into the water. The biggest problem was that her then-boyfriend was there and even though we were all friends, there was some awkwardness. However, I let him take the lead in cracking her up.
Beverley Angkangon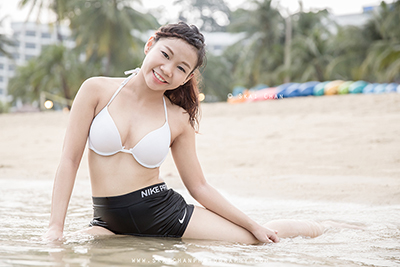 Beverley was energetic and feminine. She had quite a number of outfits but I did make a big mistake by not insisting she try on the clothes in order to visualise the looks properly. She was able to do her own makeup. Due to her talent for dancing, I decided to focus on her energy and fitness. The first set was a warm-up shoot to show her youthfulness with props, the second set to do something more towards fitness and the third set was to focus on sunset, although the weather prevented us from working on the last set.

Since we spent quite some time inside the water and the weather was bad that we had to hide from the rain halfway, I did not set up any lighting and thus was using the limited quantity of ambient light filtered by the very dark clouds. Halfway through the shoot after the rain stopped, staff from the hotel nearby claimed the part of the beach was owned by them and thus we had some restrictions on angles. Besides, there were many photobombs.
Martina Novotna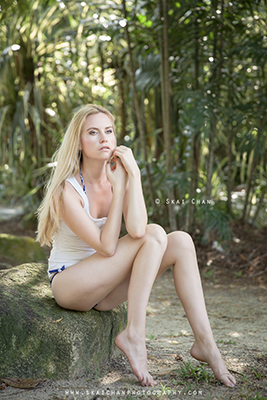 Martina was very confident and open-minded. Since she was a foreigner, she actually had limited clothes with her in Singapore. She was able to do her own simple makeup. Caucasians looked naturally exotic, which was a benefit. She also had years of experience working with other photographers and thus I decided to go for a lifestyle and stylish shoot. She was one of the models I had limited discussions with and thus even though she was extremely open-minded, I did not dare to go for a more provocative feel.

The location was temporarily emptied due to the year-end beach party and thus my plan to use some of the props as backgrounds were eliminated. The sky was clear and the sunlight was extremely harsh even though the weather forecast told me that the afternoon would be partially cloudy. There were limited open shade areas to hide at, with sunlight piercing through the tree branches and leaves to cast bad shadows on her. The sunlight also caused problems with my camera's auto-focus system at times. Even though I was using a 600-watt studio strobe, it was not sufficient to overcome the brightness of the sun after putting on the diffuser. We had limited time while she had to leave before the golden hour arrived, however, with her experience, we were able to get some good shots.
Peggy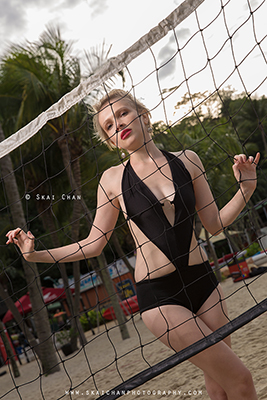 Peggy looked stylish in her short hair. As a Caucasian, she was also special and exotic like the previous ones I had worked with. Unlike the rest of them, she had a petite body size, although no one could really tell that in the photographs due to her body proportion and camera angles. She was open-minded and had a number of choices of swimwear - and I picked a black monokini and a red bikini, and had her bring along some clothes/props to wear over the bikini. Since it was the first time we worked together, I played it safe and made use of her stylishness to create some edgy work.

The location's settings were exactly in my plan since I used to go there for beach volleyball games in the past and I also did my research online in case there would be changes. It was also the best beach among the three beaches in Sentosa to kick off the shoot in the early morning due to its location. I was not very blessed with the weather due to the cloud not covering the sun at times and the sunlight was so strong that I almost exerted my strobe for the edgiest shot, but I was glad it was manageable.
Ng Shinyi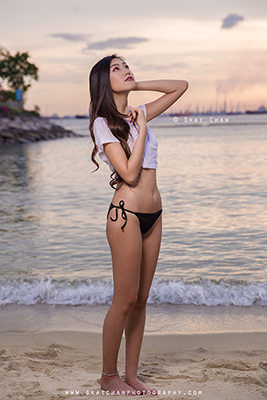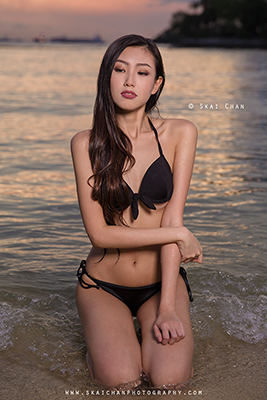 From her social media, my impression of Shinyi was that she was a bubbly girl. Her sunshine look with her slim figure probably had made her the eye candy of many guys. However, it wasn't her appearance that impressed me the most but her attitude - she was extremely cooperative. My initial plan was to do a cheerful lifestyle bikini shoot with her, which would help in marketing, as well as bring out her charm. She had many bikini sets and I had to leave out the sexier ones due to their colours.

I chose Palawan Beach over the other two beaches since I thought it could be more suitable for the feel I wanted, partly because I hadn't been there for some time. Initially, I faced problems with photobombs. Later on, I figured out that the makeup, which was done by an unknown makeup artist, was more suitable for a glamour shoot. With the beautiful sky during sunset, she performed well and we managed to capture a few stylish photographs.
Regina Umali
Regina was a fitness and health enthusiast. She had a very toned body and therefore, she was very suitable for an artistic feel kind of bikini shoot, more towards the professional modelling style. Since most of my earlier bikini shoots were done at the beach, I decided it would be more interesting to do it at a residential swimming pool this time. Regina trusted my decision.

The greatest challenge of the day was having to fight with the moody weather that kept us wet half of the time. The tiny droplets of rainwater threw in more work for me during the post-production. I was glad that Regina performed well like a professional model.
Jasmine Lim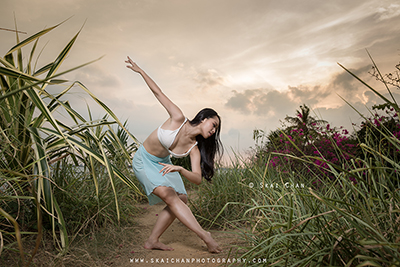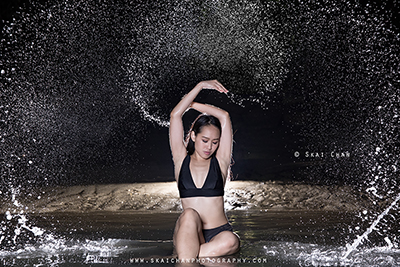 The main objectives of the shoots (which happened on the same day) weren't just about bikinis. Since Jasmine was a professional ballerina, I proposed shooting at the beach with some dance moves in order to create some of my long-pending ideas. She gladly accepted it.

As we could only squeeze our time in for a weekend shoot, the crowded beach gave me a big headache. However, it forced me to explore the place, which was a blessing in disguise. The first session was a more conservative shoot, followed by something more creative and spectacular after the sun had set.
Katherine Whiteway (Nekotsurin)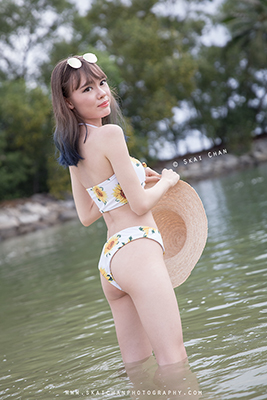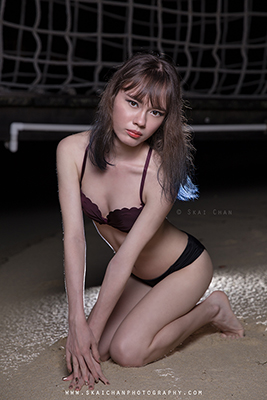 Katherine has this set of bikinis with flower prints and I thought it could be used for a lifestyle shoot. Moreover, Katherine was a rather shy girl and thus it would be good for a warm-up. The beach was divided and cordoned off due to the pandemic, such that there were many barricaded areas to make ugly backgrounds; hence, it added to the difficulty of doing a beach shoot there.

We aimed for a glamorous look for the second set of bikinis. Due to various unforeseeable delays earlier on, we started off after sunset and it was very dim. I used a simple two-light set-up and she was cooperative to help to create good photographs. Due to the darkness, I had big problems trying to make my camera focus on her to keep her sharp in the photographs.
Cheryl Alicia Chua


The pandemic was a blessing in disguise for studio photography for it's safer and easier to do a photoshoot indoors. The biggest challenge was to create something interesting out of the plain backdrops.

For the first style, which was a glamorous look for a modelling portfolio, I added two colours to the backdrop, which would hit the sides of Cheryl as well. The rim light helped her to stand out from the backdrop while making her look more 3-dimensional.

For the second look, Cheryl was looking for a casual and bubbly look. In order to focus on her body, gesture and expression, I removed the colours. Next, I also modified the side lighting to hit only the edges of her body and restrain them from hitting on the black backdrop, so that the background would stay dark.
Places to Do Bikini Photoshoot
I've done swimwear photoshoots at beaches, swimming pools, photography studio and even grass area.
Beach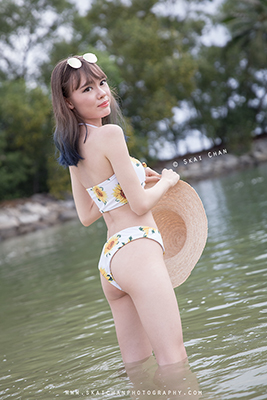 ▲
Bikini photoshoot at the beach
The most commonly used place for doing a swimwear/ bikini photoshoot is none other than the beach. As most beaches in Singapore are public places, it's easy to find a suitable venue.

However, do note that beach patrols in Sentosa may stop people from going into the water after certain hours when there's no lifeguard on duty at Siloso, Palawan and Tanjong Beach. Nevertheless, it's challenging to do night outdoor photography, especially at dim places, unless you're working with professional light.

Certain parts of Siloso beach may also be privatised, such that only the hotel's guests can access them; there's no clear signboard and you may not know it until the security guard comes over to check if you're a guest.

Beach photography can be a nightmare for professional photographers because of the sand and water. Equipment can get damaged easily and the clean-up after the photoshoot is very massive.
Swimming Pool
▲
Bikini photoshoot at the swimming pool
A swimming pool is another top choice for doing bikini photoshoots. That's where swimwear and bikini are supposed to be worn.

However, there may be issues with permits at some places if you're doing a professional photoshoot. I've done bikini photoshoots at the swimming pool at condominiums and hotels, and I always try not to keep the photoshoots simple. I've set up a small softbox at a condominium and the security guards didn't seem to want to mess with me.

However, I had tried to do a professional corporate photoshoot at a condominium and the security guards stopped us before we had even started, citing that residents were uncomfortable with people taking photographs.
Photography Studio
▲
Bikini photoshoot in the photography studio
One good thing about doing a bikini photoshoot in a photography studio is having privacy, given that the studio's owner doesn't install CCTV inside in the name of monitoring the equipment. Another thing that most girls enjoy is the comfort unless having to deal with the sand and water.

Having a plain backdrop as the background does help to keep the focus on the model. On the other hand, it may not be as interesting as an outdoor photoshoot. The final decision of using a photography studio or not should depend on the goal of the photoshoot.
Hotel Room
This is my least favourite and I would avoid it, unless, given no better choice. Girls usually wear bikinis at the beach or swimming pool and thus a girl wearing a bikini inside a hotel room doesn't register well in the mind of many people. Perhaps, lingerie would be a better choice.
Others
Sky is the limit. You can actually do a swimwear/ bikini photoshoot anywhere. Be creative!
Bikini Poses for Photoshoot
Similar to most types of photoshoot poses, there are two types of bikini poses - traditional and lifestyle poses.

I work with both types of modelling poses but I usually lean towards the lifestyle poses since the majority of my clients don't have any professional photoshoot experience. Lifestyle bikini poses are more fun and easier for non-professional models.

Whenever there's an opportunity, given enough time, I would begin with lifestyle poses to build confidence for the bikini model before moving towards a more traditional one.

Eventually, it's up to the client's choice on the kind of feel that she wishes to create.
Traditional Bikini Poses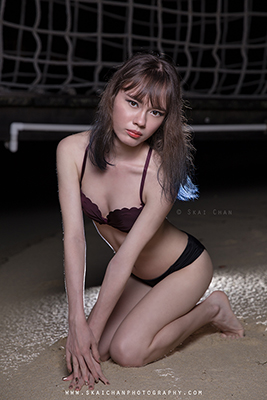 ▲
Traditional bikini pose
Traditional bikini poses work well for glamour bikini photoshoots. They are more like staged poses and the poses are repeatedly used for a reason that they do work and are flattering and sexy.

Not every girl can do traditional bikini poses due to a lack of confidence. However, with the help of a professional photographer, trust in him and a sufficient amount of time, most girls can eventually do it.
Lifestyle Bikini Poses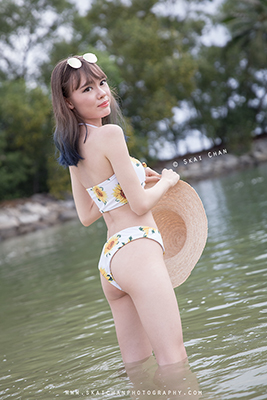 ▲
Lifestyle bikini pose
Lifestyle bikini poses are more candid kinds of non-posey poses. It depends on the creativity of the bikini model and the directing skill of the bikini photographer.

A lifestyle bikini shoot usually gives a more natural vibe that is less sexual. The bikini photos may give the impression that they aren't produced through a professional bikini photoshoot, given that some people's perspective of a bikini photoshoot is strictly based on hot and sexy pictures.

Girls who have been conditioned to the traditional type of bikini poses may not resonate well with lifestyle poses and may find it awkward initially. It requires trust in the bikini photographer to make it work.
What is Bikini Photography?
Bikini photography is a type of photography that involves taking photographs of people wearing bikinis or other types of swimwear. Bikini photographers may work with models or everyday people to create images that showcase the fit, style and features of bikinis and other swimwear.

Bikini photographers often work in a variety of settings, such as at the beach, by a pool or in a studio, and they may use a wide range of techniques and creative approaches to create images that are flattering, visually appealing, and showcase the swimwear in the best possible way. Bikini photography can be done in a variety of styles, from traditional and classic to modern and edgy, depending on the preferences of the subject and the vision of the photographer.

Bikini photography often captures the sexuality of women due to the amount of skin exposed. However, a good bikini photographer can plan and execute the bikini photoshoot to express other impressions, such as sweet, classy, edgy and feminine, depending on the purpose and goal.

The goal of bikini photography is to create images that showcase the fit, style and features of bikinis and other swimwear and that appeal to a target audience. Many clothing designers, retailers, and publications choose to hire professional bikini photographers to create a set of (catalogue) photographs that they can use for marketing, promotion or editorial purposes. Bikini photographs can be used in a variety of contexts, such as in print or online media, in advertisements, or as part of a personal portfolio or modelling portfolio.
What is Bikini Photography also Known as?
Bikini photography, often interchangeably referred to as swimwear photography or beachwear photography, encapsulates the broader realm of capturing individuals in swimwear attire. These terms collectively encompass the diverse spectrum of swimwear styles and settings while emphasising the central focus on portraying the subjects in a flattering and artistic manner.
Bikini Photography With & Without Flash
Bikini photography can be done using flash (professional lighting) and natural light. Both types of lighting can produce very good images, however, the effects can be drastically different.

For a high-end bikini photoshoot, the photographer can switch over to natural light if the situation (lack of time or permission at the venue) doesn't allow him to set up his lighting equipment; for a natural light bikini photoshoot, the photographer won't have the lighting equipment with him when the situation requires using of flash.
Bikini Photography With Flash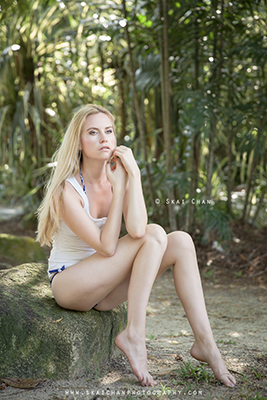 ▲
High-end (flash) bikini photoshoot under the harsh sun.

Much of the harsh sunlight was eliminated while the strobe added flattering light on the model's face. Although part of the background was still bright, bad shadows were removed from the model.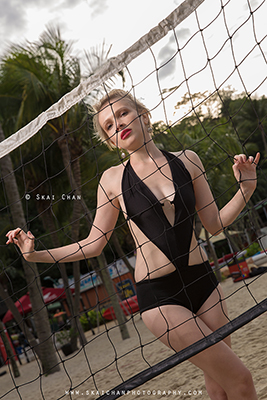 ▲
High-end (flash) bikini photoshoot on a normal day.

Dramatic lighting was added to create a stylish feel to the picture.
Professional bikini photographers do use flash even during the daytime for many good reasons.

Firstly, it can balance the lighting on the bikini model and the background, including the sky. That includes backlighting situations, such as taking sunset bikini pictures with the setting sun in the background.

Secondly, it helps to create flattering light while reducing or eliminating the impact of harsh sunlight that would cast bad shadows on the model's face.

Thirdly, the bikini pictures can look more dramatic or 3-dimensional.

There are many other reasons to use flash for a bikini photoshoot.
Bikini Photography Without Flash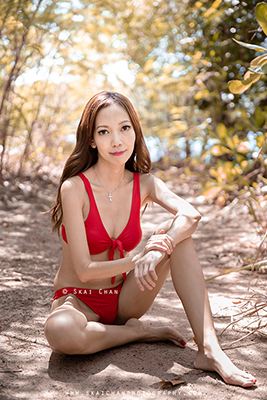 ▲
Natural light bikini photoshoot under the harsh sun.

The background looks much brighter than the model even after heavy basic post-production treatment, taking away much attention of viewers. Some parts of the model are lighted, causing huge contrast.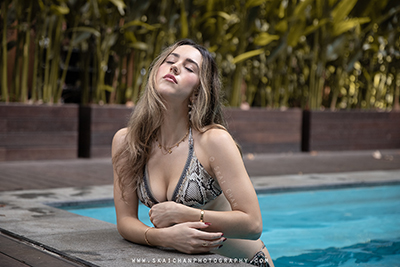 ▲
Natural light bikini photoshoot on a cloudy day.

The lighting on the model is flattering. The light on the model draws attention to her instead of the background.
Many non-professional models are more comfortable doing a bikini photoshoot using natural light - sunlight.

They are used to looking at casually taken bikini pictures that have been flooding social media. This is because most people have a camera phone nowadays and it makes selfies easy. There are also many hobbyist photographers and most of them do enjoy taking sexy photos of girls, which makes natural light bikini photoshoots a norm.

Doing a bikini photoshoot without using professional lighting would also draw less attention and have fewer restrictions on the movements. Thus, it's easy to travel to different locations throughout the bikini photoshoot session.
Why is Bikini Photography Important?
Bikini photography is a subgenre of fashion photography that focuses on capturing images of models wearing bikinis or other swimwear. It is important for a number of reasons.

Overall, bikini photography is an important medium for advertising and marketing, showcasing the work of fashion professionals and celebrating the beauty and diversity of the human body.
Advertising and Marketing
First, bikini photography is often used in advertising and marketing campaigns for swimwear brands and other related products. By creating visually appealing and attention-grabbing images of models wearing bikinis, these companies can promote their products and attract customers.
Showcase Work of Fashion Designers and Photographers
Bikini photography is also important as a way to showcase the work of fashion designers and photographers. By creating striking and stylish images of models wearing bikinis, fashion photographers can showcase their skills and help to promote the work of fashion designers.
Income for Models
Bikini modelling is a good-paying job for models, especially freelance models. Having a good bikini modelling portfolio helps part-time models to generate some side income.
Promote Body Positivity and Acceptance
In addition, bikini photography can be used to celebrate the beauty and diversity of the human body. By showcasing the bodies of models of different shapes, sizes and backgrounds, bikini photographers can help to promote body positivity and acceptance.
Why Do Girls Do Bikini Photoshoots?
Any non-professional model, regardless of age, looks, figure and height, can also do a bikini photoshoot. There's no law that forbids it in Singapore. With the help of proper planning and full cooperation with a professional photographer, they can look much better in the final photographs and they truly deserve it.

Girls do bikini photoshoots for different purposes, such as:
Boost Your Confidence
Doing a swimwear or bikini photoshoot would help to increase the confidence of the girl. As I mostly work with non-professional models, I do appreciate the growth in their confidence during the photoshoots and also after they have received and seen the final photographs. They eventually understand that they are better than they think they are.
Keep Memory of the Moment
Many girls do bikini photoshoots to document their bodies. Most of them want to keep a memory of their existing looks before they age. Some girls may be undergoing surgery soon and thus want to document their pre-op bodies.
Build Your Modelling Portfolio
One main reason why freelance models do bikini portrait photoshoots is due to the high demand. Hobbyist photographers, including mobile phone photographers, do pay them for doing bikini photoshoots.

They would need professional bikini photographs in their portfolio in order to attract more potential and decent clients. Everyone judges the models through their modelling portfolio and black sheep would target models who seem to have less experience.
Promote & Create Art Work
Bikini is also a form of fashion, which I hope everyone would recognise it as a form of art. Whenever possible, depending on the model's wardrobe, I usually try to include clothes with the bikini set to make it more fashionable; I like showing more varieties of outfits as well. Bikini fashion can be done very elegantly and stylishly as well. A bikini photoshoot is a form of art for people who appreciate it.
Document Your Favourite Bikini
Some girls absolutely adore bikinis (or other swimwear). There's nothing wrong since there are girls who love collecting lingerie and guys who have a huge collection of swimming trunks and briefs. These bikini lovers may therefore want to put on their beloved bikinis and have a photoshoot. Of course, some of these ladies may have multiple reasons, which include the following.
Gain Exposure in Social Media
Similar to other sexy kinds of photography, bikini photographs do generate more exposure than most other genres of pictures. Therefore, bikini work would attract more reactions on social media, which is why many girls would take photographs in bikinis to gain more followers and reactions on their social media accounts. If you go through the Instagram accounts of popular female Instagrammers, you can easily find pictures of them in their bikinis.
Gain Unique Experience
Doing a professional photoshoot is an experience that everyone should try. Doing a professional bikini photoshoot is another level.
Create a Unique Experience with Your Partner
Doing a beach couple photoshoot is something interesting for couples. The interaction during the photoshoot helps them to improve their relationship.
Empower Women
Every woman, regardless of age, looks and figure, deserves the right to do a sexy photoshoot, as long as she keeps it tasteful. While some open-minded women would opt for boudoir photoshoots, many are more comfortable starting with bikini (or other swimwear) photoshoots.

While it's very common for women to wear a set of bikinis at the beach, whether to chill, suntan or party with friends, there are many immature remarks judging them. The insults may include "flat boobs", "ugly face" and "old".

Well, everyone is entitled to his or her own opinions but the tone and words used to pass unflattering remarks to others that would hurt feeling are not welcomed. What's the crime of not living up to other people's unrealistic expectations, especially when most of these people posing such disgusting remarks are not even living up to other girls' expectations?

Women should stand up to these bullies, especially keyboard warriors, by doing bikini photoshoots and shutting off their foul mouths.
Should I Hire a Professional Bikini Photographer?
Deciding whether to hire a professional bikini photographer is an important choice that requires careful consideration. While there are hobbyist photographers who may offer their services, it's crucial to recognise that professionalism and expertise can make a significant difference in the quality and safety of your photoshoot experience.

Why Opt for a Professional Bikini Photographer:
Expertise and Skill: Professional photographers possess the technical skills and knowledge necessary to create stunning images that capture your beauty in the best light. They understand lighting, angles and composition to ensure that the final results are both flattering and visually appealing.
Safety and Respect: Hiring a professional photographer ensures a safe and respectful environment during the photoshoot. Unlike some hobbyists who might take advantage of models, professionals maintain ethical standards and prioritize your comfort and well-being throughout the process. After all, it's their rice bowls at stake.
Experience with Posing: Professional photographers have experience guiding models through poses that enhance their natural features. They know how to create a relaxed and enjoyable atmosphere, allowing you to express yourself confidently while looking your best.
Quality Equipment: Professionals use high-quality cameras and lighting equipment to produce images that stand out. This equipment plays a crucial role in achieving professional-grade results that showcase your unique beauty.
Editing and Post-Production: Beyond the photoshoot, professional photographers excel in post-production work, ensuring that the final images are polished and flawless. They can retouch minor imperfections while maintaining a natural and authentic appearance.
Portfolio and Reviews: Professional photographers have portfolios and reviews that provide insight into their style and previous work. This helps you gauge their expertise and decide if their approach aligns with your vision.
The Importance of Professionalism:

Given that there are hobbyist photographers with varying intentions, choosing a professional photographer reduces the risks associated with unprofessional conduct. Professionals adhere to industry standards, ethics and codes of conduct, ensuring a respectful and empowering experience for you.

In conclusion, hiring a professional bikini photographer is a smart choice if you're looking for high-quality images that showcase your beauty while prioritising your safety and comfort. By doing so, you're investing in an experience that values your dignity and empowerment, resulting in photographs that reflect your unique charm and confidence.
Bikini Photoshoot is Underrated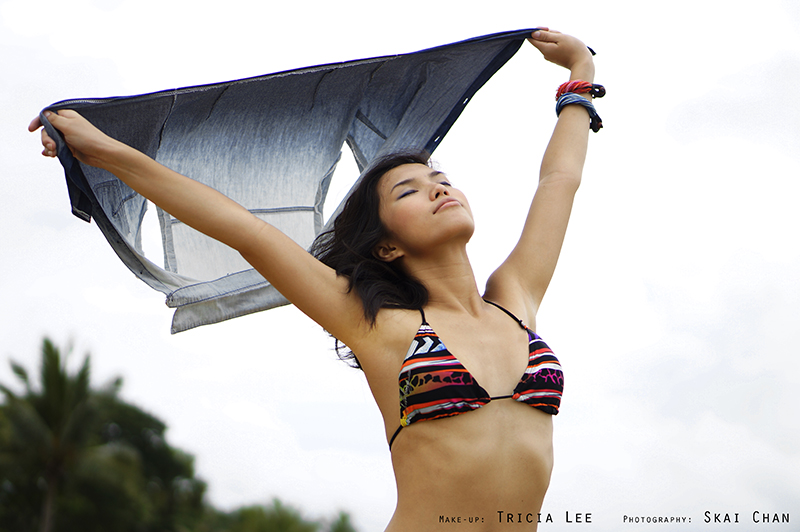 Unfortunately, bikini photoshoot is often underrated. I have come across many people who seem to have a very negative impression of bikini photoshoots. Even some aspiring models would rule out doing bikini photoshoots, which makes them much less versatile. I'm not surprised since Asians, in general, are more conservative. I'm located in Singapore, so what's new?

Does doing a bikini photoshoot mean the model is loose or immoral and does doing it mean the photographer is a pervert?

The contestants in most beauty pageants like Miss Singapore (Examples: Earth, World and Universe) have to do bikini photoshoots and even walk on the stage in bikinis. Do you doubt their chastity or morality?

The most interesting fact is that many girls do post a lot of bikini photographs of themselves, including selfies with suggestive angles, on their social media accounts and yet they seem to be very biased against doing a professional bikini photoshoot that's much more tasteful. Isn't posting bikini photographs in lousy quality (hair, makeup, poses, angles, lighting, resolution...etc) worse than posting of bikini photographs that are being done professionally?

It really depends on individual photographers to produce the quality and tastefulness of photographs, regardless of the type of outfits. A photographer can turn a boudoir photoshoot stylish while another photographer can turn a t-shirt photoshoot into porn. There are also many kinds of clothes that may show more skin than a bikini.

Everyone, especially models and aspiring models, should stop labelling bikini photoshoots and the models who do it with professional photographers.
There are, of course, various reasons that may lead to a negative impression towards bikini photoshoots.
Asians are generally more conservative
As mentioned before, Asians are more conservative, and I emphasize "in general". To them, less cloth simply means sluttier. There are actually many Asians who are extremely open-minded and they can take things to higher levels that even an experienced photographer like me cannot appreciate. I have received weird requests that I have to turn down even though they are good business opportunities.

I have encountered various open-minded and decent girls who seem to be able to appreciate art, but they are worried about the views of society.

I guess people are slowly trying to open out their view of arts and time will help.
Dangers
There are always dangers in doing photoshoots, especially the more sensual genres. However, the fact is that doing everything will definitely pose some dangers, including going out with a guy you deem decent.

If a girl is doing a bikini photoshoot in Singapore, she will probably be doing an outdoor bikini shoot at a beach or swimming pool. Whereas in an over-populated country like Singapore, it's weird if there's no passer-by during day time, and thus any ill-minded "photographer" should be smart enough to not try anything funny.

Of course, doing a bikini photoshoot in a private and enclosed place like a hotel room will definitely be more dangerous. Nevertheless, as long as the girl isn't feeling the itch for extra cash or between her legs, no one can force her to do anything.

After all, every girl should learn to judge the photographer before agreeing to do any shoot with him.
Sleazy and amateurish photographs
The poor quality, especially distastefulness, of the commonly seen bikini photoshoot photographs online has also given a very bad impression. Most of the bikini photographs I have seen online on social media are selfies or taken by amateur or sleazy photographers.

There are many professional photographers around but the number of "photographers" with DSLRs is much larger. Somehow, the latter usually have the ability to charm young girls with money or words to do bikini photoshoots and thus the exposure of such quality photographs is much higher.

Bikini photographs usually go viral easier than other kinds of photographs, and thus more audiences are reached and they will compliment the hot models regardless of the quality of work. Therefore, every girl should learn how to judge the quality of photographers in order to figure out which photographer to work with and not simply based on the reactions to social media posts.
Objectifying of bikini models
There are some guys who would objectify girls in bikinis as they tend to use their second heads to think. Some people also make use of these models to make a profit.

Organising paid group bikini shoots is common but some people's execution may make it seem sleazy, or perhaps, the reputation of the organiser may already be in doubt since long ago.

Interesting articles from Mothership site:
- SGInstaBabes launches Patreon page to solicit money to access its girls & women
- Xiaxue calls out SgInstaBabes founder for exploiting teenage girls, innocent geoduck involved

Objectifying bikini models is something we cannot avoid; however, the impact can be reduced by doing proper bikini shoots instead. This means, again, choosing the right bikini photographer to work with.
FAQs
Why do girls swim in bikini?
To begin with, a bikini is a set of swimwear, which is used for swimming and not just for "showing off body".

There are a few reasons why some girls would wear bikinis to the beach or swimming pool.

Firstly, wearing a bikini is more comfortable than most other swimwear as there is less fabric to constrict movement. Secondly, a bikini keeps tan lines nearer to the private areas where most clothes won't reveal. Lastly, the bikini is a fashion that will make girls feel more confident.
What are the requirements to be a bikini model?
For the usual commercial purposes, a bikini model should have a good body proportion. That means the ratio of the length of her legs to the length of her body should be as big as possible.

Her figure is an important factor as well. That means she should be thin and best to have nice breasts.

However, there is also a market for plus-size bikini models where bikini fashion companies would want to target bikini lovers who have larger body frames. However, do note that there may be a limited opportunity.

For private modelling where there are much more opportunities, most hobbyist photographers who would hire bikini models for bikini photoshoots will likely choose models who have big breasts and thinner bodies.

On the other hand, any girl who wishes to become a bikini model for a day can simply hire a professional bikini photographer to help her take flattering pictures. There are no rules that say girls who don't have the perfect model figure can't do a bikini photoshoot.

In fact, a good personal photographer can help to plan the bikini photoshoot to utilise any positive aspect of a girl and also help to hide her flaws. Eventually, every bikini model can look good in their bikini photos.
Can I Do a Bikini Photoshoot?
In general, every girl has the right to do a bikini photoshoot.

Take note that the majority of my bikini models are non-professional models. If they can do it, you can do it too.
Can I do a bikini photoshoot if I don't have big breasts?
Yes, doing a bikini photoshoot isn't about showing breasts, although it can be one of the reasons. If you have looked at my portfolio, most of the models are just average girls. Don't they all look good?

There are all sorts of people in this world with different preferences and levels of maturity. Of course, there will definitely be viewers who will comment based on the size of the breasts and if the comments of this group of people do matter to you, you probably should think thrice before doing a bikini photoshoot.
Can I do a bikini photoshoot if I don't have a good figure?
Yes, we can play with angles, poses, outfits, props and lighting. Of course, there may a limitations to the quality of results but you will definitely get something much more flattering eventually if you were to work with me.
I'm not young anymore. Can I still do a bikini photoshoot?
Yes, everyone has different purposes for doing a bikini photoshoot and it isn't solely for guys to admire young bodies. If you think it might make you a more confident person or you simply want to keep a good memory of yourself, why not do it?
What kind of bikini photoshoot suits me most?
It depends on the individual. I don't usually work with professional models and thus you can see that my shoots lean more towards lifestyle. If you don't have experience, you may not be able to do poses like professional models, and thus lifestyle is suitable. I will try to be as creative as possible. Eventually, I have to see your pictures and find out more about you before I can give any suggestions.
What kind of swimwear can I use?
There are many types of swimwear and some people use different names for them, such as Bandeaukini, Bikini, Burkini, Legsuit, Microkini, Monokini, One-piece swimsuit, Ruffle swimsuit, Skirtini, Sling bikini, String bikini, Swim dress, Tankini set, Three-piece swimsuit, Top-bottom set and Trikini.

The most commonly worn swimwear in Singapore are bikinis and one-piece swimsuits. Different kinds of swimwear may suit different types of bodies and also portray different moods. For a swimwear photoshoot, the outfit can be paired with other clothes to create different styles and to make the model look more flattering.
Can I bring a friend or family member to the shoot for support?
Yes, but preferably not. Do read reasons why models should not bring their partners along for photoshoots.
Will my images be shared or published without my permission?
If you are concerned about your privacy, you can buy over the copyright from me as well. However, do note that you have to do it before the photoshoot, or otherwise, extra charges will occur for the effort to upload and remove the photographs.

Anyway, do note that there's no forever secret, and thus do take only photographs that you aren't afraid that other people will get to see.
Can I request specific poses or styles for the shoot?
Yes, do suggest to me. However, not every pose and style can work for you or the location. I may allow you to try but always have an open mind that it will fail.
Can I see the photographs before they are edited or released?
Yes. If you are paying for advanced editing (skin retouching), you likely have to select the photographs to be edited. I always send my clients the final photographs once they are completed and it takes lots of time and effort for me to release them online.
Can you retouch certain areas of my body in the photographs?
Yes, skin retouching will be done if you opt for advanced editing.
Is it possible to shoot the photoshoot at a location other than a studio or beach?
Yes, I do on-location photography at anywhere that you like.
Do you have any recommendations for hair and makeup for the photoshoot?
After we confirm the photoshoot with the professional hair and makeup artist, I can discuss with her. Or otherwise, show me all your old styles (old pictures) and I can advise you on the best one.
Is it possible to shoot the photoshoot at sunrise or sunset for a specific lighting effect?
Yes, definitely. I always push to shoot in the golden hour to get the softest light possible. However, do take note that for a sunrise or sunset portrait, we will need flash photography, or otherwise, it will likely become a silhouette picture. Moreover, for early morning photography, a surcharge may be imposed. Do double-check with me personally.
Can I bring props or accessories to the photoshoot to personalise the images?
Yes, they will certainly help to make the bikini photoshoot more interesting. However, do discuss with me in case you will be wasting your effort if they don't suit the photoshoot.
Do you have any experience shooting boudoir or lingerie photoshoots?
Yes, do explore my boudoir photography.
What Do You Want to Achieve from Your Bikini Photoshoot?
The world of bikini photography is more than just capturing stunning images; it's an empowering journey that allows you to celebrate your confidence, beauty and individuality. As you step into this realm, setting clear goals for your bikini photoshoot can enhance your experience and help you achieve photographs that truly resonate with your vision.

Before you step in front of the camera, take a moment to reflect on what you want to achieve through your bikini photoshoot. Is it about capturing your strength, embracing your body or expressing your unique personality? Defining your goals will serve as a compass, guiding you through the process and ensuring that the final images reflect your aspirations.
Flattery and Confidence: Consider how you want to portray yourself in the photographs. Do you aim to capture your confidence and strength? Focus on choosing poses, angles and expressions that highlight your best features. The right combination of lighting and composition can flatter your natural beauty and empower you to shine in every frame.
Embracing Elegance: If your goal is to exude sensuality and grace, it's essential to strike a balance between alluring and tasteful. Your photographs can reflect your elegance while evoking admiration and respect. Work closely with your photographer to ensure that the images convey your desired message and maintain the artistic integrity you seek.
Individuality and Creativity: Bikini photoshoots are an opportunity to express your unique personality and style. Consider the locations, outfits and themes that resonate with you. Collaborate with your photographer to explore creative ideas that align with your vision. Your photographs should capture not just your physical form but also your essence and individuality.
Comfort and Trust: Feeling comfortable during your photoshoot is essential for authentic and compelling images. Build a rapport with your photographer, communicate your preferences and trust his expertise. When you feel at ease, your confidence will radiate through the photographs, creating a genuine representation of yourself.
Empowerment and Meaning: Perhaps your goal is to use the photoshoot as a way to celebrate personal growth or a significant milestone. Embrace the opportunity to capture your journey and tell your story through the lens. Your photographs can be a powerful reminder of your strength and resilience, serving as a source of inspiration for yourself and others.
A Lasting Legacy: Consider how you want your photographs to be remembered over time. Do you want them to symbolise a chapter of your life, an embodiment of your spirit or a testament to your journey? By setting meaningful goals, you can ensure that the photographs hold a special place in your heart and serve as a legacy of your unique beauty and experiences.
In the world of bikini photography, the journey is as important as the destination. By setting thoughtful goals, you're embarking on a path that allows you to embrace your beauty, share your story and create images that resonate with authenticity and meaning. Let your goals guide you through this transformative experience and together with your photographer, you can craft photographs that celebrate your journey and empower your spirit.

If you're ready to embark on this exciting journey and explore the possibilities of creating stunning bikini photographs that reflect your unique beauty and spirit, I'm here to assist you. Together, we can capture moments that empower, inspire and celebrate your individuality. Let's bring your vision to life through the lens, creating photographs that speak volumes about who you are.