Sunrise & Sunset Portrait Photographer in Singapore
Quick Navigation:
Sunrise & Sunset Portrait Photography Services in Singapore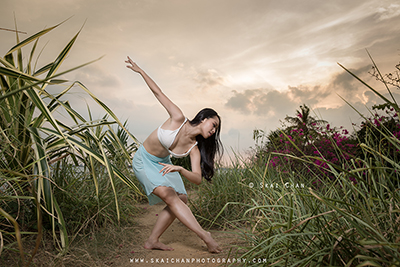 ▲ Sunset portrait photoshoot with flash to balance the light on the subject and background, including adding flattering light on the subject.
You got it! When it comes to my sunrise and sunset photography services, I've got a real knack for capturing those stunningly lit and flattering portraits against the backdrop of the rising or setting sun. Using my high-end photography gear and professional lighting equipment, I ensure that each image showcases that enchanting golden hour light, creating portraits that'll make you go, "Wow!"

▲ Sunset portrait photoshoot without flash to create silhouette.
Oh, and here's the kicker - I'm not just your average photographer. I've got a little something up my sleeve - artistic silhouette photos. Yep, those shadowy outlines against the sunset backdrop, add a touch of creativity and uniqueness to your portrait collection. Trust me; it's going to be a real showstopper!

Now, here's the deal - we're not just going to snap some photos and call it a day. Nah, we're in this together, creating personalised and one-of-a-kind photo concepts that speak to your style and personality. Whether it's for a personal shoot or a business gig, we're going to make sure those portraits stand out like nobody's business!

So, let's get this creative adventure started, shall we? I promise you, with my expertise and passion, your sunrise and sunset portraits will be nothing short of exceptional and filled with warmth and beauty. Get ready to shine like the star you are!
Testimonials: What Clients Say about Skai
Hey there! As a professional sunrise and sunset portrait photographer in Singapore, I encourage you to check out my past clients' reviews. They provide valuable insight into my photography style, professionalism, and ability to capture beautiful and unique images that reflect personalities and emotions.

You'll see how I create a comfortable and relaxed atmosphere during the photoshoots, resulting in natural and stunning pictures. I take pride in the work I do and the memories I capture, and reading these reviews will give you a better understanding of the level of service I provide.

So take a peek, get inspired, and see why my clients are all smiles with their final images. Can't wait to work with you too!
Booking Information
Hey there, interested in booking a sunrise/sunset portrait photography session with me? Great choice! Let me give you all the information you need to get started.
Contact me with the purpose: Firstly, to book a sunrise/sunset portrait session with me, simply head to my contact page where you can find the link to text me via WhatsApp. Please indicate your purpose and the package you are interested in, or otherwise, I may mistake your text as a spam.
Consultation: We will have a consultation to discuss the type of event, the date, location and your preferred style of photography. This will help me understand your vision and see if we are a perfect match. We will also go over the package options and pricing. However, do note that I will only provide advices and suggestions after you have confirmed and booked my services officially.
Place deposit: To secure your booking, a 50% non-refundable deposit is required. Once your deposit is received, your date and time will be reserved exclusively for you.

Don't worry, I'll send you all the necessary payment details when you decide to book with me. Payment can be made via PayNow or PayPal (PayPal requires extra fee).

The remaining balance is due on the day of the photoshoot.
Remember that it's best to book my photography services in advance to ensure availability. So don't hesitate to contact me as soon as possible to secure your date!
Prices & Packages for Sunrise & Sunset Portrait Photography
Quick explanation: The most considerable portion of my photography cost is calculated based on the (1) duration booked, (2) equipment required (natural light/ flash), (3) type of editing (basic/ advanced) and (4) extensiveness of planning required.

Please read the full explanations so that you can make a better decision.
⚡ Flash Photography (High-End)
Up to 1 Hour: $450
Up to 2 Hours: $600

Additional Hour: $150/block hr

⚡ Flash photography (one-light set-up)
🌞 Use of natural light when necessary
Pace of shoot: Slow
Deliveries
Up to 30 photos/hr
Basic Edit (exposure & colour correction)
Digital copies (high resolution JPG)
Photos selection in low resolution PDF
Special Requests/ Add-Ons
(Subject to availability)
Face to Face discussion:
Starting from +$100
Photographer to scout venue(s):
Starting from +$100
Shoot at beach/ sandy/ dirty venue:
Starting from +$50
Additional lighting set-up: +$50/light
Additional photos (basic edit):
+$5/photo
Same-day photo edit (basic edit):
+$50/photo
Expedited photo edit (basic edit: 3 days after shoot):
+$50/hr booked
Advanced edit (skin retouching):
+$50/photo
Revision of photo edit (advanced edit):
+$15/photo
Privacy of photos:
+$100/hr booked
Hairstyling & Makeup
$180 /Female
$120 /Male
1x Hair & Makeup Artist (HMUA)
Up to 1 hour
1 Look (Hairstyling for a neat look & Makeup)



Add-Ons

Follow through the photoshoot: +$70/hr

Details: makeup artists and hairstylists
NOTE
⏳

All booked duration

Includes changing of equipment, wardrobe, makeup, hairstyle and travelling (if applicable) during the shoot.
📰

Please read

(1) Checklist for hiring a photographer, (2) FAQ and (3) Service Agreement and Privacy Policy before making enquiries.
💡

Ideas and advice

Will only be given to serious clients after a booking fee is being placed.


✆ Contact me now for a customised package tailored to your personal needs.
Surcharges
My photography packages are designed to help my clients save cost. I'm able to provide affordable photography rates because I don't include the additional services, which most clients don't need.

I have listed the common special requests from clients at the bottom of the packages. For the uncommon ones, do look through the full list of surcharges to avoid miscommunications.
Skai the Sunrise & Sunset Portrait Photographer
Hey there, I'm Skai, your go-to professional sunrise and sunset portrait photographer based in sunny Singapore!

I'm absolutely, positively crazy about capturing the magic of the golden hour. The way the sun paints the sky with its warm hues and the soft glow it casts on my subjects - it's pure enchantment! My heart skips a beat every time I get to freeze those precious moments in time.

With years of experience, top-notch gear and a keen eye for breathtaking locations, I'm all about creating portraits that tell your unique story. I'll make sure you shine like the star you are, with personalised and meaningful images that tug at your heartstrings.

But you know what makes this journey even more incredible? It's the people I get to meet and the connections we forge during our photoshoots. I'm all about good vibes and creating an experience that feels like a fun adventure with a friend. Trust me; you'll leave with a smile and memories that'll last a lifetime.

So, if you're up for a golden hour adventure and portraits that'll take your breath away, I'm here to make it happen. Let's capture the beauty, the love and the magic together, and create something truly special. I can't wait to embark on this creative journey with you! 📸✨
What Sets Skai Apart from Other Sunrise & Sunset Portrait Photographers
Hey, I'm so excited to share what makes me stand out from other sunrise and sunset photographers:
📸 Professional-Quality Photos: My extensive knowledge, top-notch equipment, and years of experience ensure your photos are nothing short of breathtaking. I'm all about capturing those perfect moments and creating memories that'll leave you in awe.
🌅 Knowledge of Good Locations: I've been a curious explorer, seeking out the most picturesque spots in Singapore. Trust me, I've got the inside scoop on all the hidden gems that'll make your portraits shine like gold!
🎨 Bespoke Photography: No cookie-cutter stuff here! I'm all about personalising your photos to reflect your unique personality and emotions. Your shoot is an artistic journey, tailor-made just for you.
💡 Creativity: I've got a flair for trying new things, making each shoot a one-of-a-kind experience. Your album will be a treasure trove of creativity and fresh perspectives.
😊 Friendly Approach: Say goodbye to awkwardness! My shoot is all about good vibes and a smile on your face. You'll feel like you're hanging out with an old friend, and we'll create some magic together.
🙅‍♀️ No Body Contact: Your comfort and boundaries are my top priority. No need to worry about awkward poses or intrusive directions. I'll guide you verbally or do live demonstrations, ensuring you feel relaxed and respected throughout the shoot.
So, there you have it! With my professional-quality photos, knowledge in good locations, bespoke photography, boundless creativity, friendly approach and utmost respect for your boundaries, I'm here to create an unforgettable and meaningful sunrise and sunset portrait experience just for you. Let's make some incredible memories together!
How Skai Began Doing Sunrise & Sunset Portrait Photoshoots
I was crazy about photography from the get-go. Even when I was just starting with portrait photography, I knew there was something special about those golden hours, right after sunrise and before sunset. That soft, dreamy lighting? Oh, it had my heart!

I quickly dove headfirst into the world of flash photography and decided to schedule a shoot with a model in the early evening, just before sunset. But guess what? I was a bit of a newbie with flash, so I decided to rely on natural light, with the sun gracefully setting in the background. And let me tell you, it was pure magic! I ended up creating my very first silhouette photo, and it attracted a whole lot of admiration!

That experience got me fired up! I knew I had to up my game, so I upgraded my equipment and expanded my photography knowledge. Whenever I had the chance, I made sure to give my models and clients the high-end photoshoots they deserved - showcasing both their beautiful faces and that stunning setting sun.

As I uploaded more and more of my professional work, something incredible happened. The word got out, and suddenly, I found myself flooded with inquiries for shoots of all kinds! It was heart-warming to see how my passion and dedication to creating captivating sunrise and sunset portraits resonated with others.
Why Skai Loves Doing Sunrise & Sunset Portrait Photoshoots
🌅 Passion for Golden Hour Magic: First and foremost, it's the sheer magic of the golden hour that has stolen my heart. The soft, warm glow of the sun casts a spell on everything it touches in Singapore. Capturing that enchanting light and revealing the true essence of my clients fills my soul with pure joy and inspiration.
🎨 Uniqueness and Creativity: But you know what truly sets my heart on fire? Uniqueness and creativity! I'm on a mission to stand out from the crowd and be a shining star among photographers. Constantly seeking fresh perspectives and innovative techniques, I ensure every album I create is as unique and captivating as my incredible clients.
📸 Technical Skill and Natural Light Expertise: Speaking of challenges, bring it on! Working with the ever-changing light conditions during the golden hour demands technical skill and expertise. I love embracing the challenge head-on, armed with top-of-the-line equipment and knowledge. It's like a thrilling dance with nature, and boy, have I nailed it so far!
💖 Emotional Connection with Clients: But it's not just about capturing beautiful images; it's about forging deep emotional connections with my clients. The golden hour sets the stage for an intimate and romantic atmosphere, allowing me to capture their heartfelt moments and create memories that will be cherished for a lifetime. Making my clients feel seen, heard and loved is what makes my work truly fulfilling.
✨ Creating Once-in-a-Lifetime Memories: And here's the icing on the cake - creating once-in-a-lifetime memories! From the initial planning to the final product, I'm all in, providing a personalised and professional experience. I work closely with my clients, ensuring their visions and emotions are beautifully reflected in the images we create together.
How Doing Sunrise & Sunset Portrait Photography has Helped Skai Grow
Diving into the world of sunrise and sunset portrait photography has been a game-changer for me! Balancing the light for both my subjects and that glorious sun is a whole other level of artistry. It's like mastering a symphony of light and shadows to create breathtaking portraits.

You see, it's not just about pointing a camera and clicking away. It requires a solid foundation of photography knowledge, top-notch equipment and heaps of experience to nab those jaw-dropping shots. It's like being a detective, always thinking on my feet to make the most of those magical moments.

It builds my creativity! I'm constantly challenging myself to think outside the box, to create portraits that ooze personality and emotion. It's like an endless journey of self-discovery and artistic expression.

Do you know what's the best part? It makes me stand out like a shining star in the photography universe. Those spectacular portraits I've created draw admiration from so many people - it's like a burst of sunshine on my hard work.

Sure, not everyone may come knocking on my door specifically for a sunrise or sunset portrait shoot, but that's okay. They see that I'm good at my craft and that draws them in like a magnet. It's like a ripple effect - they may start with a different idea, but eventually, they'll be blown away by what we create together.

With the support of my amazing and cooperative clients, I've been able to sustain my photography journey. Every shoot is a learning experience, a chance to grow and hone my skills. It's a beautiful cycle of continuous improvement and I'm grateful for every step of it.

So, there you have it - sunrise and sunset portrait photography has been my ticket to growth, creativity and a whole lot of admiration. I'm on this journey for the long haul and I can't wait to create more magic with every click of my camera!
What is Sunrise & Sunset Portrait Photography?
Sunrise and sunset portrait photography refers to the art of capturing portrait images during the golden hours of the day, which are shortly after sunrise and just before sunset. A skilled and experienced sunrise and sunset portrait photographer specialises in utilising the soft and warm natural light during these magical times of day to create stunning and captivating portraits. The unique quality of the golden hour light enhances the subjects' features, creates a flattering glow and adds a touch of warmth and romance to the images.

This style of photography is widely used for various purposes, including personal and professional portraits. For personal uses, clients may seek sunrise and sunset portrait photography for special occasions like engagement shoots, pre-wedding photos, family portraits or simply to capture cherished moments with loved ones against the backdrop of the beautiful golden light. On the professional side, individuals may utilise sunrise and sunset portrait photography for headshots, social media profiles, corporate branding and marketing materials. The captivating and eye-catching nature of these images makes them stand out and leave a lasting impression.
Sunrise & Sunset Portrait Photography in Singapore
Sunrise and sunset portrait photography in Singapore holds a special place in the hearts of both photographers and Singaporeans alike. The allure of the golden hour, with its warm and soft light, creates a magical backdrop that beautifully enhances portraits, making them come alive with emotion and charm.

For photographers, capturing images during the golden hour presents a unique opportunity to showcase their artistic flair and technical expertise. The challenge of working with changing light conditions and diverse landscapes in Singapore ignites their creativity, resulting in breathtaking and one-of-a-kind images.

On the other hand, Singaporeans cherish sunrise and sunset portrait photoshoots as a way to immortalise cherished moments and relationships. From romantic couples to families and individuals, the golden hour adds an enchanting touch, turning ordinary photographs into timeless keepsakes filled with memories and emotions.

The diverse cityscape of Singapore offers a plethora of stunning locations, providing a perfect canvas for photographers to work their magic. The iconic skyline, lush parks, tranquil beaches and architectural marvels lend themselves to a multitude of captivating backdrops, ensuring that each portrait is as unique as the city itself.

In conclusion, sunrise and sunset portrait photography in Singapore is more than just capturing images—it's about preserving cherished memories and creating art that will be cherished for generations. The golden hour's enchanting light, coupled with the passion and creativity of photographers and the desire of Singaporeans to celebrate life's moments, make sunrise and sunset portrait photography an invaluable and cherished aspect of the local culture.
What is Sunrise & sunset portrait Photography also Known as?
Sunrise and sunset portrait photography is also known as "golden hour portrait photography" or "magic hour portrait photography." These terms emphasize the significance of the specific time of day when the photoshoots are conducted to achieve the best possible lighting conditions for capturing stunning and magical portraits. The terms are used interchangeably with "sunrise and sunset portrait photography," as they all refer to the same style of capturing portraits during the golden hours.
What is a Sunrise & Sunset Portrait Photographer?
A sunrise or sunset portrait photographer takes photographs of people during the golden hour, the period just before or after sunrise or sunset when the light is warm and soft, creating a beautiful and romantic ambience. These types of portraits are often taken outdoors in natural settings such as parks, beaches and fields. The photographer may use a variety of techniques, such as long exposures and shallow depth of field, to capture the unique qualities of the light and create striking and dramatic images.
What are the Challenges of Doing Sunrise & Sunset Portrait Photoshoots in Singapore?
Doing a sunrise and sunset photoshoot in Singapore is an artful adventure, but it comes with its fair share of challenges. Here are some hurdles that photographers need to tackle with grace and finesse:
☔ Unpredictable Weather: Singapore's tropical climate can be a bit moody, surprising us with rain, thunderstorms, or that oh-so-humid weather. To combat the elements, savvy photographers always have a backup plan. Whether it's a sheltered location or rain covers for their precious gear, they stay ready to dance in the rain if needed!
🌞 Changing Light: The golden hour light is as enchanting as it is tricky. It dances around, changing rapidly, challenging photographers to adapt quickly. Adjusting settings on the fly, like a maestro conducting an orchestra, they work their magic to capture the perfect moment bathed in that mesmerising glow.
🚶 Crowded Chaos: Picture-perfect locations in Singapore can sometimes feel like bustling marketplaces, crowded with people enjoying the beauty. Navigating through the hustle, photographers use their creativity to find angles and perspectives that make the subjects stand out, undisturbed by the world around them.
📷 Mastering the Craft: Embracing the technical side, photographers juggle exposure, aperture, shutter speed and ISO like seasoned acrobats. Crafting exquisite images during the golden hour demands both technical prowess and an artistic eye, and these professionals have mastered the balancing act.
🗓️ Meticulous Planning: Preparing for the perfect shot involves meticulous planning. Timing, location and weather all play a pivotal role. Photographers scout out the best spots, calculate the sun's trajectory and schedule shoots to seize those breathtaking moments.
💼 Equipment: A sunrise and sunset photoshoot requires top-notch equipment. High-quality cameras, fast lenses with wide apertures and accessories like tripods and filters are their trusty allies. Armed to the teeth, they ensure every shot is a masterpiece.
In conclusion, capturing the beauty of a sunrise or sunset in Singapore is a delightful yet challenging journey. From the ever-changing weather to the shifting light and crowded scenes, photographers navigate through these hurdles with finesse and preparation. Armed with technical skill, creative vision and a passion for their craft, they transform these challenges into moments of pure magic, delivering stunning images that leave us breathless. 🌅📸
Should I Hire a Professional Sunrise & Sunset Portrait Photographer?

▲ Beach sunset portrait photoshoot with flash to balance the light between the subject and the background.
Hiring a professional sunrise and sunset photographer in Singapore is a decision that could enrich your photo shoot experience and deliver remarkable results. Here are some compelling reasons to consider:
📷 Expertise and Artistry: Professional photographers possess the knowledge and skill to capture the enchanting golden hour light in the most captivating way. They know how to craft images that highlight the beauty of the surroundings and accentuate the emotions of the subjects. Their artistic eye ensures that every shot becomes a work of art.
🗺️ Location Know-How: Professional photographers are well-versed in the best locations that Singapore has to offer during the golden hour. They know the hidden gems, the iconic spots and the scenic backdrops that will elevate your images from ordinary to extraordinary. Trust their expertise to find the perfect setting for your vision.
👔 Professionalism & Personalised Service: Working with a professional photographer guarantees a seamless and enjoyable experience. They are punctual, reliable and dedicated to understanding your preferences and needs. They will guide you through the shoot, helping you pose naturally and feel at ease in front of the camera, ensuring your images reflect your true personality.
📸 High-Quality Equipment: Professional photographers invest in top-notch cameras, lenses, and equipment designed to handle low-light conditions. With their gear, they can capture the magic of the golden hour with precision and finesse, delivering stunning and flawless images.
⏳ Timeless Keepsakes: The golden hour presents a fleeting moment of ethereal beauty. A professional photographer can immortalise these moments in photographs that will be cherished for generations to come. Their ability to freeze time and create lasting memories is a gift that will stand the test of time.
Ultimately, hiring a professional sunrise and sunset photographer allows you to relax and enjoy the moment, knowing that you are in capable hands. With their experience, creativity and dedication, they will not only deliver breathtaking images but also create an unforgettable and meaningful experience for you. So, if you want to capture the magic of the golden hour and turn it into timeless art, a professional photographer is undoubtedly the way to go. 🌅🌟
Tips & Tricks for Sunrise & Sunset Portrait Photoshoots
How to Plan a Successful Sunrise & Sunset Portrait Photoshoot in Singapore?

▲ Beach sunset couple portrait photoshoot with flash to balance the light between the subject and the background. Unfortunately, it's a cloudy day.
As a professional sunrise and sunset portrait photographer, planning a successful photoshoot in Singapore is the key to capturing the best and most stunning images. Here are some awesome tips on how we can make it happen together:
📍 Location Love: Let's start by choosing the perfect location that speaks to your heart. Whether it's a dreamy beach, a lush park or a vibrant cityscape, I'll help you find a backdrop that complements your style and vision. We'll consider lighting, accessibility, and all those little details to create the perfect setting.
⏰ Timing is Everything: Oh, you know it! The golden hour is the magic hour, offering soft and warm light that makes everyone glow like a star. We'll schedule the photoshoot during this precious time to capture you at your absolute best. Let's consider the day, and the time of year, and make sure we catch that golden light.
☁️ Weather Watch: Mother Nature can be playful, but no worries, we'll be prepared for anything she throws our way. Before the big day, we'll check the weather forecast and plan accordingly. Rain or shine, we'll adapt and make the most out of it. After all, a little rain can add that romantic touch!
👗 Outfit Goals: Dress to impress! We'll select outfits that not only look fabulous but also complement the location and theme of the shoot. Whether it's casual chic or elegantly formal, you'll feel comfortable and look your best. Oh, and don't forget to consider how the colours will shine in that gorgeous light!
🎉 Props with a Personal Touch: Let's add a pinch of personality! Bring along props that hold meaning to you or match the theme of the shoot. A beach umbrella for that coastal vibe or a vintage camera for a touch of nostalgia – props can elevate the magic of the moment. We'll make sure they blend beautifully into the composition.
🗣️ Communication is the Key: Talk to me! Before the shoot, share your preferences, ideas, and any specific shots you have in mind. We'll align our creative visions to ensure I capture the essence of what you desire. During the shoot, I'll guide you with poses and directions, making sure you shine like the star you are!
💡 Embrace the Unexpected: Be ready for a dash of spontaneity! Sometimes, the unexpected adds a splash of magic to our photoshoot. If it rains during a beach shoot, let's dance in the rain and create mesmerising memories. Flexibility and creativity go hand in hand, and we'll embrace whatever comes our way!
In a nutshell, planning a successful sunrise or sunset portrait photoshoot in Singapore is all about creating that dreamy and meaningful experience together. From location love to timing perfection, we'll weave a magical tapestry of memories that you'll cherish for a lifetime. So, let's embark on this creative adventure and capture your essence in the most captivating way possible! 📸✨
Why Do You Have to Use Flash for a Sunrise & Sunset Portrait Photoshoot?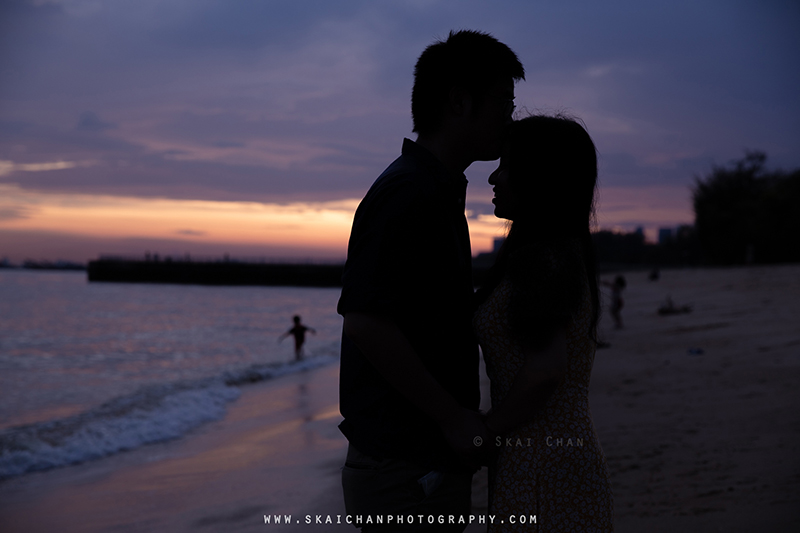 ▲ Sunset portrait photoshoot without flash (becomes silhouette)



▲ Sunset portrait photoshoot with flash (on-camera speedlite)
You know, using flash during a sunrise or sunset portrait photoshoot can work wonders and make a world of difference in the final image. Let me tell you why it's so important:
🌅 Balancing that Exposure: During the golden hour, the lighting can play some tricks on us, making it a bit challenging to get that perfect shot. But fear not! Flash comes to the rescue, my friend. It helps balance out the exposure, illuminating the subject and taming those pesky contrasts between the subject and the background. No more worrying about overexposed backgrounds or shadowy faces – we'll create that beautiful balance, making the image look oh-so-natural.
💥 Drama and Mood Galore: Now, let's talk about drama! Flash adds a touch of pizzazz, creating a moody and atmospheric vibe or highlighting the subject with that dramatic flair. Imagine the sun setting behind your loved one, and bam! We use the flash to create that awe-inspiring image that speaks volumes. Whether it's dreamy or intense, flash is our secret sauce for setting the mood just right.
🚀 Freeze that Motion: Life's full of motion, and sometimes we want to capture it all in a split second. Enter flash, the superhero of freezing motion. If you're dancing, twirling or simply in a windy place, flash is here to keep you crystal clear and sharp. With the right setup and shutter speed, we'll seize those breathtaking moments for eternity.
✨ Personalised and One-of-a-Kind: No cookie-cutter stuff here! Flash lets us unleash our creativity and craft images as unique as you are. We can play around with different lighting setups and techniques, giving your photoshoot that personal touch. Whether it's off-camera flash for a natural vibe or multiple flash units for an artsy twist, we'll create a masterpiece that screams "YOU."
So there you have it! Flash is our trusty sidekick, aiding us in overcoming challenges, adding flair, freezing time and crafting personalized images that will leave you swooning. It's all about creating stunning portraits that'll make your heart skip a beat and stay with you for a lifetime. So, let's flash our way to photography magic! 📸💥
Outfits to Wear for Sunrise & Sunset Portrait Photoshoots in Singapore
Let's talk about that fabulous wardrobe for your sunrise and sunset portrait photoshoot in Singapore! You know, picking the perfect outfit is like finding the cherry on top of a scrumptious sundae - it can elevate your whole photoshoot game. Here are some tips to ensure you shine like the golden hour itself:
🌞 Soft & Subtle: Remember, we want that golden hour light to be the star of the show, so let's avoid those flashy bright colours that might steal the spotlight. Instead, go for earthy or neutral tones, like those dreamy pastels, muted shades or some earthy colours that complement that warm, glowing light.
🌅 Dress the Part: Location, it's all about dressing for the occasion! If we're prancing around the beach, a flowy sundress or a relaxed, casual outfit would be just perfect. But if we're frolicking in a lush forest, a nature-inspired outfit or that flowy dress would make you feel like a woodland princess.
🌬️ Weather Warrior: Keep an eye on the weather! Singapore's weather can be quite the tease but don't worry, we'll dress accordingly. In summer, light and breezy is the way to go – sundresses or shorts and a cute tee. In winter, let's keep things warm and snug with cosy sweaters or jackets.
👗 More Outfits, More Fun: Let's amp up the fun with some outfit changes! Bringing extra sets of clothes will give us more options and styles to play with. Variety is the spice of life and we'll spice up your photoshoot with different looks and vibes.
💃 Your Flair: You know what they say - "Be yourself, everyone else is taken." Choose an outfit that reflects your fabulous style and makes you feel like a million bucks! When you're comfortable and confident, your natural beauty will shine through.
📿 Accessorise: Simple and dainty accessories can add that touch of charm and personality to your images. A necklace, some bracelets or cute earrings can bring out the sparkle in your eyes. Just remember, less is more, we don't want to overshadow that radiant smile of yours.
👫 Power of Coordination: If it's a couple's photoshoot, let's play the coordination game! You and your partner can have some fun matching or complementing each other's outfits. Creating that cohesive look will make your images look oh-so-adorable and picture-perfect.
💇‍♀️ Hair & Makeup: Don't forget those luscious locks and makeup magic! Styled hair and natural makeup that suits the golden hour light will make you look like a dream. You'll be positively glowing like the sun itself.
In a nutshell, dressing for a sunrise or sunset portrait photoshoot in Singapore during golden hour is all about location, season, personal style and the little details that make you shine. It's about feeling comfortable and confident in your skin and your outfit. So, let's go ahead and slay those golden hour moments together! 🌅💃
Conclusion
In conclusion, sunrise and sunset portrait photography in Singapore is a truly remarkable experience, blending the natural beauty of the golden hour with the heartfelt connections of our lives. It is about creating timeless memories and capturing the essence of love, joy and togetherness in a single frame. As you embark on your sunrise and sunset portrait photoshoot journey, remember that the key to achieving stunning and meaningful images lies in careful planning, creativity and a genuine passion for the craft.

Set your goals high—to embrace the magical light, explore the diverse landscapes of Singapore and create unique and personalized portraits that resonate with your heart. Whether it's a romantic couple's shoot, a family gathering or a personal portrait session, let each photoshoot be a celebration of life's special moments.

As you venture into the world of sunrise and sunset portrait photography, don't be afraid to seek guidance and inspiration from experienced photographers and experiment with different ideas and concepts. Embrace the challenge of capturing the ever-changing light and the beauty of Singapore's landscapes, for it is in these challenges that you will discover your true creative potential.

Remember, sunrise and sunset portrait photography is not just about capturing images—it's about celebrating life and the meaningful connections we share with our loved ones. So, go forth with passion, creativity and an open heart, and let your photoshoots be a reflection of the love and joy in your life.

If the desire arises to have a professional by your side to capture these cherished moments, rest assured that I am here to extend a helping hand. With a humble heart and genuine passion for photography, you can entrust me to transform your treasured moments into enduring memories.