Water Themed Night Dance Bikini Photoshoot with Jasmine Lim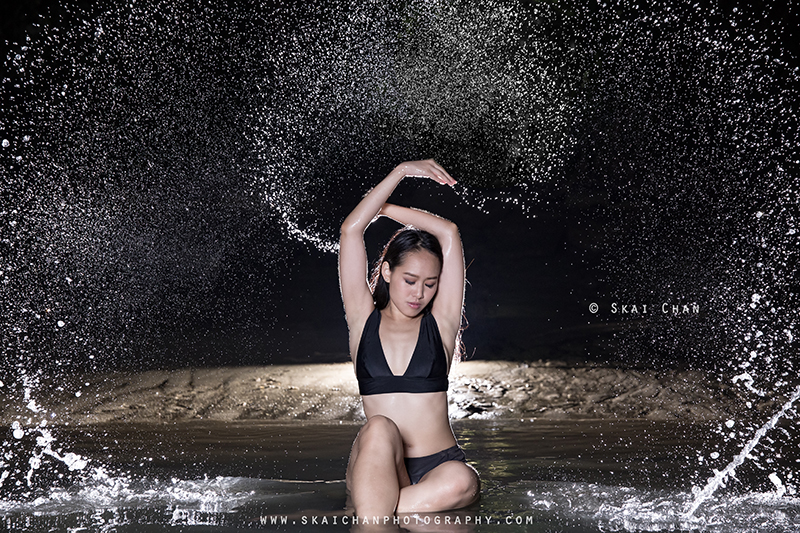 This was the final session of the day. The concept was something I had in mind for years but being buried among my endless growing to-do-list. Jasmine's elegant dance moves made it more spectacular than what I had in mind.

I picked the black bikini set because it looked sporty for the shoot. Unfortunately, it didn't come along with the same design bikini bottom as shown in the shopping website that Jasmine had purchased from. Nevertheless, Jasmine had this black piece that could match the top.

Jasmine had great ideas to move her body to splash the water elegantly. Besides, she had to repeat the moves a few times and I was glad that she was fit and sporting enough. I was very impressed and had been totally mesmerized by her.

I actually simplified the setup because I was already exhausted and it was difficult for me to do a bigger setup in the darkness and also on the wet sand. I was also worried about the safety of my equipment. I switched my 600-watt strobe to speedlites as it was too strong for the night shoot and it was near impossible for most people to hold it for long on a single hand. Moreover, the strobe was giving problems earlier on and it was also more expensive to be damaged accidentally by the water.

The biggest challenges of the night were to adjust the auto focus of the camera in the darkness and hold onto the camera and strobe (with light modifier) on one hand each. I submerged myself into the deeper part of the water to get the photographs. My right hand with the camera had to get low to the water's surface for a better angle, so that the photographs would look more magnificent while I lifted my strobe, attached with the big beauty dish, as high as possible to keep the light more natural and flattering. My hands were trembling throughout. At any point of time, my equipment could be dipped into the sea water. I was very amazed with my perseverance.

Of course, the most ideal situation would be to have an assistant holding onto my lighting equipment inside the water, next to me. It was a tough job even to hold it with two hands.

I got a light stand covered with a lot of wet sand because I laid it down and place one speedlite on top so that my speedlite wouldn't be dirtied. Eventually, there was a lot of cleaning work on my equipment to be done after the shoot.

All the sacrifice was worthwhile because of the results.
Featuring ↬
Jasmine Lim
Hairstylist ↬
Nicole
Makeup Artist (MUA) ↬
Nicole
Wardrobe ↬
Jasmine Lim
Credits ↬
The Muses
Camera ↬
Canon 6D
Lens ↬
Canon 24-70mm F2.8L II
Lighting ↬
Yongnuo YN560 EX-III, Yongnuo YN560 EX-IV
Place ↬
Palawan Beach (Sentosa)
Date ↬
24 February 2019
Photo Editing type ↬
Advanced
Disclaimer for write-up
Other Themed Photoshoot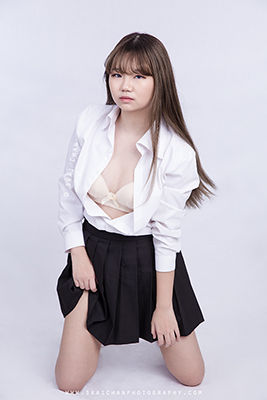 More
Themed
albums Portrait photography > All albums > All Themed albums
Page last modified on Thu, 26 August 2021