Sexy Secretary Themed Photoshoot with Boon Hui




The first word about Boon Hui that comes to my mind is "nice". She's the easygoing and self sacrificing type of person. Therefore, planning a theme with her is smooth and what goes through her mind is simply whether the shoot would help the rest of the team - photographer, hair and makeup artist etc. She has this positive mindset that allows her to be comfortable with all kinds of jokes and also able to withstand hardship. It's difficult to piss her off. It's definitely good to work with a genuine person who has no secret agenda or expectation. In fact, I got to chat a lot with her before the shoot and I could tell that she was one of the best persons to talk to as she possessed both the good attitude and intelligence.

Boon Hui's demure looks plays a double edged sword in modelling since it may be difficult for her to take up challenging roles - it's difficult to take her natural nice and gentle image away. She looks extremely healthy because of her social life - she's extremely active, especially in dance. Her sweet looks complements well with her character.

This is a simple shoot in my makeshift studio. Due to the backdrop and stools, I had to make two trips over and I was a little exhausted before I could start setting up the studio. I didn't keep track of the time nor pay attention to my phone, and when Jessica updated me her location, I missed it. I was supposed to pick her up at the bus-stop and bring her over but by the time I rushed down, she had already arrived.

I was amazed by Jessica as she managed to stuff all her tools into her backpack although she had probably brought along only her minimum gears. Apart from the early failure to receive her, the initial assurance of a shelf to spread her tools for easy use was a regret for my friend had moved it away and that the main air-conditioner unit was down. It was rather warm and stuffy that, later, the two girls had to move to one of the rooms. I actually made Jessica do some good workout by having her run to and fro the two locations to grab her tools that were left on the bench. From perspiring due to the warmness, she probably ended up with more sweat (luckily, not swear) due to the short runs.

Even though I prefer doing outdoor shoot (with more interesting background) and at the least, with black background (for low key shoot), working with white backdrop helps to create diversity. Similar to all my previous shoots, I managed to explore learn more things about photography, and thus it was not only benefitting in getting good work but also building up my knowledge.
Featuring ↬
Boon Hui
Hairstylist ↬
Jessica Chia
Makeup Artist (MUA) ↬
Jessica Chia
Wardrobe ↬
Boon Hui
Camera ↬
Canon 6D
Lens ↬
Canon 24-70mm F2.8L II
Lighting ↬
Cononmark I6M, Cononmark B4, Yongnuo YN560 EX-III
Place ↬
Makeshift studio @ Gold's Gym Singapore (Lim Teck Kim outlet)
Date ↬
12 April, 2017
Photo Editing type ↬
Advanced
Disclaimer for write-up
Other Themed Photoshoot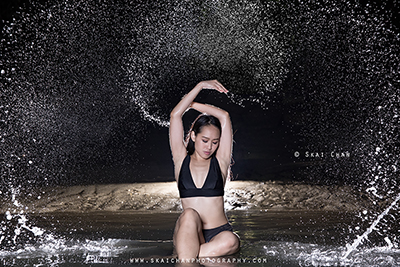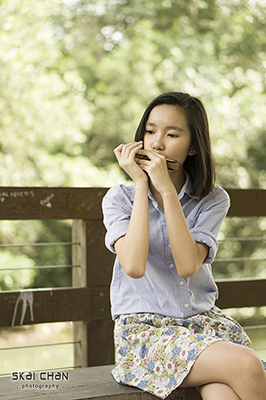 More
Themed
albums Portrait photography > All albums > All Themed albums
Page last modified on Thu, 26 August 2021