Halloween Themed Gothic Dark Boudoir Photoshoot with Val G




Due to clashes of schedules, we delayed this shoot until just a few days before the actual Halloween.

I felt quite uneasy and stressed for there were too many uncertainties and we couldn't afford to postpone the shoot.

We had to decide on the exact spots and the weather was unforeseeable. Furthermore, I hadn't met Val before and I wasn't sure of the rapport.

Since it was going to be a night shoot, more lighting equipment had to be used, which would pose problems to the logistic. Perhaps, I was undecided over the type of lighting to be used - a gruesome one, the usual beauty kind, or a mixture of them.

Although I had been to the location a few times, I decided to go down again the night before the shoot to do a more thorough exploration. Nicole saved me a lot of troubles by snapping around using her phone as we covered the big compound. The place was absolutely suitable for Halloween party.

On the actual day of shoot, the sky started pouring in the afternoon and it was more horrifying than anything else because we wanted to use the unsheltered areas for shoot.

The good thing was that Val was on time. They started with the makeup inside the studio while I was racking my brain over how to travel over. Eventually, I decided to take it as a gym session and walked over. I was covered with sweat since I had to walk through a long park and then uphill, with my equipment.

We decided although it was a Halloween theme shoot, we wanted the concept to be mysterious and sensual as well; the photographs wouldn't be used to frighten people.

Nicole did a pretty look for Val first before adding the wound. The blood was applied during the actual shoot, with lots of touch-ups throughout. Nicole's experience in doing commercial work made it work.

I did a simple three-light setup, which was another great workout for me. Firstly, I could only control the power of my main light on the trigger mounted on top of my camera's hotshoe, and thus I had to walk over to adjust the setting and direction of the other strobes. Secondly, there were a few small trees around to block my secondary strobes from being triggered by my main one. Besides, in order to keep some of the light directional without spreading them, I had to use grids and thus it took more effort to be precise.

It was the first time I played with colours, apart from the usual warm light that I had to produce in order to match the ambient light during actual day wedding shoots in hotels. I decided to use pinkish purple and green colours. Since I didn't want to create a super eerie feel, the green light was used for the background.

The place looked rundown and there were unpleasant smell at certain spots. Nicole's landlord had left many antiques around, which gave a spooky feel. I was actually very worried about stepping into the grass area because they weren't maintained and there could be weird insects around. There were also big snails and I didn't want to murder them accidentally. Moreover, since it rained earlier on, some parts of the grass area could be wet.

Nevertheless, I was very glad that both Nicole and Val were brave and accommodating enough to do the shoot under such circumstance.

Val stunned us for she was really good in her role. I hardly had to give her any instruction and she could do the posing, together with great expression. Everytime when we wanted her to change to a certain posture, she seemed to be able to read our minds and did it before we could complete the sentences. She was very cooperative, which made the shooting easier.

However, since there were other hardworking people (tenants) around, we played quite conservative in order not to pose any nuisance. We didn't execute the styling exactly as planned.

Nicole found an assistant for us. Yusheng sacrificed himself by helping us instead of enjoying the premium tea and air-conditioner inside the studio. He helped me by testing light and moving two of the strobes around, or otherwise, it would take more time and energy for me to move them alone.

In the midst of the shoot, one of my speedlites fell, so did my heart. Another speedlite was probably overheated and the batteries were hot.

The greatest challenge of the shoot was the low ambient light that caused the auto focus speed of my camera to be extremely slow. I counted myself lucky because Val was good in holding her expression and poses.

Post-production work was surprisingly easier than most of my other albums, most likely due to Val's good complexion and Nicole's detailed makeup.
Featuring ↬
Val G
Hairstylist ↬
Nicole
Makeup Artist (MUA) ↬
Nicole
Wardrobe ↬
Val G
Credits ↬
Yusheng
Camera ↬
Canon 6D
Lens ↬
Canon 24-70mm F2.8L II
Lighting ↬
Cononmark I6M, Yongnuo 560 Ex-III, Yongnuo YN560 EX-IV
Place ↬
Pearl's Hill Terrace
Date ↬
27 October, 2018
Photo Editing type ↬
Advanced
Disclaimer for write-up
Other Themed Photoshoot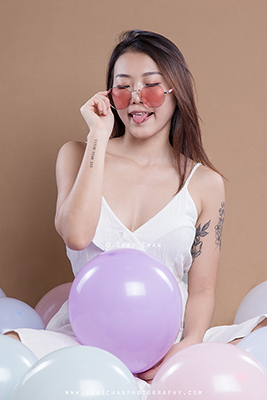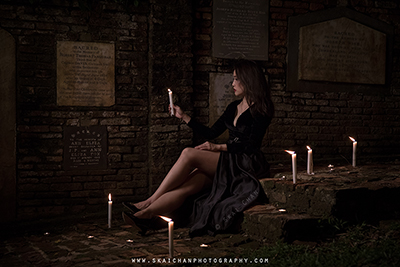 More
Themed
albums Portrait photography > All albums > All Themed albums
Page last modified on Thu, 26 August 2021