Forest Themed Fashion Photoshoot with Beverley Angkangon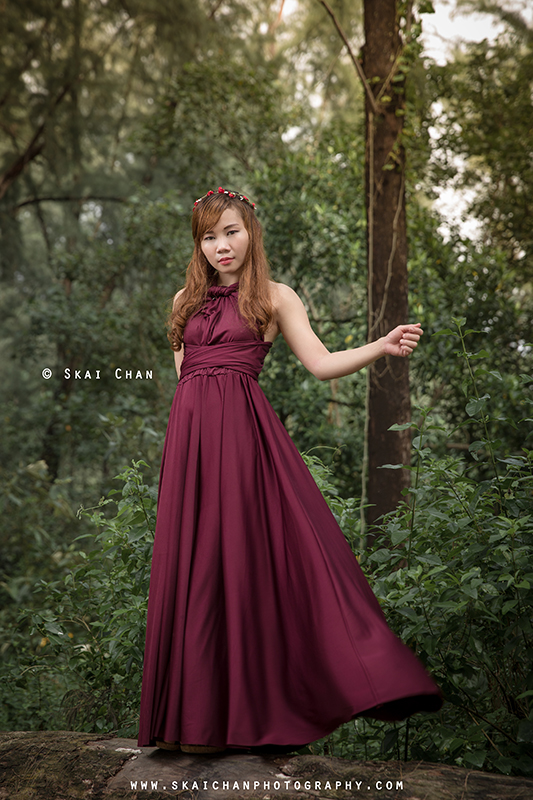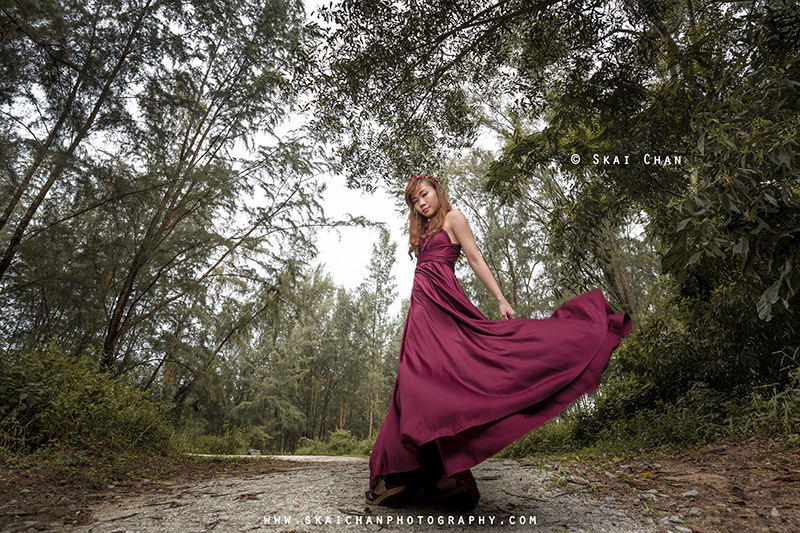 This is a tough shoot that we had to battle with the weather, mosquitoes, dogs, monkeys and even wild boar.

It was during the raining season that I checked with the cheeky weather forecast daily and it always laughed that the sky would be sad during every morning for the next few days. Since Coney Island was not near our houses, the thought of making a wasted trip over, especially in the early morning, made me a fickle-minded person. We almost postponed it, until the day before the shoot, the weather forecast finally gave us good news. Nevertheless, the chance of having a sudden downpour weighed me down. Luckily, I knew Beverley well enough and thus I was confident that she was committed to shoot (at least she wouldn't oversleep) because she thought YOLO and we should Nike. I was quite sure that she's a very sporting person, although the wet weather plan was to do a bikini fashion shoot in my makeshift studio, which she was resisting. Perhaps, she wasn't pleased that my nose didn't bleed the previous time we did the bikini shoot at the beach.

I caught the second train in the early morning, missing my ideal first train by a minute or two, for the good. While waiting near the passenger pick-up point of Punggol Waterway, I was questioned by a security guard who probably just wanted to grab my attention since I looked rather sexy on the floor. The next security guard skipped me and I knew he was straight. Perhaps, it could be the opposite since Beverley was touching up her makeup besides me, although not in the most glamorous way.

The luxury of having an assistant who drove was great. Gilbert also shared half of my load or otherwise Beverley might have to do CPR for me halfway into the shoot. I trusted her professionalism that she could do it very well though.

By far, very few of my morning shoots would begin on time as there were too many unforeseeable situations. It was a beautiful morning, except that the sun rose too eagerly to watch the performance. The thin layer of cloud was the sun's buddy and the most polite audience ever, who gladly made way for his friend for a better view.

Despite I had already recce the place by myself a few days before the shoot, I didn't lead the team on the fastest path to the first shooting location due to poor memory. I blamed it on the two cute wild dogs who were guarding the landmark while I didn't realise the next path to go towards the beach was further down. Perhaps, when you were carrying heavy and bulky bags, and had only less than three hours of sleep, you could have made the same mistake and you would also want to avoid provoking the dogs who might not have eaten for days. I could have stolen some food from Luckie to bribe them but I hadn't learned how to do fortune-telling.

By the time we were near the rusty location that were only accessible during low tide, I realised the two doggies had really changed my plan. We couldn't cross over some large fallen trees unless we walked on the water or made a U-turn to say hi to the dogs again. I settled for somewhere less dramatic but realised it was almost a clear sky and my idea of playing with sunray was difficult without setting up more gears; when grandpa was looking furious, he wouldn't appear good in photographs. There was limited space to set up my softbox and with Gilbert's help, I managed to construct it without using the dirty ground. I was quite amazed.

I wasn't satisfied with the light but before I could set up a second one to act as filled light, a bunch of monkeys patrolled along the shore and stopped by to join the sun for the show. We stopped the shoot while Beverley and I went over to guard our belongings. The advance party left after a while and before we could do anything, the main body of army arrived. Instead of paying for the tickets, these 30 over freeloaders surrounded us and one of them tried to ransack our bags. I was very worried that one of them would stupidly jump on top of my softbox and trip it over. I wondered if they were able to carry my heavy bags. As Gilbert tried to fight off the prankster, I was preparing myself mentally for world war 3. After they realised it would be a costly battle and they didn't want to appear in Stomp, they left. We decided to proceed to other locations, partly because once the low tide period was over, we would be trapped and be laughed at. Frankly speaking, I was more worried about the return of the ape-wannabes.

We managed to get back to the safe part of the beach before we met a crazy wild boar dashing across the entrance to the forest area. It reminded me of the sad army days in Pulau Tekong, except that we didn't have our M16s with us in case it was mating season for the wild boar. Luckily, it was gone soon.

Gilbert played well as the art director while I battled with the continuous condensation on my spectacle. I wouldn't blame the sun for the model was too hot, but I was melting due to the sun. We managed to get some good shots after many trial and errors with impromptu ideas. As we proceeded to the final location nearby at the exact spot I had planned, I realised there was direct sun shining harshly onto the ground even though I could hide Beverley under the shades of the sexy trees. It was never my style to work in such bad lighting, or at least, not for the mood that I wanted to create. Since we were running out of time soon, instead of walking further towards the Lorong Hiatus side's gate, I led the way back to the gate nearer to the Punggol Settlement.

Along the way, I looked out for spots that I could do something similar to what I had initially planned. Eventually, the ground was on my side and the sun could only peep at the area further behind. Instead of drawing my future viewers' sight onto the overexposed background, what I did was to exclude the harsh ground caressed by the sun by going low - angle. Alas, I managed to capture some good shots after being interrupted by groups of cyclists.

Very few models would sacrifice sleep to go for an early morning shoot that's very far away, having to even cab over (extra expense). Since it takes time to do a basic makeup, the model has to wake up way before sunrise. The nearest carpark isn't even near to the place and the attitude of the model really helps in eliminating grumpy faces. I also appreciate Beverley for taking up the shoot that doesn't allow her to smile.

Gilbert is my saviour for the day even though he's been saving me since around 10 year ago. His lovebites by the mosquitoes shall be remembered.

By the way, a few days after the shoot, the lonely cow in Coney Island passed away. I didn't get to see him once. RIP.
Featuring ↬
Beverley Angkangon
Hairstylist ↬
Beverley Angkangon
Makeup Artist (MUA) ↬
Beverley Angkangon
Wardrobe ↬
Beverley Angkangon
Credits ↬
Gilbert
Camera ↬
Canon 6D
Lens ↬
Canon 24-70mm F2.8L II, Canon 16-35mm F4L
Strobe ↬
Cononmark B4, Yongnuo YN560 EX-III
Location ↬
Coney Island
Date ↬
08 October, 2016
Photo Editing type ↬
Advanced
If you appreciate my work, passion and character,
do show some support by following my
Instagram
&
Facebook
, both at
@skaichanphotography
.
If we have worked together before, do write me a
testimonial
!
Disclaimer for write-up
Other Themed Photoshoot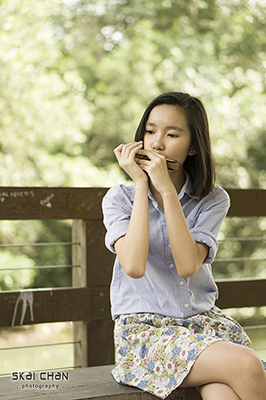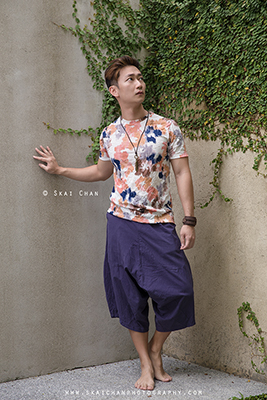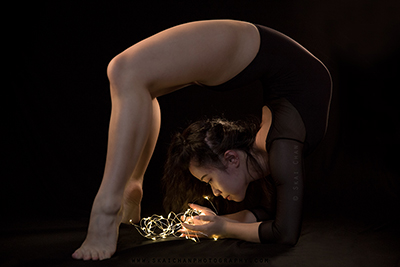 More
Themed
albums Portrait photography > All albums > All Themed albums
Page last modified on Wed, 19 May 2021