Boho-Themed Men's Fashion Photoshoot with Gilbert Lew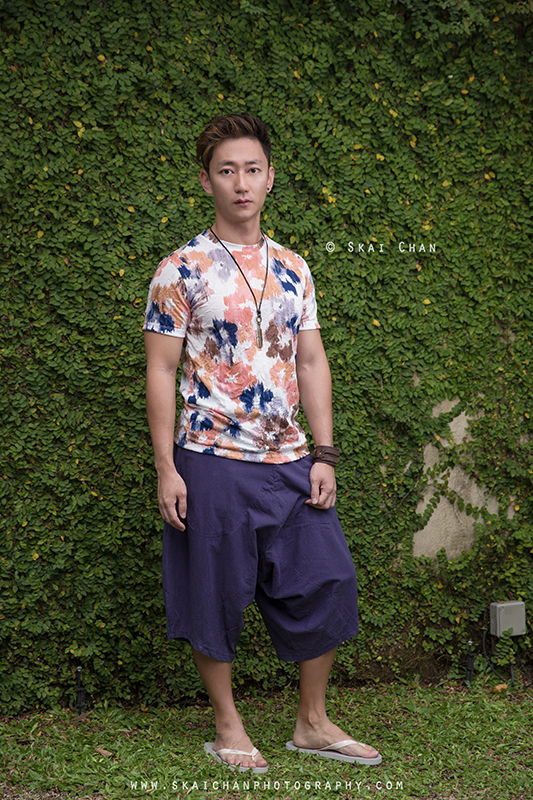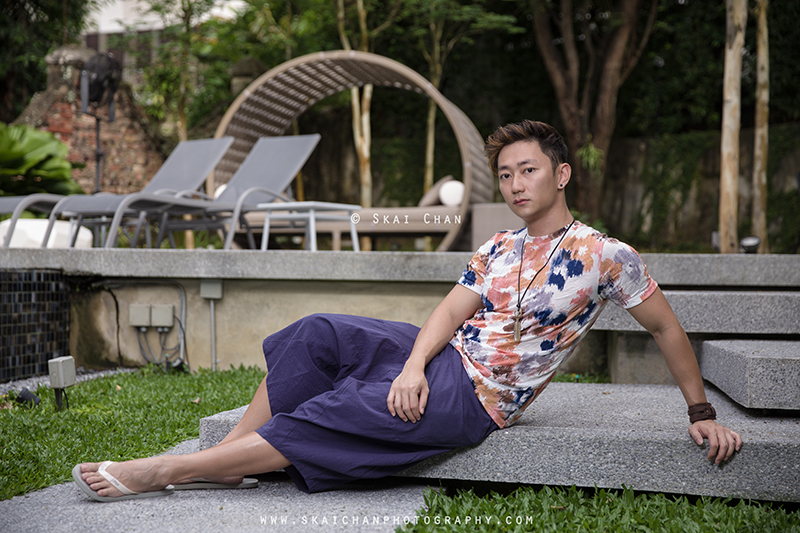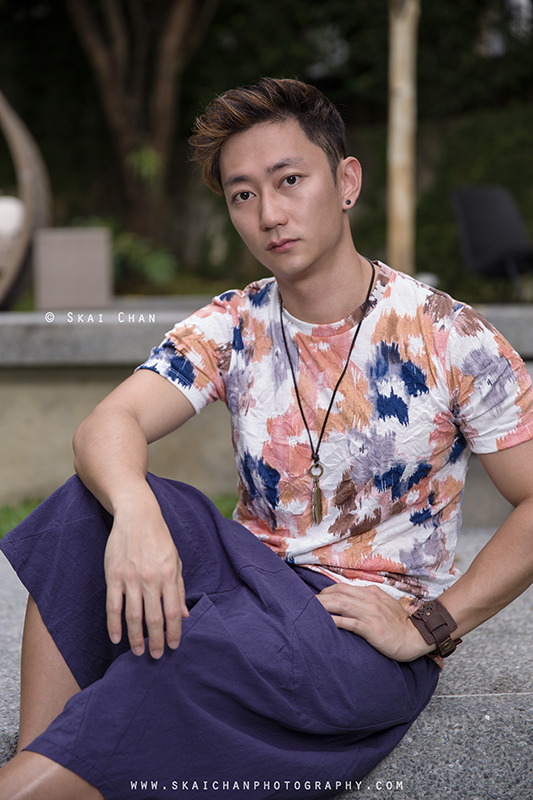 This shoot was done during our yearly staycation. Gilbert had his company D&D on the first day and after he told me the theme "Bohemian", I thought it would be interesting to do a shoot. Since we had done research before selecting the place for our staycation, we knew the poolside area was suitable for the shoot.

After checking in to the hotel, Gilbert had to get prepared to leave soon for his dinner and we had very limited time for the shoot. Although he claimed he didn't use a lot of effort to get the outfit and accessories, the styling was good and he definitely made it sound too easy. The look wasn't too dramatic and thus could even be used as his daily wear. Nevertheless, he had to wear his sandal for the dinner, but we decided slippers would fit the look more. Hence, we borrowed a pair of slippers from the hotel.

It was one of the fastest shoots I had done quite a number of very good photographs were produced. Initially, I was worried that Gilbert would be too self-conscious in front of the camera, but he amazed me with his performance. We were going for the fashion kind of cool looks, which was very different from his true friendly self. Gilbert was exceptionally intelligent and could get what I had in mind. It was a perfect collaboration work where we shared ideas and helped to create the art within a very short timeframe.

This shoot was, perhaps, a great opportunity to test my equipment as well. Due to delays, I actually had time to repack my bags before leaving my house. I decided it was a holiday and thus I shouldn't over-burden myself and thus I removed my heavy and bulky strobe and its accessories, and instead, I loaded more speedlites into my bags. The main light I was going to use would be equipped with a collapsible 80x80cm softbox designed for the adapter for speedlite that was much more portable than my usual one.

Although the timing for the shoot (in the mid-afternoon) was not the most ideal, the cloudy sky did us a big favour by diffusing the sunlight. I was glad that my speedlite was able to overpower the soft ambient light, which my 600-watt strobe could do easily. Perhaps, I was using a wider aperture to create a bokeh effect and thus I didn't have to abuse my speedlite too badly (not using full power for each shot).

I was glad that I had utilised the staycation to do a shoot at this beautiful place. If only we had more time, there would be more interesting photographs because every part of the hotel was very "Instagram-able". It was a regret that I couldn't get to do any shoot at the rooftop, corridor and inside the room. The clean look was one of my favourite designs.

Perhaps, I would encourage people who love doing staycations like me to do a casual photoshoot during their stay. Boutique hotels would be good. Although some time would be taken up, it was a good memory to be kept.
Featuring ↬
Gilbert Lew
Hairstylist ↬
Gilbert Lew
Makeup Artist (MUA) ↬
-
Wardrobe ↬
Gilbert Lew, Lloyd's Inn
Camera ↬
Canon 6D
Lens ↬
Canon 24-70mm F2.8L II
Lighting ↬
Yongnuo YN560 EX-III
Place ↬
Lloyd's Inn (hotel)
Date ↬
08 December, 2017
Photo Editing type ↬
Advanced
💲 Photographer's fee ↬
Prices & packages for Men's Fashion photography
Check out the details on how I craft my portfolio pages and the disclaimer on the write-ups.

Follow my Instagram & Facebook to get more updates.
Other Men's Fashion Photoshoot
Portrait photography > All albums > All Men's Fashion albums