Swimsuit (Swimwear) & Sunset Beach Photo Shoot - Rosy Mai Xuan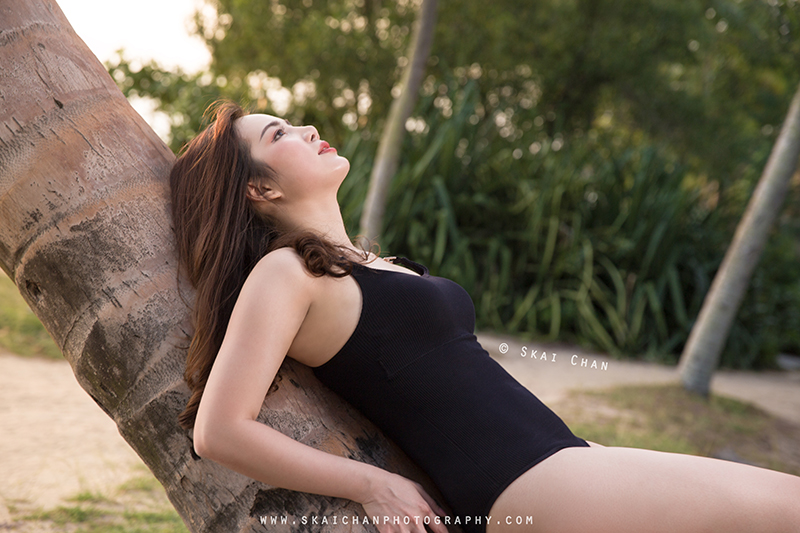 Rosy was given two choices for the time of the shoot - early morning and late afternoon - and she chose the latter since she's realistic that waking up before sunrise was torturing. It was a lucky decision nevertheless, as she wasn't feeling well and the extra rest was helpful.

Unfortunately, it was a Sunday and the place was packed with tourists. It wasn't my style to include photobombs unless for special effect. On top of that, the merciless sun didn't keep his cool. We ended up having a picnic with the huge crowd under the shade. Having a good conversation helped us to build up our rapport.

Due to the warm weather, the heat forced oil out of her spores and thus affecting the quality of her makeup.

My initial plan was to use my big beauty dish since it was easier to be set up and thus most suitable for on location shoot at the sandy beach. However, my experience told me that crossing the bridge at Palawan beach was similar to walking through the crowd at Chinatown during Chinese New Year and thus I decided to bring along a regular softbox that could be collapsed to a smaller size for portability.

Before the sun started setting, I fixed up my equipment. As it was a clear sky, my 600-watt strobe wasn't able to help to bring down the exposure of the sky initially. Thus, I went for other backgrounds first.

The first problem I faced was that Rosy wasn't used to professional photography. It seemed that she was very disturbed by the passers-by who would obviously glance at her as my lighting equipment was pointing at her. It was her virgin experience and thus her expression was unnatural.

It took her just a while to get adjusted to modelling since she was after all, someone with a very strong mind. As we moved to the next spot, she had warmed up and started to perform without guidance. She took a lot of initiative.

The biggest problem I faced was having different opinions as her on some of the photographs. I had to test for the ambient light before firing my strobe to produce the most optimum overall exposure (on her and the background), but she was mesmerised by some of the badly exposed photographs as she loved her expression inside.

The other usual problem I faced was the visitors on the Isle. I had to pause the shoot at times since they were in the background. There were many nice people who tried to stay away but there were also some who seemed to be wanting to be pictured together with Rosy.

When the sun was setting, we moved to the open sea side for sunset portrait. Rosy's confidence increased tremendously. She was assured that the use of artificial light was much needed to light her up properly while capturing the beautiful sunset (back-light situation). She also managed to overcome the nuisance of some rude people who snapped her on their mobile phones, which she told me after that.

To me, doing a portrait shoot with the sunset was fun and challenging for the fast and constant changing of ambient light, such that I had to adjust the setting of both my camera and strobe constantly to make the best out of the situation. Another problem I came across was having the sunray occasionally disrupting the camera's auto focusing system. At the same time, I had to make sure the model was doing well.

The thing I liked most about Rosy was that she picked up basic makeup through online tutorial. Her effort in preparing for the shoot was commendable. She also bought me a bottle of drinks from the 7-11 store before the shoot and that was very sweet of her.
If you appreciate my work, passion and character,
do show some support by following my
Instagram
&
Facebook
, both at
@skaichanphotography
.
If we have worked together before, do write me a
testimonial
!
Disclaimer for write-up
Other Swimwear Photoshoot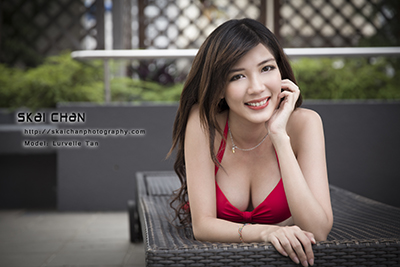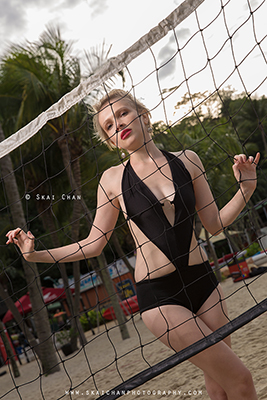 More
Swimwear
albums

View ALL albums