Male Physique Fitness Studio Photoshoot with Liu Wing Lun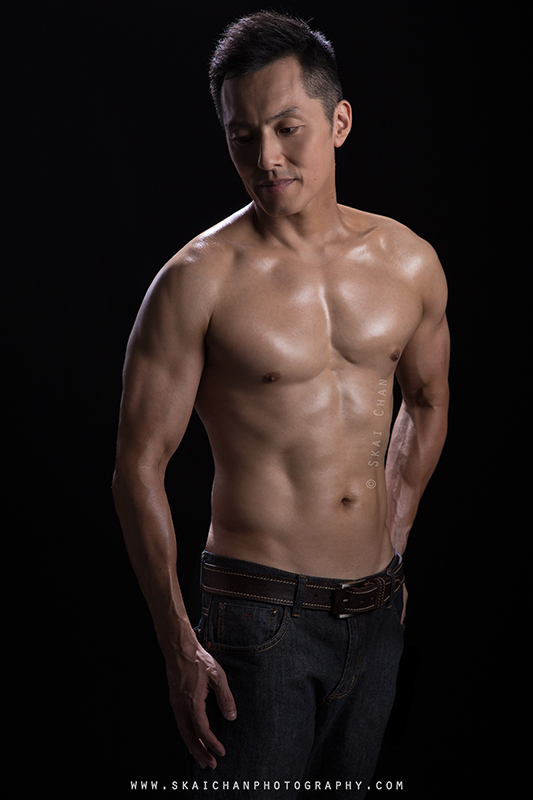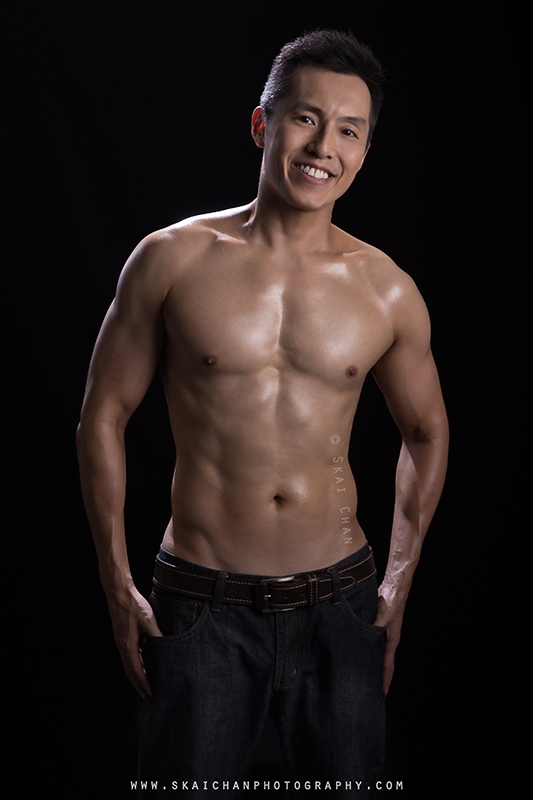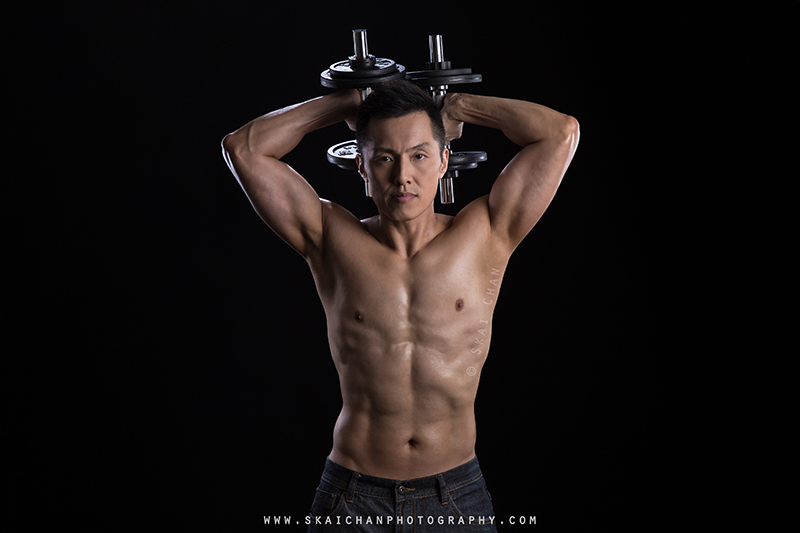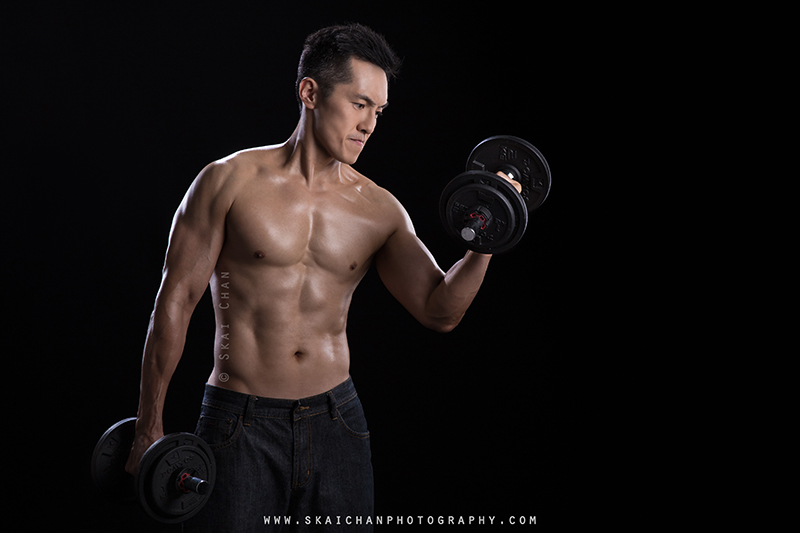 When Wing first approached me for this physique photoshoot, I sensed that he was different from the other online "shoppers". I was also delighted that he was looking for a high-end portrait instead of a casual one, which allowed me to produce more eye-catching and professional-looking work.

Wing's consideration was between a gym and a studio photoshoot. He was waiting for confirmation from two gym outlets for permission to use the premises, which didn't seem to work out. Wing initially proposed to take up the option of setting up a makeshift studio at his house but he thought it wasn't big enough. I tried to get a gym, where I could also set up a makeshift studio at. It made my planning more tedious; and unfortunately, due to timing issues, it couldn't be materialised.

The last resort would be to use my home studio, which I was quite reluctant due to the amount of work, which was extremely draining. I had to shift furniture, clean up, and set up the backdrop and equipment, which would amount to hours of effort just for the setup. Alas, we decided to go ahead with the plan.

Wing made a very swift and good decision on hiring a professional makeup artist. I briefly explained to him about the necessity but left the decision entirely up to him; he decided to make this photoshoot the best possible.

On my part, I was horrified at the unavailability of the makeup artist whom I had worked most frequently with. I approached the other makeup artist friends who were still in contact with me but they couldn't free up their time on that day as well.

This, however, created an opportunity for me to work with Tricia Lee, the ex-commercial makeup artist who taught me about styling and judging pictures when I was new. She had been turning down requests from clients due to her family commitment. She decided to help me with the friendship, taking a small fraction of her usual commercial makeup rates, which were still higher than most other makeup artists' rates. Since I didn't want to shock Wing after the confirmation of the final cost, out of my goodwill, I topped up some amount for hiring Tricia.

The discussion was spread over weeks as we had to wait for confirmation of the logistics part. Due to the uncommon logistic planning and my other commitments, I didn't always have the luxury of time to reply to Wing promptly but he didn't take offence. He also forked out time to do a video chat with me for discussion the day before the actual photoshoot. I was stunned by his sincerity and easygoingness, which made me feel relieved.

Since it was a morning shoot, I had to start preparing the night before, leaving little room for movement to even get out of my house. It took way longer time than usual to set up the home studio because of extra stuff laying around.

For the lighting, I tried to keep it simple and edgy and thus I initially used only three strobes. However, I was as fussy as usual and thus decided to add a fourth strobe to further improve the artwork by further separating Wing from the black backdrop. I made him look more three-dimensional inside the pictures.

Wing appeared in his charismatic smile on the actual day of the shoot. My girlfriend thought he resembled Donnie Yen, the famous action star who acted as Ip Man. He brought along his dumbbells. I was impressed by his well-defined build, which wasn't too exaggerated. He was chatty and confident. He performed well as if he were an experienced model.

Tricia's experience in commercial shoots was a gift bestowed on us. She not only did good makeup to highlight Wing's features but made the sweat droplets on Wing's face and body look realistic and evenly spread. She knew exactly when to start and retouch on the water droplets; it was well executed and controlled. She gave many creative and mind-blowing fitness lifestyle ideas but we decided to keep it to the originally planned physique shoot since we had very limited time. Tricia also acted as an art director, which allowed me to focus on the technical parts. The extra professional assistance sped the shoot up tremendously. I was confident to say that very few local makeup artists could match her capability.

Although Wing had something urgent on, he didn't rush off immediately right after we ended the longer-than-expected shoot. He was very composed and continued to chat.

During post-production, Tricia and I went through the photographs separately to cull them to choose the best ones. For the editing part, I tried to keep the photographs as natural as possible. Wing's good complexion made my work much easier when I was working on his face. On his body, I mainly removed some of the obvious scars.
Featuring ↬
Liu Wing Lun
Hairstylist ↬
Liu Wing Lun
Makeup Artist (MUA) ↬
Tricia Lee
Wardrobe ↬
Liu Wing Lun
Credits ↬
Carol Lim
Camera ↬
Canon 6D
Lens ↬
Canon 24-70mm F2.8L II
Lighting ↬
Godox AD600BM, Cononmark B4, Yongnuo YN560 EX-IV, Yongnuo YN560 EX-III
Place ↬
Photography Studio (Tanjong Pagar)
Date ↬
30 April, 2021
Photo Editing type ↬
Advanced
💲 Photographer's fee ↬
Prices & packages for Fitness photography
Follow my Instagram & Facebook to get more updates.
Other Fitness Photoshoot
Portrait photography > All albums > All Fitness albums