Outdoor Boudoir Portrait Photoshoot with Jun




Our initial plan to shoot at Istana Woodneuk was foiled when we found that the abandoned mansion had been cordoned off by the police. There was a "ARRESTED FOR TRESPASSING" sign glaring at us from the entrance of the forest. There we met a drunk Caucasian who instigated us to ignore the notice. I had to reject the gentleman because 1) I was not interested in breaking the law and 2) I didn't want to risk the safety of my three female companions by following a stranger who was obviously mentally unsound.

Despite us having to call off the mysterious boudoir shoot, we didn't want to waste the day so we headed to Sentosa's Tanjong beach instead. Admittedly, I was disheartened because it was near impossible to find another suitable location for the shoot I had in mind. Moreover, all of us had woken up early for this shoot. One blessing in disguise though, was that the ladies, who had never met each other before, bonded over a common hobby - a pet game - on the journey to the beach.

The sun rose fast, as if to rub it into our disappointed faces, and added challenges to achieving a stylish shoot in the open. Although Jun was new to modelling, she learnt really fast. She displayed her professionalism and cooperated well as we tried different kinds of poses and lighting.

A crucial ingredient for the success of a photoshoot is the trust between the model and photographer, and I'm glad Jun was open to me during our discussion. In fact, she took the time and effort to go through my portfolio and articles to understand me and my shooting style before contacting me. We had thus built a great rapport before the actual shooting day.

The stress level was high due to the sudden change of plan and the condition of the new venue. The friendliness and patience of the model helped a lot to calm me and explore impromptu ideas. As I was protective of my models, I also tried to stay away from the workers who were resting around the place.

The shoot was much easier with the help of two kind and cute assistants - Cherie and Nicole. Even though my equipment suffered a couple of falls and one umbrella was permanently ruined, I counted myself lucky as the damage could have been much worse in the strong wind.

At the end of the day, I hope I can inspire all photography/model enthusiasts that although boudoir shoots belong to a suggestive genre, they can be artistic and classy with the help of the model, and the right attitude from the person behind the camera.
Featuring ↬
Jun
Hairstylist ↬
Jun
Makeup Artist (MUA) ↬
Jun
Wardrobe ↬
Jun
Credits ↬
Nicole & Cherie
Camera ↬
Canon 6D
Lens ↬
Canon 24-70mm F2.8L II
Lighting ↬
Cononmark B4 & Yongnuo YN560 EX-III
Place ↬
Tanjong Beach (Sentosa)
Date ↬
30 December, 2015
Photo Editing type ↬
Advanced
Disclaimer for write-up
Other Boudoir / Intimate Photoshoot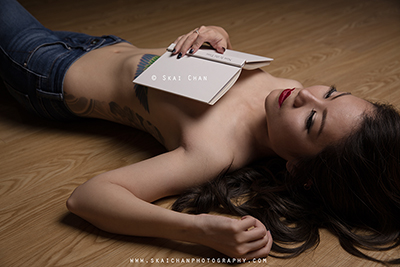 More
Boudoir / Intimate
albums Portrait photography > All albums > All Boudoir / Intimate albums
Page last modified on Thu, 26 August 2021