Implied Nude Art Yoga Portrait Photoshoot with Karina Cognomen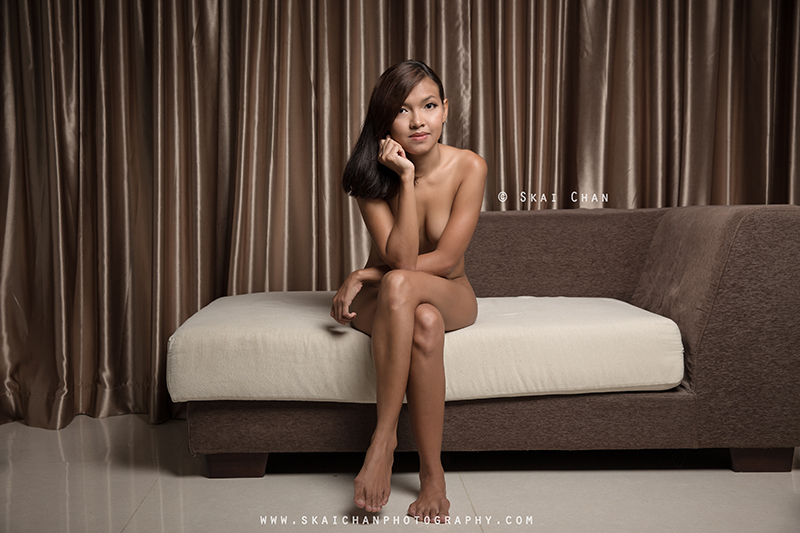 The first thing that I would recall about Karina was the ease of communication with her. Her understanding personality was a charm that would mesmerise even girls. It was easy to explain things to her, including the constraints, and she would analyse them before agreeing.

Karina was, of course, more than just a lady of wisdom and grace. She had this great figure that guys would drool over. Being physically fit wasn't a gift from Mother Nature but something she had earned for herself, or perhaps, it was simply her lifestyle. Karina loved hiking and she did it regularly over a long distance, and that toned her body up, especially her lower body. With that, she looked extremely healthy, yet not to the extent of a bodybuilder.

Karina's open-mindedness helped to create mind-blowing artwork. Apart from the trust she placed in me, her love for art helped to connect us. The discussion was easy and she even researched her poses.

Just like how I tried to find out more about every model whom I was going to work with, I had a casual conversation with her and confirmed that she was a yoga enthusiast. Since I didn't want to do a nude shoot, I suggested implied nude instead. The difference was that implied nudes would not reveal any of the private parts, which was more tolerated by society. With her yoga background, I came out with the idea of mixing yoga with implied nude, which would double the art value.

On the day of the shoot, Karina suddenly informed Sher Li and me of her injured hand, such that, it was impossible to do many of the poses we had researched on. I was disappointed but decided to go ahead. I met up with Sher Li at the MRT station and walked over to Karina's place together. It was the second time I dragged my big roller bag along for a shoot and it managed to exhaust me a little before we met up with Karina.

Sher Li was quiet as compared to our previous shoot, probably due to a lack of sleep. However, when I took a little break from setting up my equipment, I managed to start her "engine" as both of them chatted like good friends. Sher Li was fast in her job as usual.

Since it was an indoor shoot, I managed to set up a softbox, beauty dish and a speedlite, without worrying about securing them from the wind. Although, the speedlite was more redundant. We started with some simple shots and it was difficult since I insisted on having zero body contact with my models, and thus, couldn't rectify some small details in her poses. After the "warm-up", we worked on the original plan of yoga and I was glad to come out with something stylish and interesting. My only regret was that I didn't have a boom stand with me so that I could play with the angle of lighting to make it look more interesting. Perhaps, if I had a choice, I would replace the curtains with a non-reflective material. With the limited time, I was glad about the results.
Featuring ↬
Karina Cognomen
Hairstylist ↬
-
Makeup Artist (MUA) ↬
Sher Li
Camera ↬
Canon 6D
Lens ↬
Canon 24-70mm F2.8L II
Lighting ↬
Cononmark I6M, Cononmark B4
Place ↬
Kovan Residency (indoor)
Date ↬
20 June, 2017
Photo Editing type ↬
Advanced
💲 Photographer's fee ↬
Prices & packages for Art photography
Check out the details on how I craft my portfolio pages and the disclaimer on the write-ups.

Follow my Instagram & Facebook to get more updates.
Other Art Photoshoot
Portrait photography > All albums > All Art albums