Model's Photographer in Singapore
Quick Navigation:
Model Photography Services in Singapore
Welcome to my model photography services, where dreams are captured and memories are made. Whether you're an aspiring model, actor, artist or talent ready to embark on a thrilling journey or simply seeking to create cherished moments, I'm here to bring your vision to life.

I cater to both beginner and experienced models, understanding that each stage of your modelling career deserves its own spotlight. From the moment you step in front of my lens, I'll guide you through the process, ensuring you feel comfortable and empowered to showcase your unique beauty and talent.

I offer a range of options to suit your needs. Whether you're looking for a basic modelling portfolio or crave something more themed and creative, I've got you covered. Together, we'll explore concepts that reflect your individuality, creating images that stand out from the crowd and leave a lasting impression.

Flexibility is key to my services. I offer on-location photography, be it in the comfort of a well-equipped photo studio, your home or amidst the beauty of the great outdoors. No location is too challenging for me. Dim places or even night shoots are within my realm of expertise, thanks to my professional lighting equipment that ensures you shine in every frame.

But it doesn't end there. I pride myself on providing bespoke photography, tailoring the concepts and themes to match your vision and aspirations. Your modelling portfolio will be a reflection of your dreams and personality, capturing the essence of who you are as a model.

And for those starting their modelling journey, fear not! I'm here to offer valuable tips and guidance to help you excel faster and avoid common pitfalls. Drawing from years of experience in the industry, I'll provide insights to help you navigate your career with confidence, reducing mistakes and maximising your potential.

So, if you're ready to take the next step towards modelling success, let's collaborate and create stunning images that celebrate your beauty and aspirations. Together, we'll capture memories that will last a lifetime and pave the way for an extraordinary career. Get ready to shine, because the spotlight is waiting for you.

Please take some time to continue reading this page and I assure you will gain more knowledge and be inspired.
Basic Modelling Portfolio for Beginners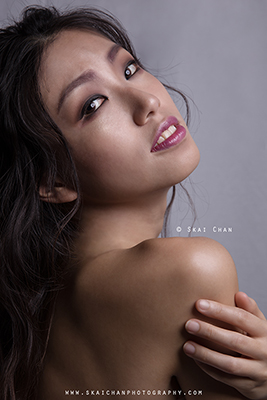 ▲ Model headshot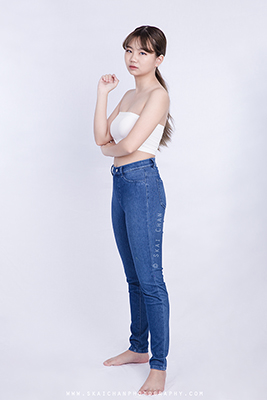 ▲ Model full body shot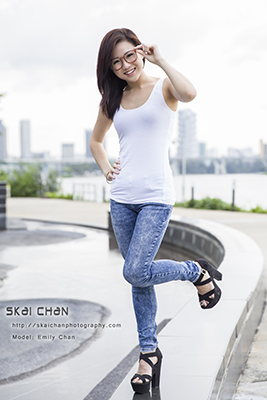 ▲ Model outdoor full body shot
A basic modelling portfolio should contain a headshot and a full body shot. The headshot must be good enough for the viewer to judge the model's looks. The full body shot is to show her overall build and body proportion, and thus the outfit should be kept as simple as possible.

Next, there should be some concepts to portray different personalities, such as sexy, sophisticated, stylish, sporty, quirky... etc.

The modelling portfolio for beginners need not be too complicated.
Themed Modelling Portfolio
Versatility and open-mindedness will expose you to more job opportunities. Therefore, it's good to build up more varieties of work in your modelling portfolio.
Modelling Agency & Pageant Portfolio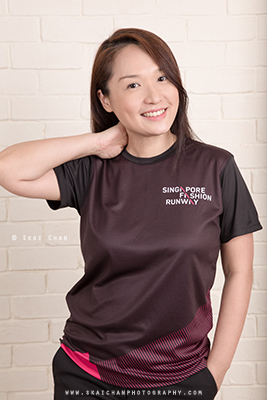 Modelling agencies and pageant competition organisers may require a portfolio photoshoot for their models and contestants. I do provide such photography services.
Sample Modelling Portfolio
Men's modelling portfolio for a soccer player in one of the UK youth teams. It consists of an edgy fashion, soccer themed, fitness and half body shots.
Testimonials: What Clients Say about Skai


"Very professional photographer that works and very knowledgeable, he provides and helped me in improving poses and expressions, and very good at capturing my good angle 😂it was a good experience and i highly recommended Skai for different types of shoots, very versatile" - Meron
Hey there, curious minds! If you're itching to get a glimpse into my photography world and understand what sets me apart, look no further than the testimonials from my amazing past clients. They're like little nuggets of insight that give you a sneak peek into the Skai experience!
Heartfelt Stories: Dive into the heartfelt stories shared by my clients, where they spill the beans about their journey with me behind the lens. Get ready to be inspired by their words of praise and genuine appreciation.
A Glimpse into My Style: Through these testimonials, you'll catch a glimpse of my unique photography style and approach. Hear how I use lighting like a magician, crafting images that are captivating, dimensional and truly unforgettable.
Personal Connections: Discover how my dedication to building friendships shines through in the words of my clients. They'll tell you tales of how I made them feel comfortable, safe and cherished during the entire photography process.
Memorable Experiences: Testimonials are like snapshots of the memories we've created together. Hear about the laughter, the joy and the unforgettable moments shared during our sessions. You'll see that it's not just about taking stunning photographs, but also about crafting an experience worth treasuring.
Words of Trust: Building trust is at the core of what I do. In the testimonials, you'll find words of trust and confidence from my clients, assuring you that you're in capable hands. They've placed their trust in me and I've delivered beyond their expectations.
So, take a moment to peruse those testimonials, let the words soak in, and feel the positive vibes emanating from the screen. It's like having a cup of tea with my past clients, getting a genuine sense of who I am and what I bring to the table. Their words will leave you with no doubt that I'm not just a photographer but a passionate artist with a knack for capturing moments that last a lifetime.

Don't just take my word for it, let the testimonials speak volumes. They're waiting to share their stories and experiences with you. Get ready to be inspired, excited and intrigued. Trust me, you won't be disappointed!
Booking Information
Hey there, interested in booking a modelling portfolio photography session with me? Great choice! Let me give you all the information you need to get started.
Contact me with the purpose: Firstly, to book a modelling portfolio session with me, simply head to my contact page where you can find the link to text me via WhatsApp. Please indicate your purpose and the package you are interested in, or otherwise, I may mistake your text as a spam.
Consultation: We will have a consultation to discuss the type of event, the date, location and your preferred style of photography. This will help me understand your vision and see if we are a perfect match. We will also go over the package options and pricing. However, do note that I will only provide advices and suggestions after you have confirmed and booked my services officially.
Place deposit: To secure your booking, a 50% non-refundable deposit is required. Once your deposit is received, your date and time will be reserved exclusively for you.

Don't worry, I'll send you all the necessary payment details when you decide to book with me. Payment can be made via PayNow or PayPal (PayPal requires extra fee).

The remaining balance is due on the day of the photoshoot.
Remember that it's best to book my photography services in advance to ensure availability. So don't hesitate to contact me as soon as possible to secure your date!
Prices & Packages for Model Photography
Please note:
Flash photography is recommended for a professional modelling portfolio.
Advanced photo editing (skin retouching) is recommended for a professional modelling portfolio.
Each theme/ outfit may require half an hour or longer.
Quick explanation: The most considerable portion of my photography cost is calculated based on the (1) duration booked, (2) equipment required (natural light/ flash), (3) type of editing (basic/ advanced) and (4) extensiveness of planning required.

Please read the full explanations so that you can make a better decision.
🌞 Natural Light Photography
Up to 1 Hour: $320
Up to 2 Hours: $420 $450

Additional Hour: $150/block hr
Deliveries
Up to 30 photos/hr
Basic Edit (exposure & colour correction)
Digital copies (high resolution JPG)
Photos selection in low resolution PDF
Special Requests/ Add-Ons
(Subject to availability)
Face to Face discussion:
Starting from +$100
Photographer to scout venue(s):
Starting from +$100
Shoot at beach/ sandy/ dirty venue:
Starting from +$50
Additional photos (basic edit):
+$5/photo
Same-day photo edit (basic edit):
+$50/photo
Expedited photo edit (basic edit: 3 days after shoot):
+$50/hr booked
Advanced edit (skin retouching):
+$50/photo
Revision of photo edit (advanced edit):
+$15/photo
Privacy of photos:
+$100/hr booked
⚡ Flash Photography (High-End)
Up to 1 Hour: $450
Up to 2 Hours: $600

Additional Hour: $150/block hr

⚡ Flash photography (one-light set-up)
🌞 Use of natural light when necessary
Pace of shoot: Slow
Deliveries
Up to 30 photos/hr
Basic Edit (exposure & colour correction)
Digital copies (high resolution JPG)
Photos selection in low resolution PDF
Special Requests/ Add-Ons
(Subject to availability)
Face to Face discussion:
Starting from +$100
Photographer to scout venue(s):
Starting from +$100
Shoot at beach/ sandy/ dirty venue:
Starting from +$50
Additional lighting set-up: +$50/light
Additional photos (basic edit):
+$5/photo
Same-day photo edit (basic edit):
+$50/photo
Expedited photo edit (basic edit: 3 days after shoot):
+$50/hr booked
Advanced edit (skin retouching):
+$50/photo
Revision of photo edit (advanced edit):
+$15/photo
Privacy of photos:
+$100/hr booked
Hairstyling & Makeup
$180 /Female
$120 /Male
1x Hair & Makeup Artist (HMUA)
Up to 1 hour
1 Look (Hairstyling for a neat look & Makeup)



Add-Ons

Follow through the photoshoot: +$70/hr

Details: makeup artists and hairstylists
NOTE
⏳

All booked duration

Includes changing of equipment, wardrobe, makeup, hairstyle and travelling (if applicable) during the shoot.
📰

Please read

(1) Checklist for hiring a photographer, (2) FAQ and (3) Service Agreement and Privacy Policy before making enquiries.
💡

Ideas and advice

Will only be given to serious clients after a booking fee is being placed.


✆ Contact me now for a customised package tailored to your personal needs.
Surcharges
My photography packages are designed to help my clients save cost. I'm able to provide affordable photography rates because I don't include the additional services, which most clients don't need.

I have listed the common special requests from clients at the bottom of the packages. For the uncommon ones, do look through the full list of surcharges to avoid miscommunications.
Skai the Model Photographer
Hey there, lovely folks! I'm Skai, your friendly neighbourhood photographer based in sunny Singapore. With a passion for capturing moments and creating art through my lens, I've been honing my craft for quite some time now. But hey, let's focus on the present, shall we?

When it comes to photography, I'm all about delivering high-quality work that makes your heart skip a beat. From capturing precious family moments to immortalising the magic of weddings, from unleashing your inner model to creating captivating corporate portraits, I've got you covered.

What sets me apart, you ask? Well, I'm not your average photographer who relies solely on natural light. Nope! I've mastered the art of lighting, using professional equipment to make you look like a three-dimensional masterpiece. I bring out the best in you, ensuring your beauty and personality shine through in every shot.

But it's not just about the technical stuff. I'm all about building meaningful connections with my clients. Your comfort and happiness are my top priorities. So, expect a relaxed and enjoyable experience, where we laugh, share stories, and create memories together.

Oh, and did I mention I love pushing boundaries and thinking outside the box? I'm a firm believer in bespoke photography, tailoring unique concepts that speak to your soul. No cookie-cutter approaches here! We'll collaborate to create images that are as one-of-a-kind as you are.

When it comes to delivery, I've got you covered too. Say goodbye to waiting ages for your photos. I provide instant download links, so you can relive those magical moments in an instant.

So, whether you're a family looking to freeze time, a model ready to rock the runway or a business in need of stunning visuals, I'm here to make your vision come to life. Let's embark on this exciting journey together, capturing memories that will warm your heart for years to come. Ready to create some photographic magic? Let's do this!
What Sets Skai Apart from Other Model Photographers
What sets me apart from other model photographers? Let me paint you a picture of the unique qualities that define my services:
Cost: Unlike photographers tied to agencies or talent scouts, I operate independently. This means I don't have to allocate a portion of my fees towards commissions, allowing me to offer competitive pricing. Rest assured, my pricing is transparent, reflecting the value of my team's time, effort and creativity. I believe in delivering quality work without compromising on affordability.
Unique and natural style: I veer away from rigid "supermodel poses" that can feel forced or outdated. Instead, my shooting style leans towards a more natural and lifestyle approach. I aim to capture genuine moments that resonate with the viewer, resulting in images that are both tasteful and relatable.
High-quality work: Outdoor portrait photography is my speciality, allowing me to incorporate captivating and clean backgrounds into each shot. With meticulous attention to detail, I meticulously design lighting setups tailored to the specific scene, mood and location. Whether shooting indoors or outdoors, I ensure that the lighting flatters and enhances the subject. If necessary, I'm even open to spreading the shoot across multiple days, ensuring that no aspect is rushed and the end result surpasses expectations.
Creative work: I thrive on pushing boundaries and thinking outside the box. With an unwavering commitment to producing eye-catching imagery, I consistently strive to create work that stands out from the crowd. Each photoshoot becomes an opportunity for me to unleash my creativity, resulting in captivating and visually striking photographs.
Natural photo editing: While post-production work can be tempting to rely on heavily, I take pride in maintaining a natural aesthetic in my images. Rather than creating work that appears heavily manipulated, I strive to produce photographs that exude authenticity and retain the essence of the captured moment. My dedication to craftsmanship and attention to detail ensures that each photograph shines without relying on excessive editing.
Guidance and support: Throughout my portrait photography journey, I've had the pleasure of working with numerous non-professional models. From watching YouTube tutorials to learning through trial and error, I've gained valuable insights and expertise along the way. I'm passionate about sharing my knowledge and experiences, providing aspiring models with guidance and support to help them kick-start their careers with confidence.
In a sea of photographers, I bring a unique blend of affordability, natural style, high-quality work, creativity, meticulous editing and guidance. I'm dedicated to capturing the essence of aspiring models while providing a memorable and empowering experience. Together, let's embark on a journey that will elevate your modelling portfolio to new heights.
Skai's Vision, Goals & Approach for Model Photography
Ah, model photography, where dreams take centre stage and beauty unfolds! Let me share with you my visions and goals that guide my passion for creating stunning modelling portfolios:
Empowering Dreams: My ultimate vision is to empower aspiring models to chase their dreams with confidence and grace. Through my lens, I aim to highlight their unique beauty, inner strength and the potential that lies within. Together, we'll create a visual story that celebrates their journey and sets them on the path to success.
Unleashing Authenticity: Authenticity is the secret ingredient that adds a sprinkle of magic to modelling portfolios. My goal is to capture genuine moments, where models can be their true selves, free from forced poses or outdated standards. Let's create images that reflect their personality and resonate with viewers, leaving a lasting impression.
Elevating Versatility: Versatility is the name of the game in the world of modelling. My vision is to showcase the diverse range of styles and looks that models can embrace. Whether it's basic portfolio shots or themed concepts that push boundaries, I'll work closely with models to create a portfolio that highlights their versatility and opens doors to endless possibilities.
Mastering the Light: Lighting is my secret weapon to create captivating and three-dimensional photographs. My goal is to master the art of lighting, using professional equipment to sculpt and enhance every curve and contour. Together, we'll play with light and shadow, creating images that mesmerize and make models truly shine.
Tailoring Uniqueness: Each model has their own story, their own essence. My goal is to tailor photography concepts that capture their individuality and make their portfolio truly stand out. I'll guide models through the process, helping them make choices that align with their vision and create meaningful images that speak volumes.
Guiding Success: Success in the modelling world is a journey, and I want to be a guiding force along the way. I'll provide tips, insights and advice to help beginner models excel faster and avoid common pitfalls. Let's work together to reduce mistakes, hone their skills and unlock their full potential.
Capturing Timeless Beauty: Timeless beauty never goes out of style. My vision is to create photographs that withstand the test of time, capturing the beauty of the present and becoming cherished memories for years to come. These photographs will be a testament to the models' growth and a source of inspiration for others.
So, let's embark on this thrilling model photography journey together, where visions become reality and dreams come to life. With passion, authenticity and a touch of Skai's magic, we'll create breathtaking portfolios that make heads turn and hearts skip a beat. Are you ready to step into the spotlight?
How Skai Began Doing Model Photography
Once upon a time, I embarked on my photography journey as a humble newbie, eager to capture the world through my lens. As fate would have it, I found myself working closely with aspiring models who were yearning to build their modelling portfolios from scratch. Little did I know that this would be the spark that ignited my passion for model photography.

With each session, my enthusiasm grew and I discovered a burning desire to push myself further, to create images that were not just visually appealing but truly eye-catching. I constantly found myself brainstorming, thinking of more interesting ideas that would elevate the portfolios of these aspiring models to new heights.

As the years passed and my experience in helping aspiring models with creative photo concepts grew, it dawned on me that it was time to take the leap and officially offer modelling portfolio photography. I realised that my unique approach, coupled with my dedication to producing high-quality work, could bring something exceptional to the world of modelling.

So, I made the decision to dive headfirst into the realm of official model photography. It was a natural progression for me, a calling I could no longer ignore. Armed with my years of experience and a burning passion for the craft, I set out to capture the essence of aspiring models in a way that truly reflected their individuality and potential.

Today, I stand proudly as a seasoned photographer specialising in model photography. It is a privilege to work with models who are on the cusp of their careers, helping them showcase their talent and uniqueness through captivating visuals. With each new project, I am inspired to push the boundaries, think outside the box and create remarkable images that leave a lasting impression.

I invite you to join me on this journey of self-expression and discovery. Let's collaborate and create modelling portfolios that not only stand out but truly resonate with who you are as an aspiring model. Together, we'll bring your dreams to life, one click at a time.
Why Skai Loves Doing Model Photography
Model photography holds a special place in my heart and let me tell you why. It's a world where creativity knows no bounds, where dreams come to life through the lens. There are several reasons why I love doing model photography and I'm excited to share them with you.

First and foremost, witnessing the transformation of aspiring models is an absolute joy. Being able to capture their growth and confidence as they step into their potential is incredibly fulfilling. It's a privilege to be a part of their journey and help them express their unique beauty and personality through the art of photography.

Another reason I love this genre is the constant push for innovation. Model photography challenges me to think outside the box, to come up with fresh and captivating concepts that make heads turn. I'm always seeking new ways to make each portfolio stand out, to create images that leave a lasting impact. It's a continuous journey of exploration and growth, which keeps my passion ignited.

Moreover, the collaborative nature of model photography fuels my love for the craft. Working closely with models, makeup artists and stylists is an exhilarating experience. The synergy that comes from combining our skills and visions results in stunning visuals that surpass expectations. It's a dynamic and exciting process, where everyone involved contributes their talents to create something extraordinary.

Last but not least, the joy of seeing my clients' satisfaction is unparalleled. Witnessing the smiles on their faces, knowing that I've played a part in helping them achieve their modelling goals, fills me with immense happiness. It's a reminder of the impact that photography can have on people's lives and it motivates me to continue delivering excellence in every shot.

In the end, model photography is a fusion of artistry, collaboration and personal growth. It allows me to channel my creativity, celebrate individuality and capture moments that tell unique stories. It's a privilege to be a part of this world and I wouldn't trade it for anything.
What is Model Photography?
Model photography is a professional photography category that focuses on capturing images of models to create a modelling portfolio that showcases their looks and talents. A model photographer works closely with models, both established and aspiring, to create visually stunning photographs that highlight the model's appearance and unique qualities. The primary goal of model photography is to present the model professionally and attractively, making the portfolio appealing to potential clients and agencies in the fashion and modelling industry.

The uses of model photography are diverse and essential in the world of fashion and modelling. A well-crafted modelling portfolio serves as a model's resume, providing potential clients and agencies with a comprehensive visual representation of the model's appearance, versatility and capability to portray different characters and styles. Models use their portfolios to showcase their skills and gain opportunities for runway shows, magazine features, commercial shoots and other modelling assignments.

In conclusion, model photography is a professional and crucial aspect of the fashion and modelling industry. It involves creating modelling portfolios that exhibit the model's appearance and versatility, which serves as a gateway to various modelling opportunities. Through skilled editing and artistic direction, model photographers strive to present models in the best possible light, making their portfolios stand out in a competitive industry.
Model Photography in Singapore
In the bustling world of model photography in Singapore, aspiring models embark on a transformative journey of self-expression and creative exploration. Guided by industry professionals, they craft captivating portfolios that showcase their unique beauty, versatility and potential. Casting calls and auditions serve as gateways to many opportunities, from runway shows to editorial shoots, allowing them to make their mark in the fashion industry.

Aspiring models in Singapore possess an unwavering drive to excel, constantly honing their skills and perfecting their poses. They embrace challenges with determination, turning setbacks into stepping stones towards growth. The industry in Singapore thrives on diversity, welcoming models of all backgrounds and body types, and fostering an inclusive and vibrant community.

Networking events and collaborations become catalysts for success, connecting aspiring models with renowned photographers, designers, and industry insiders. Through these connections, they gain exposure and access to exciting projects, propelling their careers to new heights.

In this dynamic landscape, aspiring models in Singapore emerge as captivating forces, exuding confidence, grace and individuality. They embody the spirit of artistic expression, leaving an indelible impact on the fashion and entertainment scene locally and globally.
What is Model Photography also Known as?
In addition to modelling portfolio photography, model photography is also referred to by other synonymous terms that highlight specific aspects of the genre. Fashion photography focuses on capturing models wearing stylish attire and is often used for fashion editorials, runway shows and advertising campaigns. Glamour photography accentuates the model's allure and beauty, showcasing them in elegant and captivating poses. Portrait photography centres around capturing the model's face and expression, highlighting their personality and unique features.
Why Do People Do Modelling Portfolios?
Chase the Dream: Modelling portfolios allow individuals to pursue their dreams of entering the glamorous world of fashion and modelling. It's a platform that opens doors to potential opportunities, casting calls and the chance to strut their stuff on runways and in front of cameras.
Professional Presentation: Models, both aspiring and experienced, understand the power of a well-crafted portfolio. It serves as a visual resume, showcasing their range, versatility and unique beauty. It's a professional presentation that leaves a lasting impression on industry professionals and clients.
Build Confidence: Modelling portfolios provide a confidence boost like no other. They allow individuals to embrace their beauty, express their personality and celebrate their uniqueness. It's a journey of self-discovery and self-empowerment, where they can truly shine and feel proud of who they are.
Networking and Exposure: Modelling portfolios act as a networking tool, enabling models to connect with industry insiders, photographers, designers and agencies. It's a way to showcase their talent and attract potential collaborations, endorsements and opportunities for growth.
Personal Milestones: For some, creating a modelling portfolio is a personal milestone, a tangible representation of their journey and accomplishments. It's a cherished keepsake that captures a specific chapter in their lives, filled with memories, aspirations and the sheer joy of pursuing their passions.
Artistic Expression: Modelling portfolios are an avenue for artistic expression, both for the models and the photographers involved. It's a collaborative process where creativity intertwines, resulting in visually captivating images that tell a story, evoke emotions and captivate the viewer's imagination.
The Importance of Modelling Portfolio
In a world where visual appeal and storytelling reign, a modelling portfolio is an essential tool for models to showcase their unique qualities, versatility and professionalism. It's a passport to the world of modelling, unlocking doors to diverse opportunities and setting the stage for a flourishing career.
The Model's Comp Card: Just like a resume or CV, a modelling portfolio is the model's Comp card. It serves as a visual representation of their unique qualities, showcasing their looks, figure and modelling experience. It's the first impression that potential clients, agencies and casting directors have of the model.
Gatekeeper to Opportunities: When commercial clients are on the hunt for the perfect model to bring their vision to life, they turn to the modelling portfolio as their guide. It's the window through which they evaluate a model's suitability for their projects. The portfolio needs to highlight the model's physical attributes, demonstrating that they possess the desired look and figure.
Image Portrayal: A modelling portfolio goes beyond showcasing physical appearance. It's a canvas that allows the model to portray different images, styles and concepts. Versatility is key! The portfolio should demonstrate the model's ability to adapt and embody the required image, be it glamorous, edgy, sophisticated or playful. This versatility increases the model's chances of securing a wide range of modelling jobs.
Captivating Clients: A well-curated modelling portfolio has the power to captivate clients and leave a lasting impression. It should showcase the model's ability to convey emotions, tell stories and evoke a connection with the viewer. The portfolio becomes a visual narrative, drawing the client into the model's world and sparking their imagination.
Building Trust and Confidence: A strong modelling portfolio builds trust and confidence in both the model and the client. It provides evidence of the model's experience, professionalism and dedication to their craft. Clients feel reassured knowing they're working with a model who has a proven track record of delivering outstanding results.
Career Growth and Opportunities: A compelling modelling portfolio opens doors to new opportunities and career growth. It acts as a catalyst for networking, attracting collaborations with renowned photographers, designers and brands. It positions the model as a sought-after talent in the industry, paving the way for exciting ventures and expanding their horizons.
Should I Hire a Professional Model Photographer?
Absolutely! Hiring a professional model photographer can be a game-changer when it comes to capturing stunning images that truly showcase your unique qualities and potential. Here's why you should consider hiring a professional:
Expertise: Professional model photographers possess extensive knowledge and experience in capturing the best angles, lighting and compositions to enhance your features and create visually striking images. They understand how to bring out your personality and portray you in the most flattering way.
Technical Skills: Professional photographers are well-versed in the technical aspects of photography, including utilising professional lighting equipment and understanding various shooting techniques. They have a keen eye for detail and know how to make use of the right settings and equipment to create high-quality images.
Artistic Direction: A professional model photographer can provide artistic direction, guiding you on poses, expressions and styling choices that will elevate your portfolio. They can help you create a cohesive and impactful visual narrative that aligns with your goals and target audience.
Industry Connections: Professional photographers often have connections within the industry and can provide valuable networking opportunities. They may have contacts with agencies, designers and other professionals that can help open doors for potential modelling opportunities.
Time and Efficiency: Hiring a professional photographer allows you to focus on your role as a model, as they take care of the technical aspects of the shoot. They will ensure that the session runs smoothly, optimising time and maximising the number of high-quality shots captured.
Remember, investing in a professional model photographer is an investment in your career. They can help you create a standout portfolio that showcases your talent, versatility and potential, increasing your chances of securing modelling opportunities and making a lasting impression in the industry.
What Are The Challenges Of Creating a Modelling Portfolio?
Creating a modelling portfolio can be an exciting and rewarding experience but it also comes with its fair share of challenges. Here are some common challenges that aspiring models may encounter when building their portfolios:
Posing and Expressions: Finding the right poses and expressions that highlight your unique features and convey the desired mood can be a challenge, especially if you're new to modelling. It takes practice and guidance to perfect your posing skills and create a diverse range of captivating images.
Wardrobe and Styling: Selecting the appropriate wardrobe and styling choices that align with the concept and showcase your versatility can be daunting. It's essential to curate a wardrobe that suits different genres and looks, ensuring that each outfit complements your individuality and enhances the overall aesthetic of your portfolio.
Conceptualisation and Creativity: Developing creative and visually compelling concepts for your portfolio can be challenging. It requires brainstorming and planning to come up with unique ideas that make your portfolio stand out from the competition. Creativity and thinking outside the box are crucial in capturing attention and leaving a lasting impression.
Location and Logistics: Finding suitable locations for your shoots and managing logistics can be a hurdle. Whether it's booking studios, securing permits for outdoor shoots, or coordinating with teams, organization and attention to detail are necessary to ensure a smooth and successful shoot.
Budgeting and Investment: Building a professional modelling portfolio often involves financial investment. Allocating resources for photography, makeup, wardrobe and other essential elements can be a challenge, especially for aspiring models starting their careers. Balancing expenses while maintaining quality is a consideration to keep in mind.
While these challenges may arise, they are all part of the journey toward building a strong and impressive modelling portfolio. With determination, perseverance and the support of experienced professionals, you can navigate these challenges and create a portfolio that showcases your unique talent and potential.
FAQs
What do you mean by "look" in the model package?
A look means a style/ outfit/ concept. Basically, you will need a few different looks in your modelling portfolio to showcase different styles to your potential clients or modelling agencies.
Why are there a few photographs for each look in the professional package?
In every look, you will be trying out different poses and maybe props. There may be a close-up, half-body shot and/ or full-body shot. You will likely need a variety of photographs for each look, which you can select to present in your portfolio/ comp card.

During a photoshoot, there will be countless photographs snapped and I assure you that many of them will look bad or too normal. What we want to target is just a small number of good photographs.
What if I want more photographs from each look/ set?
Currently, there will be three photographs per look in the professional model photography package. You can pay extra for more photographs. However, I don't encourage getting too many photographs for one look because quality is more important than quantity - it's not because I don't want to make more money.
How much time is required for each look?
I estimate it to be one hour or less. It takes time for the model to get changed into a new look while I adjust my photography equipment accordingly. The actual time taken for each look/ set maybe around half an hour, depending on the amount of time required for the styling for that look.
Why do you set a time limit for each look?
To avoid me getting abused. Some clients do want to keep retrying some shots, which will take up a lot of time and effort, and it's beyond what I can do to continue with my photography services. I have to be fair to my other clients who need my help and I have to be in my tip-top condition in order to give them my best.

Once we accomplish the intended number of good photographs, we can move on to the next look or call it a day if it's the final look. There's no reason to drag on the shoot just to "make every cent counts".

Anyway, for clients who are obsessed with utilising the entire duration that I have stated, I probably won't have good chemistry to work with them.
Do I get any physical/ hardcopy/ printed photographs or photo albums?
No. Things are going digital in this era and the demand for physical photographs is low. My clients can easily select any of the final photographs to print on their own.

If there are photography packages that offer you hardcopy photographs, the prices would definitely include the cost price of printing them and also the labour fee.

I'm trying to focus on photography to help all my clients to look good and I don't have the extra capacity to generate extra money at this moment.
How much does a modelling portfolio cost?
There are many modelling agencies that hire "talent scouts" to invite young girls on the street to go over to their offices/studios. Then, they would make the aspiring model sign up for a photoshoot package that may range from $3000 to $6000 in order to join their agencies.
Why is a modelling portfolio so costly?
A modelling portfolio photoshoot is very different from other casual photoshoots. The photographs need to look very professional to your potential clients. You will be filling up most parts of the frame, unlike a vacation photograph that focuses a lot on the scenery, and thus every imperfection will be obvious;

Therefore, professional lighting will likely be used with setups (softbox, umbrella), and the photography will be more tedious than simply using natural light or speedlite mounting on top of the DSLR's hot shoe.

Since any imperfection will be obvious in the photographs, they require advanced editing, which includes skin retouching. Eventually, a huge amount of effort and time is needed for every photograph.

To sum up, you are paying for both photography and photo editing.
How many pictures should be in a model portfolio?
Generally, there should be a minimum of a close-up, half body or three-quarter and a full body shot. It's very advisable to add in a few looks to showcase your versatility and display your talent.
Conclusion
In conclusion, model photography holds immense importance in the world of fashion and modelling. It serves as a powerful tool for models to showcase their unique qualities and versatility, opening doors to exciting opportunities and collaborations. Aspiring models, seasoned professionals, and even hobbyists seeking to build their modelling portfolios should set clear goals for their photoshoots. Emphasising professionalism, versatility and authenticity will undoubtedly make their portfolios stand out in a competitive industry.

The key to a successful model photoshoot lies in collaboration, trust, and creative vision. By working closely with a skilled and passionate model photographer, models can bring their ideas to life, capturing captivating moments that tell their stories. A model photoshoot is not just about capturing images; it's about portraying the model's personality, passion and individuality through the lens.

Remember, every photoshoot is an opportunity for growth and self-expression. Set your goals high and aim to create stunning photographs that resonate with viewers, leaving a lasting impression. Whether it's building a modelling portfolio, pursuing a modelling career or simply cherishing beautiful memories, investing in professional model photography can make all the difference.

Now, if you're ready to embark on a model photoshoot journey that brings out the best in you, I'd be more than happy to help. As a passionate and experienced model photographer, my aim is to collaborate with you, bringing your ideas and visions to life with creativity and finesse. Let's work together to achieve your goals and create photographs that truly speak to your essence. Reach out to me for a friendly chat and let's make magic happen through the lens!
You may be interested in:
- Makeover photoshoot photographer in Singapore
- Outdoor portrait photoshoot photographer in Singapore
- Special photoshoots you can hire a professional photographer to do
- Bespoke (customised & personalised) portrait photographer in Singapore
- Crazy things that professional portrait photographers do