Modelling Portfolio Photographer
Quick Navigation:
What is Modelling Portfolio Photography?
Modelling portfolio photography is a professional photography category that caters to models and aspiring models who need a modelling portfolio to showcase their looks to their potential clients who may be hiring them as models.

Unlike a casual photoshoot, a modelling portfolio has to look very professional so that potential clients would take the model seriously. The model will occupy most of the frame as the purpose of the photographs is to display the model's appearance and not the scenery; hence, any imperfection will be more visible. There, it takes more effort to edit the photographs to make them look good.
Prices & Packages for Modelling Portfolio Photography
Please note:
Flash photography is recommended for a professional modelling portfolio.
Advanced photo editing (skin retouching) is recommended for a professional modelling portfolio.
Each theme/ outfit may require half an hour or longer.
🌞 Professional
Up to 1 Hour: $280
Up to 2 Hours: $380 $450

Additional Hour: $150/block hr
Deliveries
Basic Edit (exposure & colour correction)
Digital copies (high resolution JPG)
Up to 40 photos/hr
Photos selected by Photographer
Special Requests/ Add-Ons
Get back remaining good photos:
+$50/hr booked (subject to availability)
Same-day photo edit:
+$50/photo (subject to availability)
Expedited photo edit (3 days after shoot):
+$50/hr booked (subject to availability)
Privacy of photos: +$50/hr booked
Advanced edit (skin retouching) for photos: +$50/photo
⚡ High-End
Up to 1 Hour + 1 photo: $350
Up to 1 Hour + 5 photos: $550
Up to 2 Hours + 10 photos: $900

Additional Hour: $150/block hr
Additional photos: $50/photo
⚡ Flash photography (one-light set-up)
🌞 Use of natural light when necessary
Pace of shoot: Slow
Deliveries
Advanced Edit (skin retouching)
Digital copies (high resolution JPG)
Photos selection in low resolution PDF
Special Requests/ Add-Ons
Additional lighting set-up: +$50/light
Revision of photo edit: +$15/photo
Expedited photo edit (3 days after shoot):
+$35/photo (subject to availability)
Privacy of photos: +$100/hr booked
Hairstyling & Makeup
$180 /Female
$120 /Male
1x Hair & Makeup Artist (HMUA)
Up to 1 hour
1 Look (Hairstyling for a neat look & Makeup)



Add-Ons

Follow through the photoshoot: +$60/hr
(subject to availability)
Details: Hair & Makeup Artist (HMUA)
NOTE
⏳

All booked duration

Includes changing of equipment, wardrobe, makeup, hairstyle, and travelling (if applicable) during the shoot.
📰

Please read

(1) Checklist for hiring a photographer, (2) FAQ and (3) Service Agreement before making enquiries.
💡

Ideas and advice

Will only be given to serious clients after a booking fee is being placed.


✆ Contact me now for a customised package tailored to your personal needs.
The Importance of Modelling Portfolio
A model's modelling portfolio is like the model's resume/ CV. It describes the model and her modelling experience.

Potential commercial clients would vet a model's modelling portfolio before deciding if she's suitable for their projects. The modelling portfolio has to showcase her looks and figure, and also demonstrate her ability in portraying the image that the concept requires. Being versatile would increase the model's chances of securing more modelling jobs.
Modelling Portfolio for Beginners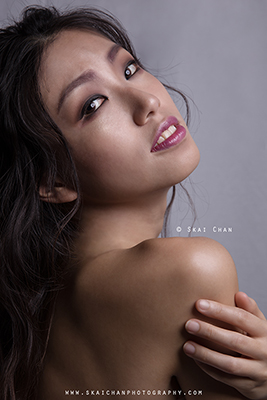 ▲ Model headshot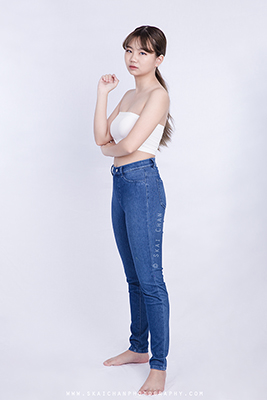 ▲ Model full body shot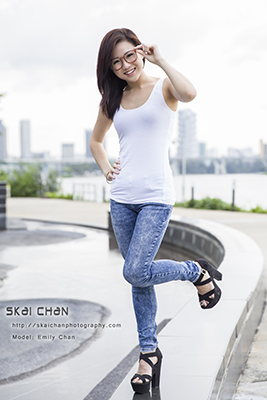 ▲ Model outdoor full body shot
A basic modelling portfolio should contain a headshot and a full body shot. The headshot must be good enough for the viewer to judge the model's looks. The full body shot is to show her overall build and body proportion, and thus the outfit should be kept as simple as possible.

Next, there should be some concepts to portray different personalities, such as sexy, sophisticated, stylish, sporty, quirky... etc.

The modelling portfolio for beginners need not be too complicated.
Different Types of Modelling Portfolio
Versatility and open-mindedness will expose you to more job opportunities. Therefore, it's good to build up more varieties of work in your modelling portfolio.
Modelling Agency & Pageant Portfolio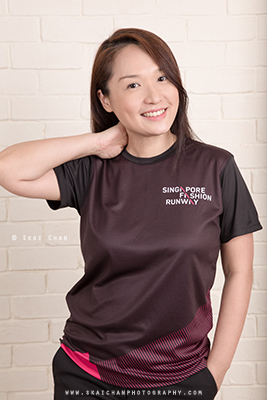 Modelling agencies and pageant competition organisers may require a portfolio photoshoot for their models and contestants. I do provide such photography services.
The Modelling Portfolio Photographer
I began my portrait photography by working with friends who are non-models, where I picked up most of my photography skill and knowledge. For every portrait photoshoot, I would customise it for the model to make it as interesting and meaningful as possible. After I built a solid photography portfolio, I moved on to help clients (non-models as well) with their individual portrait requirements.

My expertise and experience in working with aspiring models would help beginner models to create their modelling portfolios to have a good quick start for their modelling careers.
Benefits in working with me
Cost
I don't work under any agency and thus need not give any commission to any talent scout or company. Therefore, the total fees are for my team's time, effort and creativity. I also don't quote a low price and end up producing substandard work since every work is part of my photography portfolio.
Unique and natural style
Shooting in "supermodel poses" can be awkward for new models and sometimes deemed outdated. My shooting style is more towards lifestyle, which is more natural and thus appealing to most people. I make sure all my work is tasteful.
Professional work
I specialise in outdoor portrait photoshoots to include more interesting but clean backgrounds. I design the lighting specifically for each scene (both indoor and outdoor), mood and location by myself to create the most appealing looks possible. I make sure my shoots are done at the best time and with flattering lighting. If required, I will spread the shoot over several days instead of clamping everything onto a single day.
Natural photo editing
Photoshop (post-production) work can be easy but to create work that doesn't look like being Photoshopped is very tedious. I take pride in my work and always give in my best.
Guidance
Throughout my portrait photography journey, I work mostly with non-professional models. I learn a lot through watching YouTube videos, trial and error and even from the models I've worked with. My experience can help aspiring models to have a good quick start.
Contact me to discuss what you want to achieve and I will give my best advice.
FAQs
What do you mean by "look" in the modelling portfolio package?
A look means a style/ outfit/ concept. Basically, you will need a few different looks in your modelling portfolio to showcase different styles to your potential clients or modelling agencies.
Why are there a few photographs for each look in the professional package?
In every look, you will be trying out different poses and maybe props. There may be a close-up, half-body shot and/ or full-body shot. You will likely need a variety of photographs for each look, which you can select to present in your portfolio/ comp card.

During a photoshoot, there will be countless photographs snapped and I assure you that many of them will look bad or too normal. What we want to target is just a small number of good photographs.
What if I want more photographs from each look/ set?
Currently, there will be three photographs per look in the professional modelling portfolio package. You can pay extra for more photographs. However, I don't encourage getting too many photographs for one look because quality is more important than quantity - it's not because I don't want to make more money.
How much time is required for each look?
I estimate it to be one hour or less. It takes time for the model to get changed into a new look while I adjust my photography equipment accordingly. The actual time taken for each look/ set maybe around half an hour, depending on the amount of time required for the styling for that look.
Why do you set a time limit for each look?
To avoid me getting abused. Some clients do want to keep retrying some shots, which will take up a lot of time and effort, and it's beyond what I can do to continue with my photography services. I have to be fair to my other clients who need my help and I have to be in my tip-top condition in order to give them my best.

Once we accomplish the intended number of good photographs, we can move on to the next look or call it a day if it's the final look. There's no reason to drag on the shoot just to "make every cent counts".

Anyway, for clients who are obsessed with utilising the entire duration that I have stated, I probably won't have good chemistry to work with them.
Do I get any physical/ hardcopy/ printed photographs or photo albums?
No. Things are going digital in this era and the demand for physical photographs is low. My clients can easily select any of the final photographs to print on their own.

If there are photography packages that offer you hardcopy photographs, the prices would definitely include the cost price of printing them and also the labour fee.

I'm trying to focus on photography to help all my clients to look good and I don't have the extra capacity to generate extra money at this moment.
How much does a modelling portfolio cost?
There are many modelling agencies that hire "talent scouts" to invite young girls on the street to go over to their offices/studios. Then, they would make the aspiring model sign up for a photoshoot package that may range from $3000 to $6000 in order to join their agencies.
Why is a modelling portfolio so costly?
A modelling portfolio photoshoot is very different from other casual photoshoots. The photographs need to look very professional to your potential clients. You will be filling up most parts of the frame, unlike a vacation photograph that focuses a lot on the scenery, and thus every imperfection will be obvious;

Therefore, professional lighting will likely be used with setups (softbox, umbrella), and the photography will be more tedious than simply using natural light or speedlite mounting on top of the DSLR's hot shoe.

Since any imperfection will be obvious in the photographs, they require advanced editing, which includes skin retouching. Eventually, a huge amount of effort and time is needed for every photograph.

To sum up, you are paying for both photography and photo editing.
How many pictures should be in a model portfolio?

You may be interested in:
- Makeover photoshoot photographer in Singapore
- Outdoor portrait photoshoot photographer in Singapore
- Special photoshoots you can hire a professional photographer to do
- Bespoke (customised & personalised) portrait photographer in Singapore
- Crazy things that professional portrait photographers do