Skai Chan - Freelance Photographer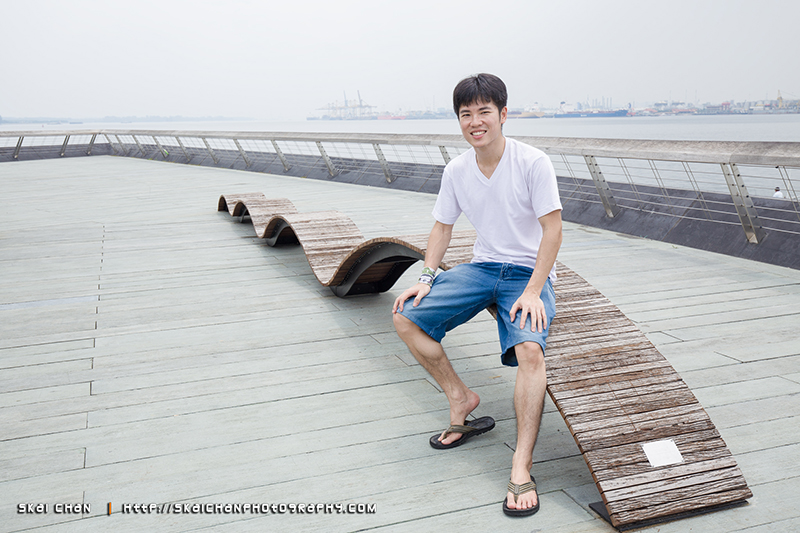 Hi! I'm Skai, a 100% Singapore born Chinese freelance photographer, based in Singapore. My languages are English, Chinese mandarin and cold humour. I dread formality.

I began photography with a "crash course" from an experienced photographer friend. Then, a masterclass commercial hair and makeup artist (HMUA) friend drilled me hard on styling and commercial standard of photo-editing for over a year. Due to these blessed and extraordinary encounters, I've managed to build my foundation differently from most other photography enthusiasts.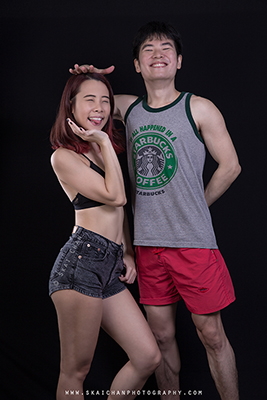 Clients hire me mostly for portraiture, event and interior photography. I enjoy doing portraiture photoshoot most because it usually allows me to set up professional lighting properly to create masterpieces.

I'm lucky to be overwhelmed by the trust of many people who have approached me. I've been working with non-models and most of them had no experience nor confidence in photoshoot. I take pride in the transformation of normal girls into beauties through my photography, and help them to build confidence and make everyone happy, while happiness is contagious. I focus on lighting and keeping my work natural. I believe in quality over quantity and I believe in under-promise and over-deliver.

I do crazy things for photography. Sometimes I forsake my sleep for phototaking and I don't mind getting dirty in exchange for good photographs. Photography is an addiction for me; it's one way I can express myself with. As an artist, capturing good photographs gives me the sense of living.

Art is a way of life and I'm determined to deliver it in a tasteful way. I have also devoted great amount of my time to share my experience and tips to help others.

I believe my photography will make a difference to the society.


Besides judging me through my portfolio and writing, you should read my testimonials to hear from those people who have worked with me before. These will help you to understand me more.
My Working Style
Portraiture
Makeup
I prefer a natural makeup for my photoshoot, unless it's a special concept, such as creative makeup shoot. Hence, the HMUA (hair and makeup artist) who works with me must know my style and I will trust her in her craft.
Wardrobe
Wardrobe is complicated because apart from the design and colour, the texture does make a difference. A wardrobe may be nice but it may not necessary suit a person, the style, mood or even the background. I will go through the outfit together to select the most suitable set.
Poses
I go for lifestyle poses that are natural. I believe different people are more comfortable with certain poses and not with others. I will allow the model to start with simple and natural poses and then I will correct her verbally how to improve on them. I will also explain to her why are some things being done to help her learn, so that she can be more natural.
Lens
I try to keep my lens to one zoom lens that's versatile to avoid changing it during the photoshoot. My favourite lens is 24-70mm, which is sharp and covers the range that I need. Depending on different circumstances, I may bring along a wide angle zoom lens or a prime lens, for creative shots.
Lighting
I prefer using professional lighting with softboxes whenever possible. It allows me to shoot at more angles, including backlighting situation, while also keeping the light consistent and soft. It also helps to make the model stands out.

There are many disadvantages of using professional lighting as well, especially with the speed and portability. Therefore, it depends a lot on the requirements of the model.
Pace
Slow pace. I don't do well when being rushed because it takes time to think and also makes adjustments to the artficial lighting. There will be lots of trial and error to get the best photographs possible.
My attire
Shorts and Sandals usually. I will be in the most casual wear possible to be prepared to get dirty and wet if necessary.
Post-production
Depends on requirement. I prefer doing advanced enhancement to create professional work because I take pride in all my work. However, editing each photograph requires lots of time and thus the cost is much higher than basic editing.
Event
Coverage
Journalist style. I will try to capture all the interesting incidents during the entire event and not just snapping the major ones, for examples, march-in and cake-cutting. Sometimes, I run around.
Style
I will be interactive with kids to get them to be comfortable in front of the lens.
Lighting
I will try to produce the most flattering soft light possible.

Outdoor day - natural light.
Outdoor night - on-camera flash, bounce if possible.
Others - on-camera flash, bounce if possible.
Lens
My usual two main lenses are 24-70mm and 16-35mm, which are enough to cover individuals and big group shots.
My attire
I try to keep my attire simple so as to be able to run about if necessary.

Formal: Jeans, sports shoes
Kid's birthday: shorts (maybe)
Post-production
Basic enhancement. We are talking about over a hundred photographs usually.
Interior
Light
Natural light. I try to keep the interior designer's light as much as possible.
Colour temperature
Simple. I try not to mix warm and cool light together.
Lens
Wide angle at 16mm. I don't use fisheye lens due to the extreme distortion.
Stablizer
I use tripod stand for professional shoot or if the situation requires. If mass quick shoots for many venues, such as for property listing, I may have to use hand-held.
Pace
Slow for professional shoot. I will need to make adjustment and snap the best shot possible.
My attire
Jeans usually.
Post-production
Basic editing. All items, such as furniture, have to be placed at the proper spots. There's no extreme editing to add or remove any item, or otherwise, extra charge will be incurred.
More Detailed Story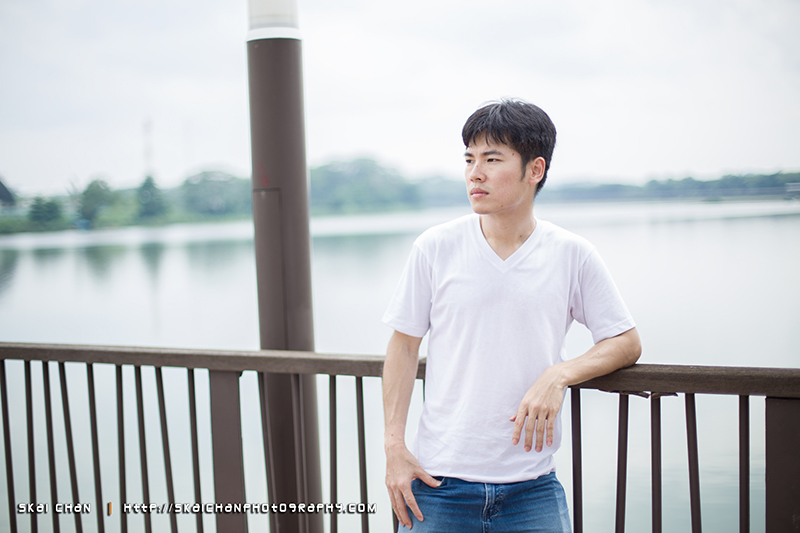 Family background
Skai came from a low income family. When he was young, owning a 200-buck family film camera was more than a luxury. This barrier had buried his hobby. His dad passed away when he was in secondary three and life became even tougher.

First digital camera
It was during his late teenage days when the technology brought his dream into reality. The invention of digital camera had overcome the high cost of buying films and developing them into hard copy photographs. The decision to buy his first compact camera was still difficult though, as he was struggling to fill his stomach. Unfortunately, photography was not very popular back then and not every friend appreciated him trying to capture every precious moment, probably due to camera-shy.

Journey begins
He had been working on compact and semi-pro camera, and didn't get to learn much technical stuff. It was only when he was in his late 20s, he decided not to waste his life anymore, after being encouraged by his friends. He bought a mirrorless camera and started his portrait journey. He took opportunities during volunteering work (struggled between hands-on and phototaking at the same time) and outings with family and friends to do event shoots. He also started approaching "models" online and offline (personal friends) to practise portraiture shooting and met with lots of arrogant rejection. Since most of the kind models who were willing to do portrait photoshoot with him could not do proper makeup, he had to spend a lot of time on PhotoShop (post-production).

His teacher - Tricia Lee
His co-worker, Tricia Lee, saw his enthusiasm and started guiding him along. She was a very experienced commercial makeup artist who had worked with many professional and fussy photographers, and she knew almost everything about photography (except technical stuff). At first, he was trying to persuade Tricia to take up more commercial assignments but it ended up he was being helped instead. Tricia spent huge amount of time and energy to go through every photoshoot album with him, to spot tiny flaws and coach him. You would never believe how a person could help another person so much without any condition. However, an angel could become a devil at times when she was too fussy over the quality of work since she was into commercial standard. The greatest problem was that Tricia was a very busy housewife and thus there would be a big delay in post-production work for every shoot and some models weighed speed over quality.

Social media
Setting up of his photography Facebook page, Instagram page and website helped a lot when it came to publicity. He got to meet more great people and things looked promising. However, social media is run by profit-driven companies after all. Besides, great publicity does come with lots of nuisance and even jealousy. Sometimes, it can be overwhelming.

Expensive hobby
When he realised the limitation of his equipment, he started upgrading them. After replacing some of them due to wear and tear, he began to realise that he needed to make money in order to continue with his passion. He began pricing himself humbly to his experience. He had no intention to play "price war" with other photographers and his worst nightmare was to spoil the market rates. Soon, friends, clients and various talents started boosting his confidence, and he realised the high value of his work and that the extra effort he put in for each shoot was amazingly great and priceless. He put all his income back into equipment and lived a very tough life as a photographer who was trying to survive in the heavily congested trade, which every camera owner is also called a photographer.

Biggest challenge
The toughest thing about photography is to educate people and manage their expectation; the constraints and effort required are not obvious and may require lots of explanation. Eventually, it is the trust and communication that matter the most. The thing that hurts him a lot is the fact that most people are simply looking at prices. He often wastes a lot of time to reply insincere enquiries. For example, he can spend hours educating and providing great ideas to potential enquirers who end up going for other budget photographers. He is, however, also lucky to have met many clients who appreciate him and his work and some have even given him tips.
His other photography work:
- Architecture
- Food
- Landscape
- Product

FAQ
1.0. Portrait Portfolio
2.0. Portrait - Skai's Style
3.0. Experiences
4.0. Personal
Do you do links exchange?
Yes, I do links exchange with good quality websites!


What is the most difficult thing about photography?
Educating clients. To most clients, photography is just about clicking the camera's shutter and they think using good camera alone is enough. They usually don't understand all the constraints. Many things are very technical and thus they won't be able to know even if I were to explain in details. For example, when I warn them about lighting issues, they usually won't care. To them, they simply want good photos even though they are likely not able to judge the quality of photos. Whereas for shoots like interior and product, they may even try to be the expert to estimate the time required instead.


Why are you selective of clients and jobs?
Even though I'm not financially stable, I'm not desperate for money. For clients, I prefer working with those who approach me because they love my photos instead of those who are simply looking for cheap deals. The result will be very different because if I can feel the connection and kindness from the clients, I can certainly do better during the shoot with the confidence. Whereas for shoppers, there is higher chance of problems emerging before, during or after the shoot. For jobs, I'm looking at those who can help to build up my portfolio.


What kind of people will you avoid working with?
Just as people choose photographers, I choose people to work with too. I'm nowhere near arrogant and it is just to protect myself.

1. People who are arrogant - photography is something that should be fun.
2. People who are overconfident - they tend to overpromise and are less detailed.
3. People who can't communicate well - there is a high chance there will be miscommunication.
4. People who weighs quantity over quality - I prefer working with people who appreciate arts and trust me that I will do my best.
5. People who are stingy - there is a high chance that he/she may be over-particular over small things.


How good is your photography skill?
Photography is wide and has many categories. I have knowledge in most of them but not practical experience for some. My current experience is mainly on people (portrait and event shoot) and interior photography. When compared to most hobby photographers, I'm better than them but I'm probably still behind those very experienced professional photographers in terms of skill. Hence, I try to be creative and hardworking at times to compensate for it. Viewers can judge by themselves through my latest work.


Are you very experienced in photography?
I'm definitely not experienced enough, especially when it comes to handling clients. Instead of boasting like others, I usually sound less confident so that clients will have a lower expectation, so that they will become happier when they receive the photos. I feel so much more comfortable doing voluntary work instead but I have to face the ugly fact of life that I'm not born with silver spoon.


Will you lower down your rate just to take up more photoshoot projects?
No. Quality of photos matters most to me and I don't want to feel underpaid and under-appreciated, and eventually put in only 50% of my effort. Most of all, I don't wish to undercut the market. However, I do do promotion for certain types of shoots that I'm interested in.


How open-minded are you?
When it comes to photography, I'm extremely open as long as the shoot is tastefully done. My character is, however, very traditional.


How many shoots do you do in a month?
I'm very inconsistent in this and thus unable to give an answer. I can only say that I'm doing very limited number of shoot.


Why don't you go to all the car and IT shows to take photos of models for marketing, networking and building of portfolio?
1. I'm very busy.
2. Too many stalkers and perverts are doing that and I'm not confident that people would not associate those people with me.
3. I'm a passive guy and none of the models has invited me personally to show my support - I'm not taking into account of those models who do mass spamming in Facebook.
4. I'm not those PR guys who can fake smiles in order to network and speed up their success.


Why don't you take photos with every model you have shot with?
I usually forget it after a hard day work.


Would you get a model as girlfriend?
I will avoid. I have come across too many stories of photographers with ill-intention and I don't want to keep worrying for my girlfriend whenever she goes for job.


Can I borrow your equipment (camera, lens... etc)?
No. I may need them any time, including the spare ones, and it's going to make life very difficult for me if anything happens to them.


Why do you not want to work with PR/advertising agencies and 'middle-man' companies?
Bad experience - low budget, ridiculous demand and extremely late payment. Photography is a fun thing to do and we should not destroy the good feeling about it. Most advertising agencies in Singapore will probably give the same problems while big agencies with generous clients will rather go to big photography companies than to work with a low-lying freelance photographer.


Why don't you like to talk over the phone?
Need records for evidence. Besides, I have poor memory and, unlike texting, I can't refer back to the conversation. Since every request is different, I will need time to work out the quotation. From my experience, most 'clients' are just wasting my time. It is not worth the time to go over the phone before the clients have confirmed they are okay with the fee, which is usually the most important factor to them.


What are your non-photography worries for every shoot?
Travelling - 'public' transport in Singapore is getting more unpredictable and I can't estimate the travelling time anymore. My meal time is another big problem for the shoots are usually done at weird hours while photography exhausts me both physically and mentally, draining off more energy than sports.


---
If you are interested in working with Skai as your photographer, do contact him.