Dance Photographer in SG
Quick Navigation:
Portfolio: Dance Photoshoots
🔍7

1. Sarisha
@ Serene Garden (Gardens By The Bay)
🌞 Natural light photography

🔍3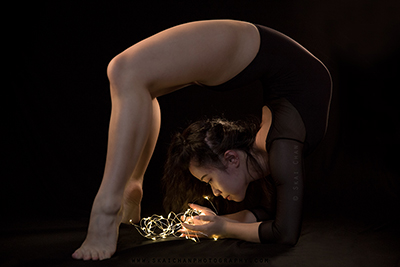 2. Tam Ye Qi
@ Photography studio @ Tanjong Pagar
⚡ Flash photography

🔍5

3. Tam Ye Qi
@ Photography studio @ Tanjong Pagar
⚡ Flash photography

🔍5

4. Tam Ye Qi
@ Photography studio @ Tanjong Pagar
⚡ Flash photography

🔍5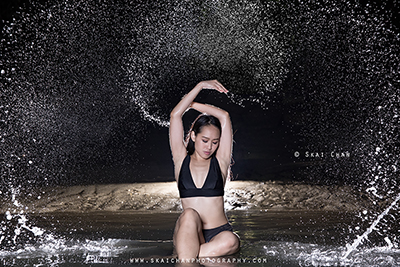 5. Jasmine Lim
@ Palawan Beach, Sentosa
⚡ Flash photography

🔍10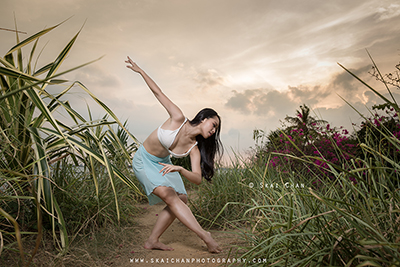 6. Jasmine Lim
@ Palawan Beach, Sentosa
⚡ Flash photography

🔍12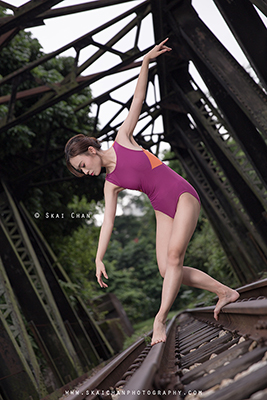 7. Teo Shu Ying
@ Railway bridge near The Rail Mall
⚡ Flash photography

🔍10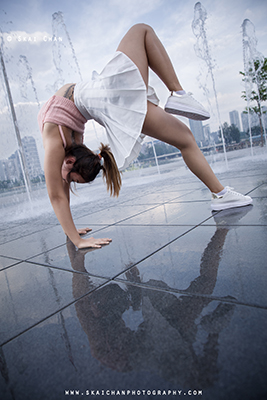 8. Jasmine Tan
@ Kallang Wave Mall
⚡ Flash photography

🔍3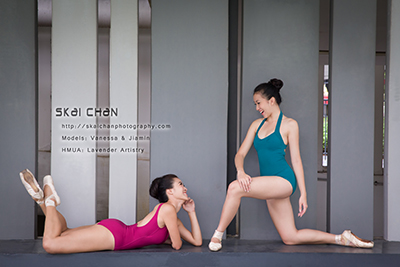 9. Huirong & Tan Jiamin
@ Pinnacle@Duxton
⚡ Flash photography

🔍4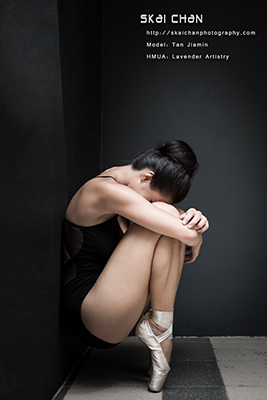 10. Tan Jiamin
@ Pinnacle@Duxton
🌞 Natural light photography

🔍5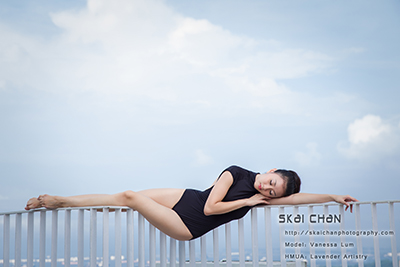 11. Huirong
@ Pinnacle@Duxton
🌞 Natural light photography

🔍10

12. Oh Yongpeck
@ Sentosa Broadwalk
⚡ Flash photography

Dance Photography Services in Singapore
As an experienced professional dance photographer based in Singapore, I am passionate about offering specialised dance portrait photography services for all dance genres and not limited to ballet, salsa, street dance, freestyle, breakdance and pole dance. I have a deep appreciation for the artistry displayed by dancers and aim to create stunning portraits that capture their essence and emotions.

My photography services cover both natural light and high-end flash photography techniques. With my expertise in using professional lighting equipment, I can create eye-catching and flattering dance portraits that make the dancers stand out in the photographs. This allows me to showcase their talent and skill while preserving the emotions and artistry of their performances.

Whether it's the elegance of ballet, the energy of street dance, or the sensuality of salsa, I am dedicated to producing high-quality dance portraits that truly reflect the beauty and passion of each dance form. With personalised concepts and attention to detail, I aim to create meaningful images that dancers can cherish for a lifetime.
Testimonials: What Clients Say about Skai


"Skai is a very friendly and passionate photographer. It was comfortable working with him during the shoot and he is also very professional towards the model. Definitely highly recommended!" - Jasmine Tan
Dear dancers, I invite you to read the reviews from my past clients to gain a deeper understanding of my dance photography style and the experience I offer. Their valuable feedback will give you insights into the passion, creativity and dedication I bring to each photoshoot. Let their words inspire you to capture your dance moments with me and create cherished memories that will last a lifetime. Check out the reviews and let my work speak for itself!
Booking Information
Hey there, interested in booking a dance photography session with me? Great choice! Let me give you all the information you need to get started.
Contact me with the purpose: Firstly, to book a dance session with me, simply head to my contact page where you can find the link to text me via WhatsApp. Please indicate your purpose and the package you are interested in, or otherwise, I may mistake your text as a spam.
Consultation: We will have a consultation to discuss the type of event, the date, location and your preferred style of photography. This will help me understand your vision and see if we are a perfect match. We will also go over the package options and pricing. However, do note that I will only provide advices and suggestions after you have confirmed and booked my services officially.
Place deposit: To secure your booking, a 50% non-refundable deposit is required. Once your deposit is received, your date and time will be reserved exclusively for you.

Don't worry, I'll send you all the necessary payment details when you decide to book with me. Payment can be made via PayNow or PayPal (PayPal requires extra fee).

The remaining balance is due on the day of the photoshoot.
Remember that it's best to book my photography services in advance to ensure availability. So don't hesitate to contact me as soon as possible to secure your date!
Prices & Packages for Dance Photography
Quick explanation: The most considerable portion of my photography cost is calculated based on the (1) duration booked, (2) equipment required (natural light/ flash), (3) type of editing (basic/ advanced) and (4) extensiveness of planning required.

Please read the full explanations so that you can make a better decision.
🌞 Natural Light Photography
Up to 1 Hour: $320
Up to 2 Hours: $420 $450

Additional Hour: $150/block hr
Deliveries
Up to 30 photos/hr
Basic Edit (exposure & colour correction)
Digital copies (high resolution JPG)
Photos selection in low resolution PDF
Special Requests/ Add-Ons
(Subject to availability)
Face to Face discussion:
Starting from +$100
Photographer to scout venue(s):
Starting from +$100
Shoot at beach/ sandy/ dirty venue:
Starting from +$50
Additional photos (basic edit):
+$5/photo
Same-day photo edit (basic edit):
+$50/photo
Expedited photo edit (basic edit: 3 days after shoot):
+$50/hr booked
Advanced edit (skin retouching):
+$50/photo
Revision of photo edit (advanced edit):
+$15/photo
Privacy of photos:
+$100/hr booked
⚡ Flash Photography (High-End)
Up to 1 Hour: $450
Up to 2 Hours: $600

Additional Hour: $150/block hr

⚡ Flash photography (one-light set-up)
🌞 Use of natural light when necessary
Pace of shoot: Slow
Deliveries
Up to 30 photos/hr
Basic Edit (exposure & colour correction)
Digital copies (high resolution JPG)
Photos selection in low resolution PDF
Special Requests/ Add-Ons
(Subject to availability)
Face to Face discussion:
Starting from +$100
Photographer to scout venue(s):
Starting from +$100
Shoot at beach/ sandy/ dirty venue:
Starting from +$50
Additional lighting set-up: +$50/light
Additional photos (basic edit):
+$5/photo
Same-day photo edit (basic edit):
+$50/photo
Expedited photo edit (basic edit: 3 days after shoot):
+$50/hr booked
Advanced edit (skin retouching):
+$50/photo
Revision of photo edit (advanced edit):
+$15/photo
Privacy of photos:
+$100/hr booked
⚡ Studio (Flash)
1) My photo studio,
2) Your booked external studio, or
3) Makeshift studio @ your location
Hairstyling & Makeup
$180 /Female
$120 /Male
1x Hair & Makeup Artist (HMUA)
Up to 1 hour
1 Look (Hairstyling for a neat look & Makeup)



Add-Ons

Follow through the photoshoot: +$70/hr

Details: makeup artists and hairstylists
NOTE
⏳

All booked duration

Includes changing of equipment, wardrobe, makeup, hairstyle and travelling (if applicable) during the shoot.
📰

Please read

(1) Checklist for hiring a photographer, (2) FAQ and (3) Service Agreement and Privacy Policy before making enquiries.
💡

Ideas and advice

Will only be given to serious clients after a booking fee is being placed.


✆ Contact me now for a customised package tailored to your personal needs.
Surcharges
My photography packages are designed to help my clients save cost. I'm able to provide affordable photography rates because I don't include the additional services, which most clients don't need.

I have listed the common special requests from clients at the bottom of the packages. For the uncommon ones, do look through the full list of surcharges to avoid miscommunications.
Skai the Dance Photographer
Hey there, dance enthusiasts and performers! I'm Skai, a passionate and dedicated professional dance photographer based in vibrant Singapore. Dance has always held a special place in my heart and through photography, I found a way to combine my love for both art forms.

My journey as a dance photographer has been an exciting one, working with clients of all types - from the incredibly talented professional dancers to the spirited hobbyists and enthusiasts. Every dance genre and individual has a unique story to tell, and I feel privileged to be the one to capture those magical moments through my lens.

My photography style is all about celebrating the beauty and artistry of dance. I aim to capture the grace, energy and emotions that dance brings forth, creating striking images that speak volumes. Whether it's the elegant movements of ballet, the fiery spirit of salsa, the raw energy of street dance or any other dance form, I'm always up for the challenge of portraying its essence in an authentic and captivating way.

So, if you're looking to freeze those breathtaking dance moments and bring them to life in photographs, let's connect and create dance portraits that resonate with your passion and talent. I can't wait to embark on this dance photography journey with you!
What Sets Skai Apart from Other Dance Photographers
What sets me apart from other dance photographers are the following distinctive qualities:
High-Quality Work: The quality of my work speaks for itself, as evidenced in my portfolio. Equipped with professional gear and a deep understanding of photography techniques, I am committed to producing high-quality dance portraits that showcase the artistry and talent of the dancers.
High-End Photography: With top-notch equipment, extensive knowledge and honed skills, I am proficient in using flash to create stunning pictures that natural light alone cannot achieve. The use of flash enables me to add dimension and drama to the images, resulting in visually captivating and dynamic dance portraits.
Flattering Light: My focus on flattering light is central to making my subjects look their best. By skilfully using lighting techniques, I enhance their features and bring out their natural beauty, ensuring they shine in the photographs.
On-Location Photography: My ability to shoot anywhere and anytime, even in dimly lit places, is made possible by my lighting equipment. This flexibility allows me to adapt to different settings and create stunning dance portraits regardless of the location.
Creative Work: I am driven by a constant pursuit of creativity in my photography. I strive to produce work that stuns viewers, pushing the boundaries of what is possible with dance portraits. Each photoshoot is approached with a fresh and imaginative perspective, delivering unique and striking images that leave a lasting impression.
Focus on Expression: In addition to capturing elegant body movements, I place a strong emphasis on the dancers' facial expressions. Properly lighting up their faces allows me to convey the emotions and artistry of the dancers, creating portraits that are emotionally resonant and engaging.
No Body Contact: I prioritise the comfort and safety of my models. As such, I refrain from having any body contact during the photoshoots. Instead, I provide natural and intuitive guidance, allowing the dancers to express themselves freely and authentically.
Skai's Vision & Goals for Dance Photography
In dance photography, my vision is to showcase the beauty and artistry of dance in all its forms. I aim to capture the grace, energy, and emotions that dancers exude in their movements, and to freeze those fleeting moments in time through my lens. I want to create visually captivating and meaningful images that not only resonate with the dancers themselves but also inspire and engage viewers, conveying the passion and storytelling power of dance.

One of my primary goals is to ensure that dancers' faces are prominently featured in the photographs. While body movements are undoubtedly essential in dance, I believe that the dancers' expressions are equally crucial in conveying the emotions and artistry of their performances. I focus on lighting their faces in a flattering way, allowing their expressions to shine and adding a deeper dimension to the images.

Another important aspect of my vision is to foster a collaborative and comfortable environment during photoshoots. I aim to build a strong rapport with dancers, understanding their visions and preferences to tailor the photography experience to their unique style and story. This collaboration results in authentic and expressive dance portraits that truly showcase the individuality and talent of the dancers.

In summary, my vision and goals in dance photography are centred around celebrating the art and passion of dance. I strive to create visually captivating images that capture the essence of dance, with a special emphasis on showcasing the dancers' faces in a flattering and expressive manner. My ultimate goal is to leave a lasting impact through photography that resonates with both dancers and audiences alike.
How Skai Began Doing Dance Photoshoots
My journey into dance photography began with a serendipitous encounter. As a newcomer to photography, I had the opportunity to do a shoot with an aspiring model who happened to be an ex dancer. I was immediately impressed by how gracefully she could flex her body to create elegant moves. It struck me that dancers, being trained to pose with poise and precision, would make fantastic subjects for photography.

Inspired by that initial experience, I started seeking out more dancers to collaborate with. Working with them allowed me to slowly build up my portfolio and gain valuable experience in dance photography. I soon realised that dancers possess all the attributes of great models, making my job as a photographer much more enjoyable and rewarding.

Dancers' natural grace, expressive movements and openness to ideas opened up a whole new world of creative possibilities for me. Their ability to embody different emotions and tell stories through their dance allowed me to capture unique and captivating images. Collaborating with dancers was not only inspiring but also incredibly fulfilling, as we co-created some truly artistic and imaginative photoshoots.

Since that fortuitous beginning, my passion for dance photography has only grown. I continue to be drawn to the elegance, energy and artistry that dancers bring to every photoshoot. Working with these talented individuals has enriched my journey as a photographer, and I am grateful for the opportunity to capture the beauty and passion of dance through my lens.
Why Skai Loves Doing Dance Photoshoots
I absolutely love doing dance photography and there are several reasons why it brings immense joy and passion to my work:

Firstly, dance movements are inherently gracious and captivating. The fluidity and expressiveness of dancers' motions offer a plethora of opportunities for creative compositions and innovative lighting setups, allowing me to push the boundaries of artistic expression.

Furthermore, working with dancers is an absolute pleasure. Their passion and dedication to their craft shine through in every step they take. Their commitment to perfecting movements and expressions makes them exceptional subjects, resulting in images that are not only beautiful but also technically excellent.

Dancers' openness to trying new poses and ideas is a true blessing for a photographer. Their willingness to experiment allows for dynamic and captivating photos that stand out with creativity and originality.

The confidence displayed by dancers, especially when in motion, adds a mesmerising element to the images. Their self-assuredness helps me anticipate their movements and capture them at precisely the right moment, resulting in visually stunning photographs that showcase the true essence of dance.

Having a great rapport with dancers is crucial for me. Understanding their movements and expressions on a deeper level allows for a seamless and enjoyable photoshoot experience for both parties. This connection fosters trust and authenticity, resulting in portraits that truly capture the spirit of dance.

In conclusion, dance photography is a source of immense delight for me. The gracious movements, open-mindedness, dedication, and confidence of dancers create a perfect canvas for artistic expression. Through dance photography, I aim to capture the beauty and essence of this art form and share it with the world.
How Doing Dance Photography has Helped Skai Grow
Doing dance photography has been an incredible journey of growth and learning for me:
Mindfulness in Communication: Early on, I had an incident where I unintentionally offended a net friend who wanted to collaborate on a dance project. I learned the importance of being mindful in my responses and expressing my thoughts with kindness and consideration, even when the fit for a particular project may not align.
Taking Control as the Official Photographer: During a dance shoot with friends, I encountered a situation where another aspiring photographer started taking the lead using natural light while I was still setting up my lighting equipment. This taught me the importance of asserting myself as the official photographer and being more proactive in directing the shoot to ensure I achieve the desired results.
Learning Opportunities with Dancers: Working with dancers has provided me with countless learning opportunities. Their expertise and dedication to their craft inspire me to continuously improve my photography skills and expand my creative horizons.
Guiding Subjects with Elegance: Watching the gorgeous moves of dancers has reminded me of the importance of guiding my subjects to pose elegantly and gracefully. It has helped me refine my direction and capture the beauty of movement in all my portrait sessions.
Embracing Boldness and Creativity: Dancers' boldness and creativity have influenced my own approach to photography. Their fearlessness in trying new poses and ideas has encouraged me to push my own boundaries, leading to more innovative and daring photoshoots.
Building Confidence: Collaborating with dancers has not only enhanced my technical skills but also boosted my confidence as a photographer. Their trust in my abilities has empowered me to take creative risks and deliver exceptional results.
Eye-Catching Albums for New Clients: The stunning albums created with the help of dancers have become a powerful tool to showcase my work and attract the attention of new clients. The captivating dance portraits serve as a testament to my expertise and dedication, leaving a lasting impression on potential clients.
In essence, dance photography has not only enriched my portfolio but has also facilitated personal growth, improved communication, and enhanced my creative vision. The beauty and artistry of dancers continue to inspire me, and I am grateful for the valuable experiences and opportunities they have brought into my photography journey.
What is Dance Photography?
Dance photography is a specialised form of visual art that focuses on capturing the essence and beauty of dance through photographs. It is practised by professional photographers who possess a keen eye for composition, lighting and timing. A dance photographer collaborates with dancers and dance companies to create stunning images that showcase the dynamic and expressive nature of dance in a still frame.

Uses of dance photography vary and are significant in the dance community. Dance photographers often work with dancers and dance companies to create promotional material for performances, including posters, flyers and brochures. They also contribute to dance publications and websites, providing captivating images for articles and features. Additionally, dance photography is utilised in dance portfolios, audition submissions and social media promotions to showcase the talent and skill of dancers. It is also cherished by dancers as a means to capture their artistic journey and preserve the memories of their performances.

The goals of dance photography are manifold. Primarily, it aims to celebrate and preserve the beauty and artistry of dance. Dance photographers strive to freeze fleeting moments of movement, conveying the grace, power and emotions displayed by dancers. The art form seeks to inspire and captivate its audience, eliciting an appreciation for the dedication and passion of dancers. Additionally, dance photography plays a vital role in promoting dance as an art form, reaching a wider audience and fostering a deeper connection between spectators and dancers. Through their lenses, dance photographers contribute to the artistic legacy of dance, leaving a visual imprint of the art form for generations to come.
Dance Photography in Singapore
Dance photography in Singapore holds immense importance as it beautifully captures the artistry and passion of dance in all its forms. Singaporeans have a deep love for dance and this is evident in their enthusiasm for dance photoshoots.

In this vibrant city-state, dance is not merely an art but a means of expression and celebration of diverse cultures. Dance photography plays a vital role in preserving and showcasing the beauty of these cultural dances, allowing them to be appreciated by a wider audience.

Singaporeans have a keen interest in both professional and recreational dance, and dance photoshoots offer a unique way to commemorate their love for this art form. Whether it's ballet, street dance, salsa or any other genre, dance photography captures the grace, energy and emotions that dancers exude in their movements.

Dance photoshoots in Singapore have become more than just a documentation of dance performances; they are an artistic expression of movement, creativity and emotion. The fusion of dance and photography provides a powerful platform for dancers to tell their stories and connect with audiences on a deeper level.

As Singaporeans continue to embrace dance photography, it becomes a cherished way to preserve memories and showcase the beauty of dance. The artistry, passion and dedication displayed in dance photoshoots resonate with both dancers and viewers alike, making dance photography an integral part of Singapore's artistic landscape.
What is Dance Photography also Known as?
Dance photography is known by several other terms, including dance photojournalism, dance portraiture and dance documentation. Dance photojournalism emphasises capturing the raw emotions and moments of dance performances, providing a visual narrative of the art form. Dance portraiture focuses on capturing the individuality and personality of dancers through close-up shots, highlighting their physical expressions and emotions. Dance documentation involves recording the various stages of a dance project, choreography or event, serving as an archive of the creative process and artistic development.
What is a Dance Photographer?
A dance portrait photographer is a professional photographer who specialises in creating portraits of dancers. They capture dancers in a still, posed position, usually wearing their dance costumes and aim to showcase their technical skill, emotional expression, and physical grace.

Dance portrait photographers typically work with individual dancers or small groups, and may use a studio or other controlled environment to create the portrait. They may work with dancers from various dance genres such as ballet, contemporary, hip-hop, etc.

They use specialised equipment, lighting and techniques to create visually striking and dynamic images that convey the beauty and artistry of the dancer and their movement. They may work for dance companies, magazines, websites or as freelance photographers.
Why are Dance Photographers Important?
Dance photographers are crucial for various reasons that contribute to the promotion and preservation of the dance world:
Promoting Dancers and Dance Companies: Through their captivating portraits, dance photographers play a significant role in promoting individual dancers and dance companies. These images serve as powerful marketing tools, helping to increase their visibility and attract potential audiences.
Documenting the Dance World: Dance photographers contribute to documenting the dance world by capturing images of dancers and dance performances. These photographs serve as valuable historical records and archives, allowing future generations to look back at the rich tapestry of the dance scene.
Creating Artful Images: With their skill and creativity, dance photographers craft artful images that showcase the beauty and artistry of dancers and their movements. These images can be displayed as works of art, utilised for promotional materials like posters, brochures and websites, and even made available for sale.
Assisting Dancers in Showcasing their Work: Dance photographers play a pivotal role in helping dancers build their professional portfolios. A strong portfolio is essential for securing gigs, auditions, jobs or scholarship opportunities, and the images captured by dance photographers can greatly enhance dancers' chances of success.
In conclusion, dance photographers are essential because they contribute to the promotion, documentation and celebration of the dance world. Their artful images capture the essence of dance, while helping dancers and dance companies gain recognition and appreciation for their talents and contributions.
Should I Hire a Professional Dance Photographer?
Whether to hire a professional dance photographer or not ultimately depends on your specific needs and goals. Here are some key considerations to help you make an informed decision:
Quality: Professional dance photographers have the expertise, knowledge and equipment to produce high-quality images that beautifully capture the artistry and movement of dancers. If you desire visually stunning and impactful photos, a professional photographer is likely the best choice.
Experience: Professional dance photographers possess experience working with dancers and understanding how to capture their movements in a way that is captivating and dynamic. If you want images that truly express the essence of dance, a professional's experience can make a significant difference.
Purpose: If you intend to use the images for professional or commercial purposes, such as promoting a dancer or dance company, or for creating promotional materials, a professional photographer's skillset and artistry can add immense value to your project.
Budget: Hiring a professional photographer typically involves a financial investment. Consider your budget and the importance of high-quality images when making your decision.
Should you decide to hire a professional dance photographer, it is essential to communicate your needs, preferences and budget clearly. This way, the photographer can collaborate with you to create images that align with your vision and objectives. Remember that professional photographers bring a level of expertise and artistry that can elevate your dance photography experience and deliver stunning results.
Popular Types of Dances in Singapore
The popularity of different dance styles can change over time and depend on a variety of factors. However, here are some of the popular dance styles in Singapore that are commonly practiced and performed in the country:
Aerial Dance: A captivating and visually stunning performance that involves using aerial equipment such as silks, hoops or ropes suspended from the ceiling.
Ballroom Dance (e.g. Waltz, Tango, Cha Cha): Elegant and formal partner dances that are characterized by graceful movements.
Ballet: A classical and highly technical dance form that focuses on form, grace and poise.
Belly Dance: A sensual and expressive solo dance that emphasizes movements of the abdomen and hips.
Breakdance: An acrobatic and athletic street dance style that originated in the 1970s and involves impressive moves and spins.
Contemporary Dance: A creative and expressive style that combines elements from modern, jazz, lyrical and classical ballet.
Freestyle Dance: An improvisational dance style that allows dancers to move freely and express themselves.
Hip Hop Dance: Lively and upbeat street dance with energetic movements often performed to hip-hop music.
K-pop Dance: Vibrant and dynamic dance styles inspired by the popular K-pop music genre from South Korea.
Latin Dance (e.g. Salsa, Bachata): Lively and sensual partner dances with passionate rhythms.
Pole Dance: A unique style that combines elements of gymnastics and dance, performed using a vertical pole.
Street Dance: Urban dance style characterised by improvisation and self-expression.
Please note that this list is not exhaustive and the popularity of dance genres may vary based on trends and cultural diversity in Singapore. Each dance style adds to the vibrant and diverse dance scene in the country, showcasing the talent and passion of dancers from various backgrounds.
Why are Dancers Good Photo Models
Dancers make excellent photo models for several reasons, as observed through my experience as a professional dance photographer:
Understanding of Movement: Dancers possess an innate understanding of movement and body mechanics, enabling them to effortlessly execute poses and movements, resulting in natural and dynamic images.
Confidence: Dancers exude confidence in their bodies and movements, leading to a more relaxed and poised appearance in front of the camera.
Professionalism: With their experience in performing and being in front of an audience, dancers display a sense of professionalism and ease when collaborating with photographers.
Good Listeners: Accustomed to taking direction from choreographers, dancers are attentive listeners, making them easy to work with during photoshoots.
Open-Mindedness: Dancers are receptive to trying new poses and ideas, fostering an environment of creativity and experimentation, which can lead to innovative and captivating images.
Expressions: Trained to convey emotions and feelings through their movements, dancers can create powerful and evocative images with their expressive abilities.
Good Gestures: Dancers have a keen awareness of details such as pointing their toes and relaxing their fingers, enhancing the final image with their precise gestures.
Good Shape and Stamina: Dancers' physical fitness and endurance allow them to execute challenging moves and hold poses for extended periods, resulting in striking and dynamic photographs.
Working with dancers provides a unique advantage for photographers, as their understanding of movement, confidence, professionalism, good listening skills, open-mindedness, expressive ability, precise gestures, physical fitness and stamina all contribute to capturing beautiful, natural and dynamic images. Their versatility and endurance in holding challenging poses enable photographers to explore and capture various angles, expressing the artistry and energy of dance through the lens.
Tips & Tricks for Dance Photoshoots
How to Plan a Successful Dance Photoshoot?
As a professional dance photographer, I understand that planning a successful dance portrait photoshoot can be daunting for clients. Here are some tips that I advise clients to consider when planning a photoshoot with me:
Communicate with the photographer: It's essential to have clear communication with me to ensure that your vision for the shoot is understood. Discuss your ideas, style and preferences for the shoot in advance so that I can plan accordingly.
Choose the right location: The location of the shoot is crucial. It should complement the theme and style of the photoshoot. If you're unsure of where to shoot, I would be able to provide suggestions.
Plan the wardrobe: Wardrobe plays a significant role in the outcome of the shoot. It's essential to plan the wardrobe in advance and ensure that it complements the location and theme of the photoshoot.
Hair and Makeup: Professional hair and makeup can make a huge difference in the final outcome of the images. Make sure to schedule a makeup artist and hairstylist in advance.
Practice: Make sure to practice the dance routine or poses in advance of the shoot. This will help you feel more comfortable and confident during the shoot.
Be open-minded: Be open-minded and willing to try different poses and ideas, this will make the photos more interesting and dynamic.
Be punctual: Make sure to arrive on time for the shoot and have a clear understanding of the schedule for the day.
By following these tips, clients can plan a successful dance portrait photoshoot that captures the beauty and artistry of dance. I am always happy to discuss and provide more guidance on how to plan a successful dance portrait photoshoot and I look forward to working with you to create stunning images that showcase your passion for dance.
Locations for Doing Dance Photoshoots
As an experienced dance photographer, I have had the privilege of shooting in various locations, each offering its unique charm and ambiance. Here are some inspiring suggestions for clients on choosing locations for their dance photoshoots:
Studios: Studios provide a controlled environment with versatile lighting options, making them ideal for capturing precise movements and intricate details. They offer a blank canvas that allows the dancers to take centre stage, emphasising their talent and grace.
Outdoor Gems: Embrace the beauty of nature by choosing outdoor locations such as parks, gardens or serene beaches. These settings infuse the images with a sense of freedom and flow, adding an enchanting touch to the dance portraits.
Theatrical Delight: Theatres and performance spaces designed for dance offer an authentic backdrop that complements the artistry of the dancers. The stage and theatrical lighting create a mesmerising atmosphere for captivating dance portraits.
Urban Vibes: Urban locations, like bustling city streets, bridges or industrial areas, lend an edgy and contemporary feel to the images. The juxtaposition of dance against the urban landscape can create striking visuals.
Special Charms: Consider unique locations like private residences, art galleries or historical sites for a touch of distinctiveness in your dance portraits. These venues add a touch of intrigue and depth to the images, making them truly exceptional.
Purposeful Decisions: Select a location that aligns with the purpose and vision of the photoshoot. The setting should complement the theme, mood and style, enhancing the storytelling element of the images.
By thoughtfully considering these location options, clients can elevate their dance photoshoots, capturing the true essence and artistry of dance. As a professional dance photographer, I am here to guide and collaborate, ensuring the chosen location perfectly encapsulates the client's vision and results in stunning dance portraits to cherish forever.
Wardrobe to Wear for Dance Photoshoots
The wardrobe is an important aspect of a dance photoshoot, as it can greatly impact the final outcome of the images. Here are some tips for selecting a wardrobe for a dance photoshoot:
Consider the theme of the shoot: The theme of the shoot should be reflected in the wardrobe choices. For example, if the shoot is for a ballet performance, then a tutu would be appropriate.
Choose clothing that complements the dance style: The clothing should complement the dance style and movement. For example, loose-fitting clothing would be more appropriate for contemporary dance, while tight-fitting clothing would be more appropriate for ballet.
Consider the location: The location of the shoot should also be considered when choosing a wardrobe. For example, if the shoot is taking place outdoors, then lightweight, breathable clothing would be more appropriate.
Think about the colours: The colours of the clothing should complement the theme and location of the shoot. It's important to avoid colours that clash with the background or that might detract from the dancers' movements.
Professional wardrobe: Professional wardrobe can make a huge difference in the final outcome of the images. It's important to have good quality and well-maintained clothes.
Accessories: Accessories such as jewellery, scarves and headbands can add visual interest to the images and should be considered when planning the wardrobe.
Be comfortable: Above all, the dancers should be comfortable in their clothing. A wardrobe that allows for easy movement and doesn't restrict the dancer's movements is essential for a successful shoot.
By following these tips, clients can select a wardrobe that complements the theme, location and dance style of the shoot, resulting in stunning images that showcase the beauty of dance.
Conclusion
In conclusion, dance photography holds a significant place in preserving the beauty and artistry of dance. It is not just about capturing movements; it is about capturing emotions, expressions and the stories that dancers tell through their graceful performances. As dancers, photographers or dance enthusiasts, setting clear goals for dance photoshoots can make the experience more meaningful and rewarding.

The first goal should be to create images that showcase the unique talents and expressions of the dancers. The focus should not solely be on their movements but also on their faces, as they convey the soul and essence of the dance.

Secondly, embrace creativity and experimentation. Be open to trying new poses, concepts, and locations that resonate with your style and vision. A dance photoshoot is an opportunity to push boundaries, express yourself and create art that is distinctly yours.

Thirdly, building a strong rapport with your photographer is crucial. A photographer who understands your movements, emotions and aspirations will create a comfortable and enjoyable atmosphere, resulting in more authentic and captivating images.

Lastly, always seek to showcase the versatility and uniqueness of your dance style. By collaborating with a skilled and passionate photographer, you can bring your dance portraits to life, leaving a lasting impact on viewers.

As a professional dance photographer, I am here to support and guide you in achieving these goals. My passion lies in capturing the essence and artistry of dance, and I take pride in creating images that resonate with your vision. If you are seeking a photography partner who values your aspirations and shares your love for dance, I would be honoured to collaborate with you in capturing unforgettable dance portraits.

Remember, dance photography is not just about the images; it is about the journey of creativity, expression and connection that we embark on together. Let us work together to create dance portraits that speak volumes and inspire others to fall in love with the captivating world of dance.