My Clients, My Shutter Soulmates
Quick Navigation:
Introduction
Hey there! I'm excited to share a bit about the cool folks I've worked with.

In my photo world, I'm all about capturing real moments, whether it's a corporate gig or a personal portrait. I prioritise quality over quantity. Each project is a unique story, a dance with a few fantastic collaborators.

Big shoutout to those who trusted me with their stories, especially the adventurous souls – you people bring some serious vibes!

To those cruising through my online digs, big thanks for stopping by. Your curiosity means a lot, seriously. I hope your name will appear on the list soon.
List of Companies
9 Creation
Amor Gracia
Bike Culture
Bishan Home for the Intellectually Disabled
Body Fit Training (BFT) Changi
BoConcept Singapore
Chew Construction & Plumbing Pte Ltd
Craft by 3
Data Strategy Pte Ltd
Disinfect Pte. Ltd
Distinct Professionals Group (Prudential)
ET Ong Eng Teck (Singer)
Easy Bar
Edwin Kwan (Interior designer)
Fashion for a Social Cause
Framing Angie Art Gallery Pte Ltd
Gold's Gym Singapore
Home Philosophy Private Limited
Image Avenue
Infunde Development
Interfreight Linc Logistics Ptd Ltd
InterGlobix
JGC Line
Kaaryka Singapore Pte Ltd
LVB
Misys International Financial Systems Pte Ltd
MODA Interior Design
Noel Caleb
Office of Safety, Health & Environment, NUS
Oh's Farm
Platinum Fitness
Planwork Creation Pte Ltd
Raffles Shipping Group of Companies
RPT - Range Personal Training
Shubox Design
Singapore Dachies
Singapore Fashion Runway
Tsao Foundation
Urban Active Fitness
List of Individuals
I'm grateful to have worked with people from various countries for solo portrait shoots. To date, my subjects come from Singapore, Vietnam, Malaysia, Indonesia, Britain/UK, Cyprus, Venezuela, USA, Japan, Philippines, Hong Kong, Czech Republic, Netherlands, Paraguay, Taiwan, Brunei, Ukraine, France, Australia, Canada, Cambodia, Laos, Hungary, Austria, Russia, India, Norway, China, Sri Lanka, Lithuania, Maldives, Israel, Mongolia, South Korea... etc.

I'm looking forward to creating more portrait work with people from all over the world.
Sayre Michael Marquet (USA)
Rayson Tang (Singapore)
Raymund Sandamurthi (Singapore)
Couple: Andy & Kristine (Australia)
Vinay Nagpal (USA)
Tamara Dunne (Australia/UK/Singapore)
Company: HBA - Vinayak Muthiah (India), James (South Korea), Rizamee (Malaysia), Pauline (Singapore)
Gwendal Guillerme (France)
Pearlyn Chiam (Singapore)
Priscilla Lim Wan Ying (Singapore)
Couple: Jay Zheng Qing Yu & Florence (Singapore)
Lee Won Jae (South Korea)
Daniel Stephen (Singapore)
Couple: Raymond Chan & Serena (Singapore)
Couple: Erica (USA) & Mathusan (Sri Lanka/Singapore)
Berge Fridtjof (Norway)
Kai Ling (Singapore)
Lunden Khandarmaa (Mongolia)
Alfia Itay (Israel)
M.Shukree (Maldives)
Couple: Derrick & Eunice (Singapore)
Couple: Andre & Yen (Australia)
Couple: Jason & Natalie (Australia)
Couple: Prakash & Darsheni (Singapore)
Couple: Zijian (Singapore) & Christine (Malaysia)
Couple: Timothy (Singapore) & Christy (Vietnam) - [hired by Pauline Ranasingha]
Deepraj (Britain/UK)
Rounak Zoeb (Australia)
Company: Urban Active Fitness
Peter (Australia)
Couple: Andrew Tran & Vicki (Australia)
Family: Verdayne, Sonya Laudi, Oliver Laudi (Singapore)
Ho Qi Zong (Singapore)
Couple: Lim Khoon Seng (Singapore) & Sharon (Malaysia)
Family: Matthew, Tika, Justin, Jevon, Joleen (Australia)
Gaurav Trivedi (India)
Couple: Rifti Ansar (Sri Lanka) & Diana Spalding (Lithuania)
Jerome Cheze (France)
Barry Chow Wei Jian (Malaysia)
Chris (Singapore)
Kylie Murr (UK)
Couple: Hendra Irawan Tan Wee Jun & Grace (Singapore)
Rachel Lee (Australia)
Company: Body Fit Training (BFT) Changi
Couple: Dan Boden & Lorelei Timpson (UK)
Couple: Elvis Philip & Monali P (USA)
Anmol (India)
Sarisha (Singapore)
Couple: Keagan Clifford Foster (Australia) & Nancy/ Miao (China)
Couple: Clifton Lim & Clarissa Yeo (Singapore)
Couple: Taejo (Norway) & Huihui (Singapore)
Christopher Tournerie (France)
Nicholas Tan Wei Quan (Singapore)
Lukas Berger (Germany)
Couple: Anthony Tan Xing Yi & Divlynn (Singapore)
Mel (Singapore)
Simon Hung (Singapore)
Yuen Yik (Singapore)
Che Lin (Singapore)
Dunkerley Douglas Michael (Britain/UK)
Isabelle Li (Singapore)
Chua Ming Siu (Singapore)
Ben Zheng (Singapore)
Lewis Low Kai Yi (Singapore)
Couple: Andrew & Joelle (Singapore)
Adam Tatarynowicz (Germany)
Company: Team Gold's Gym Singapore
Liu Wing-Lun (Britain/UK)
Abhishek Malhotra (India)
Greg (Russia)
Lee Yonghao (Singapore)
Carol Lim Lijun (Singapore)
Chia Yaozhong (Singapore)
Anastasya Meron (Indonesia)
Katherine Whiteway (Nekotsurin) (Singapore)
Chua Huiqing (Singapore)
Beatrice Lee Mynn (Singapore)
Jade (Singapore)
Ye Qi (Singapore)
Akira Uchida (Japan)
Sana (Japan)
Yeong Ara - Tantiara M. Rosli (Singapore)
Janice Sui Mei Ting (Singapore)
Company: Team Disinfect (Singapore)
Ratna Juita (Indonesia)
Couple: Alexander Stiegler (Austria) & Esther Pai Min Lin (Taiwan)
Iidiko Ko Kissimon (Hungary)
Rosy Mai Xuan (Vietnam)
Cho Mar (Myanmar)
Angela Arlene Quek (Singapore)
Organisation 2019: Singapore Fashion Runway (SFR)
Nicholas Chan Jun En (Singapore)
Audrey Chen Ying Fang (Singapore)
Ridhwan & Ashikin (Singapore)
Ivia Xiaohui (Singapore)
Couple: Wei Loong & Shujuan (Singapore)
Renu (Malaysia)
Delphine Seto & friends (Singapore)
Isabelle Raphaela Leong (Singapore)
Karen Ivy Diaz (Philippines)
Syriicyaniide (Thailand)
Melaine (Singapore)
Ayumi (Japan)
Angeline Png Xue Ting (Singapore)
Robyn Skye (Singapore)
Khin Thuzar Kyaw (Myanmar)
Rina (Singapore)
Siao Jo (Malaysia)
Debbie Tan (Singapore)
Jasmine Lim (Brunei)
Ashley Xuanxuan (Singapore)
Zuzana Novakova (Zuzi) (Czech Republic)
Skylar Tay Shixuan (Singapore)
Hilary Tay Huimin (Malaysia)
Ha Eun (Singapore)
Regina Umali (Philippines)
Valeria Gonzalez (Paraguay)
Amber Nguyen Trang (Vietnam)
Esther Pai (Taiwan)
Organization 2018: Team Infunde Development (Singapore, Laos, Vietnam, Philippines, Thailand)
Organisation 2018: Singapore Fashion Runway (SFR) (Singapore)
Havanah Zandrea (Canada)
Teo Shu Ying (Singapore)
Priscilla Tang (Singapore)
Leila Barrick (Australia)
Company 2018: Team Craft by 3 (Singapore)
Camille Roux (France)
Ng Shinyi (Singapore)
Couple: Kaidi & Ivy (Singapore)
Shirlene Chew (Singapore)
Nickolas Padgalskas (Netherlands?)
Ghislaine Nadaud (Netherlands)
Eva Loa (Singapore)
Gilbert Lew (Singapore)
Family: Vanessa, Vera, Vianne (Singapore)
Ivy Tan (Singapore)
Bai Jia Wang (Singapore)
Charis Tan (Singapore)
Wong Youer (Singapore)
Shermaine Koh (Singapore)
Svetlana Dabizha (Ukraine)
Phang Tsang Wing (Singapore)
Qiu Wanping (Singapore)
Couple: Kaiwei & Stella (Singapore)
Couple: Shengyang & Huiting (Singapore)
Karina Cognomen (Indonesia)
Hannah Lee (Singapore)
Sharon Ng En Hui (Singapore)
Cheryl Alicia Chua Dong Yi (Singapore)
Kyan Soo Wei Qian (Singapore)
Gay Teng Yong (Singapore)
Koo Boon Hui (Singapore)
Couple: Leslie (Hong Kong | Singapore) & Sally (Taiwan)
Erica Chan Xuan Ni (Malaysia)
Sirachar Ong (Thailand | Singapore)
Martina Novotna (Czech Republic)
Kelly Lim (Singapore)
Tan Rouying (Singapore)
Jasmine Tan (Singapore)
Yoyo (Hong Kong)
Ao Xuan (Singapore)
J.C (Singapore)
Company: Mr Chew Chee Chiang & Ms Lee (Chew Plumbing & Construction) (Singapore)
Angie Mui (Framing Angie) (Singapore)
Low Kah Yoke (Singapore)
Marjorie Lining (Philippines)
Rachel Liew (Singapore)
Beverley Angkangon (Malaysia)
Couple: David & Jess (Malaysia)
Jun (Singapore)
Joanne (Singapore)
Couple: Tommy Wee & Evelyn (Singapore)
Thomas Ng (Singapore)
Couple: Ryan & Yuanzhi (Singapore)
Mitsuya Nakata (Japan)
He Ling (Vietnam)
Kayla Wong Yar Lee (Singapore)
Nathalie Blue (Malaysia)
Jessyca Ang (Indonesia)
Tan Jiamin (Singapore)
Couple: Brian & Claudia (USA)
Leila Louise (England)
Bianca Pietersz (Venezuela | USA)
Chew Si Pei (Singapore)
April Toh (Singapore)
Couple: Terry & Lynwen (Singapore)
Nowell Tan (Singapore)
Joey Yan (Singapore)
Emily Chan (Singapore)
Lovelle Cengiya (Singapore)
Alessandra Wong (Singapore)
Couple: Peter & Peiwei (Singapore)
Anastasia Butrim (Cyprus)
Esther Choey Pei Jia (Singapore)
Couple: Michael & Valerie (England)
Tan Kexin (Singapore)
Selvy Sequence (Indonesia)
Couple: Derrick Chin & Ariel Tan (Singapore)
Couple: Mike Ong & Monica Weng (Singapore)
Amber Meifeng (Singapore)
Vanessa Lum (Singapore)
Vanessa Toh (Singapore)
Company: Dance Channel (Singapore)
Ang Xiuling (Singapore)
Michelle Low (Singapore)
Nikoru Nicole (Malaysia)
Mia Manan (Singapore)
Angela Ni (China | Singapore)
Oh Yong Peck (Singapore)
Joyce See (Singapore)
Dchane (Singapore)
Dylan (Singapore)
Amelia Chang (Singapore)
Charisse Ee (Singapore)
Dawnice Gagamamayan (Singapore)
Phuang Shujuan(Singapore)
Irene Ong Meiling (Singapore)
Maisie Chew (Singapore)
Famel Tay (Singapore)
Kelly Chin (Singapore)
Jade Anastasia Lee (Singapore)
Hooi Yingyi Victorielle (Singapore)
Jasmine Ang (Singapore)
KT Pham Thi Kieu Trang (Vietnam)
Dionne Loh Xiuzhen (Singapore)
Constance Huang Wanling (Singapore)
Vanessa Poh Yen Ling (Singapore)
Do view the portrait projects!
Great People; Great Experiences
It's a phenomenal experience working with great people to create corporate portraits. There were times when I didn't even know whom I was shooting until someone screamed upon looking at the pictures.

They were people highly recognised in their own industry, except that I had been spending all my time working on my photography instead of exploring the world.

In a way, this helped my photography a lot for I was able to treat everyone the same without feeling any pressure.
Ethan Leslie Leong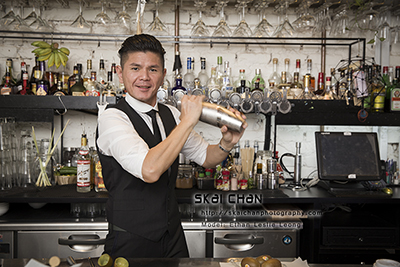 ▲
Occupation/editorial photography for Ethan Leslie Leong

Ethan Leslie Leong, the entrepreneur whom I was warned about right before the corporate shoot that he wasn't someone easy to be handled, proved that he was filled with graciousness.

Truth be told, towards a new photographer, he was more than patient and respectful.

He had great charisma and he was definitely someone extremely seasoned in front of the camera. He smiled confidently and charmingly, such that most of the portraits turned out like a magazine shoot.

Amazingly, he was creative as well. He made the extra effort even for a low-budget photography project that I suspected he was simply lending a helping hand to.

He also shared a bit about his life. He became successful by starting his career early without much education. He was more than willing to help and inspire people.

My biggest regret was that my client and I were in a rush to another venue that I forgot to try the drinks he had made for me. It was definitely a priceless one.
Tommy Wee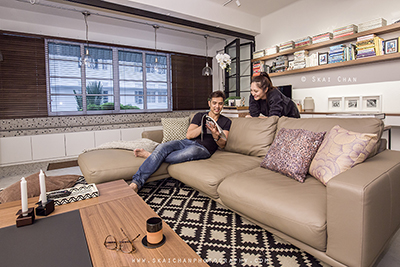 ▲
Home portrait photography for Tommy Wee & Wife

Tommy Wee, the content director was not only known to be witty but also extremely charming.

I arrived at the venue earlier. He and his wife happened to see me and invited me to go up before my client's team reached. I initially thought they were both celebrities as I was stunned by their appearances. They played good hosts.

I had a great chat with Tommy while my clients were dolling up the place for the corporate shoot. It was on that day when I first heard about Netflix as he was very excited about the news of its invention. Among most other popular people I had worked with, I felt more relaxed with Tommy, probably because of the way he conversed. That was the reason why I didn't expect to be the Oppa of so many well-learned girls.

I felt very connected to him, but I stayed some distance away because he was my client's client. I could have learned more from him.
Angie Mui (Framing Angie)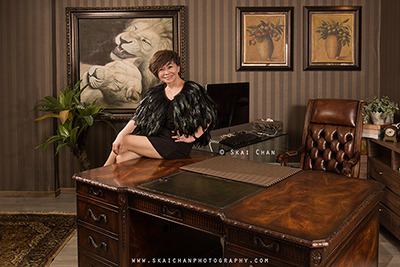 ▲
Corporate photography for Angie Mui

Angie Mui was the queen of framing. She would put any item of any size inside a tailor-made frame specially designed for the owner. The frame was designed to also suit the interior where it would be placed on. She was featured in many copies of the Expat Living magazines.

Among my clients, Angie's working style resonated to me the most. We both loved customising unique and meaningful things instead of doing boring things that others could easily do for the mass market. Nevertheless, she was far more established than me in all aspects of life, including interpersonal relationships.

She hired me to take some corporate and home lifestyle portraits, and interior pictures for her although she could have gotten a free photoshoot from the magazine's in-house photography team. Her reason was that she wanted to have full control of the photographs used.

She held the charisma of a professional fashion model. She was great in her expression and she could get into a new pose within a few seconds. She shared that her yearly creative corporate photoshoot for her business had helped to train her in her modelling skill.

Halfway through the first day of the photoshoot at her place, she highlighted that I had used a word wrongly on one of my photo albums' write-ups. I was sure that she had gone through most pages on my website. This was the reason why she was my dream type of client who would make me smile to sleep because of her appreciation.

She cooked personally for me for once and invited me over to her family and friends' gatherings a few times, getting to know her partner and son who was also a photographer. My biggest regret was that I wasn't a fan of social gatherings and thus I was quite awkward talking to her guests.
Saul George Raccah
Working with Saul for his daughter's birthday party on a yacht was an absolute pleasure and it turned out to be an experience that left a lasting impression. From our initial interaction, Saul displayed a level of friendliness and respect that set the tone for our collaboration.

Unlike many clients, Saul didn't attempt to haggle over my photography rates, even though the nature of the event meant a considerable investment of time and effort. Understanding the potential risks involved for my camera in a high-energy, dynamic setting, I also quoted an extra fee, which he accepted without any hesitation or negotiation, respecting the listed package.

Saul's thoughtfulness went beyond the photography logistics. He took the time to inquire about my drink preferences and even asked about any food allergies, as he planned to prepare food for the yacht trip. His attention to detail was evident when he personally handled the submission of particulars to the yacht company, following their standard protocol.

Initially, Saul's kindness almost seemed too good to be true, prompting momentary suspicion until he paid the deposit, proving the authenticity of his intentions. Even when he made a small error in the deposit amount, which I clarified just for transparency, he rectified it promptly with an additional amount and apologised in a cute message.

Saul's meticulous planning for the birthday party was noteworthy. He ensured a balanced ratio of adults to supervise the kids, allowing me to focus on my photography responsibilities during the event. His level of respect extended to his helper, whom he introduced as "auntie," showcasing a genuine and considerate attitude.

Communication with Saul was exceptional, surpassing expectations. He exuded confidence and an assurance that he could handle anything, making the entire experience feel safe and secure. Meeting him in person, I was mesmerised by his charm and genuine nature.

During the event, Saul and his family were incredibly welcoming, creating a positive atmosphere. Despite my offer to assist with heavy loads, Saul insisted on managing it himself. After the shoot, his kindness extended further when he insisted on paying for a taxi to ensure my safe journey home, a gesture that reflected his generosity.

Even after the celebration continued at home, Saul checked my location to ensure I reached home safely, treating me like part of his family. During our chat, I shared with him about the sunburn on my skin and he showed great concern, to the extent that I was super worried he would want to compensate me for it. I had to quickly assure him that I was fine.

Days later, when the topic of photo privacy arose, Saul, despite missing the details initially, swiftly acknowledged and rectified the oversight by immediately transferring the privacy fee, instead of pushing blame on me. He insisted on fairness and a commitment to ensuring my efforts were justly compensated.

Saul's genuine nature, generosity and respect made him one of the best clients I've ever had the pleasure of working with. The experience served as a valuable lesson to enlighten me on the definition of friendship. His kindness was a big contrast from some so-called friends who were well-to-do and yet had been taking advantage of me when I was still struggling with my life.
How I Become a Master at Attracting Quality Clients
Straightforward Approach: When it comes to photography, I believe in being honest and upfront with my clients. If there's an issue with the lighting or the pose, I'll let them know. Of course, I know how to deliver the truth in a way that won't hurt their feelings. After all, honesty is the best policy.
Selective Clientele: I've learned that not every client is a good fit for my photography style. That's why I take the time to get to know my clients and make sure we're on the same page before taking on a project. It's like finding the perfect puzzle piece that fits just right.
Commitment to Excellence: I take pride in my work and won't settle for anything less than perfection. If I'm not 100% confident in my ability to deliver top-quality photos, I won't take on the job. It's not worth risking my reputation or my clients' satisfaction.
Self-Care: To perform at my best, I make sure to take care of myself both physically and mentally. I know my limits and make adjustments to my diet and schedule as needed. That way, I can focus on creating amazing photos for my clients without sacrificing my own well-being.
Balanced Workload: As a one-person show, it can be challenging to juggle everything at once. But I've learned to manage my workload and prioritise my tasks effectively. I'll do everything to not compromise the quality of my work. After all, good things come to those who can balance it all.
Artistic Vision: I'm not just a photographer, I'm an artist with a unique vision. I pour my heart and soul into every project, striving to create something special and meaningful for each client. It's not just about taking a picture, it's about capturing the essence of the moment and turning it into a work of art.
My Website is a Work of Art: I take my online presence seriously and my website reflects that. I've spent thousands of hours creating a site that's informative and easy to navigate, and I constantly added new content. It's not just about showing off my portfolio; it's also about educating potential clients about my process, pricing and philosophy. When they reach out to me, they already know what to expect and are excited to work with me.
How I Qualify My Clients
Just as clients choose photographers, photographers do choose their clients too. My experience tells me not all money can be earned. Dealing with a problematic client can result in a huge loss of time and energy; it does not worth it. Besides, good clients can build a rapport with me easier, so that I can produce better work.

I spend more time and effort than most other photographers on every photography project. Therefore, I can only take up a limited number of photoshoots per month. My target audiences are good clients who appreciate photography and want to obtain high-quality images.

As a photographer, it's crucial to work with the right clients to ensure a successful and fulfilling experience for both parties.

Here are some of the things I look out for:
Clients who have unrealistic expectations: I don't work with clients who have unrealistic expectations. If their requests go beyond my skill set or comfort zone, I won't hesitate to turn them away. I must have a clear understanding of what my clients want but I also need to be realistic about what I can deliver.
Clients who have unrealistic deadlines for the final images: I prioritise delivering high-quality work and clients with unreasonable expectations of a quick turnaround may not be a good fit for me. Rushing the process can compromise the final product and create unnecessary stress, which is something I want to avoid.
Clients who are not willing to pay a fair price for services and expenses: I value my time and expertise, so clients who aren't willing to pay a fair price for my services and expenses won't work out. I'm always transparent with my pricing and I won't tolerate any attempts to negotiate for lower prices or free services. After all, time is money! I need to sustain the quality of my work and my photography business.
Clients who want to use the my images or services for something I'm not comfortable with: I ain't willing to cross any lines when it comes to my work, so I need to avoid clients who want to use my images or services for illegal or unethical activities, promote hate speech or discrimination, or push controversial medical products or services. That's a no-go zone for me, both personally and professionally.
Clients who don't appreciate or undermine professional photography: When it comes to professional photography, I take it real serious. If a client doesn't appreciate or undermine my craft, they're not gonna work with me. I put my heart and soul into my work, and I want to work with clients who appreciate my artistic vision and respect my talent.
Clients who have a history of not following through on their commitments: I have got no time for clients who have a history of flaking out on their commitments. That means clients who have cancelled photoshoots or not paid the photography fees on time. I need clients who are reliable and trustworthy, plain and simple.
Clients who are not willing to provide a deposit: Another thing I'm firm about is requiring a deposit from clients. It's just a way for me to ensure that my effort (e.g. providing consultation), time and services are secured, and to avoid any last-minute cancellations. So if a client isn't willing to provide a deposit, it's unlikely that we'll be able to work together.
Clients who are not easy to work with: When it comes to clients, I'm all about keeping things chill. I love working with folks who vibe with my style and show some respect for my precious time. I mean, come on, every photoshoot needs some serious talk and planning to get on the same wavelength. So, if I encounter a client who's giving me radio silence or being a royal pain in the rear end, I might have to politely decline their offer. After all, who needs that kind of drama and stress?
Overall, I go through great lengths to qualify my clients to ensure a successful and fulfilling experience for both parties. By doing so, I can create a positive and sustainable working relationship with my clients.
Published Work & Testimonials
You may like to view some of my published work that I have helped clients to achieve, and also the kind testimonials given by some of them.
FAQs
How do you choose clients to feature on this page?
When I was a fledgling photographer, I thought, why not start by listing friends who dared to be my portrait guinea pigs? As I evolved into the realm of commercial work, I expanded the VIP list to include those who hired me for their close-ups and even threw in a few companies for some corporate pizzazz.

Unfortunately, somewhere along the way, my meticulous list-keeping skills faltered. I blame it on the creative chaos. So, if you're not on the list, blame it on my early days' organizational skills, not your charisma.

Since I'm all about good characters, I might have omitted a name or two. This is to keep my page very clean!

Now, I've got a section dedicated to the legends—the unforgettable souls I've encountered. While I'd love to list every kindred spirit, for now, let's kick off with the extra special ones. Stay tuned for the expanding guest list!
Can I be featured on your clients' page if I hire you for a project?
Absolutely! Your name deserves a prime spot if you're someone who not only values me, photography and my artwork but can also dance the collaboration tango with finesse.
What type of projects do you typically collaborate on with clients?
Portrait, event, interior, and real estate photography—my plate is so full it's practically doing a balancing act.
How can I get in touch with you to discuss a potential project?
Just shimmy over to the contact page. But, fair warning, bespoke photographers like me are a unique breed. Before you hit me up, take a detour through my website. It's like a pre-date check but for photographers.
Can we take a photo together during the shoot?
It's an honour, really. But I must confess, I'm like a focused ninja during a shoot. I might even forget my own name. Still, feel free to pop the request. Just beware, my post-shoot glamour might not match Hollywood standards, not even Mediacorp's.
Is there a specific theme or style you look for in client projects?
Why settle for normal when you can be a unicorn in a sea of horses? That's my philosophy. So, if your project screams uniqueness, and creativity and requires lighting that could rival the aurora borealis, count me in!
Do you only feature corporate clients, or do you include personal projects too?
I used to feature personal projects back in my wild, carefree photography youth. But, alas, reality hit and now I need funds to keep the creative juices flowing. So, personal projects have become as rare as a unicorn sighting.
Can I see more examples of your work beyond what's featured on this page?
Oh, they're everywhere! Just like a hidden treasure hunt on my website. Dive into the categories, explore the genres, and brace yourself for a visual rollercoaster. Enjoy the ride!
Final Words
To all you amazing souls who've willingly endured my ridiculous brainstormed ideas during shoots and survived my attempts at cold humour, a massive thank you! Your resilience and good spirits have truly been the secret sauce behind the fantastic work we've conjured up together. Each click isn't just a snapshot; it's a testament to your openness and our shared journey in the realm of visuals.

I'm genuinely humbled by the chance to freeze those authentic moments—whether it's in the hustle of a corporate setting or the quiet intimacy of a personal portrait. Your stories have turned my craft into a rich tapestry and I'm sincerely grateful for every escapade we've embarked on together.

To those intrepid explorers who've navigated my online space, a heartfelt thank you for diving into the depths of the artistry behind the lens. Your curiosity isn't just appreciated; it's the fuel that keeps my passion burning bright, motivating me to evolve and capture even more captivating moments.

Reflecting on the diverse projects and the delightful collaborations that have unfolded, I can't help but smile with gratitude for each client-turned-valued collaborator. Your openness, trust and cooperation have worked like magic, turning ordinary moments into timeless memories.

In conclusion, a massive thank you from the bottom of my heart for allowing me to be part of your visual narrative. It's been an honour, a privilege and yes, even a joy, to work with every one of you. Here's to the tales we've spun and the countless more waiting to be captured. Cheers to you all!

And to those considering joining this visual journey, I extend a sincere invitation. Let's craft more beautiful art together—your story could be the next captivating chapter in this ever-evolving tapestry of visuals. Join me and let's create something extraordinary!