Professional Business Branding Photographer in Singapore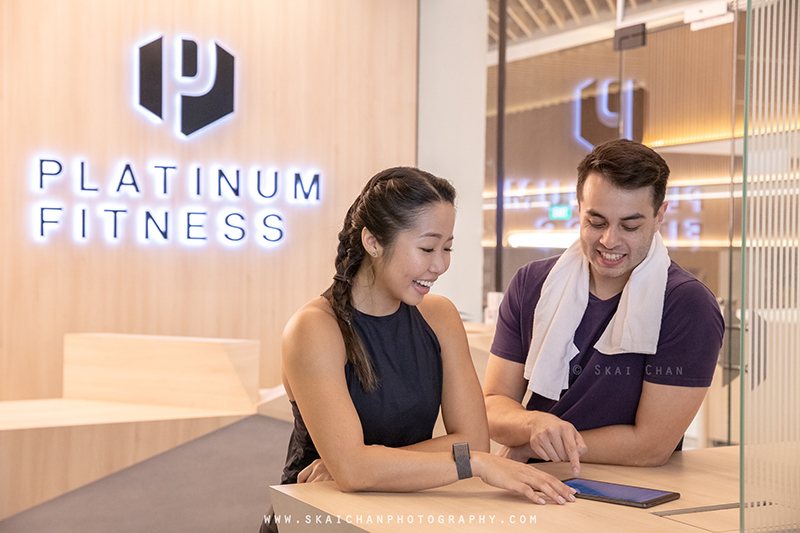 Quick Navigation:
---
What is Businesses Branding Photography?
Business branding photography helps businesses to improve their corporate images. Corporate image refers to the perception people (other businesses, vendors and consumers) have when the company name is mentioned. They may include business ethics, the quality of products or services, and other facts.

The first step of business branding is to create professional pictures that can create a good business image so that potential customers will feel comfortable or/ and can resonate with the company.
Why is Business Branding Photography Important?
Business branding photography is important because the corporate image of the company can affect (1) whether other business partners/ vendors would cooperate with the company and (2) whether the consumers would support the company's products and/ or services.

If the corporate image of the company is bad, such as mistreating their workers or using unethical means to create their products, some consumers may even boycott their products and services.

If a business website is using low-quality pictures, it may leave a poor impression on the visitors who may deem the company isn't doing very well. Such images may also affect the visualisation of the visitors, thus reducing the confidence to purchase the products. If the company has spent a substantial amount of money on research and development (R&D) or purchasing the products from manufacturers, they shouldn't skimp on the photography to get good images.

A business can invest a huge sum of money in doing marketing, such as advertising on search engines and social media platforms, for its products or services; however, if the basic corporate branding isn't done properly, the effectiveness of the marketing will be low.
Types of Photography for Businesses Branding
Your business branding would likely require one or more of these photography services.
Corporate Headshot Photography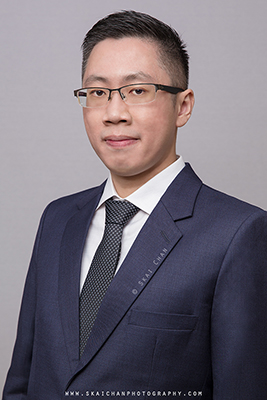 Corporate headshot photography helps to create flattery images for visitors to identify the people behind the company. This will improve the connections between the company and the visitors, and also increase trust.
Group Portrait Photography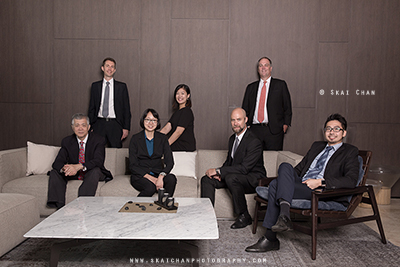 Corporate group photography would not only help visitors to identify the team behind the company but also portrays an image that the company values all the staff and are proud to show them off.
Editorial Photography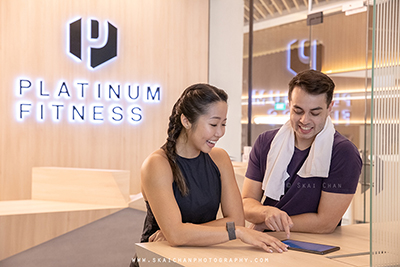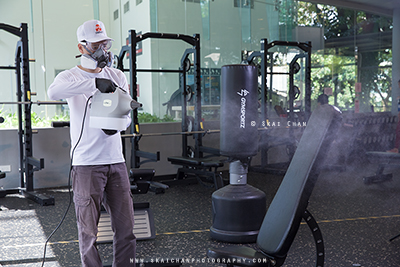 Editorial photography helps to connect with the visitors or show the products or services in an eye-catching way.
Interior Photography
Interior photography helps to capture the property of the company, to show visitors that it's a legitimate business that has an office space or shopfront.
Product Photography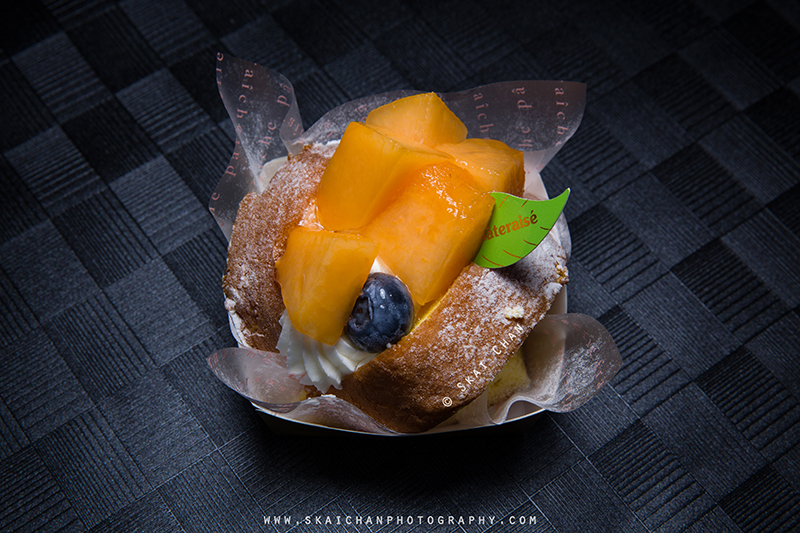 Product photography helps to create flattery and eye-catchy images, which will improve sales.
Samples: Business Branding Projects
Business Branding 1: RPT (Range Personal Training)

Business profile photo



The actual personal training session, which is the core of the business



The business owner interacting with his client



Client showing support
The purpose of this photoshoot is to create images for the business website for Range Personal Training (RPT). As stated in the name, it's a company that provides personal training to clients.

Since I had experience doing photography for other personal trainers and gyms, I was able to suggest ideas to the business owner instantly upon I was approached.

Eventually, we identified that the scope of the photoshoot would cover:
- Solo profile pictures for the owner
- Coaching and interaction with his clients
- Abstract photographs of the gym equipment

Since the personal training trade involves a lot of interaction between the trainers and their clients, my main target was to get a very comfortable, joyful and natural expression, to leave a good impression on the website's visitors.

Eventually, I suggested a package that would involve a very tight schedule and the owner counter-proposed a more comfortable timeframe, which greatly helped the success of this project.

During the photoshoot, I encountered various challenges, such as dim light (indoor) and very directional light (outdoor). For the indoor part of the gym, I wasn't able to use my speedlite because there were other gym users and at the same time, I didn't want my subjects to be too conscious in front of the camera.
More images:
- Business profile photographs
- In-action photographs
Business Branding 2: Disinfectant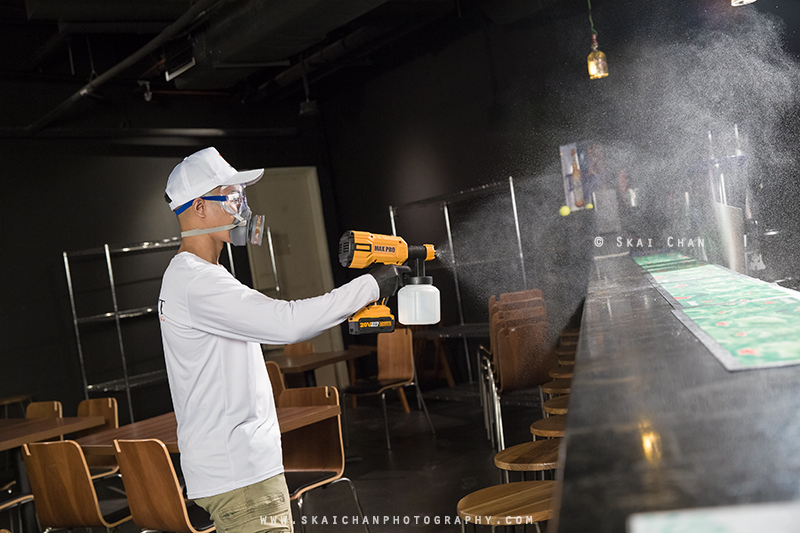 Team on the job to disinfect a restaurant/ pub for a client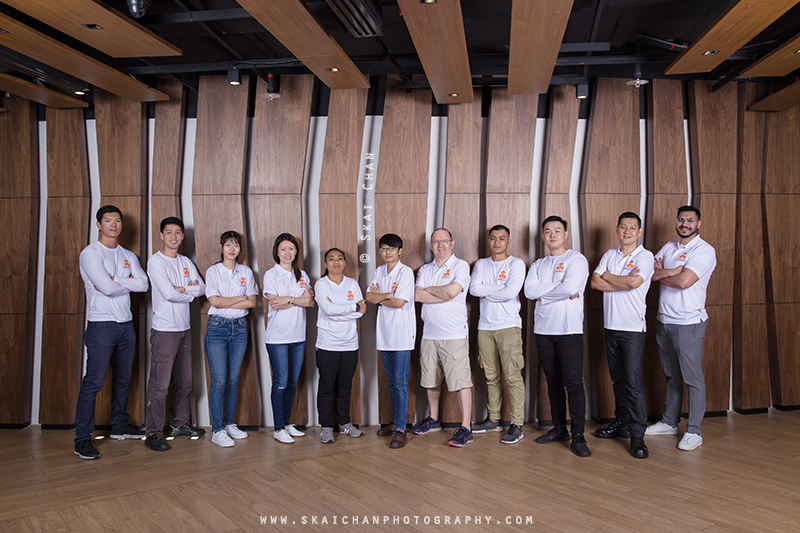 Group photograph for the team
The purpose of this photoshoot is to create images for the website of Disinfectant. Disinfectant provides disinfecting services for businesses to combat the pandemic.

The scope of this project was to capture the team/ group photographs to showcase to their potential clients. Next was to capture the team doing the actual disinfecting work at various locations to showcase their projects and types of clients.

Since it was a large group photoshoot, I had to set up two lights and softboxes, especially at a very dim location. The toughest part of the photoshoot was having to visit various locations. I faced another huge challenge to capture the mist of the disinfecting spray. I also had to coordinate with the videographer. Nevertheless, we had a very tight schedule due to the number of locations.
More images:
- Group photographs
- In-action photographs
The Business Branding Photographer
Why Does Skai Do Business Branding Photography?
I'm the web producer of multiple websites. I have ideas to create professional and creative photographs to brand them; unfortunately, it requires more than photography skill alone to create the photographs. The logistics part is always a big issue since I'm a one-man-show and I've been dedicating most of my time on my photography website. Most of all, I've to be behind the lens to snap natural expressions and interactions with other subjects and it's just too difficult for me to appear in the frame as well, whenever needed.

As a small business owner who's struggling, I empathise with other business owners and hope to help them with my expertise. On the other hand, I wish to utilize my skill and knowledge, I really love doing what I'm good at.
Why Work with Skai?
Experience in web production
I started designing and coding websites on Windows Notepad in my secondary school days. My degree was in IT and my primary interest was in web building. Over time, I had ideas to create pictures to build stronger business branding for my websites but I was too occupied with photography. Given that I can focus on giving ideas and doing the actual photography, I'm more than happy to help businesses.
Skill and experience in photography
I've been photographing people. I'm fortunate to be trusted by interior designers and homeowners for doing interior photoshoot. I do product and food photography as well, although they aren't my focus, given very limited time. Overall, I do most kinds of photography.
Creativity
I've been doing all kinds of portraits instead of focusing on a single genre. I like being unique and thus sky is the limit. Throughout my portrait photography journey, I've been customising photoshoots for individuals to fit their personal needs. I can't wait to create more eye-catching photographs to brand your business!
Rates & Packages for Business Branding
🌞 Professional
Up to 1 Hour: $280
Up to 2 Hours: $380 $450

Additional Hour: $150/block hr
Deliveries
Basic Edit (exposure & colour correction)
Digital copies (high resolution JPG)
Up to 40 photos/hr
Photos selected by Photographer
Special Requests/ Add-Ons
Get back remaining good photos:
+$50/hr booked (subject to availability)
Same-day photo edit:
+$50/photo (subject to availability)
Expedited photo edit (3 days after shoot):
+$50/hr booked (subject to availability)
Privacy of photos: +$50/hr booked
Advanced edit (skin retouching) for photos: +$50/photo
⚡ High-End
Up to 1 Hour + 1 photo: $350
Up to 1 Hour + 5 photos: $550
Up to 2 Hours + 10 photos: $900

Additional Hour: $150/block hr
Additional photos: $50/photo
⚡ Flash photography (one-light set-up)
🌞 Use of natural light when necessary
Pace of shoot: Slow
Deliveries
Advanced Edit (skin retouching)
Digital copies (high resolution JPG)
Photos selection in low resolution PDF
Special Requests/ Add-Ons
Additional lighting set-up: +$50/light
Revision of photo edit: +$15/photo
Expedited photo edit (3 days after shoot):
+$35/photo (subject to availability)
Privacy of photos: +$100/hr booked
⚡ Studio Shoot
Please note that my home photography studio is not available until further notice.
1) My studio,
2) Your booked external studio, or
3) Makeshift studio @ your location
Details: Photo Studio
Hairstyling & Makeup
$180 /Female
$120 /Male
1x Hair & Makeup Artist (HMUA)
Up to 1 hour
1 Look (Hairstyling for a neat look & Makeup)



Add-Ons

Follow through the photoshoot: +$60/hr
(subject to availability)
Details: Hair & Makeup Artist (HMUA)
NOTE
⏳

All booked duration

Includes changing of equipment, wardrobe, makeup, hairstyle, and travelling (if applicable) during the shoot.
📰

Please read

(1) Checklist for hiring a photographer, (2) FAQ and (3) Service Agreement before making enquiries.
💡

Ideas and advice

Will only be given to serious clients after a booking fee is being placed.


✆ Contact me now for a customised package tailored to your personal needs.
You may be interested in:
- Corporate portrait photographer in Singapore
- Commercial/ Editorial portrait photographer in Singapore
- Casual portrait photoshoot photographer in Singapore
- Personal branding photographer in Singapore
- Bespoke (customised & personalised) portrait photographer in Singapore