Birthday Photoshoot Photographer in Singapore
Quick Navigation:
What is Birthday Photography?
Birthday photography is, as the name describes, a photography category for people who want to celebrate birthdays. There are two types of birthday photoshoots - pre-birthday (portraiture) and birthday party (event).
Birthday Photoshoot Rates & Packages
🌞 Standard
Up to 1 Hour: $250
Up to 2 Hours: $350 $450
Additional Hour: $150 /hr block
Deliveries
Basic Edit (exposure & colour correction)
Digital copies (high resolution JPG)
Up to 40 photos /hr
Photos selected by Photographer
Special Requests/ Add-Ons
Get back remaining good photos:
+$50 /hr booked (subject to availability)
Expedited photo edit (3 days after shoot):
+$50 /hr booked (subject to availability)
Privacy of photos: +$50 /hr booked
Advanced edit (skin retouching) for photos: $50 /photo
⚡ High-End
Up to 1 Hour: $550
Up to 2 Hours: $900
Additional Hour: $350 /hr block
Deliveries
Advanced Edit (skin retouching)
Digital copies (high resolution JPG)
5 photos /hr
Photos selection in low resolution JPG/ PDF
Special Requests/ Add-Ons
Additional photos: +$50 /photo
Revision of photo edit: +$15 /photo
Expedited photo edit (3 days after shoot):
+$35 /photo (subject to availability)
Privacy of photos: +$100 /hr booked
⚡ Studio Shoot
Please note that my home photography studio is not available until further notice.
1) My studio,
2) Your booked external studio, or
3) Makeshift studio @ your location
Details: Photo Studio
Hairstyling & Makeup
$180 /Female
$120 /Male
1x Hair & Makeup Artist (HMUA)
Up to 1 hour
1 Look (Hairstyling for a neat look & Makeup)



Add-Ons

Follow through the photoshoot: +$60 /hr
(subject to availability)
Details: Hair & Makeup Artist (HMUA)
NOTE
⏳

All booked duration

Includes changing and adjusting of equipment, wardrobe, makeup, hairstyle, and travelling (if applicable) during the photoshoot.
📰

Please read

(1) Checklist for hiring a photographer, (2) FAQ and (3) Service Agreement before making enquiries.
💡

Ideas and advice

Will only be given to serious clients after a booking fee is being placed.


✆ Contact me for customised package for your personal need.
Why Do People Do Birthday Photoshoot?
There are many people who wish to treat themselves to a birthday photoshoot as a birthday treat. Some of the common ages that people do birthday photoshoot are 30th, 40th, 50th and 60th. Some parents also hire a birthday photographer for their children's 15th, 16th, 18th or 21st birthday.

Nevertheless, there's no specific age for people to do a birthday photoshoot. There's also absolutely nothing wrong with doing a yearly birthday photoshoot.

Apart from keeping a good memory of their current state, some people may utilise the birthday photoshoot for some good purposes. For example, some people want to create a modelling portfolio, while some people want to include a professional formal photograph to be used for their LinkedIn profiles. Some people want to treat themselves to photoshoots that include their pets or musical instruments. There are also people who want to create some good photographs for their online dating profiles in Tinder and OkCupid.
Different Types of Birthday Photoshoots
You can go for any kind of birthday photoshoot. The theme can be classy, sweet or sexy.
Musician birthday photoshoot
Some people take the opportunity of doing a birthday photoshoot to keep a memory of their musical talent or their favourite musical instruments.
Pet birthday photoshoot
Pets like dogs and cats are part of the family. It's a good opportunity to do a pet birthday photoshoot with the little paws.
Physique fitness birthday photoshoot
It's a waste if you've spent time and effort to train your body, and not keeping a good memory of it. Doing a physique fitness photoshoot would serve a good purpose. Many fitness trainers are interested in getting a fitness photoshoot, for marketing purposes.
Gym fitness birthday photoshoot
For fitness lovers who wish to inject some fun into their fitness birthday photoshoot, they can choose to do the photoshoot inside a gym instead.
Corporate birthday photoshoot
One of the most common birthday photoshoots people request is a corporate photoshoot, which can be just one of the entire photoshoot sessions. The corporate photoshoot is partly for creating a LinkedIn profile picture. My modern corporate photoshoot style helps to create more interesting pictures.
Balloon birthday photoshoot
Balloon birthday photoshoot is one highly requested theme. However, it's rather tedious to prepare. Nevertheless, the effort will be worthwhile.
Bridal birthday photoshoot
It's a dream for many girls to do a solo bridal photoshoot. It's something very different from the usual photoshoot.
Dance birthday photoshoot
Dancers can make gracious and stunning moves. It's a good choice for them to have a dance photoshoot as a birthday treat.
Yoga birthday photoshoot
Similar to dancers, yogis would love their pictures to be captured through a yogi photoshoot. It's a good birthday treat for themselves.
Modelling portfolio birthday photoshoot
Since many young girls dream to become a model or at least they want to feel like a model for once, modelling portfolio is a popular demand for a birthday photoshoot.
Street birthday photoshoot
Street photoshoot is one popular choice for a birthday photoshoot. It's a fashion photoshoot done on the street, which is simple and straightforward.
High fashion birthday photoshoot
Doing a fashion photoshoot is normal but doing a high fashion photoshoot is another level. Thus, it's a great birthday treat.
Night fashion birthday photoshoot
Night fashion photoshoot requires professional equipment. The lighting is special. Hiring a professional photographer for a birthday night fashion photoshoot will create astonishing photographs for good memory.
Night themed birthday photoshoot
Fancy a night fashion photoshoot but wish to take it to another level for your birthday? Do a themed photoshoot!
Fan birthday photoshoot
For people who are fans of something, like a soccer club, cartoon character or collection, it's a good chance for them to do a birthday photoshoot that features their love.
Maternity birthday photoshoot
Maternity photoshoot is a great gift for mum-to-be. Treat it as a birthday gift for the year. It doesn't need to be done on the exact birthday month - an advanced or belated gift is great as well!
Family birthday photoshoot
Birthday is a good reason to celebrate family. Take the opportunity to do a family photoshoot!
Children birthday photoshoot
People age and kids "age" fastest. Within years, they will become teenagers. It's a good idea to capture their innocence through a children photoshoot.
Home lifestyle birthday photoshoot
Love your home? Some people choose to do a birthday photoshoot in their safe haven.
Studio birthday photoshoot
Some people use their birthday as a reason to gift themselves a professional studio photoshoot. Why not?
Happy birthday photoshoot
Smile! It's your birthday and you're happy. A cheerful photoshoot will make it a good birthday gift for yourself.
Beach birthday photoshoot
Everyone has the freedom to look good or sexy. A beach birthday photoshoot allows ladies to look sexy and less likely to be judged as compared to a boudoir photoshoot.
Couple birthday photoshoot
Your birthday is not only yours when you're in a relationship. Your partner shares it. This is also the reason why some couples decide to do a couple photoshoot as a birthday gift.
Sexy birthday photoshoot
Many ladies want to do a sexy birthday photoshoot for various reasons. Keeping sexy photoshoots stylish is my forte.
Boudoir birthday photoshoot
Many ladies wish to do a boudoir photoshoot but are worried about views from others. Therefore, having an upcoming birthday is a great motivation for them to do it. As long as the boudoir photoshoot is done tastefully, why not?
Bathtub birthday photoshoot
Bathtub birthday photoshoot may be part of a boudoir photoshoot. It's one of the goals by the ladies.
Art/ bodyscape birthday photoshoot
People will eventually age and time cannot reverse. Therefore, it's good to capture the moment before wrinkles appear through an art photoshoot.
Birthday Event Photography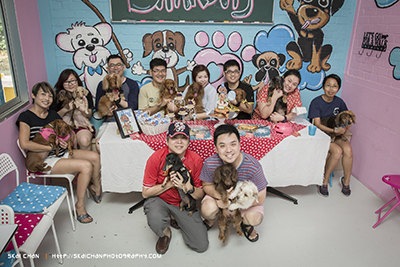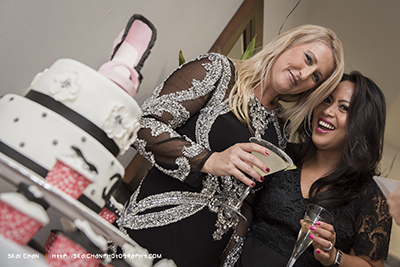 I'm also fortunate to be trusted by clients for their birthday party photography to capture the moments. Photography skill aside, I'm very good with kids and pets; it's probably in my blood that I enjoy playing with them in my day to day life.

My journalistic style of event and party photography would capture the entire flow of the event like documenting the entire story. I focus on creating natural pictures.
You may be interested in:
- Makeover photoshoot photographer in Singapore
- Special photoshoots you can hire a professional photographer to do
- Outdoor portrait photoshoot photographer in Singapore
- Bespoke (customised & personalised) portrait photographer in Singapore
- Fat girls can still look good in photographs