Photography Studio Portrait Photographer in Singapore
Quick Navigation:
#1 Benefits of shooting at my home studio
I. Privacy
When I was new, a client booked a studio that boosted about privacy on its website. Before we began the boudoir shoot, I spotted a CCTV. If it wasn't for my observation, the owner of the studio would have seen and owned private video(s) of my client in action. She initially intended to take some implied nude shots. In the midst of the shoot, the female staff came in two or three times to pick up items.

Unlike renting a photography studio outside that will inevitably need CCTVs to safeguard their properties and equipment, you can enjoy full privacy in my home studio.
II. Unrestricted hours
The shoot can technically be started and ended at any point of time, including after midnight. Therefore, we won't need to worry if there's a delay to the shoot.
III. No rush
For most studios, it's chargeable by per hour. Therefore, we may be pressured to work quicker and not being able to do our best.
IV. Photography Equipment
I have different light modifiers at my home studio where I can easily grab at any point of time to create the different mood and effect that I want, by playing with lighting.
V. Relax
It's my place and thus you can really chill like a friend.
#2 Disadvantage: Small space
My makeshift home studio can accommodate two models for a duo shoot. Similar to most studios, the models can't be lying down in a straight line (that's awkward to pose for a shoot anyway) because the standard width of the backdrop is three metres.

You'll be amazed over how a small place can be converted into a studio. I do spend two hours on average to get it up professionally - move furniture, sweep floor, set up backdrop system, flatten the creases and set up the lighting. I need up to another two hours, depending on the amount of equipment, to keep everything in my exhausted body at a slower pace.

Similar to what a certain Singapore minister said, "You don't need a large space to have sex", you actually don't need a large space to set up a studio as well. Regardless of the space, the model is supposed to stay at the same spot; any step that she makes towards or away from any of the light source would affect the quantity of light.

Of course, a bigger studio space would allow the photographer to position the strobes easier. Larger softboxes can also be used if necessary. Without walls close to the model, there won't be unintended bouncing of light. Most of all, a large group shoot would definitely require more space. I'm also using cloth backdrop, which would pose challenges to certain dance shoots. Removal of creases from the cloth usually take a long time and there's no perfect job. Having space restrictions and non-permanent space mean it's not easy to create props for themed shoots, especially for new born shoots. There are ways too many negative things that I've been ranting about to the extent that I'm quite bored of mentioning them on the write-ups for my albums.

Despite having limitations, what you see on my portfolio is you can get.
#3 Makeshift photography studio at your location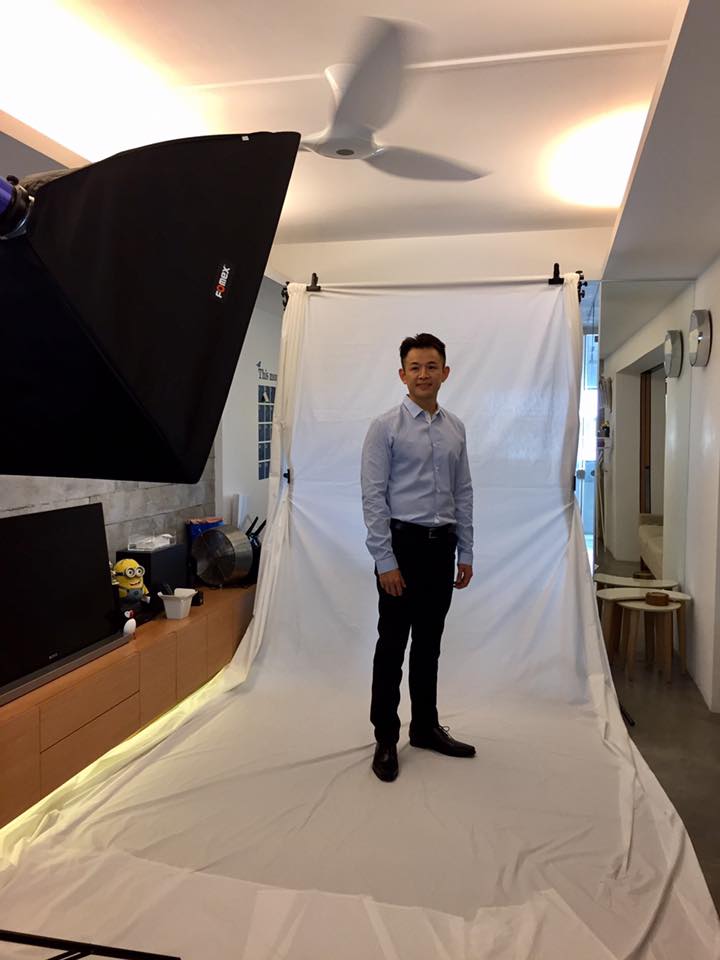 ▲ a makeshift photography studio at a 3-room HDB flat
I can set up a makeshift studio at any location that you need. Of course, it involves crazy preparation work to pack the massive amount of equipment, transport them and set up. I won't advise it, unless a client has a huge budget and sufficient time for me to set up and keep them.
#4 Some insights
Most professional photographers in Singapore don't own a studio, obviously due to high rental fees. The risk is too high for such an inconsistent job. Besides, the studio may not be fully utilized, unless the photographer is so popular until he can turn down other on-location jobs and simply focus on requests for studio shoots.

I personally prefer doing outdoor to studio photoshoots. That's where I can distinct myself from most other photographers because I do carry and use professional lighting to create more impactful work that will differentiate them from others' work.

I was fortunate that I had a friend who offered to lend me a nice permanent place to set up a studio. I didn't proceed because most of my jobs are on-location. Besides, the building had strict opening hours. He had given up the lease though.

Eventually, my current best solution is to shoot at my home studio and I'm way luckier than most other photographers since I've the support of my mum and somehow I'm able to shift my furniture to set up a mini studio.
#5 My studio shoot learning journey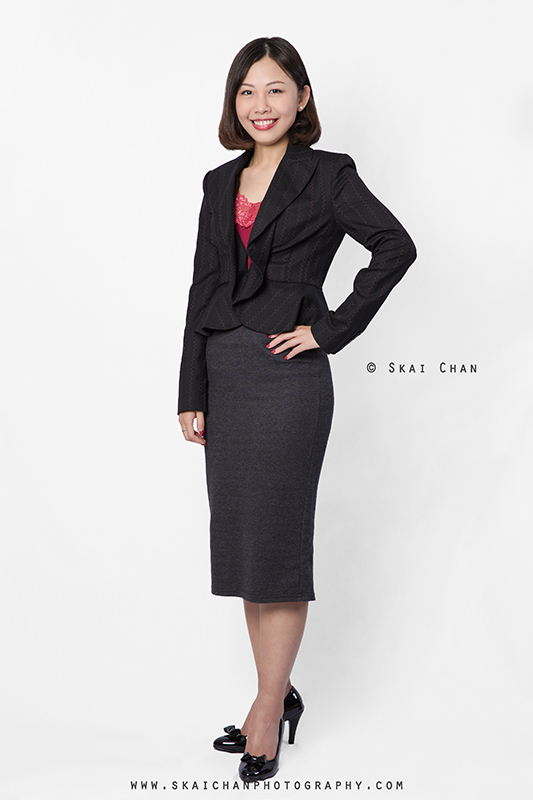 I did my first studio shoot at the living room of my relative's place. It was a 4-room HDB flat but since it was a corner unit, it was reasonably big. I used the (quite) white wall as backdrop and lay a white cloth on the ground. I was using only an off camera speedlite to pair it with the window light on the other side.

My second studio shoot experience was at a dance studio. The owner bought a (quite) white piece of cloth to cover the wall. I kept my speedlite mounted on top of my camera.

Then, I had an impromptu one at a makeup artist's studio, against the white wall. I used bounced flash as well.

I tried using a small reflector as backdrop, and did a close-up selfie shoot at my house.

My friends were running a gym chain and I used one of the outlets near my house to set up my makeshift studio. I used the black wall and lay a piece of black cloth over the ground. By then, with the aid of a studio strobe, I was able to produce more drastic work. I had two shoots there.

My next studio shoot was done at a small meeting room. I used the projector screen as backdrop. By then, I had two studio strobes but I set up only one due to time constraint.

As I had an on-location studio shoot at a residential place, I bought my backdrop system with white backdrop and had a test shoot at the gym again to gauge my capability to work with white backdrop. The actual shoot was done at an old 3-room HDB flat but the owner had the wall between the living room and bedroom knocked down and thus wider. The amount of equipment that I brought along to set up the makeshift studios for these full body shot scared myself.

I did a few half-body shoots at my corridor. There was once when I was in a rush, I set up a makeshift studio at my house for a quick headshot before going outdoor for the main shoot.

Then, I worked on a catalogue shoot with the full setup at a big hall. I started to encounter more difficulties and thus inspired to improve and upgrade my equipment.

As I understood the difficulty and horror of setting up an on-location makeshift studio, I tried hard to advise clients to make do with the existing background instead of a makeshift studio.

I had an experience of setting up the full studio at a makeup artist's studio. I put everything on a trolley and pushed it through a long park and then up the hill. It was far too exhausting.

After my brothers got their own places and moved, I tried setting up a full-scale makeshift studio at my house. I realised it was do-able even though I was using a telephoto lens that required me to stand further away from the model. I learned new thing during every shoot and managed to improve the set up of my home studio.

Nobody can tell how small my home studio is. The results speak for themselves.
Page last modified on Mon, 07 June 2021