Photography Studio Portrait Photographer in Singapore
Quick Navigation:
#1 Reasons why people choose studio over outdoor photoshoot
There are people who strongly prefer either studio or outdoor photoshoot. The reasons why some people favour photo studio are:
Privacy
Most non professional models are awkward in front of a third person. Whereas in the outdoor, there will be passers-by and other visitors around.

In most photo studios, there won't be a third party around. This is especially important if the genre of the photoshoot is towards sensual, including art, boudoir and implied nudity.
Comfort
Walking around in the outdoor, regardless of the weather, would cause perspiration. For outdoor photoshoots, the team usually have to travel around to look for more interesting or suitable photography spots.

On the other hand, a studio photoshoot won't have these challenges.
Insect bites
Mosquitoes and sandflies can cause itchiness and scars. They usually exist a lot in the outdoor.
Focus: plain background
A plain background helps to divert all attention to the model. It therefore help viewers to focus on the model instead of the background.

This is why studio photoshoot are essential for professional models' modelling portfolios.
Special theme
Some special themes may require setup and thus it's much easier to prepare the setting inside a photo studio.
Weather-proof
Rain or shine - it usually doesn't matter. There's no need to have a wet weather plan.
Timing
For outdoor photoshoot, it's best to do near the golden hours. However, it's not easy to wake up in the early morning and it may be crowded in the early evening. If the photoshoot were to be dragged, the golden hours would be missed.

For a studio photoshoot, the timing doesn't matter.
Better lighting
For most outdoor photoshoots, the photographers do work with natural light and the quality of the photographs depend on the weather. Even for high-end photoshoots that photographers would use professional lighting, the number of lighting used would be minimum. The photoshoot will still be subjected to the quality and quantity of sunlight.

A studio photoshoot usually involves professional studio strobes and light modifiers that can provide constant and good quality lighting.

In fact, I've seen the work of some photographers who can produce reasonably good quality studio work but their outdoor photoshoots aren't to my liking.
No permit is required
For outdoor photoshoots, some places require application of permit. Often, things are not so straightforward. There were places that I thought were public but I was chased away.
#2 Photography studio at Buona Vista
My photography studio is located at Buona Vista, around five minutes away from the Circle Line MRT station. It's a small space but the size is bigger than my previous home studio.
I. Privacy
When I was new, a client booked a photography studio that boosted about privacy on its website. Before we began the boudoir photoshoot, I spotted a CCTV. If it wasn't for my observation, the owner of the studio would have seen and owned private video(s) of my client "in action". She initially intended to take some implied nude shots. In the midst of the shoot, the female staff came in two or three times to pick up items.

Unlike renting a photography studio outside that will inevitably need CCTVs to safeguard their properties and equipment, you can enjoy full privacy in my photography studio.
II. Unrestricted hours
The studio photoshoot can technically be started and ended at any point of time. Therefore, we won't need to worry if there's a delay to the photoshoot.
III. Peace of mind
For most photography studios for rent, they're charged by per hour; therefore, we may be pressured to work quicker and not being able to do our best.
IV. Photography Equipment
I know what photography equipment I have, unlike doing a photoshoot at other people's studio. Therefore, I can plan ahead before the actual photoshoot. At any point of time, I'll be able to create the different mood and effect that I want, by playing with lighting.
V. Relax
It's my place and thus you can really chill like a friend. The sofa isn't available currently though.
#3 Makeshift photography studio at your location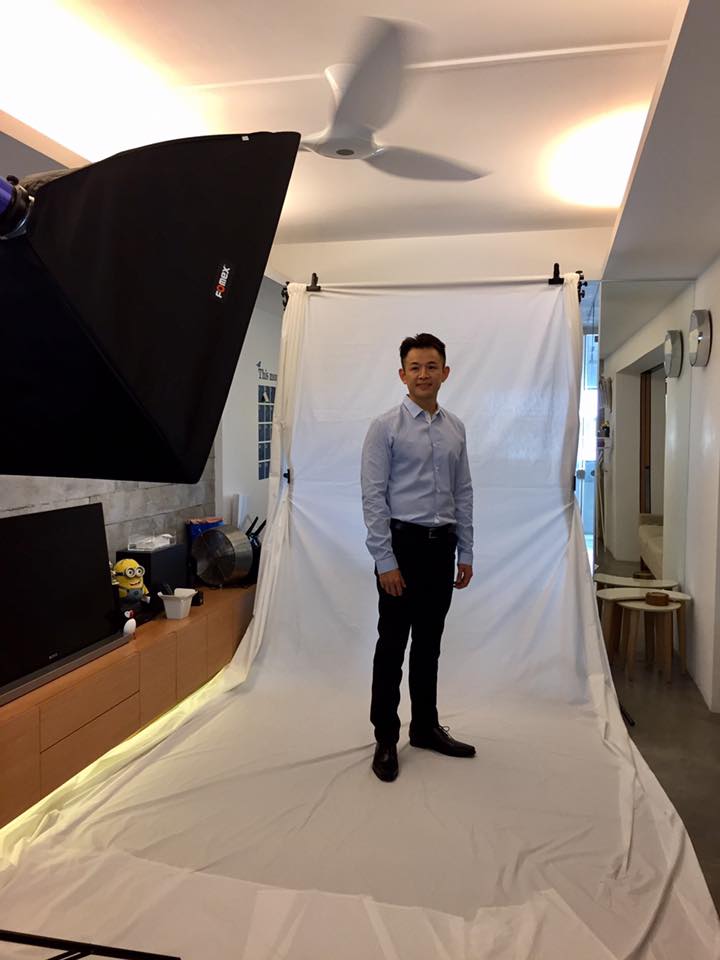 ▲ a makeshift photography studio at a 3-room HDB flat
I can set up a makeshift studio at any location that you need. Of course, it involves crazy preparation work to pack the massive amount of equipment, transport them and set up. I won't advise it, unless a client has a huge budget and sufficient time for me to set up and keep them.
#4 My studio shoot learning journey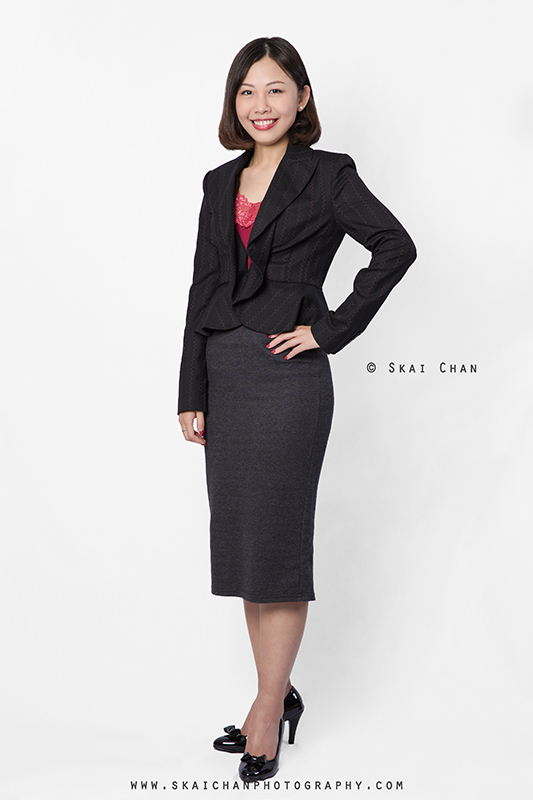 Most professional photographers in Singapore don't own a studio, obviously due to high rental fees. The risk is too high for such an inconsistent job. Besides, the studio may not be fully utilized, unless the photographer is so popular until he can turn down other on-location jobs and simply focus on requests for studio shoots.

I personally prefer doing outdoor photoshoot to studio photoshoot. That's where I can distinct myself from most other photographers because I do carry and use professional lighting to create more impactful work that will differentiate them from others' work.
Nevertheless, there're demands for studio photoshoots.
I. My experiences
Borrowed living room
I did my first studio shoot at the living room of my relative's place. It was a 4-room HDB flat but since it was a corner unit, it was reasonably big. I used the (quite) white wall as backdrop and lay a white cloth on the ground. I was using only an off camera speedlite to pair it with the window light on the other side.
Dance studio
My second studio shoot experience was at a dance studio. The owner bought a (quite) white piece of cloth to cover the wall. I kept my speedlite mounted on top of my camera.
Makeup artist's studio
Then, I had an impromptu one at a makeup artist's studio, against the white wall. I used bounced flash as well.
Reflector at home
I tried using a small reflector as backdrop, and did a close-up selfie shoot at my house.
Gym
My friends were running a gym chain and I used one of the outlets near my house to set up my makeshift studio. I used the black wall and lay a piece of black cloth over the ground. By then, with the aid of a studio strobe, I was able to produce more drastic work. I had two shoots there.
Meeting room
My next studio shoot was done at a small meeting room. I used the projector screen as backdrop. By then, I had two studio strobes but I set up only one due to time constraint.
Gym
As I had an on-location studio shoot at a residential place, I bought my backdrop system with white backdrop and had a test shoot at the gym again to gauge my capability to work with white backdrop.
3-room flat
Next, with the new backdrop system, I set up a makeshift studio at an old 3-room HDB flat but the owner had the wall between the living room and bedroom knocked down and thus wider. The amount of equipment that I brought along to set up the makeshift studios for the full body shot scared myself.
HDB corridor
I did a few half-body shoots at my corridor. There was once when I was in a rush, I set up a makeshift studio at my house for a quick headshot before going outdoor for the main shoot.
Hall
Then, I worked on a catalogue shoot with the full setup at a big hall. I started to encounter more difficulties and thus inspired to improve and upgrade my equipment.
Makeup artist's studio
I had an experience of setting up the full studio at a makeup artist's studio. I put everything on a trolley and pushed it through a long park and then up the hill. It was far too exhausting.
II. My home photography studio
After my brothers got their own places and moved, I tried setting up a full-scale makeshift studio at my house at Tanjong Pagar. I realised it was do-able even though I was using a telephoto lens that required me to stand further away from the model to capture full-length shot.

My makeshift home studio could accommodate two models for a duo shoot. Similar to most photography studios, the models couldn't be lying down in a straight line (that's awkward to pose for a shoot anyway) because the standard width of the backdrop was three metres.

You'd be amazed over how a small place can be converted into a studio. I did spend two hours on average to get it up professionally - move furniture, sweep floor, set up backdrop system, flatten the creases and set up the lighting. I needed up to another two hours, depending on the amount of equipment, to keep everything in my exhausted body at a slower pace.

Similar to what a certain Singapore minister said, "You don't need a large space to have sex", you actually don't need a large space to set up a photography studio as well. Regardless of the space, the model is supposed to stay at the same spot; any step that she makes towards or away from any of the light source would affect the quantity of light.

Of course, a bigger studio space would allow the photographer to position the strobes easier. Larger softboxes can also be used if necessary. Without walls close to the model, there won't be unintended bouncing of light. Most of all, a large group shoot would definitely require more space. I'm also using cloth backdrop, which would pose challenges to certain dance shoots. Removal of creases from the cloth usually take a long time and there's no perfect job. Having space restrictions and non-permanent space mean it's not easy to create props for themed shoots, especially for new born shoots. There are ways too many negative things that I've been ranting about to the extent that I'm quite bored of mentioning them on the write-ups for my albums.

Despite having huge limitations, what you see on my portfolio what I could do; the results speak for themselves. Nobody, except for the people involved, can tell how small my home studio was.

I'd tried my best to let my clients know my home studio was really small and that my house was very messy. However, I was lucky that people appreciated the quality of my work more than they cared about the comfort level. With more enquiries from interested people, I've decided to move my studio to a more place where I didn't have to spend additional hours setting up and dismantling each time.
III. The worst photo studio
One of the worst photo studios I had used was booked by my client. It was badly designed and maintained.

It was a huge rectangular shape room, which was nice in this aspect. The equipment were placed nicely on the longer side of it.

However, the opposite side was a stretch of full length glass windows. The curtain was made of reflective material and it didn't cover the bottom of the glass fully. Therefore, it was impossible to use it as a backdrop. Therefore, the angle of phototaking was limited. Even a part of the curtain was spoiled and could not be closed fully to block off the direct sun. There was a full length glass door at the end of the windows just next to the backdrop, which could not be covered. Therefore, there would be direct sunlight hitting the subject during day time.

Their website claimed it was a private studio but there was a CCTV inside, which made any form of private shoot impossible. Besides, their staffs would keep entering the room to get things. Lastly, the floor was pretty dusty and the backdrop was old.
Page last modified on Tue, 05 October 2021