Art Photo Shoot - Kelly Lim




The theme of the shoot was tattoo art. Kelly's two tattoos were not what I had anticipated in terms of both size and position. The main tattoo was wide and occupied the top of her back and the smaller one was on her arm but facing the front instead of side. It was a great challenge, even with my past knowledge of working on glamour and boudoir shoots, to have both her main tattoo and face shown - my style of photography was to beautify faces.

The priority was to make the products artistic and not showing any private part in order to be appreciated by more viewers who were more conservative.

A softbox was used as the main light to light Kelly up in order to keep her skin as flattering as possible. When necessary, a second speedlite attached with grids was pointed to the main tattoo to light it up. Setting up and adjusting the light to correct angles was tedious and luckily Kelly had the patience to exchange for better photographs.

I was expecting Kelly to turn up very late since she had reached home from work only after sunrise but she had actually arrived almost on the dot. Perhaps, she was a makeup artist and was trained to be on time for assignments.

Kelly was an extremely easygoing model. As usual, I was lucky for most people tend to trust me more and I appreciated the cooperativeness she had given to me. In order to show more curves and appear slimmer, she was made to twist her body, including neck, which she did not complain. Perhaps, she was not a dancer and it was really tough on her. Together, we tried different poses and eventually came out with some work that we loved a lot.
If you appreciate my work, passion and character,
do show some support by following my
Instagram
&
Facebook
, both at
@skaichanphotography
.
If we have worked together before, do write me a
testimonial
!
Disclaimer for write-up
Other Art / Glamour Photoshoot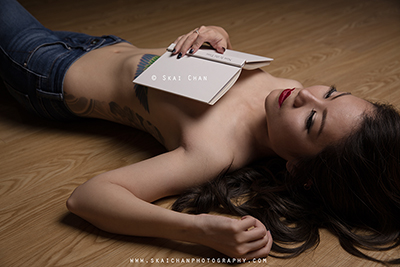 More
Art / Glamour
albums

View ALL albums