Beauty Photoshoot with Ng Shinyi




This was another rushed shoot because of clashes of schedules. Shinyi was going overseas for holidays while Yuko had just arrived and would be returning to Japan soon. We had to do the shoot while both of them were in Singapore.

Yuko's initial plan was to create a gothic look for Shinyi. We would be working on an indoor close-up shoot and later, an outdoor shoot (in another album).

For this shoot, I decided to utilize my packed house as the makeshift studio, given that it was supposed to be a close-up shoot and thus less space was needed. Comparing to setting it up outside my house, I could do the preparation job earlier and leave the equipment around without having to watch over them. Moreover, I had to make sure we could leave the house fast enough to catch the early evening's lighting for the second shoot; doing it indoor would mean that I could just pack up the necessary equipment for the next shoot and leave the mess to the night to clear up.

The greatest challenge was to set up a backdrop and lighting to fit into the very cramp space. I did a one-light setup for a more drastic effect, which I knew Yuko would favour; besides, it was really difficult to place additional equipment around. I was also glad that we weren't looking at any specific coloured backdrop this time and thus I didn't have to include additional light to light up the backdrop.

Yuko surprised me with a glamorous look for Shinyi instead. I was very impressed by Shinyi once again for she was able to cooperate very well, including opening her eyes in front of a fan for quite some time. On my part, it was an oversight for not passing her a bottle of eyedrop after the shoot but I supposed she still loved me for the photographs.

Shinyi was wearing her top - not naked. It was Yuko's idea to turn her white shirt into a tube top so that she could bear her shoulders for a clean look on the photographs. Shinyi was very cooperative and she also trusted us.

As a matter of fact, more details had to be taken care of for close-up shots. The angle, pose and expression were important apart from the styling. Even the softness of her fingers could make a big difference. With Yuko as the art director, the shot went very smooth.

Since Shinyi generally had a good complexion, treatment on her face in Photoshop was minimal instead of making them plastic-like. I spent most of the time clearing away small strands of hair, especially those that intersected her features.

The final products of Shinyi's first beauty shoot were impressive.
Featuring ↬
Ng Shinyi
Makeup Artist (MUA) ↬
Yuko Imoto
Wardrobe ↬
Ng Shinyi
Camera ↬
Canon 6D
Lens ↬
Canon 24-70mm F2.8L II
Strobe ↬
Cononmark I6M
Location ↬
Photography studio (Tanjong Pagar)
Date ↬
11 May, 2018
Photo Editing type ↬
Advanced
If you appreciate my work, passion and character,
do show some support by following my
Instagram
&
Facebook
, both at
@skaichanphotography
.
If we have worked together before, do write me a
testimonial
!
Disclaimer for write-up
Other Beauty / Model Headshot Photoshoot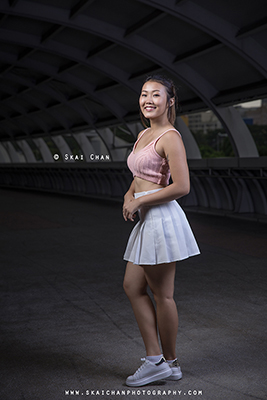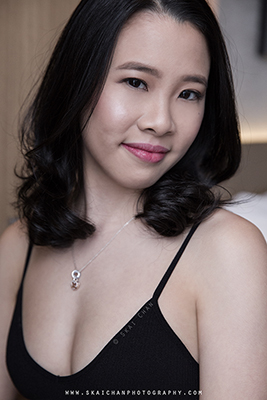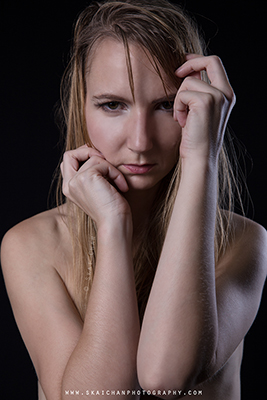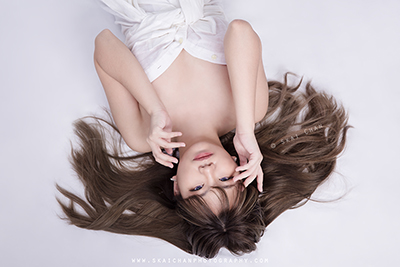 More
Beauty / Model Headshot
albums Portrait photography > All albums > All Beauty / Model Headshot albums
Page last modified on Wed, 19 May 2021