Black and White Implied Nude Art Yoga Photoshoot with Cheryl Alicia Chua




This implied nude yoga shoot was the sixth set of the shoot for the day.

The idea of doing an implied nude yoga shoot was that I adored both yoga postures and implied nude art. It was tremendously mind-blowing to put them together to create great art work.

I had previously done an implied nude yoga photoshoot but I didn't get many variety of poses since the model had injured her wrist earlier but was nice enough to work on a single pose that we loved most.

Cheryl and I had the same frequency and thus I was in luck.

The most important thing was the complete trust Cheryl had placed in me. She knew I would show her total respect and thus she was comfortable to be in her skin in my presence. Although she wasn't a model, she stayed professional throughout.

It was a blessing that Cheryl was active in sports and thus her figure was great for this concept. Besides, she's rather flexible although she had only started her sports just a few years ago.

Since she wasn't a professional yogi, we worked mainly on simple yoga poses.

The biggest challenge of this photoshoot was that we had to try extremely hard to cover her private parts. There were some poses that were almost impossible to be done. Although with the playing of professional lighting, I was able to keep certain parts of her body in complete darkness, we still decided to drop some of the poses.

For the lighting setup, I was glad that she remained very patient with me although we already had a long day of hard work. For every different pose, I had to spend quite some time to either reposition or change the setting of the strobes. Due to the limited space, I also faced challenges in positioning my lighting.

The lighting would focus on the contour of her body instead of my usual style that would focus on my subjects' faces, including lighting them up properly and beautifully. Considering that her red hair was striking and I didn't want viewers to be distracted by it, and since her face wasn't the focus, I decided to go for a greyscale tone.

This was one of our favourite albums.
Featuring ↬
Cheryl Alicia Chua
Hairstylist ↬
Cheryl Alicia Chua
Makeup Artist (MUA) ↬
Cheryl Alicia Chua
Camera ↬
Canon 6D
Lens ↬
Canon 24-70mm F2.8L II
Lighting ↬
Godox AD600BM, Cononmark B4, Yongnuo YN560 EX-III
Place ↬
Photography studio (Tanjong Pagar)
Date ↬
31 August, 2020
Photo Editing type ↬
Advanced
Disclaimer for write-up
Other Art Photoshoot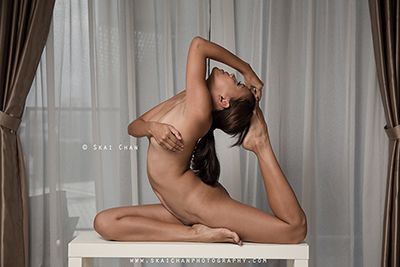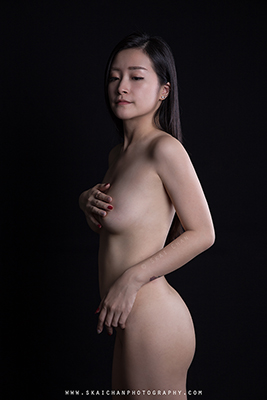 More
Art
albums Portrait photography > All albums > All Art albums
Page last modified on Thu, 26 August 2021