Photo Studio Photographer in Singapore
Quick Navigation:
What is a Photo Studio?
A photo studio is a dedicated space for taking photographs, typically indoors. It is equipped with professional lighting, backdrops and other equipment needed for creating high-quality images.

Photo studios can be used for a variety of photography styles, including portraiture, fashion, product and commercial photography. They are commonly used by professional photographers but can also be rented out by individuals or businesses for their own photography needs.
Skai's Personal Photo Studio
My current personal studio space is at Rochester Park, Buona Vista (West of Singapore)! It's a co-sharing building with a gym (with free security guards) and its management.

I do have frequent requests for fitness photoshoots and thus the space with fitness equipment makes it convenient for some of my clients.

Do note that it's by appointment basis only.

Since it's a new project, I will need more time to have further discussion with my landlord and update more information here.
Photo Studio Photography Services in Singapore
Hey there! I'm Skai, a professional photographer based in sunny Singapore. I run a photo studio in Rochester Park (Buona Vista) where I offer a range of services that cater to all kinds of photography needs.

One of my specialities is portrait photography. I've had the pleasure of working with a wide variety of clients, from corporate executives looking for professional headshots to individuals seeking personal portraits that capture their unique personalities and style. Some of the personal shoots I have done are fitness, modelling, art and boudoir shoots, where I use my creativity to capture the essence of my client's individuality. Just name the type of portrait and we will do it.

I shoot with professional studio lighting equipment (flash) to ensure that your pictures look polished and stunning. I believe that lighting is one of the most important aspects of a great photo and I'm passionate about creating visually captivating images.

In my studio, I create a relaxed and comfortable atmosphere where you can feel at ease and be yourself. I understand that being in front of the camera can be nerve-wracking and I do my best to help you feel relaxed and confident throughout the shoot.

So, if you're looking for a photographer who can help you capture your unique personality and style, read on this page.
Makeshift Photography Studio at Your Location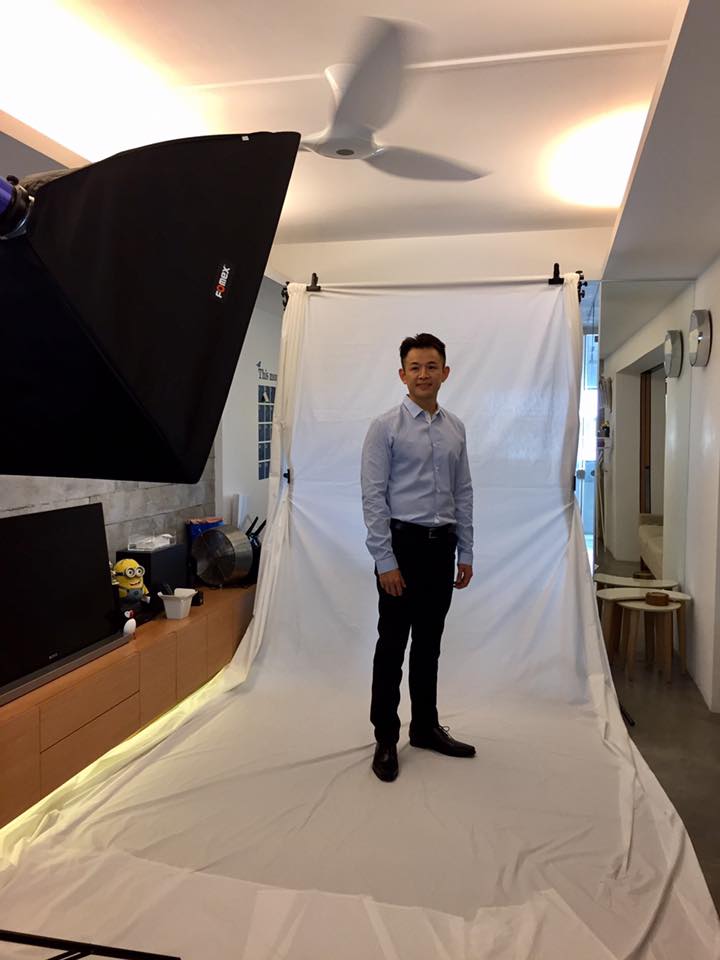 ▲ A makeshift photography studio at a 3-room HDB flat
▲ Final image from the above makeshift photography studio shoot
I can set up a makeshift studio at any location that you need. Of course, it involves crazy preparation work to pack the massive amount of equipment, transport them and set up. I won't advise it unless a client has a huge budget and sufficient time for me to set up and keep them.

Note: The lighting equipment will be at a minimum. The location must have enough space.
Any Rental Studio that You Book
You can book any rental photo studio out in the market and we will work over there.

Note: Please factor in the extra time for the set-up (and makeup) when booking any external rental studio. As different studios will have different equipment, there may be unforeseeable problems.
Testimonials: What Clients Say about Skai


"Wanted to have corporate and fun pictures taken. Love the photos taken! Skai is very professional, patient and will advice on angles where to look at etc. He will also take test shots first to test if the lighting is good. He doesn't rush through the whole photo taking process instead he wants you to be satisfied with the pictures taken." - Carissa Yeo
Hey there! If you want to get a better idea of my working style and what past clients have to say about me, I highly encourage you to check out my testimonial page. It's filled with reviews from people I've worked with in the past, and it's a great way to get a sense of what you can expect from a photoshoot with me.

But don't just take my word for it - see for yourself what others have to say! From the quality of my work to my professionalism and attention to detail, my clients have shared their experiences in detail, giving you a glimpse of what it's like to work with me.
Booking Information
Hey there, interested in booking a studio photography session with me? Great choice! Let me give you all the information you need to get started.
Contact me with the purpose: Firstly, to book a studio session with me, simply head to my contact page where you can find the link to text me via WhatsApp. Please indicate your purpose and the package you are interested in, or otherwise, I may mistake your text as a spam.
Consultation: We will have a consultation to discuss the type of event, the date, location and your preferred style of photography. This will help me understand your vision and see if we are a perfect match. We will also go over the package options and pricing. However, do note that I will only provide advices and suggestions after you have confirmed and booked my services officially.
Place deposit: To secure your booking, a 50% non-refundable deposit is required. Once your deposit is received, your date and time will be reserved exclusively for you.

Don't worry, I'll send you all the necessary payment details when you decide to book with me. Payment can be made via PayNow or PayPal (PayPal requires extra fee).

The remaining balance is due on the day of the photoshoot.
Remember that it's best to book my photography services in advance to ensure availability. So don't hesitate to contact me as soon as possible to secure your date!
Prices & Packages for Studio Photography
Quick explanation: The most considerable portion of my photography cost is calculated based on the (1) duration booked, (2) equipment required (natural light/ flash), (3) type of editing (basic/ advanced) and (4) extensiveness of planning required.

Please read the full explanations so that you can make a better decision.
⚡ Studio (Full Body)
Up to 1 Hour: $600
Up to 2 Hours: $750

Additional hour: $150/block hr

⚡ Flash photography
Home studio @ Rochester Park
Pace of shoot: Slow
Deliveries
Up to 30 photos/hr
Basic Edit (exposure & colour correction)
Digital copies (high resolution JPG)
Photos selection in low resolution PDF
Special Requests/ Add-Ons
(Subject to availability)
Face to Face discussion:
Starting from +$100
Photographer to scout venue(s):
Starting from +$100
Additional photos (basic edit):
+$5/photo
Same-day photo edit (basic edit):
+$50/photo
Expedited photo edit (basic edit: 3 days after shoot):
+$50/hr booked
Advanced edit (skin retouching):
+$50/photo
Revision of photo edit (advanced edit):
+$15/photo
Privacy of photos:
+$100/hr booked
⚡ External Studio
Up to 1 Hour: $320
Up to 2 Hours: $420

Additional hour: $150/block hr

⚡ Flash photography
@ your booked external rental studio
Pace of shoot: Slow
Deliveries
Up to 30 photos/hr
Basic Edit (exposure & colour correction)
Digital copies (high resolution JPG)
Photos selection in low resolution PDF
Special Requests/ Add-Ons
(Subject to availability)
Face to Face discussion:
Starting from +$100
Photographer to scout venue(s):
Starting from +$100
Additional photos (basic edit):
+$5/photo
Same-day photo edit (basic edit):
+$50/photo
Expedited photo edit (basic edit: 3 days after shoot):
+$50/hr booked
Advanced edit (skin retouching):
+$50/photo
Revision of photo edit (advanced edit):
+$15/photo
Privacy of photos:
+$100/hr booked
Hairstyling & Makeup
$180 /Female
$120 /Male
1x Hair & Makeup Artist (HMUA)
Up to 1 hour
1 Look (Hairstyling for a neat look & Makeup)



Add-Ons

Follow through the photoshoot: +$70/hr

Details: makeup artists and hairstylists
+$300 to set up makeshift studio @ location of your choice
NOTE
⏳

All booked duration

Includes changing of equipment, wardrobe, makeup, hairstyle and travelling (if applicable) during the shoot.
📰

Please read

(1) Checklist for hiring a photographer, (2) FAQ and (3) Service Agreement and Privacy Policy before making enquiries.
💡

Ideas and advice

Will only be given to serious clients after a booking fee is being placed.


✆ Contact me now for a customised package tailored to your personal needs.
Surcharges
My photography packages are designed to help my clients save cost. I'm able to provide affordable photography rates because I don't include the additional services, which most clients don't need.

I have listed the common special requests from clients at the bottom of the packages. For the uncommon ones, do look through the full list of surcharges to avoid miscommunications.
Skai the Studio Photographer
Hey, what's up? Skai here, a Singapore-based studio photographer who's all about making you look great.

My journey in photography began with high-end portraits, where I learnt to master the art of flash photography. That's why I'm confident in delivering breathtaking shots that leave a lasting impression.

But what gets me going is bespoke photography. Every person is unique and I'm here to capture that individuality with personalised shoots that showcase their personality and style. So let's chit-chat and get to know each other before we start shooting.

I'm not one to settle for mediocrity, which is why I'm always on the lookout for fresh and innovative ideas to elevate your photos to the next level. Whether it's exploring unconventional angles or trying out new lighting techniques, I'm willing to take risks to create stunning, eye-catching shots.

If you're looking for someone passionate about photography and who will go above and beyond to create memorable images, then you've come to the right place. Let's make some magic together!
What Sets Skai Apart from Other Studio Photographers
Skai's Vision & Goals in Studio Photography
As a photographer who is passionate about studio photography services, my vision is to create unique and exceptional portraits that stand out from the rest. Unlike outdoor shoots, studio photoshoots offer a controlled environment and similar backdrops, which can result in similar-looking photos. However, I believe that every photoshoot has the potential to be unique and personalised.

For my lighting setup, I believe there's no one-size-fits-all approach. Every theme, subject, pose, angle and outfit requires its own unique lighting setup to truly shine. That's why I always take the time to carefully adjust my studio lighting to best suit the scenario at hand. Whether it's dramatic and moody, soft and romantic, or something in between, I'm dedicated to making sure that the lighting perfectly complements the subject and the vision for the shoot. It's all about creating that perfect atmosphere and bringing out the best in every shot.

With my experience and skills, I strive to capture the best possible shots in the studio. The controlled environment allows me to have full control over the lighting, background and other technical aspects of the shoot. I believe that this makes studio photography easier than outdoor shoots and it gives me the opportunity to create exceptional portraits every time.
How Skai Began Doing Studio Photography
I still remember the day when I first decided to explore portrait photography. I was eager to try it out in different places as I knew that I had to be versatile as a photographer to achieve my goals.

I arranged to collaborate with an aspiring model and makeup artist. But, the challenge was that I needed to find a place to set up my studio. Luckily, my relatives offered to lend me their living room. I was ecstatic and immediately started planning.

On the day of the shoot, I carried all my equipment over, which was quite far from my house. It was an energy-draining task but I knew it was worth it. However, to my dismay, the model was over an hour late. Fortunately, the results were better than I had expected. From then on, I didn't give up grabbing every opportunity to set up a makeshift studio for my shoots.

That first shoot was just the beginning and I continue to strive to improve and create unique and captivating studio work.
Why Skai Loves Doing Studio Photography
Whenever I'm ready for a photo studio shoot, I feel like a kid in a candy store with complete control over the lighting, background and overall ambience of the shoot. With this, I can explore my creativity and experiment with different lighting setups to achieve stunning shots that capture my client's unique personality.

Unlike outdoor shoots, where weather and other external factors can play spoilsport, I don't have to worry about a thing in the studio. Come rain or shine, day or night, I can work my magic and produce high-quality results that speak volumes.

Moreover, working in a studio provides me with a wider range of equipment and props to work with. I can set up a variety of backdrops, use different lighting techniques and incorporate unique props and accessories to create something truly extraordinary and one-of-a-kind.

Studio photography also offers the added advantage of privacy. Some clients may feel uneasy or intimidated when shooting in public spaces, and this is where a studio can work wonders. It provides a safe, private and comfortable environment where my clients can feel at ease and be themselves, leading to more natural, authentic and beautiful shots.
Skai's Studio Photography Experiences
Most professional photographers in Singapore don't own a studio, obviously due to high rental fees. The risk is too high for such an inconsistent job. Besides, the studio may not be fully utilised, unless the photographer is so popular that he can turn down other on-location jobs and simply focus on requests for studio shoots.

Most of the time, I personally prefer doing outdoor photoshoot to a studio photoshoot. That's where I can distinguish myself from most other photographers because I do carry and use professional lighting to create more impactful work that will differentiate them from others' work.

Nevertheless, there're demands for studio photoshoots, especially during seasons with extreme bad weather.
Borrowed living room
I did my first studio shoot in the living room of my relative's place. It was a 4-room HDB flat but since it was a corner unit, it was reasonably big. I used the light-coloured wall as a backdrop and lay a white cloth on the ground. I was using only an off-camera speedlite to pair it with the window light on the other side.
Dance studio
My second studio shoot experience was at a dance studio. The owner bought a (quite) white piece of cloth to cover the wall. I kept my speedlite mounted on top of my camera.
Makeup artist's studio
Then, I had an impromptu one at a makeup artist's studio, against the white wall. I used bounced flash as well.
Reflector at home
I tried using a small reflector as a backdrop and did a close-up selfie shoot at my house.
Gym
My friends were running a gym chain and I used one of the outlets near my house to set up my makeshift studio. I used the black wall and lay a piece of black cloth over the ground. By then, with the aid of a studio strobe, I was able to produce more drastic work. I had two shoots there.
Meeting room
My next studio shoot was done in a small meeting room. I used the projector screen as a backdrop. By then, I had two studio strobes but I set up only one due to time constraints.
Gym
As I had an on-location studio shoot at a residential place, I bought my backdrop system with a white backdrop and had a test shoot at the gym again to gauge my capability to work with a white backdrop.
3-room HDB flat
Next, with the new backdrop system, I set up a makeshift studio at an old 3-room HDB flat but the owner had the wall between the living room and bedroom knocked down and thus wider. The amount of equipment that I brought along to set up the makeshift studios for the full-body shot scared me as well.
HDB corridor
I did a few half-body shoots at my corridor. There was once when I was in a rush, I set up a makeshift studio at my house for a quick headshot before going outdoors for the main shoot.
Big hall
Then, I worked on a catalogue shoot with the full setup at a big hall. I started to encounter more difficulties and was thus inspired to improve and upgrade my equipment.
Makeup artist's studio on a hill
I had the experience of setting up the full studio at a makeup artist's studio. I put everything on a trolley and pushed it through a long park and then up the hill. It was far too exhausting.
Short-Lived Photography Studio at Buona Vista


In the year 2021, a friend lent me a space to set up a temporary photo studio. It was located at Buona Vista, around five minutes away from the Circle Line MRT station.

I spent nearly $100 and four days doing the painting work by myself. I spent hundreds more bucks buying three new studio strobes and other accessories. Then I moved all my studio equipment over. I made a trip down to set up and do a test shoot to finalise the best layout to utilise the space. I went to Toa Payoh to collect a donated designer bar stool and brought it over.

Unfortunately, the power supply of that part of the building went down and I made four wasted trips to try to settle it. The power outage lasted for over a month and I had to cancel two scheduled studio shoots. Eventually, my friend handed over the place back to the landlord.

Many friends feel pity over the hard work I have spent but it's a great learning experience for me.
My Home Studio @ Tanjong Pagar


After my brothers got their own places and moved out, I tried setting up a full-scale makeshift studio in my living room and it exceeded my expectation.

You will be amazed at how a small place can be converted into a studio. Nobody, except for the people (models and makeup artists etc) involved, can tell how small my home studio is.

My home studio can even accommodate two models for a duo shoot. However, similar to most photography studios, the full width of the backdrop is only three metres.

For a small-scale studio photoshoot with two-light, I spend at least two hours on average to get the studio up professionally. I have to move the furniture, and my mum's trophies, sweep the floor, set up the backdrop system, flatten the creases as much as possible and set up the lighting. I need another two hours, depending on the amount of equipment, to keep everything in my exhausted body at a slower pace.

Often, after setting up the studio and before beginning the actual photoshoot, I would be badly drained. The extra hours of hard work and sweat speak for the higher photography rates (additional one-time fee) when compared to my other high-end photoshoot packages.
Studio Photography in Singapore
In Singapore, studio photography is a popular choice for capturing precious moments and creating stunning visuals. There are a variety of studios available to cater to different needs and preferences. From self-photo studios for those who want to take their own portraits, to photoshoot studios for professional photographers, to standard photo studios that offer versatility, there's something for everyone.

For those graduating, graduation photo studios are available to help commemorate the special occasion. Product studios are perfect for businesses looking to showcase their products in the best possible light. Themed studios offer unique backdrops and props for a more personalised and creative shoot.

Wedding studios provide comprehensive photography and videography services for couples tying the knot. And for those who want a studio to call their own, rentable photography studios are available for short-term or long-term rental.

With so many options available, studio photography has become a convenient and affordable way to capture life's precious moments in Singapore. Whether it's for personal use or business purposes, studio photography has proven to be an effective way to create stunning visuals and lasting memories.
The Different Types of Photo Studios in Singapore
There are several types of photo studios, each with its own specific purpose and characteristics. Here are some of the most common types:
Portrait studio: A portrait studio is specifically designed for taking professional portraits of individuals, families or couples. The focus is on capturing the subject's personality, character and emotions through the use of lighting, poses and expressions. Portrait studios may have a variety of backdrops and lighting setups to create different moods and styles, but the emphasis is on the subject and their individuality.
Photoshoot studio: A photoshoot studio is a more versatile space that can be used for a variety of photography projects, including portrait photography. A photoshoot studio typically has a range of lighting equipment, backdrops and props to create different moods and styles for a photoshoot. Photoshoot studios are often used by professional photographers to conduct photoshoots for clients, including fashion shoots, product photography and editorial shoots. They may also have a dressing room and makeup area for models or clients.
Themed studio: A themed studio is designed to provide a unique and creative atmosphere for a photoshoot. It typically has one or more specific themes or concepts, such as vintage, classroom, bedroom or futuristic, and may include a range of props and backdrops to create a specific mood. Themed studios usually separate their premises into a few themes and they charge by per pax per hour. They will likely have to limit up to a certain number of customer at any time.
Graduation photo studio: A graduation photo studio is designed specifically for taking graduation photos, providing a range of backdrops and props to create different looks for graduates to choose from. Some graduation photo studios in Singapore may also include graduation gowns and caps for the graduates to wear.
Wedding studio: A wedding studio specialises in wedding photography, offering pre-wedding photography packages, actual-day wedding photography and video production services. They may also provide makeup and hair styling services for the wedding couple.
Product studio: A product studio specialises in product photography, providing a range of props and backgrounds to showcase the product in the best possible light. It may also have specialised lighting equipment to highlight the product's features and details. Some product studios in Singapore may also offer product styling and editing services.
Self-photo studio: A self-photo studio offers individuals a place to take their own photos or selfies without having to set up a studio at home. It provides a simple setup with basic lighting and backdrops to create a nice atmosphere for a photoshoot. Some self-photo studios may also provide props and other accessories to enhance the photos and may offer instant photo printing services or social media sharing options. Self-photo studios have grown popular in Singapore since Covid-19.
Rentable photo studio: A rentable studio offers space for rent and usually is inclusive of professional photography equipment. It's a fantastic way for photographers to have access to high-quality equipment and a space to work without having to fork over the dough to set up their studio. Rentable photo studios are popular among hobbyist photographers and models.
The Different Types of Lighting for Photo Studio
When it comes to lighting in a photo studio, there may be a variety of options to choose from. Each type of lighting has its own unique set of pros and cons that should be taken into consideration before making a decision. All kinds of lighting can provide good results, depending on the skill of the studio photographer.

The most professional photos studios will provide studio strobes for flash photography while some home studio may only provide natural light from the windows. Some photo studios may have a variety of choices.
Natural light: Natural light is the most obvious and readily available option. It's free, readily available and can produce some truly stunning results. However, it's also very unpredictable and can be difficult to control. You're at the mercy of the weather, the time of day and the direction of the sun. If it's a cloudy day, the light will be diffused and gentle, while on a bright sunny day, the light can be harsh and unforgiving. While natural light can be great for creating a relaxed and candid atmosphere, it can also be challenging to work with in certain situations. In a studio or indoor location, depending strictly on the natural light from the window means there will be some restriction in the angle of the shoot.
Continuous light: Continuous light, on the other hand, is a more consistent and predictable option. It allows you to see exactly what you're going to get before you take the shot. However, it can also be quite hot and uncomfortable for your subject to work under. Similar to studio light, continuous lights can be bulky and cumbersome, making it difficult to move around and adjust. Additionally, continuous lights can create a yellow or green cast on your photos if the colour temperature is not adjusted correctly.
Studio light: When it comes to lighting in photo studios, studio lights are considered the best of the best. These flashes, also called strobes, pack a powerful punch that can be tamed and tweaked to achieve a vast array of creative results. Plus, they are energy-efficient and generate less heat than their continuous light counterparts. But while they offer many benefits, studio lights come with a steep price tag, both in terms of purchasing and learning to use them effectively. They can also be quite intimidating for some subjects, as the bright flashes can be quite startling and overwhelming.
Reasons Why People Choose Studio Over Outdoor Photoshoot
There are people who strongly prefer either studio or outdoor photoshoot. The reasons why some people favour photo studios are:
Privacy
Most non-professional models are awkward in front of a third person. Whereas the outdoors will have passers-by and other visitors around.

In most photo studios, there won't be a third party around. This is especially important if the genre of the photoshoot is sensual, including art, boudoir and implied nudity.
Comfort
Walking around outdoors, regardless of the weather, would cause perspiration. For outdoor photoshoots, the team usually have to travel around to look for more interesting or suitable photography spots.

On the other hand, a studio photoshoot won't have these challenges.
Insect bites
Mosquitoes and sandflies can cause itchiness and scars. They usually exist a lot outdoors.
Focus: plain background
A plain background helps to divert all attention to the model. It, therefore, helps viewers to focus on the model instead of the background.

This is why studio photoshoots are essential for professional models' modelling portfolios.
Special theme
Some special themes may require setup and thus it's much easier to prepare the setting inside a photo studio.
Weather-proof
Rain or shine - it usually doesn't matter. There's no need to have a wet weather plan.
Timing
For an outdoor photoshoot, it's best to do it near the golden hour. However, it's not easy to wake up in the early morning and it may be crowded in the early evening. If the photoshoot were to be dragged, the golden hour would be missed.

For a studio photoshoot, the timing doesn't matter.
Better lighting
For most outdoor photoshoots, the photographers do work with natural light and the quality of the photographs depend on the weather. Even for high-end photoshoots that photographers would use professional lighting, the number of lighting used would be minimum. The photoshoot will still be subjected to the quality and quantity of sunlight.

A studio photoshoot usually involves professional studio strobes and light modifiers that can provide constant and good-quality lighting.

In fact, I've seen the work of some photographers who can produce reasonably good quality studio work but their outdoor photoshoots aren't to my liking.
No permit is required
For outdoor photoshoots, some places require an application for a permit. Often, things are not so straightforward. There were places that I thought were public but I was chased away.
Checklist for Renting a Photo Studio
When I was still an amateur in portrait photography, one of my clients booked a photo studio for her boudoir photoshoot and that's where I got to learn a lot about what to look out for when booking a photo studio.

Unfortunately, most of the time, you will only see the problems on the spot because the studio's website won't point out the flaws and restrictions; the owner may not even realise the flaws, to begin with.

This particular rectangular-shaped studio was spacious but poorly designed and maintained. The long stretch of the curtain was made of reflective material and the length is not long enough to cover the bottom, which allowed sunlight to enter. A part of the curtain near the backdrop was spoiled and thus allowing more of the noon sunlight to hit my model. Their website claimed it was a private studio but there was a CCTV inside; if it wasn't for my observation, the owner of the studio (his character was questionable, as reflected online) would have owned private video(s) of my client since she initially intended to take some implied nude shots. In the midst of the shoot, the female staff came in thrice to pick up items. The ground was dusty and the backdrop was old.
FAQs
What is the best time to schedule a photoshoot?
Currently, it's preferably to schedule it in the evenings for full privacy.
What should I wear for my studio photoshoot?
It depends on the type of shoot. Please discuss with me directly and take some full-body selfies so that it's clearer for me to judge.
Do you provide outfit for the studio photoshoot?
No. I have a huge variety of clients and I can't do it.
Can I bring props or accessories to the studio?
Certainly! Please discuss with me beforehand so that you won't waste your effort while I can have time to prepare for it.
Can I see the photos before they are edited?
For photos that require advanced editing, you have to select them before I start the real editing.
How long does it take to receive the edited photos?
It depends on various factors, including the type of editing, number of photos and my schedule. I can only give you a good estimation when the date is nearer. However, if you need the photos urgently, please state at the beginning of the enquiry. Do note that photo editing takes a lot of time and effort, and I don't give unsatisfactory work.
Do you provide hair and makeup services?
I do have a list of professional makeup artists for you to select. However, do note that each of them has her own rates.
Can I bring a friend or family member to the shoot?
Yes, however, it's best not to, since there's a high chance that it will reduce the quality of the results.
Conclusion
Studio photography is an art form that can create truly stunning and impactful images. It offers a level of control and versatility that is unmatched by outdoor photography, allowing for a more customized and tailored experience. From lighting to props to backdrops, a photo studio provides endless possibilities to create unique and eye-catching shots.

If you're looking for high-quality and personalised photography, then a studio shoot may be just what you need. Whether it's for a corporate or personal shoot, the controlled environment of a photo studio allows for more creativity and experimentation, resulting in images that truly capture the essence of the subject.

As a studio photographer with years of experience, I know how to bring out the best in my subjects and create images that will last a lifetime. If you're looking for bespoke photography that reflects your personality and style, then I encourage you to reach out to me. Let's work together to create something amazing that you'll cherish for years to come.