Art Implied Nude Photoshoot - Huiqing




As much as I was stunned with Huiqing's looks and figure, I was amazed with the trust she placed in me. Having deep trust was crucial for a photoshoot, especially for an art shoot.

On the other hand, having trust alone couldn't have created great art work without open-mindedness. I wasn't really expecting Huiqing to be someone who's into art simply based on her sweet looks - I was wrong fortunately.

Before the shoot, I casually asked her some difficult questions on her decisions in various situations. I was, in fact, very concerned about her plans.

Comparing to a nude shoot, an implied nude shoot was much more difficult for we had to find ways to cover sensitive areas; however, this also made implied nude shoot more interesting. On top of this, Huiqing had to pose elegantly while delivering the expression that created the artistic work; it wasn't easy for a non professional model.

On my part as the photographer, my biggest challenge was to guide her while maintaining social distancing. Fortunately, she was able to understand my instructions.

She showed her patience yet again as I took some time to adjust the positions and test the strobes.
If you appreciate my work, passion and character,
do show some support by following my
Instagram
&
Facebook
, both at
@skaichanphotography
.
If we have worked together before, do write me a
testimonial
!
Disclaimer for write-up
Other Art / Glamour Photoshoot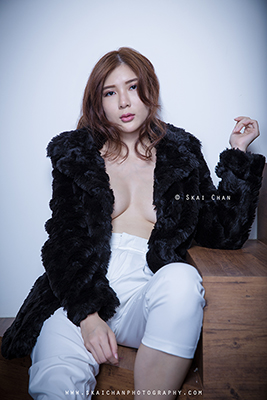 More
Art / Glamour
albums

View ALL albums