Wedding Photographer in Singapore
Quick Navigation:

What is a Wedding Photographer?
A wedding photographer is a professional photographer who specialises in capturing images of weddings and related events. Wedding photographers typically work on a freelance basis and are hired by couples to document their wedding day.

They may take a variety of photos, including formal posed shots of the couple, candid shots of the wedding party and guests, and detailed shots of the venue and decorations. Wedding photographers typically work closely with the couple to understand their vision for the day and to ensure that they capture the key moments and memories of the event.

Many wedding photographers also offer additional services such as engagement shoots, bridal portraits, and albums or prints of wedding photos.
Why are Wedding Photographers Important?
Wedding photographers are important because they help to capture and preserve the memories of a couple's special day. A wedding is a once-in-a-lifetime event, and a good wedding photographer will be able to capture the emotions, details, and memories of the day in a way that allows the couple to relive the experience through their photographs.

In addition to preserving memories, wedding photographers also play a crucial role in the overall aesthetic of the wedding. A professional photographer will be able to create beautiful, timeless images that the couple can treasure for years to come. They will also be able to help the couple to pose for formal shots and to capture candid moments that may be missed by friends and family.

Overall, wedding photographers are an important part of the wedding experience, helping couples to capture and preserve the memories of their special day.
Why Wedding Photography is the Best?
You will likely be hiring a professional hair and makeup artist for your wedding photography, especially for the wedding portrait and actual day wedding, to make you look great. Hence, you will likely look your best in your entire life for the wedding photoshoot.

Professional hair and makeup artists charge one of the highest rates for wedding photoshoots as the makeover will be extensive and detailed, and thus difficult. Even if you were to hire a hair and makeup artist in future for other kinds of photoshoots, it's unlikely that it will be better.

Since doing wedding photoshoots is a trend, it gives you and your partner a good official reason to do a photoshoot, especially if you are shy.

Therefore, wedding photography is the best kind of photography.
Why are Wedding Photographers so Expensive?
Question: Why wedding photography is expensive?

Professional wedding photographers are, in general, experienced photographers. Apart from photography skills, their photography knowledge will help to solve both foreseeable and unforeseeable problems. Therefore, they are of high value.

The stress level of wedding photography is higher and thus commands higher photography prices.

Wedding photography generally requires a longer duration (more editing work) than most other types of photography and thus many people see the total prices as expensive.

Most couples want their wedding portraits to be edited with skin retouching. Such photo editing requires skill, experience and an excessive amount of time to make the edited photos look natural. Thus, it's costly.
Are Wedding Photographers Worth It?
If you truly value your wedding photos, then hiring a professional wedding photographer is worth it.

Although you may think that you are not going to be viewing them every day and thus you don't need very good quality photos, they still live with you forever and a good memory is priceless.

Eventually, you will be uploading them onto your social media to share the happiness with your family and friends. You might be printing some of the wedding photos for the elderly in the family. Hence, many people are going to share the same beautiful memory with you.

Therefore, if you can invest a little more budget to get better-quality photos, do consider doing it.
How to Decide on a Wedding Photographer?
How to tell if a wedding photographer is good?

There's no foolproof way to tell if a wedding photographer is good. Perhaps, whatever is good or bad is all subject to personal definitions.

The best way to judge a wedding photographer is to view his entire portfolio and reviews.

How to pick a good wedding photographer?

Deciding on a wedding photographer seems difficult but it's very simple and straightforward.

You simply have to look through his portfolio to judge his photography style and quality of work. You may like to view his other photography portfolios as well, to see what he can accomplish.

A wedding photographer may be very good at his art but his work may not resonate with you.

Of course, check on his wedding packages thoroughly before you confirm with him for his wedding photography services.
Wedding Photography Services
Pre-Wedding Photography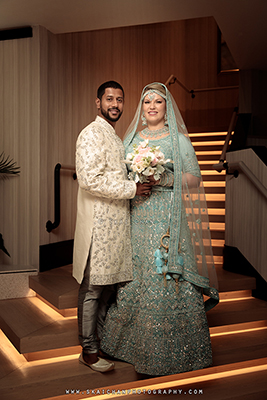 ▲
Wedding portrait photoshoot in hotel
Wedding photography includes pre-wedding photography (most common) and post-wedding photography. It's a trend for couples to create wedding portraits and celebrate their love and wedding.

Pre-wedding photography is usually done before the wedding banquet (actual day wedding) of a couple. The couple would then print an album using the wedding photographs to showcase to the guests during the wedding banquet. Of course, some couples may post wedding photographs on their social media profiles to share their love.
Wedding Proposal Photography
Wedding proposal photography is also known as surprise marriage proposal photography. Wedding proposals are usually planned events to seek approval from one's partner.
Wedding Betrothal Photography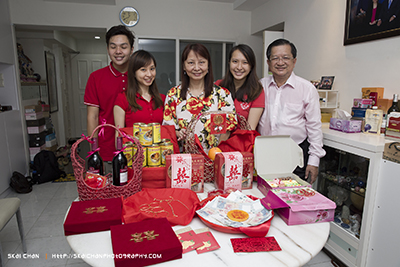 ▲
Wedding betrothal photoshoot
Wedding betrothal (Guo Da Li) photography is the documentation of an important traditional Chinese wedding custom that symbolises the groom's gratitude and sincerity, and the bride's family's acceptance of the groom. The groom will be bringing all the requested items over to the bride's house.
Solemnisation Photography
▲
Solmisation photoshoot at ROM centre
Solemnisation photography is the documenting of couples during their ceremonies of getting married legally by law, witnessed by one of the state's officials.

In Singapore, many people refer to solemnisation as ROM (registration of marriage). Solemnisation can be done either at the ROM centre at Fort Canning Park or a private venue.

Some couples may choose to do their solemnisation on the same day as the actual day wedding.
Actual Day Wedding Photography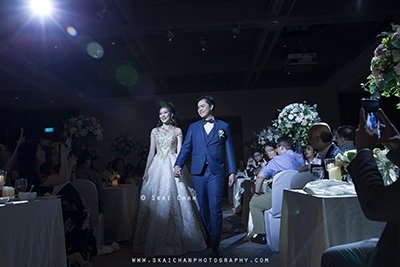 ▲
Actual day wedding photoshoot
Actual day wedding photography is also known as AD wedding photography and banquet photography. As the name says, it's the actual day of the wedding banquet to celebrate the wedding of the couple.
Wedding Photography Lighting
There are two types of lighting for wedding photography - Flashlight and natural light.

Both have their advantages and disadvantages.
Wedding Photography With Flash
Wedding photography with flash (professional lighting) is also known as high-end wedding photography. The effect created can be phenomenal.

Flash can soften or remove shadows. It can also make the pictures look 3D. With the help of flash, the wedding photographer can control the exposure of both the subjects and the overexposed background, such as the sky. It, therefore, allows photographing against the sun or any strong light source.

On the other hand, hard light can make the subjects look extremely bad. This is the reason why professional photographers would add light modifiers to make the light source big and thus create a soft light.

Light modifiers are bulky and heavy, and thus more difficult to handle.
Wedding Photography Without Flash
Wedding photography without flash is known as natural light or ambient light photography.

Natural light refers to sunlight. Ambient light refers to light from the street lamp or ceiling.

Generally, most people are more used to natural light.

However, natural light photography depends a lot on the weather for outdoor photoshoots. There is also a limitation in the direction of photography, which means you may not be able to photograph yourself with some backgrounds, likely due to backlighting.
Low Light Wedding Photography Without Flash
Low light means the venue is dim. This makes photography extremely challenging. In the situation that flash isn't available, photography can be extremely difficult.

Firstly, the autofocus system in the camera requires light to work. When it's lacked light, it will take a much longer time to focus on the subject, known as the focus hunt; or in the worst case, it will focus wrongly.

Low-light wedding photography without flash is possible with the help of high ISO, low shutter speed and large aperture. Unfortunately, this will result in photos with grains (noise), blurred images due to movements and also a shallow depth of focus, such that one of the subjects may not be in focus.
Recommendation
I always lean towards flash photography because it will make your wedding photography more unique. I mean why would you choose to be normal (like everyone) when you have the chance to be special in a good way?

If flash photography isn't possible due to terrain, weather or time constraint, it can be switched to natural light photography; in contrast, if you have opted for natural light wedding photography and the situation requires the use of flash photography, your photographer won't have the necessary lighting equipment.
Wedding Photography Poses
There are two kinds of wedding photography poses for couples - traditional and lifestyle. Different people may further categorise them.

Traditional wedding poses are the standard kinds of poses, which are more staged and safe.

I prefer lifestyle poses that are non-posey, which I feel are more natural.

However, when couples feel lost for a moment, I have to step in to suggest some poses to keep the flow going. Over time, they would be able to create more natural poses on their own.
Wedding Photoshoot Locations
Wedding photoshoots can be done at any location of the couples' choices, such as a forest, park, reservoir, tourists' attraction, street, airport, hotel, home, restaurant, photography studio... etc.
Best wedding photoshoot locations in Singapore
Changi Airport
Singapore Botanic Gardens
Fort Canning Park
Coney Island
Gardens by the Bay
Marina Barrage
East Coast Park (ECP)
Marina Bay Sands (MBS)
Upper Seletar Reservoir Park
You should check out other popular wedding photography locations!
Wedding Photography Equipment
Which Camera for Wedding Photography?
There are many different camera brands, such as Canon, Sony, Nikon, Leica, Fujifilm, Pansonic, Olympus, Hasselblad, Minolta, and Kodak.

Every camera brand has its forte and there's no best brand or camera model. Photographers pick the brand and camera model mainly because of the features and prices.

For DSLR cameras, there are two main types - full-frame and APS-C cropped sensors. At the minimum, a full-frame sensor is important for wedding photography because of its low-light capability.
Which Lens for Wedding Photography?
There's no best wedding photography lens. Different photographers prefer different lenses because every lens has its characteristics.

Some photographers love prime lenses while some prefer zoom lenses. Thus, it depends on the photographer's photography style.

However, the quality of the lenses does matter. For example, Canon has lenses that are labelled as "L" lenses. They usually use better glasses and mechanisms and thus can help to produce sharper photos.
Wedding Photography Editing
Can wedding photographers photoshop?

Yes, most professional wedding photographers do edit wedding photographs before delivering them to the clients. Unedited photographs don't represent the photographers' work.

However, do take note of the different photography editing styles as they require a different amount of effort and the prices will be different.

Wedding photography editing styles

There are three types of wedding photography editing styles and different wedding photographers may use different terms for them.

I call them basic, advanced and extreme editing.

Basic editing refers to colour tone and exposure correction to create the mood intended by the photographer.

Advanced editing refers to skin retouching, on top of basic editing. Different photographers will do skin retouching differently and the results can be drastically different. Making the photos look natural (unedited) takes much more effort and time, and thus the photographer would charge higher.

Extreme editing includes adding and removing people or items on the photos. That includes the removal of photobomb(s) from the photos. However, not all requests can be done.

Eventually, the less editing work is done, the more natural the photos would look and fewer flaws will be discovered.

Do wedding photographers edit all photos?

Many photography packages would state the number of "edited photos" without mentioning the style of editing. This is a grey area.

In general, photos taken during wedding events, for example, ROM and banquet, would only be enhanced using basic editing. This is because the number of photos taken during events is a lot and thus impossible to do advanced editing for them.

For pre-wedding portrait photoshoots, the wedding photographers would charge by the number of "edited photos" that the client wants. I would highlight that it would be advanced editing so that my clients won't be short-changed.
Prices & Packages for Pre-Wedding Photography
🌞 Professional
Up to 1 Hour: $280
Up to 2 Hours: $380 $450

Additional Hour: $150/block hr
Deliveries
Basic Edit (exposure & colour correction)
Digital copies (high resolution JPG)
Up to 40 photos/hr
Photos selected by Photographer
Special Requests/ Add-Ons
Get back remaining good photos:
+$50/hr booked (subject to availability)
Same-day photo edit:
+$50/photo (subject to availability)
Expedited photo edit (3 days after shoot):
+$50/hr booked (subject to availability)
Privacy of photos: +$50/hr booked
Advanced edit (skin retouching) for photos: +$50/photo
⚡ High-End
Up to 1 Hour + 1 photo: $350
Up to 1 Hour + 5 photos: $550
Up to 2 Hours + 10 photos: $900

Additional Hour: $150/block hr
Additional photos: $50/photo
⚡ Flash photography (one-light set-up)
🌞 Use of natural light when necessary
Pace of shoot: Slow
Deliveries
Advanced Edit (skin retouching)
Digital copies (high resolution JPG)
Photos selection in low resolution PDF
Special Requests/ Add-Ons
Additional lighting set-up: +$50/light
Revision of photo edit: +$15/photo
Expedited photo edit (3 days after shoot):
+$35/photo (subject to availability)
Privacy of photos: +$100/hr booked
Wedding Hairstyling & Makeup
$250 /Female
$120 /Male
1x Hair & Makeup Artist (HMUA)
Up to 1.5 hour
1 Look (Hairstyling & Makeup)


Follow through the photoshoot: +$60/hr
(subject to availability)
Details: Hair & Makeup Artist (HMUA)
NOTE
⏳

All booked duration

Includes changing of equipment, wardrobe, makeup, hairstyle, and travelling (if applicable) during the shoot.
📰

Please read

(1) Checklist for hiring a photographer, (2) FAQ and (3) Service Agreement before making enquiries.
💡

Ideas and advice

Will only be given to serious clients after a booking fee is being placed.


✆ Contact me now for a customised package tailored to your personal needs.
FAQs
What's the difference between engagement and wedding?
Engagement refers to the period between when a couple gets engaged and when they get married. This typically includes the planning of the wedding and the celebration of the engagement. The engagement period is often marked by the exchange of rings, the announcement of the engagement, and the celebration with family and friends.

On the other hand, a wedding refers to the ceremony and celebration of the marriage of a couple. This typically includes the exchange of vows, the exchange of rings, and the celebration with family and friends. The wedding day is often considered one of the most important and memorable days in a person's life.

While the terms "engagement" and "wedding" are often used interchangeably, they refer to two distinct events in a couple's relationship. Engagement typically refers to the period leading up to the wedding, while the wedding refers to the actual ceremony and celebration of the marriage.
Do wedding photographers own your photos?
By law, whoever clicks on the shutter button will own the copyright to the photos. That means although you are paying the wedding photographer to take your photos, they still own the photos unless otherwise, agreed by both of you.

Photographers do need the photos to do their marketing and advertising, or at least to showcase to their followers that they are still providing photography services. Do read the photographer's service agreement properly before hiring him.

If you need privacy, you may discuss it with him. Some photographers do charge you an additional amount of money to compensate for that.
How to get cheap wedding photography?
If the quality of wedding photos isn't a concern to you at all, you can get a friend to do it for you.

Another way is to approach different bridal studios to check their wedding photography rates. Many bridal studios do hire freelance photographers at ridiculously low photography rates and thus they will be able to sell you wedding photography packages at very low prices.

The final way is to go to social media, such as Facebook Groups, and make a request. There will be many hobbyist photographers who will try to grab the opportunity. Of course, no professional photographer will take up jobs at a very low rate and don't expect much for the photo quality. You will also be taking a big risk that the cheap photographer will cancel the job at the very last minute.
Do wedding photographers make good money?
For photographers, the highest paying photography jobs come from corporate/ commercial and wedding.

For other types of photography, it's either the projects' durations are too short or the pay isn't as great.

Both commercial and wedding projects usually require high-quality work and thus, by right, they should allocate a higher budget for the photography.

In terms of duration, depending on individual projects, some jobs may need lots of effort from the photographers. Therefore, securing a single job may be able to fill up many time slots.

Although wedding and corporate photography do fetch a higher income for professional photographers who don't undercut the market, the amount of effort they have to spend for every job is high and thus doesn't consider as good money.

To use an analogy, if you have a high-paying office job but you have to work overtime every day, will you rather choose a slightly lower pay office job that you can leave on the dot every day?

It's a personal preference. Or perhaps, depending on the circumstances of the individuals.
What do wedding photographers wear?
It depends on the kind of wedding photoshoot.

Most photographers will wear dark colour outfits, especially for wedding events. This is because there may be many reflective surfaces at the event venues. Dark-coloured outfits will make them less obvious in case they appear in the reflections.

Some wedding photographers take pride in their styling and they want to command a very professional image to gain the trust of their clients. Thus they will dress up in formal wear even for wedding portraits. Of course, for wedding event photography, such as Solemnising or an actual day wedding, they will dress up in very formal clothes.

I prefer to stay as casual as possible because I believe the most crucial thing is the quality of the wedding pictures. Thus, I have to keep myself most comfortable and be ready to run whenever necessary to get to capture good photos. My top's colour is usually dark blue (ask me if you are curious why).

I believe the final photos that my clients upload online will be able to draw the interest of my potential clients (the clients' families and friends).

For wedding portrait photoshoots, I will likely be in a t-shirt, shorts and sandals. For wedding events, I can't draw too much attention due to my (casual) outfit and I also have to show respect to the couples; hence, I will have to wear long pants or jeans.