Wedding Photographer in Singapore
Quick Navigation:
What is Wedding Photography?
Wedding photography is a specialised field of photography that focuses on capturing the cherished moments and emotions of a couple's wedding day. A wedding photographer is entrusted with the task of immortalising the essence of this once-in-a-lifetime event through their expert lens and artistic vision. Their primary objective is to document the various aspects of the wedding, from the pre-ceremony preparations to the solemn exchange of vows, the joyous celebrations and the heartfelt interactions between the couple and their guests.

The uses of wedding photography are multifaceted and enduring. Firstly, these captured images serve as treasured mementoes for the couple and their families, allowing them to relive the magical moments of their special day for years to come. These photographs also play a vital role in preserving family legacies and heritage, passing down the memories of the wedding to future generations. Additionally, wedding photography has become a significant form of artistic expression, with photographers employing their creative skills to craft breathtaking compositions that evoke emotions and tell a captivating visual story.
Wedding Photography Services in Singapore
I offer a comprehensive range of wedding photography services, ensuring that every aspect of your special day is beautifully captured and preserved. From intimate portraits showcasing the couple's love to documenting joyous events and celebrations, I bring my expertise and passion to creating meaningful, high-quality imagery.

Whether it's the heartfelt exchange of vows, the touching interactions with family and friends or the enchanting moments on the dance floor, my goal is to capture the essence of your wedding day in an authentic and timeless way.
Pre-Wedding Photography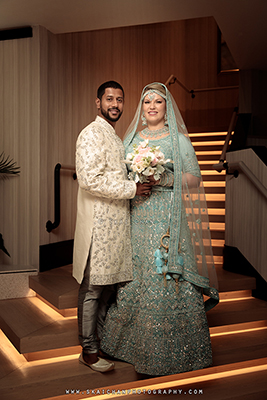 ▲
Wedding portrait photoshoot in hotel
Pre-wedding photography is a popular trend where couples have a photoshoot before their actual wedding day. These romantic and artistic portraits celebrate their love and create beautiful images that can be shared with family and friends. Couples often print an album to showcase during the wedding banquet and may also share these photographs on their social media platforms.
Wedding Proposal Photography
Wedding proposal photography, also known as surprise marriage proposal photography, captures the heartwarming moment when one partner proposes to the other. It's a planned and secretive event, seeking approval and delight from the partner. The photographer discreetly documents this precious occasion, ensuring the emotions and joy are forever preserved.
Wedding Betrothal Photography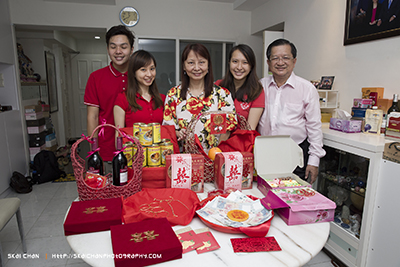 ▲
Wedding betrothal photoshoot
Wedding betrothal photography, known as "Guo Da Li" in Chinese culture, documents an essential traditional custom symbolising the groom's gratitude and sincerity. It represents the bride's family's acceptance of the groom and involves the groom bringing requested items to the bride's house as part of the betrothal ceremony.
Solemnisation Photography
▲
Solmisation photoshoot at ROM centre
Solemnisation photography captures the legal marriage ceremony of a couple, overseen by a state official. In Singapore, this is often referred to as ROM (registration of marriage) and can take place at the ROM centre in Fort Canning Park or a private venue. Some couples choose to combine their solemnisation with their actual wedding day celebrations.
Actual Day Wedding Photography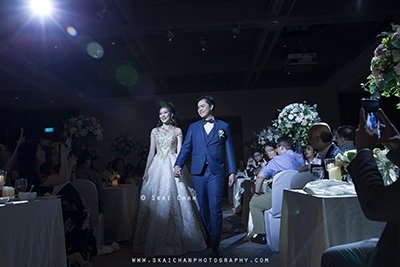 ▲
Actual day wedding photoshoot
Actual day wedding photography, also known as AD wedding photography and banquet photography, documents the couple's wedding day celebrations, including the wedding banquet. It captures the joyous moments, emotions and interactions between the couple and their guests as they come together to celebrate their union.
Second Shooter at Wedding
Having a second professional photographer at a wedding event, especially during the wedding banquet, is a valuable addition. The second shooter captures behind-the-scenes pictures, candid moments and different perspectives throughout the day, ensuring comprehensive coverage and adding depth to the visual narrative of the couple's wedding day. This results in a more dynamic and enriched collection of photographs that truly reflects the essence of the occasion.
Solo Bridal Photography
▲
Solo bridal photoshoot
Solo bridal photography is a unique subcategory within wedding photography (and fashion photography), catering to single ladies who desire the experience of wearing a wedding dress or gown. It provides an opportunity for these individuals to feel the joy and elegance of being a bride, even without a wedding celebration planned. Whether it's a personal experience, a showcase for bridal studios or designers to exhibit their exquisite creations or a solo shoot when the groom isn't available, solo bridal photography creates a beautiful and empowering experience for the bride-to-be.
Testimonials: What Clients Say about Skai


"We engaged Skai to photograph our wedding this month - we couldn't be more happy with the pictures he took. He has an excellent eye for detail and managed to capture all the special moments of our wedding without getting in the way of our celebrations. This is the second time we've engaged Skai and we would definitely engage him again in future. Thanks very much Skai." - Michael Crowe
If you're considering booking a wedding photographer, I encourage you to take a few moments to look through my testimonials. Reading through the experiences and feedback of my previous clients is a fantastic way to understand not only my photography services but also who I am as a person and a professional.

I know it can be a daunting task to choose a photographer for your big day, but I believe that my testimonials will give you the reassurance and confidence you need to make the right decision. You'll see first-hand how I've gone above and beyond for my clients, capturing their special moments with high-quality and bespoke photography.

So please, take a look at my testimonials and see why my clients have consistently rated my services as exceptional. I am confident that after reading through them, you'll have a better understanding of who I am as a photographer and the kind of experience I can provide for your wedding day.
Booking Information
Hey there, interested in booking a social media photography session with me? Great choice! Let me give you all the information you need to get started.
Contact me with the purpose: Firstly, to book a social media session with me, simply head to my contact page where you can find the link to text me via WhatsApp. Please indicate your purpose and the package you are interested in, or otherwise, I may mistake your text as a spam.
Consultation: We will have a consultation to discuss the type of event, the date, location and your preferred style of photography. This will help me understand your vision and see if we are a perfect match. We will also go over the package options and pricing. However, do note that I will only provide advices and suggestions after you have confirmed and booked my services officially.
Place deposit: To secure your booking, a 50% non-refundable deposit is required. Once your deposit is received, your date and time will be reserved exclusively for you.

Don't worry, I'll send you all the necessary payment details when you decide to book with me. Payment can be made via PayNow or PayPal (PayPal requires extra fee).

The remaining balance is due on the day of the photoshoot.
Remember that it's best to book my photography services in advance to ensure availability. So don't hesitate to contact me as soon as possible to secure your date!
Prices & Packages for Pre-Wedding Photography
Quick explanation: The most considerable portion of my photography cost is calculated based on the (1) duration booked, (2) equipment required (natural light/ flash), (3) type of editing (basic/ advanced) and (4) extensiveness of planning required.

Please read the full explanations so that you can make a better decision.
🌞 Natural Light Photography
Up to 1 Hour: $320
Up to 2 Hours: $420 $450

Additional Hour: $150/block hr
Deliveries
Up to 30 photos/hr
Basic Edit (exposure & colour correction)
Digital copies (high resolution JPG)
Photos selection in low resolution PDF
Special Requests/ Add-Ons
(Subject to availability)
Face to Face discussion:
Starting from +$100
Photographer to scout venue(s):
Starting from +$100
Shoot at beach/ sandy/ dirty venue:
Starting from +$50
Additional photos (basic edit):
+$5/photo
Same-day photo edit (basic edit):
+$50/photo
Expedited photo edit (basic edit: 3 days after shoot):
+$50/hr booked
Advanced edit (skin retouching):
+$50/photo
Revision of photo edit (advanced edit):
+$15/photo
Privacy of photos:
+$100/hr booked
⚡ Flash Photography (High-End)
Up to 1 Hour: $450
Up to 2 Hours: $600

Additional Hour: $150/block hr

⚡ Flash photography (one-light set-up)
🌞 Use of natural light when necessary
Pace of shoot: Slow
Deliveries
Up to 30 photos/hr
Basic Edit (exposure & colour correction)
Digital copies (high resolution JPG)
Photos selection in low resolution PDF
Special Requests/ Add-Ons
(Subject to availability)
Face to Face discussion:
Starting from +$100
Photographer to scout venue(s):
Starting from +$100
Shoot at beach/ sandy/ dirty venue:
Starting from +$50
Additional lighting set-up: +$50/light
Additional photos (basic edit):
+$5/photo
Same-day photo edit (basic edit):
+$50/photo
Expedited photo edit (basic edit: 3 days after shoot):
+$50/hr booked
Advanced edit (skin retouching):
+$50/photo
Revision of photo edit (advanced edit):
+$15/photo
Privacy of photos:
+$100/hr booked
Wedding Hairstyling & Makeup
$250 /Female
$120 /Male
1x Hair & Makeup Artist (HMUA)
Up to 1.5 hour
1 Look (Hairstyling & Makeup)


Follow through the photoshoot: +$70/hr

Details: Hair & Makeup Artist (HMUA)
NOTE
⏳

All booked duration

Includes changing of equipment, wardrobe, makeup, hairstyle and travelling (if applicable) during the shoot.
📰

Please read

(1) Checklist for hiring a photographer, (2) FAQ and (3) Service Agreement and Privacy Policy before making enquiries.
💡

Ideas and advice

Will only be given to serious clients after a booking fee is being placed.


✆ Contact me now for a customised package tailored to your personal needs.
Surcharges
My photography packages are designed to help my clients save cost. I'm able to provide affordable photography rates because I don't include the additional services, which most clients don't need.

I have listed the common special requests from clients at the bottom of the packages. For the uncommon ones, do look through the full list of surcharges to avoid miscommunications.
Skai the Wedding Photographer
Hey there, lovebirds and photography enthusiasts! I'm Skai, your go-to professional wedding photographer here in sunny Singapore. With a heart brimming with passion and an unyielding love for capturing life's most treasured moments, I've dedicated myself to the art of wedding photography.

As a seasoned and experienced photographer, I pride myself on delivering high-quality and meaningful work that resonates with each couple's unique love story. My lens becomes a magical window, freezing time and preserving the raw emotions, laughter and tears that make weddings so special.

Nothing brings me greater joy than crafting eye-catching and flattering images that truly capture the essence of love. From the breathtaking pre-wedding shots to the heartwarming solemnisation and the jubilant celebrations of the actual day, I pour my heart and soul into every click.

I believe in the power of lighting and artistic vision to make subjects shine and come alive in three-dimensional beauty. My goal is not only to create stunning photographs but to weave an emotive narrative that tugs at heartstrings and paints a vivid picture of love's journey.

With me as your photographer, you'll not only get someone who anticipates and solves potential problems with finesse but also a friendly and compassionate companion who values your comfort and trust above all. I cherish friendship over money and my dedication lies in making your wedding photography experience as seamless, enjoyable and unforgettable as your big day itself.

So, if you're ready to embark on this photography adventure with me, let's create memories that will stand the test of time and continue to warm your hearts for generations to come. I can't wait to capture your love story in all its dazzling glory! Let's make magic together.
What Sets Skai Apart from Other Wedding Photographers
As a wedding photographer, I believe that what sets me apart from others in the industry is my commitment to providing high-quality work and bespoke photography services that capture the essence of each couple's unique love story. Here are some key points that showcase why I stand out:
High-quality work: I am dedicated to producing outstanding images that tell a beautiful story of the couple's special day. I have years of experience and expertise in using the latest technology and techniques to produce stunning, professional-grade images that stand out from the crowd.
Bespoke photography: No two couples are the same, and neither should their wedding photos be. I take the time to get to know all couples, their personalities and what they want from their wedding photos. I work with them to create a bespoke photography concept that caters to their specific needs and desires, resulting in unique photos that reflect their personalities.
High-end lighting (flash): Lighting is essential for creating stunning photos and I invest in high-end lighting equipment to ensure that every shot is well-lit and beautifully composed. I use flash photography to create stunning and dramatic images that capture the essence of the moment.
Communication skills: Clear communication is essential for a successful wedding photography experience and I take pride in my ability to communicate effectively with couples. I listen carefully to their needs, answer any questions they may have and provide regular updates throughout the photography process to ensure they are happy with the results.
Fair pricing: I believe that everyone should be able to afford high-quality wedding photography and I strive to keep my pricing fair and transparent. I offer a range of packages to suit every budget and I am always happy to discuss bespoke options for couples who have unique needs.
In conclusion, my dedication to high-quality work, bespoke photography, high-end lighting, communication skills and fair pricing are what set me apart from other wedding photographers in Singapore. I am passionate about creating stunning and unique images that capture the essence of each couple's love story, and I would be honoured to be a part of your special day.
How Skai Began Doing Wedding Photoshoots
Well, my journey into the world of wedding photography started with a humble beginning. It all began when some close friends of mine were getting married, and they asked if I could do the photography for their ROM and actual day wedding. Being the enthusiastic and camera-loving soul that I am, I eagerly agreed to take on the challenge. Little did I know that this simple act of kindness would set me on a path filled with love, laughter and unforgettable memories.

After capturing those precious moments for my friends, I couldn't resist sharing some of my portrait work on Facebook. You know, just to spread a little joy and maybe get a pat on the back or two. To my surprise, my portraits caught the attention of some new faces - potential clients, you could say! They saw my passion shining through those pictures and approached me to capture their pre-wedding portraits. It was a heartwarming moment, knowing that my work resonated with others and I gladly took on the opportunity to be a part of their special journeys.

As the days turned into months and my portfolio grew, something magical happened. Word got around and more and more folks reached out to me for various kinds of wedding shoots. It was like a beautiful ripple effect, spreading across different races and religions. I found myself capturing the diverse tapestry of love stories, each one unique and precious in its own way.

And so, my love for wedding photography blossomed and flourished with every click of the shutter. From capturing heartfelt ROM ceremonies to immortalising the joy of actual day celebrations, I was living my passion, one click at a time. It's a journey that continues to fill my heart with joy and I feel deeply grateful for every opportunity to be a part of these beautiful love stories.
Why Skai Loves Doing Wedding Photoshoots
Wedding photography is not just a job to me - it's my passion and calling. As a professional photographer based in Singapore, I have had the privilege of capturing some of the most memorable moments in people's lives and there's nothing quite like the feeling of being able to freeze those moments in time for eternity.

One of the reasons why I love doing wedding photography is because of the sheer joy and happiness that surrounds a wedding day. The atmosphere is electric and there's so much love and positive energy in the air. I may be naïve but I truly believe happiness is contagious. As a photographer, it's an honour to capture all these emotions and tell the story of the couple's special day through my lens.

The realm of wedding photography also offers boundless opportunities for artistic expression. Each wedding is a unique canvas, and I relish the chance to explore my creativity, experimenting with various lighting techniques and seeking the perfect compositions. It is a constant voyage of discovery, allowing me to create images that are not just aesthetically pleasing but deeply meaningful to the couple.

Perhaps, the most rewarding aspect of wedding photography, however, is the opportunity to connect with people on a deep level. Working closely with a couple and understanding their vision for their special day is incredibly fulfilling and I always strive to create a comfortable and relaxed environment for them to feel at ease in front of the camera. Building these connections with my clients is truly what makes my job so special.

At the end of the day, wedding photography is more than just taking pretty pictures - it's about capturing memories that will last a lifetime. It's about telling a story and evoking emotions that will be cherished for years to come. As a professional photographer in Singapore, I am honoured to be able to do what I love every day and I can't imagine doing anything else.
Tips & Tricks for Wedding Photoshoots
Wedding Photography Poses
When it comes to couples, we have two distinct categories - traditional and lifestyle poses. While some may further categorise them, these two styles form the foundation of capturing the beautiful essence of love on that special day.

Firstly, we have the classic and timeless traditional poses. These are the tried-and-true poses that exude elegance and grace, giving the images a polished and refined feel. Staged with meticulous precision, these poses ensure that every moment is beautifully framed and artistically composed.

On the other hand, my preference lies with the enchanting lifestyle poses. These candid and non-posey shots capture the natural interactions between the couple, evoking genuine emotions and showcasing their love in its purest form. It's about freezing those fleeting, heartfelt moments that truly reflect the couple's unique connection.

However, there are instances when couples may feel a bit unsure or hesitant in front of the camera. In such situations, it becomes my responsibility to step in as the guide, suggesting poses that maintain the flow and authenticity of the shoot. As they become more at ease with the process, they gradually develop their own natural and endearing poses, adding a personal touch to the visual narrative.

The beauty of wedding photography poses lies in the art of balance - striking the right mix between traditional elegance and spontaneous charm. Through gentle direction and a supportive approach, I aim to create a seamless and enjoyable experience for the couple, ensuring that their love story is immortalised in a collection of breathtaking images that they will cherish for a lifetime.
Wedding Photoshoot Locations
Wedding photoshoots can be done at any location of the couples' choices, such as a forest, park, reservoir, tourists' attraction, street, airport, hotel, home, restaurant, photography studio... etc.
Best wedding photoshoot locations in Singapore
Changi Airport
Singapore Botanic Gardens
Fort Canning Park
Coney Island
Gardens by the Bay
Marina Barrage
East Coast Park (ECP)
Marina Bay Sands (MBS)
Upper Seletar Reservoir Park
You should check out other popular wedding photography locations!
Wedding Photography in Singapore
Singapore is a beautiful and vibrant city with a rich cultural heritage and it's no wonder that it's a popular destination for weddings. As a result, the demand for wedding photography services has grown tremendously over the years, and there are now numerous professional photographers who specialise in capturing the perfect moments of your special day.

Wedding photography in Singapore typically covers a range of services, including pre-wedding photoshoots, actual day wedding photography and post-wedding photography.

Pre-wedding photoshoots are a popular choice for many couples in Singapore, as it allows them to capture beautiful memories before the wedding day itself. These photoshoots usually take place at scenic locations around Singapore such as gardens, parks and beaches, or even overseas destinations. The photos from pre-wedding shoots can be used for wedding invitations, save-the-date cards and even as part of the wedding decor.

On the actual wedding day, photographers are typically hired to capture the key moments of the day, from the bride and groom getting ready, to the solemnization ceremony, to the reception and dinner. Experienced photographers will know how to capture these moments in a natural and unobtrusive way, while still creating beautiful and memorable images.

Post-wedding photography, also known as bridal portraits, is another popular service offered by wedding photographers in Singapore. These photoshoots typically take place after the wedding day itself and are a chance for the bride and groom to get dressed up in their wedding attire once again and take stunning photos in a more relaxed and comfortable setting.

Overall, wedding photography in Singapore offers a diverse range of services that cater to the needs and preferences of each couple. Whether you're looking for traditional and classic photography or something more modern and edgy, there are many talented and experienced photographers who can capture your special day in the most beautiful way possible.
What is Wedding Photography also Known as?
Wedding photography is known by various synonymous terms in the industry, each highlighting different aspects of the craft. Some of these terms include bridal photography, marriage photography, nuptial photography and wedding day photography. Irrespective of the name, the essence remains the same: to encapsulate the love, happiness and essence of the couple's union, creating timeless images that encapsulate the essence of their journey together.
What is a Wedding Photographer?
A wedding photographer is a professional photographer who specialises in capturing images of weddings and related events. Wedding photographers typically work on a freelance basis and are hired by couples to document their wedding day.

They may take a variety of photos, including formal posed shots of the couple, candid shots of the wedding party and guests, and detailed shots of the venue and decorations. Wedding photographers typically work closely with the couple to understand their vision for the day and to ensure that they capture the key moments and memories of the event.

Many wedding photographers also offer additional services such as engagement shoots, bridal portraits and albums or prints of wedding photos.
Why are Wedding Photographers Important?
Wedding photographers play a significant role in the realm of weddings due to their ability to capture and preserve the cherished memories of a couple's special day. A wedding is an occasion of profound significance and a skilled photographer possesses the artistry to encapsulate the emotions, intricacies and joyous moments in a way that allows the couple to relive the experience through their photographs.

Beyond memory preservation, wedding photographers hold a pivotal position in enhancing the overall aesthetic of the wedding celebration. Their expertise enables them to craft stunning, timeless images that become treasured heirlooms for the couple. Additionally, their guidance during formal poses and skill in capturing candid, heartfelt moments ensures that no precious aspect of the wedding goes unnoticed or undocumented by friends and family.

In essence, wedding photographers serve as invaluable storytellers, capturing the essence of a couple's love story and transforming it into a visual narrative that will be cherished for generations to come. Their artistry and dedication contribute immensely to the wedding experience, enabling couples to forever hold on to the precious memories of their extraordinary day.
Wedding Photography With & Without Flash
Wedding photography is all about capturing those beautiful and special moments that you will cherish for a lifetime. As a professional wedding photographer, I am often asked about the use of flash (high-end photography) during wedding photography. The question is whether it is necessary to use flash or if natural light can suffice. The answer to that question is not straightforward, as both options come with their own set of benefits and limitations.

Using flash during a wedding photography shoot can have several benefits. It provides more control over the lighting conditions, making it possible to capture stunning images even in low-light conditions. This is especially important for indoor wedding venues, where the lighting can be challenging. Additionally, using flash can help highlight the couple's features and add depth to the image. It can also create beautiful and dramatic effects that are not possible with natural light.

On the other hand, some photographers prefer to capture wedding photos without flash. They rely on the natural light available at the venue, which can create a softer and more romantic feel to the photos. Shooting without flash can also create a more candid and natural look and feel, which many couples prefer. Moreover, not using flash can also reduce the distraction and disturbance caused by the flash's bright light during the wedding ceremony.

As a professional wedding photographer, I believe in using the right tool for the job and that includes using flash when necessary.

I do lean towards flash photography because it will make your wedding photos more unique. I mean why would you choose to be normal (like everyone) when you have the chance to be special in a good way? If flash photography isn't possible due to terrain, weather or time constraint, it can be switched to natural light photography; in contrast, if you have opted for natural light wedding photography and the situation requires the use of flash photography, your photographer won't have the necessary lighting equipment.

On the other hand, I also recognise the importance of capturing the essence of the wedding day, and I strive to use natural light wherever possible to create stunning and timeless images. I understand that each wedding is unique and I tailor my approach to suit the couple's preferences, the venue and the lighting conditions.

In conclusion, the use of flash during wedding photography is a personal preference that depends on the photographer's style, the venue's lighting conditions, and the couple's preferences, and also, the budget of the couple. As a professional wedding photographer in Singapore, I offer a range of wedding photography services that cater to different styles and preferences, whether it involves using flash or not. I believe that every couple deserves beautiful and timeless wedding photos that capture the magic of their special day, and I am committed to delivering just that.
Challenges of Doing Wedding Photography in Singapore
Wedding photography in Singapore comes with its fair share of challenges, and navigating these obstacles requires a level of professionalism and adaptability. Here are some of the key challenges faced by wedding photographers in this vibrant city:
Unpredictable Weather: Singapore's tropical climate can be fickle, with sudden rain showers or scorching heat disrupting outdoor photography plans. Photographers must be prepared to adjust their shooting schedules and locations accordingly, ensuring the couple's comfort and the best possible results.
Limited Space: As a bustling urban centre, Singapore often presents limited space for photography, especially in popular venues and public areas. Photographers must skilfully frame shots to create intimate and enchanting images amidst the crowds and restricted spaces.
Venue Restrictions and Permits: Some iconic locations in Singapore require permits for professional photography. Dealing with the necessary paperwork and adhering to venue regulations is crucial to maintaining a seamless and respectful photography process.
Time Constraints: Wedding days are filled with numerous events and activities, leaving little time for photography. Efficient time management is essential to capture all the meaningful moments while ensuring the couple enjoys their special day to the fullest.
Cultural Diversity: Singapore's diverse cultural landscape means weddings often incorporate various customs and traditions. Photographers must be culturally sensitive and knowledgeable to accurately capture the essence of each couple's heritage.
High Expectations: Couples rightfully have high expectations for their wedding photographs, as they serve as enduring memories of their special day. Meeting these expectations requires constant honing of skills, attention to detail and a commitment to delivering exceptional results.
Competitive Market: The wedding photography industry in Singapore is highly competitive, with numerous talented photographers vying for clients' attention. To thrive in this environment, photographers must distinguish themselves through their unique style, personalised services and exceptional customer experiences.
Despite these challenges, wedding photography in Singapore offers a rewarding and fulfilling experience for both photographers and couples. Through dedication, creativity and a passion for storytelling, photographers can immortalise the love and joy that define each couple's unique journey into marriage.
Why Wedding Photography is the Best?
You will likely be hiring a professional hair and makeup artist for your wedding photography, especially for the wedding portrait and actual day wedding, to make you look great. Hence, you will likely look your best in your entire life for the wedding photoshoot.

Professional hair and makeup artists charge one of the highest rates for wedding photoshoots as the makeover will be extensive and detailed, and thus difficult. Even if you were to hire a hair and makeup artist in future for other kinds of photoshoots, it's unlikely that it will be better.

Since doing wedding photoshoots is a trend, it gives you and your partner a good official reason to do a photoshoot, especially if you are shy.

Therefore, wedding photography is the best kind of photography.
Why are Wedding Photographers so Expensive?
Question: Why wedding photography is expensive?

Professional wedding photographers are, in general, experienced photographers. Apart from photography skills, their photography knowledge will help to solve both foreseeable and unforeseeable problems. Therefore, they are of high value.

The stress level of wedding photography is higher and thus commands higher photography prices.

Wedding photography generally requires a longer duration (more editing work) than most other types of photography and thus many people see the total prices as expensive.

Most couples want their wedding portraits to be edited with skin retouching. Such photo editing requires skill, experience and an excessive amount of time to make the edited photos look natural. Thus, it's costly.
Are Wedding Photographers Worth It?
If you truly value your wedding photos, then hiring a professional wedding photographer is worth it.

Although you may think that you are not going to be viewing them every day and thus you don't need very good quality photos, they still live with you forever and a good memory is priceless.

Eventually, you will be uploading them onto your social media to share the happiness with your family and friends. You might be printing some of the wedding photos for the elderly in the family. Hence, many people are going to share the same beautiful memory with you.

Therefore, if you can invest a little more budget to get better-quality photos, do consider doing it.
How to Decide on a Wedding Photographer?
How to tell if a wedding photographer is good?

There's no foolproof way to tell if a wedding photographer is good. Perhaps, whatever is good or bad is all subject to personal definitions.

The best way to judge a wedding photographer is to view his entire portfolio and reviews.

How to pick a good wedding photographer?

Deciding on a wedding photographer seems difficult but it's very simple and straightforward.

You simply have to look through his portfolio to judge his photography style and quality of work. You may like to view his other photography portfolios as well, to see what he can accomplish.

A wedding photographer may be very good at his art but his work may not resonate with you.

Of course, check on his wedding packages thoroughly before you confirm with him for his wedding photography services.
Photo Editing - Basic & Advanced
Wedding photography editing styles

There are three types of wedding photography editing styles and different wedding photographers may use different terms for them.

I call them basic, advanced and extreme editing.

Basic editing refers to colour tone and exposure correction to create the mood intended by the photographer.

Advanced editing refers to skin retouching, on top of basic editing. Different photographers will do skin retouching differently and the results can be drastically different. Making the photos look natural (unedited) takes much more effort and time, and thus the photographer would charge higher.

Extreme editing includes adding and removing people or items on the photos. That includes the removal of photobomb(s) from the photos. However, not all requests can be done.

Eventually, the less editing work is done, the more natural the photos would look and fewer flaws will be discovered.

Do wedding photographers edit all photos?

Many photography packages would state the number of "edited photos" without mentioning the style of editing. This is a grey area.

In general, photos taken during wedding events, for example, ROM and banquet, would only be enhanced using basic editing. This is because the number of photos taken during events is a lot and thus impossible to do advanced editing for them.

For pre-wedding portrait photoshoots, the wedding photographers would charge by the number of "edited photos" that the client wants. I would highlight that it would be advanced editing so that my clients won't be short-changed.
FAQs
Do wedding photographers own your photos?
By law, whoever clicks on the shutter button will own the copyright to the photos. That means although you are paying the wedding photographer to take your photos, they still own the photos unless otherwise, agreed by both of you.

Photographers do need the photos to do their marketing and advertising, or at least to showcase to their followers that they are still providing photography services. Do read the photographer's service agreement properly before hiring him.

If you need privacy, you may discuss it with him. Some photographers do charge you an additional amount of money to compensate for that.
How to get cheap wedding photography?
If the quality of wedding photos isn't a concern to you at all, you can get a friend to do it for you.

Another way is to approach different bridal studios to check their wedding photography rates. Many bridal studios do hire freelance photographers at ridiculously low photography rates and thus they will be able to sell you wedding photography packages at very low prices.

The final way is to go to social media, such as Facebook Groups, and make a request. There will be many hobbyist photographers who will try to grab the opportunity. Of course, no professional photographer will take up jobs at a very low rate and don't expect much for the photo quality. You will also be taking a big risk that the cheap photographer will cancel the job at the very last minute.
Do wedding photographers make good money?
For photographers, the highest paying photography jobs come from corporate/ commercial and wedding.

For other types of photography, it's either the projects' durations are too short or the pay isn't as great.

Both commercial and wedding projects usually require high-quality work and thus, by right, they should allocate a higher budget for the photography.

In terms of duration, depending on individual projects, some jobs may need lots of effort from the photographers. Therefore, securing a single job may be able to fill up many time slots.

Although wedding and corporate photography do fetch a higher income for professional photographers who don't undercut the market, the amount of effort they have to spend for every job is high and thus doesn't consider as good money.

To use an analogy, if you have a high-paying office job but you have to work overtime every day, will you rather choose a slightly lower pay office job that you can leave on the dot every day?

It's a personal preference. Or perhaps, depending on the circumstances of the individuals.
What do wedding photographers wear?
It depends on the kind of wedding photoshoot.

Most photographers will wear dark colour outfits, especially for wedding events. This is because there may be many reflective surfaces at the event venues. Dark-coloured outfits will make them less obvious in case they appear in the reflections.

Some wedding photographers take pride in their styling and they want to command a very professional image to gain the trust of their clients. Thus they will dress up in formal wear even for wedding portraits. Of course, for wedding event photography, such as Solemnising or an actual day wedding, they will dress up in very formal clothes.

I prefer to stay as casual as possible because I believe the most crucial thing is the quality of the wedding pictures. Thus, I have to keep myself most comfortable and be ready to run whenever necessary to get to capture good photos. My top's colour is usually dark blue (ask me if you are curious why).

I believe the final photos that my clients upload online will be able to draw the interest of my potential clients (the clients' families and friends).

For wedding portrait photoshoots, I will likely be in a t-shirt, shorts and sandals. For wedding events, I can't draw too much attention due to my (casual) outfit and I also have to show respect to the couples; hence, I will have to wear long pants or jeans.
Which Camera for Wedding Photography?
There are many different camera brands, such as Canon, Sony, Nikon, Leica, Fujifilm, Pansonic, Olympus, Hasselblad, Minolta and Kodak.

Every camera brand has its forte and there's no best brand or camera model. Photographers pick the brand and camera model mainly because of the features and prices.

For DSLR cameras, there are two main types - full-frame and APS-C cropped sensors. At the minimum, a full-frame sensor is important for wedding photography because of its low-light capability.
Which Lens for Wedding Photography?
There's no best wedding photography lens. Different photographers prefer different lenses because every lens has its characteristics.

Some photographers love prime lenses while some prefer zoom lenses. Thus, it depends on the photographer's photography style.

However, the quality of the lenses does matter. For example, Canon has lenses that are labelled as "L" lenses. They usually use better glasses and mechanisms and thus can help to produce sharper photos.
Conclusion
In conclusion, wedding photography holds an extraordinary significance in the journey of two souls embarking on a lifelong adventure together. It is a cherished art of preserving the moments, emotions and love shared on that special day, creating a timeless album of memories that will be treasured for generations. As couples plan for their wedding photoshoots, setting certain goals becomes essential to ensure a successful and delightful experience.

First and foremost, open communication with the photographer is key. Express your vision, preferences and dreams, and let them work their magic to bring that vision to life. Trusting your photographer and building a strong connection will undoubtedly reflect in the final photographs, capturing the genuine essence of your love story.

Setting a comprehensive shot list enables you to capture every precious moment, from the candid glances to the heartfelt laughter. Collaborate with your photographer to identify essential shots and unique angles, allowing them to weave a visual narrative that tells the story of your special day.

Embrace the beauty of spontaneity and cherish the unexpected moments that unfold during the photoshoot. A flexible and positive attitude will create an environment of joy and ease, allowing your personalities to shine through in the photographs.

In the whirlwind of wedding preparations, remember to scout the locations and plan for the lighting conditions. Being well-prepared ensures that nothing is left to chance and your photographer can focus on capturing stunning images that reflect the magic of the day.

Above all, approach the wedding photoshoot with a heart full of love and gratitude. Embrace the genuine emotions, the laughter and the tears of joy. These photographs will become cherished memories, transporting you back to the very moment you said "I do."

As a wedding photographer, I am passionate about helping couples create an enchanting and heartfelt collection of photographs that mirror the beauty of their love story. If you'd like assistance in planning your dream wedding photoshoot or desire to explore the possibility of capturing your special day through the lens of an experienced photographer, I am here to offer my guidance and expertise. My ultimate goal is to ensure that your wedding photoshoot is an unforgettable experience, filled with joy, love and magical moments that you will cherish for a lifetime.