Yoga Portrait Photographer in SG
Yoga Photo Gallery
Photo Galleries:
🔍8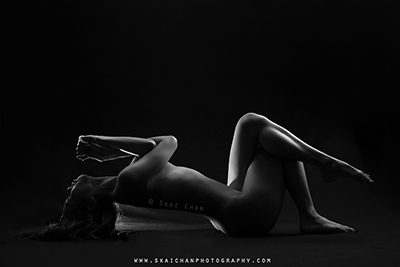 1. Cheryl Alicia Chua
@ Studio, Tanjong Pagar
🔍9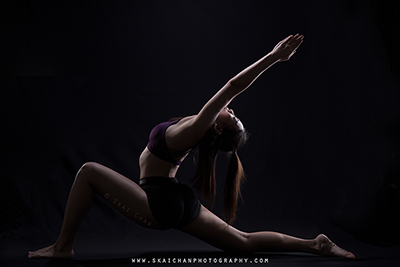 2. Jasmine Tan
@ Studio, Tanjong Pagar
🔍8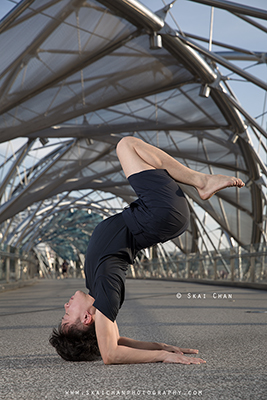 3. Bai Jia Wang
@ Helix Bridge & Marina Bay Sands
🔍3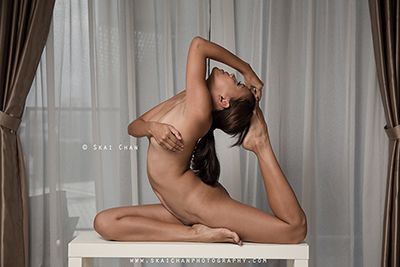 4. Karina Cognomen
@ Indoor, Kovan Residency
🔍11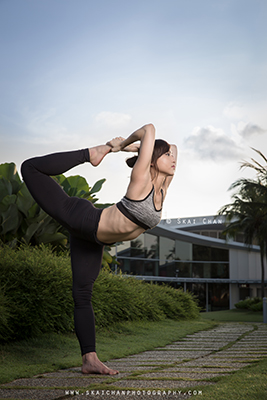 5. Sharon Ng En Hui
@ Rooftop, Vivocity
Photo Galleries:
Yoga Photography Prices and Packages
Casual 1
$250
Up to 1 hour of natural light photography
Up to 20 photos with basic enhancement
Casual 2
$350 $300
Up to 2 hours of natural light photography
Up to 40 photos with basic enhancement
Casual 3
$450
Up to 3 hours of natural light photography
Up to 60 photos with basic enhancement
High-end 1
High-end 2
High-end 3
All booked duration includes setting up & keeping of equipment, & travelling in between location.
All photos will be returned in high resolution JPG format.
Please read Checklist, FAQ & Service Agreement before making enquiries.
Add-Ons (optional)
(Highly recommended) 1 look (professional hairstyling & makeup) at $150 for females; $120 for males.
$100 $20 for use of studio at Buona Vista; $300 to set up makeshift studio @ your location.
$100 for privacy of the photos (photographer will not put them up on portfolio & social media).
Express delivery of photos: check rates & availability with the photographer when seeking quotation.
Contact me for customized package for your need.
Yoga Photography
Yoga is a form of lifestyle for many people these days. It helps to improve both physical and mental health. Yoga photography is part of fitness photography but I've decided to keep it as a separate category due to its significant.
Who should do a yoga photoshoot?
You don't need to be a professional yogi to do a yoga photoshoot. Some yoga lovers want to show off or document down their healthy lifestyle and thus they would take up a yoga shoot. Some models are into the art. I've also done a yoga shoot with a yoga coach who needs to use the yoga photographs for marketing purpose.

For commercial purposes, I would encourage hiring of a professional yoga photographer to produce good quality work.
Places to do yoga photoshoot
Yoga photography can be done indoor, outdoor and inside a photography studio.

Indoor and studio yoga photoshoots allow doing the photography in comfort from the harsh weather and insects' attack. However, you would need a clean and reasonably large area if you were to do an indoor photoshoot.

Outdoor yoga photoshoots can be done in cities, gardens, parks and beaches where you can include the scenery to complement your poses. Of course, the weather can be unpredictable and you will be subject to staring from passers-by.

There's no best place for doing a yoga photoshoot; it depends on what kind of effect you want to produce.
The Yoga Photographer
As of now, I personally have no time to venture into yoga due to other commitments but I always enjoy the tranquillity produced by yogis.
How do you take good yoga pictures?
Different people have different views on the quality of photographs. I'm glad that there are people who really appreciate my art work.

I focus a lot on lighting, which is one of the most important elements in a photograph. I'll create flattering light to make you look beautiful and elegant. I usually work with professional lighting equipment for high-end yoga photoshoot. For casual yoga photoshoot, I'll arrange the photoshoot at the best timing, so that we can create the best photographs possible.

I've also done artistic yoga shoot that are mind-blowing and eye-catching, for example, implied nude yoga concept. I'm seeking to do all kinds of creative yoga shoots.

Nevertheless, taking good yoga pictures involves lots of planning and preparation.

Contact me to discuss ideas on how to create interesting yoga photographs.
FAQ
How do I prepare for a yoga photo shoot?
Let's discuss and plan for the location, date and time and outfit.
What do I wear to a yoga photo shoot?
I personally prefer simple solid coloured outfits without too many patterns.
How do I pose for a photoshoot?
It's good to begin the photoshoot with simple poses that you've practised before. More creative photographs can be researched online before the shoot. Since not all poses will look nice, I may be blurt to point it out.
Page last modified on Thu, 12 August 2021