Editorial Bike Photoshoot with Boon Hui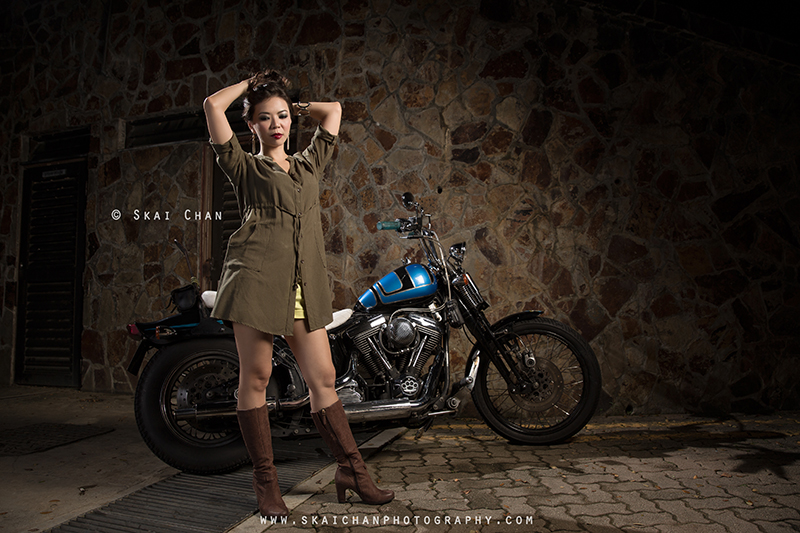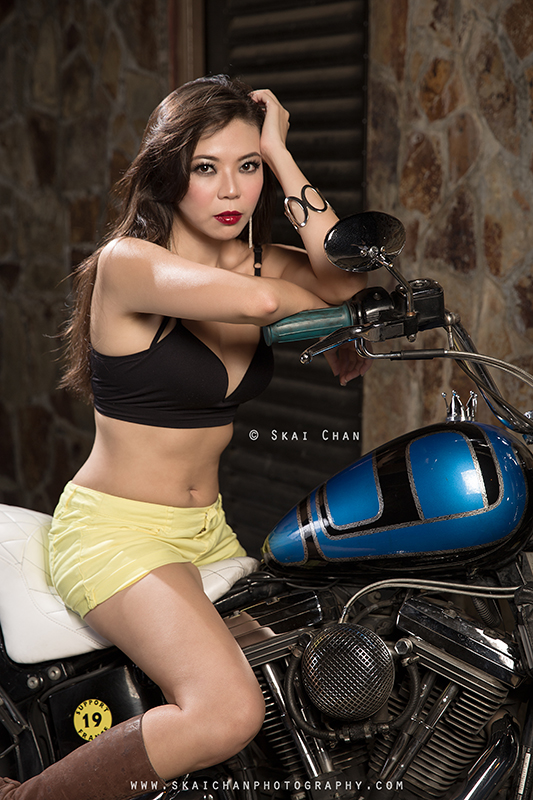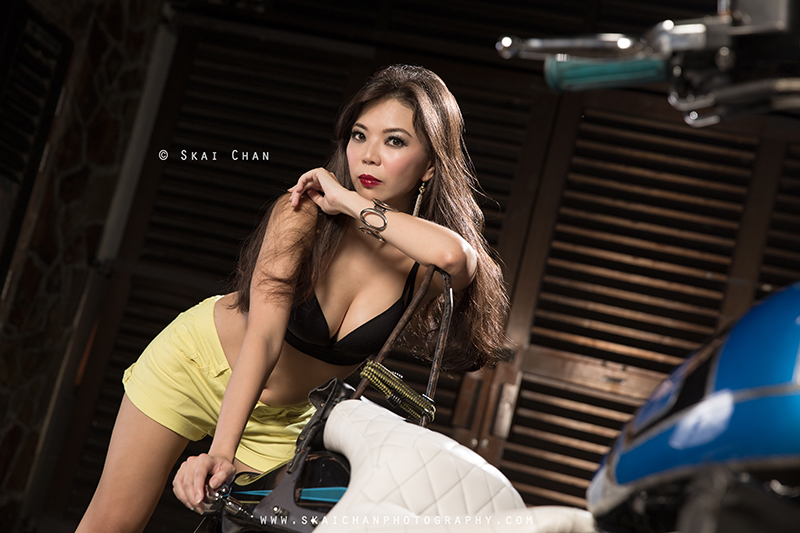 The logistic for this shoot is one of the toughest ever for we need four parties to be available at the same time - model (Boon Hui), hair and makeup artist (Koreen), bike owner (Ezan) and photographer (which is me). We actually postponed the shoot once. Another challenge was the venue for doing the makeup and we eventually settled for the nearest Mcdonald's. Next issue was the exact location for the shoot because the park had signs declaring no motorized vehicles allowed, although I did see other people travelling around using an electric scooter that came with seat.

I was grateful that my buddy, Gilbert, gave me a lift to cover half of the journey, on his way for his voluntary work. Then, Boon Hui and I took a cab over to the venue. It was a good chance to meet up with Gilbert as our lives became more hectic.

Without electricity supply, it was difficult for Koreen to play around with the hairstyle. However, I was glad that she was able to do the makeup on location without a big mirror and big space to put all her makeup tools. The diners glanced at us as they passed by the table.

As my shoulders' injuries had worsened, I tried to keep things simple and instead of two studio lights, I brought only one along. Besides, there were too many unforeseeable situation that disallowed setting up of too many equipment for an outdoor shoot. For the exact location of the shoot, we had to stick to somewhere near the carpark. I left the fast food restaurant earlier to set up some of the lighting. In the midst of setting up my softbox, a foreign lady approached me to borrow my mobile phone and I was distracted for I was worried about scammers but I could not leave her in the lurch for she was looking for her husband and child. I did not secure one of the sticks properly, causing the softbox to snap later.

Since (1) the light was dim at the location, (2) no streetlight was in the background and (3) I did not want to blast the ISO, which would create noise to the photographs, I decided to eliminate the existing ambient light and create my own. The weather was extremely humid but somehow, the lack of wind allowed me to play with more lighting. I used another two speedlites to fill some shadows and act as the existing street lamp for the hair light. With more lighting, it required more testing and thus the amount of time was longer.

I was glad that Koreen had printed out some of the poses that we had researched on and directed Boon Hui so that I could focus on my camera and the lighting. Ezan helped to adjust the position and angle of his bike. I was also amazed that he was able to tell what I had in mind by observing me, for example, he suspected I wanted to position a light at the top of the "hill" because I was staring at it. Of course, due to limitations, I tried to keep the setup simple instead. In the midst of changing positions, I carelessly dropped one of my speedlites.

As for the model, Boon Hui, she did very well in presenting the edgy look in the public, which I initially feared she might not be comfortable with. Besides, she was a soft lady-next-door, which was very different from the image she had to portray in this shoot.

Koreen's hubby had to wait inside his car for us to end the shoot before dropping me at the nearest MRT station. I also had many assistants to help me to keep the equipment, except that only I knew which parts of them I would keep attached together and which item would go into which bag. Eventually, the packing up process was sped up.

If time could permit, I would have tried my original idea of using Boon Hui's jeans instead of the yellow shorts; to me, creating sexy photographs is not just about showing more skin but finding the most suitable outfit. Nevertheless, there was too limited time in the evening and I was happy enough that the photographs turned out well because of the team effort.
If you appreciate my work, passion and character,
do show some support by following my
Instagram
&
Facebook
, both at
@skaichanphotography
.
If we have worked together before, do write me a
testimonial
!
Disclaimer for write-up
Other Editorial / Commercial Photoshoot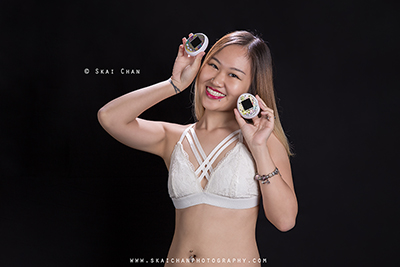 More
Editorial / Commercial
albums

View ALL albums