Night Fashion Photoshoot with Tan Rou Ying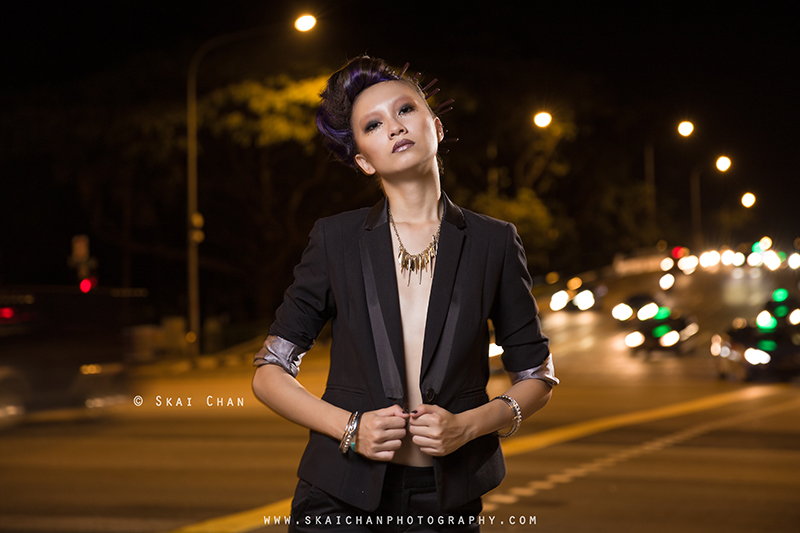 We were chased off by a staff halfway while setting up the equipment. I was not disheartened since we had a backup plan but I was rather frustrated over the lack of places for doing shoot in Singapore.

I took a step back and allowed Yuko to do the planning since she loved styling people and I knew she would do it spectacularly. Honestly, I was a little exhausted to take the lead and it was much easier for a female stylist to talk to a female model, especially regarding wardrobe. Occasionally, I joined in the group chat to either clarify things or crack some jokes. Of course, I knew both of them had high tolerance level for "nonsense".

I was glad that Rouying cooperated well and sent us images as requested, so that we could visualise the final looks. She was also more intelligent and hardworking than many girls and took pictures of all her footwear in more than one angle, which helped us to have better understanding of their designs. The fact that she was open to try new shoot spoke well of her.

Yuko's initial plan was to shoot with neon lights that she saw near my house as the background. The night before the shoot, I took a lonely walk around my neighbourhood after dinner to scout for the location. Unfortunately, the walkway in front of the shophouses was narrow and the Korean food street was attracting too much crowds. Eventually, Yuko suggested Parkview Square and I felt very uneasy because I knew there were unknown restrictions in Singapore. For example, many years ago when I was doing street photography using just a small semi pro camera, I was stopped by a security guard in China Square and being made to delete all the photographs like as if they had some dark secrets. I did not even know the open air streets were part of their premise.

Since Yuko was the creator of the theme and knew best what was most suitable, I decided to go ahead. I went earlier with my buddy and assistant, Jonathan, to check out the place. They had some nice water features inside the romantic courtyard between the main entrance and doors to the office building. I checked out with a friendly female security guard and she told me the place was open for phototaking as long as their lights were up, until I told her I would need to set up umbrellas. At least, I knew I was right about the usual rules regarding office buildings. We left by the main entrance to scout around for suitable location.

From a distance away, two bamboo sticks waved over and I was excited when I realised they were my partners-in-crime. When we were just a few steps apart, I was a little taken aback by the looks Yuko had given to Rouying because of the "browless" focus at the eyes; I did not expect that even though it was stylish. Of course, it took me a while to get used to the look since I was used to doing beauty shoot. Rouying was rather satisfied with the chopsticks on her hair while I was not very excited since I was used to the creativeness of Yuko.

We decided to shoot on the same spot, which was along the small road but sheltered by the same building before the man came over to stop us. I had never expected the strictness for it seemed like the management had the rights to chase anyone away even if we were stepping on just an inch of their land, not like we were obstructing the path.

Moving on to Haji Lane, I appreciated that Jonathan had helped me to share some loads. He took great self initiative to buy drinks for all of us and also other things such as shining light onto the model's face to assist the auto focus system of my camera in the darkness. Since I was not sure of the final location, I did a simple setup without my soft box. It took us a while to finalise the lighting and "warm up" to each other. For a more dramatic look, I dropped the fill light eventually. The second scene of the shoot was by the roadside. I was glad that I managed to accomplish one of my old ideas to shoot with the traffic lights as background. The lighting setup was a main light and a hair light to act as the street light, both armed with colour gels. After getting some "safe shoots", I lowered down the shutter speed but that also required Rouying to keep very still to reduce "shadow" and she did it well.

Throughout the shoot, I was amazed with the confidence of Rouying, which added to an indescribable kind of sexiness. All of my team-mates were quick enough to help me safeguard my lighting equipment each time the wind tried to play prank. It was a fun night. The cab fare was proudly sponsored by Jonathan.
Featuring ↬
Tan Rou Ying
Hairstylist ↬
Yuko
Makeup Artist (MUA) ↬
Yuko
Wardrobe ↬
Tan Rou Ying
Credits ↬
Jonathan Tan Guoxin
Camera ↬
Canon 6D
Lens ↬
Canon 24-70mm F2.8L II
Lighting ↬
Yongnuo YN560 EX-III, Yongnuo YN560 EX-IV
Place ↬
Haji Lane
Date ↬
23 November, 2016
Photo Editing type ↬
Advanced
💲 Photographer's fee ↬
Night Outdoor photoshoot prices & packages
Follow my Instagram & Facebook to see more pictures.
Other Night Outdoor Photoshoot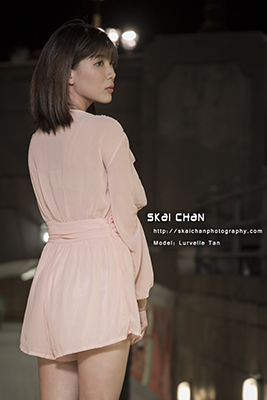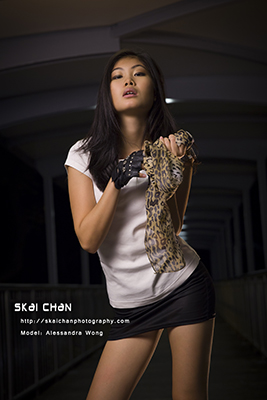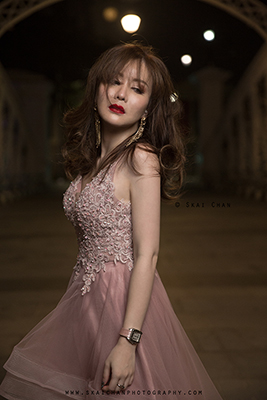 More
Night Outdoor
albums Portrait photography > All albums > All Night Outdoor albums