Night Fashion Photoshoot with Alessandra Wong


Alessandra was one of the most interesting models I had worked with. She wasn't the prettiest of all but her personality made her unique and perhaps, more valuable than models with just common pretty faces.

Alessandra was someone filled with creative ideas. She was genuinely enthusiastic and did her own researches about modelling. With her background in her studies, she was able to understand about shooting more than other models. To add on, she was a camera enthusiast as well. I was very impressed by her knowledge and was absolutely delighted over how she made my clarification easier.

Her straightforward and accommodating character made communication with her relax. She was able to take jokes and every time she tried to act violent, it failed to cover her politeness and gentleness.

We met up for dinner before heading for the night shoot, which was the first night fashion shoot I had ever done with proper gears. Over the meal, she shared her knowledge about makeup with me and I could feel the amount of "homework" she had done.

The weather was, however, not on our side. The initial plan to shoot at the Singapore Flyer with the lighting had to be put on hold with the downpour of jealous rain. Alessandra stunned me with her suggestion to shoot under the rain but I was not prepared to let her "sacrifice" herself so quickly. Moreover, she stayed far away.

We took shelter inside MBS and decided to start the shoot with whatever we had. I was a little frustrated at first since I knew it would going to be far different from what I had planned. After she got changed with her hair tied, I was taken aback once again at the moment she let off her hair in the mid air. That was the moment I witnessed her feminine, drawing away the impression of the cute and sweet girl.

We gave up the clean and cozy area to a group of cosplayers as they rudely moved over to the space to do their shooting without even saying "hi". I hesitated for a while and decided it was in fact not the ideal background I would want for a night shoot. Eventually, we moved down to the first floor and setup the gears under a bridge, which was in fact a much better choice, although I would prefer more lighting as the background. I was quite lucky for the wind was not strong during a rainy night and that my lighting gears were safe from falling with just a little securing.

No doubt, we had a great night, trying to get nice photos together. The joy of working with someone who was crazy over photography like me was unforgettable. I was grateful to her for trusting me and allowing me to test my lighting.
Featuring ↬
Alessandra Wong
Wardrobe ↬
Alessandra Wong
Camera ↬
Canon 6D
Lens ↬
Canon 24-70mm F2.8L II
Strobe ↬
Canon 600 EX-RT, Yongnuo YN560 EX-III
Location ↬
Under Bayfront bridge, Marina Bay Sands (MBS)
Date ↬
20 November, 2014
Photo Editing type ↬
Advanced
If you appreciate my work, passion and character,
do show some support by following my
Instagram
&
Facebook
, both at
@skaichanphotography
.
If we have worked together before, do write me a
testimonial
!
Disclaimer for write-up
Other Night Outdoor Photoshoot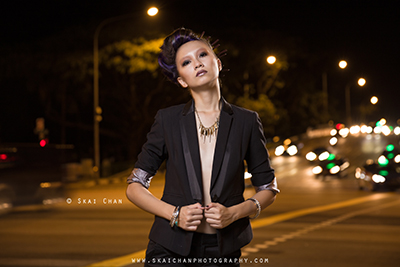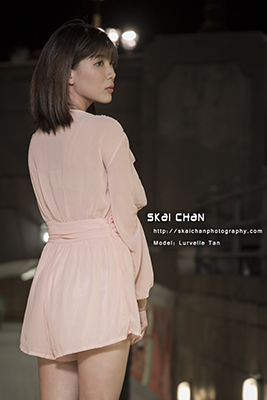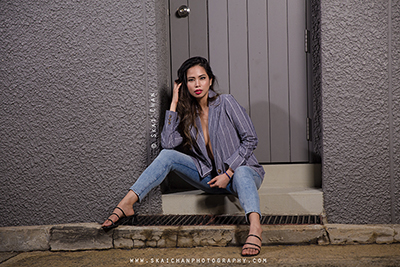 More
Night Outdoor
albums Portrait photography > All albums > All Night Outdoor albums
Page last modified on Wed, 19 May 2021