Glamour Photoshoot with Rachel Liew - Virgin Killer
This was yet another long awaited photoshoot. Rachel approached me with this concept during the mid of the lockdown due to the virus. I was in a lost when she told me "virgin killer". I had seen it being worn by many cosplayers before but I had never bothered about the name. I wasn't a fan of turtleneck outfit but, without doubt, the outfit was quite sexy.

I asked her for the price that she had found online and then I used my talent in online shopping to source for a much cheaper piece. I felt proud of myself.

We proceeded with the photoshoot one week after the lockdown was eased for house visiting. I had a busy week filled with photoshoots after the months of being on hiatus due to the lockdown. Even the day before this photoshoot, I had another one. I was drained and had to drag myself up from my bed in the morning.

Upon arriving at Rachel's place, she gave me her cats' treats to bribe them. We ran through her outfits for all the concepts before I started setting up my equipment. Rachel knew my style and determination to create good lighting and she was very patient with me and my set up. The cats did inspect my stuff and I was glad that none had jumped on top of my softboxes.

The living room was huge and thus good for setting up my lighting. However, I tried not to move the furniture too much, especially the heavy coffee table. Eventually, I did make a "mess" by shifting the smaller furniture around.

Rachel was creative as usual and it helped to create interesting work.
Featuring ↬
Rachel Liew
Hairstylist ↬
Rachel Liew
Makeup Artist (MUA) ↬
Rachel Liew
Wardrobe ↬
Rachel Liew
Camera ↬
Canon 6D
Lens ↬
Canon 24-70mm F2.8L II
Lighting ↬
Godox AD600BM, Cononmark B4
Place ↬
Tampines (home)
Date ↬
05 July, 2020
Photo Editing type ↬
Advanced
💲 Photographer's fee ↬
Glamour photoshoot prices & packages
Follow my Instagram & Facebook to see more pictures.
Other Glamour Photoshoot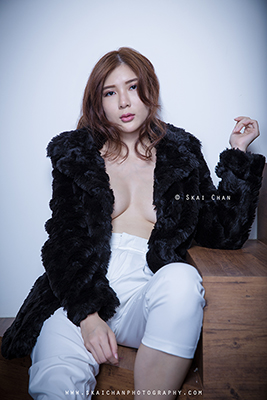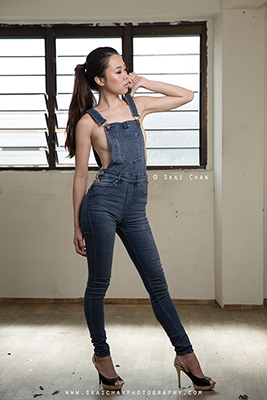 More
Glamour
albums Portrait photography > All albums > All Glamour albums