Hotel Boudoir Photoshoot with He Ling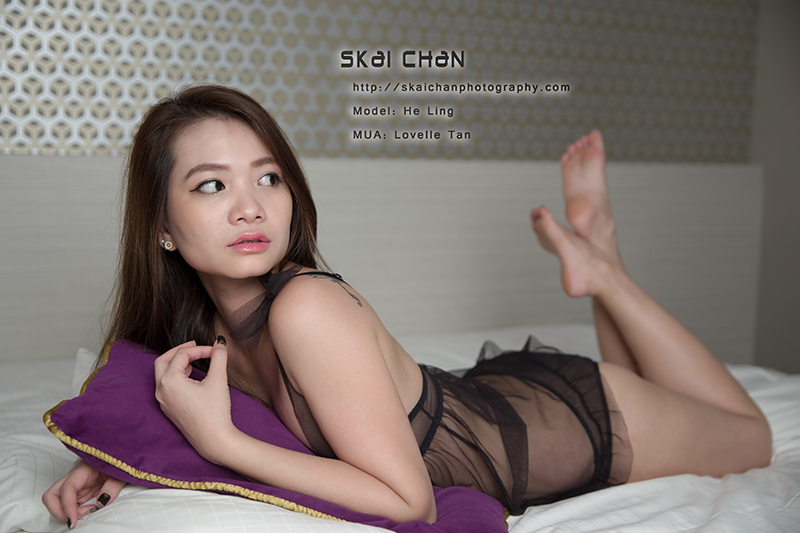 The first thing that captured my attention about He Ling was her sweet girl-next-door looks. When she smiles, it touches you like the first rays of sunlight in the morning — gentle and warm.

Behind this innocent demeanour is a very independent lady who is unafraid of travelling to new places alone. Like me, she hates causing trouble for others and does not take advantage of people, even feeling uncomfortable over a small treat. She is also very understanding and thoughtful. Not only did she not get angry when I was late in meeting her due to a delayed charity shoot, she even told me not to rush, while waiting for me patiently.

The photoshoot itself presented quite a few challenges. Firstly, He Ling was already tired after her prior trip in Malaysia. Thankfully, Lovelle did a good job with the make-up and because the model is so easy-going, we had fun laughing around which made me more relaxed for the shoot.

The other difficulty was that the location (i.e. He Ling's hotel room) was much too small and cluttered, with her belongings and my equipment either blocking the way or creating a mess in the background. I could not set up my lighting properly, nor shoot from the optimal distance and angle. But after much trial-and-error, we finally completed the photoshoot. Although the results may not be exactly what I aimed for, what matters is we gave it our best and had fun at the same time.
Featuring ↬
He Ling
Hairstylist ↬
He Ling
Makeup Artist (MUA) ↬
Lovelle Tan
Wardrobe ↬
He Ling
Comments ↬
Proofreading by Shuh
Camera ↬
Canon 6D
Lens ↬
Canon 24-70mm F2.8L II, Canon 50mm F1.4
Strobe ↬
Canon 600 EX-RT
Location ↬
V Hotel Bencoolen
Date ↬
14 August, 2015
Photo Editing type ↬
Advanced
If you appreciate my work, passion and character,
do show some support by following my
Instagram
&
Facebook
, both at
@skaichanphotography
.
If we have worked together before, do write me a
testimonial
!
Disclaimer for write-up
Other Boudoir / Intimate Photoshoot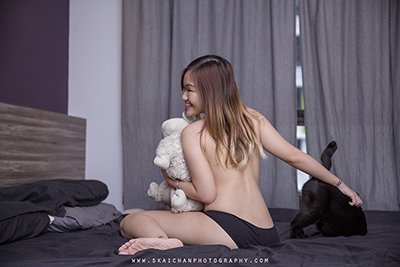 More
Boudoir / Intimate
albums Portrait photography > All albums > All Boudoir / Intimate albums
Page last modified on Wed, 19 May 2021