TFP / TFCD Photo Shoot in Singapore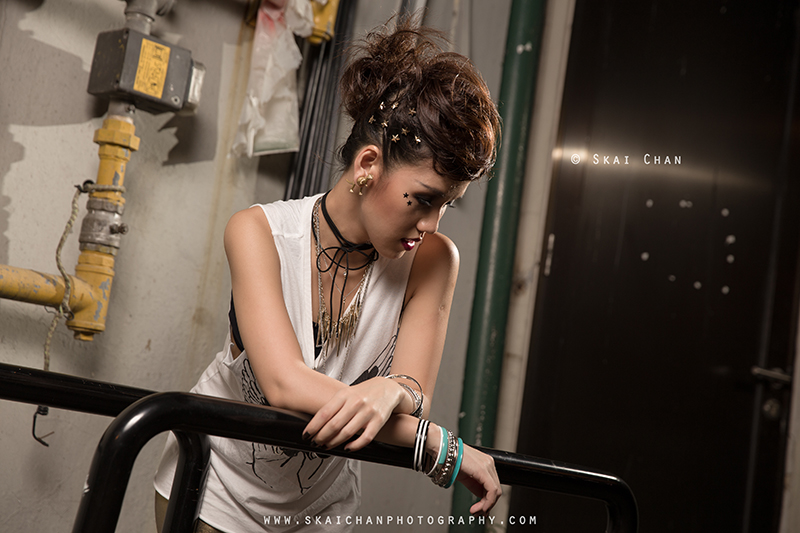 What is TFP or TFCD photo shoot?
TFCD means Time for Compact Disk (CD) and TFP means Time for Print. Some people may use "trade" or "test" instead of "time" or even reverse it like PFT (Print for Time). Both TFCD and TFP have similar meaning, such that the photographer, model, stylist, makeup artist, hairstylist and fashion designer would work together (trade their time) in a project for free to help building up their portfolios or simply for self interest. Basically, it is a collaboration shoot. At the minimal, the photographer and model would take up all the roles.
In the past, the photographer would give the model printouts (hardcopy photographs) for TFP photoshoot, while a compact disk (CD) for TFCD photoshoot. However, with the improvement in technology nowadays, many photographers would prefer sending the final work through the internet while some simply share via Facebook. Therefore, nobody should expect to receive a printout or CD even though they are doing "TFCD" or "TFP" photoshoot. Some TFCD photographers may be dying to meet up with the models again and thus insist on providing a CD.
The model needs not be a professional/wannabe model nor require any modelling experience, same goes for the other parties. If one party demands for "transportation fee", it is no longer considered a TFCD shoot. The number of photographs given by the photographer is to be discussed between the team. Some photographers may give all unedited photographs to the models but good (in skill) and decent photographers would usually give a couple of well processed photographs.
You may be interested to read: TFP / TFCD Tips for Models & Photographers
TFCD/TFP Photo Shoot with Skai Chan
You request for a shoot with me only if you:
are fascinated by my art work
trust my (2) professionalism
trust my ability in delivering excellent and unique work
If you think other photographers can produce similar or better work, kindly not waste my time because you are likely not going to put in enough effort even for the (long and tedious) discussion.
Opportunities are open to:
Female models
Read requirements at: volunteer as a model
Hair & Makeup artists (HMUAs)
Read requirements at: hair and makeup artists (HMUA) in Singapore
Female assistants
Read requirements at: photographer assistants needed
Fashion designers / Wardrobe sponsors
Details required from models

To understand your physical looks, character, intelligence level, preferences, availability and whether you can fit into any shoot that I'm looking for, please provide me with the following details/items immediately:

(You may copy and paste them and include your answers by the side or below each item.)


1. Do you agree to the terms and conditions?
2. Will your boyfriend/husband and family be concerned of you doing the shoot? 3. Your purpose of doing the shoot (e.g. just for fun or for modelling portfolio).
4. Your age.
5. Your height and weight.
6. Your full body vital statistics.
7. Your home location.
8. Your makeup and hair-styling skill.
9. Your experience in modelling.
10. Themes that you are interested in (if applicable).
11. The portrait album(s) of mine you like most.
12. Your restrictions (e.g. no nude, implied nude, lingerie, swimwear, low-cut, short bottom... etc).
13. Your recent (1) full body and (2) closed-up photographs with (if you know) and without makeup.
14. Links to your social media profiles that are viewable.
15. Your dates of availablity.
16. Your contact number for WhatsApp.
17. What do you like and hate about your looks?
18. How would working with you benefit me in my photography? (eg. you're pretty, versatile, easygoing, popular... etc. There's no right or wrong answer.)
19. Do you intend to have just a shoot with me or more than one shoots?
20. Have you and are you going to contact other photographer(s)?
Common sense:
If I can't get a clear picture of your looks (figure and naked face), I can't decide on anything.
If you don't dare to show me your naked face, you're probably looking too horrible for any photographer to shoot.
If I don't get to see (not imagine through your description) your outfits, I can't decide on the theme/style.
If you approach me without providing the details/items above, I may mistake you as a weirdo and ignore you. You can carry on with your compliments for me but it will not help in determine your eligibility.
Contents
Forewords
I'm a freelance photographer who makes money through taking photographs.

I started off photography by doing TFCD shoots when I was new. I learn things through the hard way. Doing a proper photoshoot may seem easy but it actually takes lots of planning, such as the theme, location, time and outfits; no random stuff.

Due to extreme time constraint (I'm not born with a silver spoon), I'm only doing limited and selective TFCD photoshoots with good people when I'm free or decide to take a break from commercial work. I usually work with my friends or friends' friends, with reasonable level of IQ and EQ, who can benefit my portfolio and are more mature-minded (age doesn't define maturity) for ease of communication.

I will rope in people who have worked with me before (and can click) for any commercial project in future. Of course, if I were to get paid for any project, I will not let my team-mates go home empty-handed. As for TFCD shoot, no one should demand for any remuneration, not even for food or transportation.

I have vast experience dealing with people and have encountered countless unappreciating ones. Generally, people appreciate free things less. Since doing a TFCD shoot with me basically means a "model" is getting free professional services, there's a higher chance of her giving problems, such as postponing or being late for the shoot. Whereas a client would have to place a deposit and with that, things will go much smoother.

I'm fortunate that there are a handful of girls approaching me for shoot every month. Unfortunately, most of them have wasted my time somehow. For example, some girls have very packed schedule at the point of time when they approach me and they eventually go MIA after our discussion despite showing their enthusiasm initially. Perhaps, they are just half-hearted. Many time-wasters have trained me very well in judging people due to the frequent request.

There are also a handful of HMUAs who have approached me as well but our schedules can never match. Most HMUAs who are available for TFCD work have a full-time job that has occupied her weekday slots.

After all the disappointments I have encountered, I have to put on a more serious tone before the shoot to discourage half-hearted people from wasting my time further. Therefore, do not be shocked when I start cracking jokes during the shoot - you should feel very glad instead.
Notes
If you are going to request for TFCD shoot with me, do bear these in mind during discussion to ensure better communication.
I'm only doing one or two themes of my choice for each shoot. For models who are looking to own a full professional modelling portfolio that can show different styles, do engage my photography services instead. Nevertheless, some new models are able to secure jobs after just a single shoot with me.
I'm a professional photographer who makes money through photography; every portrait shoot is worth minimum of $360, and usually, much more.
If you don't cooperate fully with the photographer, don't expect him to produce work of his usual quality; if the quality of work isn't a matter to you, why do you want to work with this photographer in the first place?
My main objective for any TFCD shoot is for marketing purpose.
There are many "photographers" out there and many can please you even at the cost of the quality of the photographs - I don't and I can't. There are also "photographers" who may even want to pay you to "shoot".
I don't owe anyone anything; be respectful and don't be demanding.
I hate people doubting my professionalism; work with me only if you trust me. If you feel uncomfortable doing certain themes with me, which you have done before, including selfie, you should find out more about me and feel comfortable before you even approach me.
I hate people taking me for granted; if I'm helping you, you better make sure the shoot will benefit me as well. If you're not a model who can "wow" everyone just by showing your face, don't ask me to do shoots that my clients will be paying me to do.
Even if you are popular among guys, it doesn't mean your fashion sense and self grooming knowledge and skill are acceptable.
Purposes of this TFCD page
I have spent lots of time and effort in writing and updating (very frequently) this page even though many half-hearted can't-be-bothered people do not read before approaching me. It only makes them look ugly when they show their true colours during our conversations. The purposes of this page are to:
Educate people
Through the encounters with all the makeup artists, made-up artists, models and "models" who have approached me, I can see that there is a very unhealthy trend for TFCD shoot. It is likely due to their previous experiences in casual shoots that give them the wrong ideas on the procedure of a proper shoot and their expectations. Many people are not cooperating in the planning phase and they also have many weird and unreasonable requests/demands. I believe most people do not mean any harm but they do insult photographers unintentionally.

I started off with zero knowledge but I'm lucky that a commercial makeup artist has been guiding me on the rights of photographers and proper ground rules.
Reduce number of weird "models" approaching me
I receive requests for TFCD shoots frequently. My time is very flexible but extremely tight, to the extent that I have to turn down clients sometimes. Whenever a "model" approaches me for TFCD shoot, I have to spend a lot of time looking at her photographs and discussing with her while determining her character, working style and expectation. Therefore, everyone who approaches me will take up a lot of my time regardless whether we do go ahead with the shoot or not. Besides, I can get soft-hearted easily and thus I have to "get rid of" unsuitable models before they contact me.

When I mention "weird", I literally mean it, especially in term of attitude. Browse around my website or ask me directly for the stories, and you will understand why I have to defer people from approaching me.

As I pile up with more information, including requirements, here, I have successfully reduced the number of enquiries even though my portfolio and marketing are improving tremedously. Of course, people who approach me through my social media profiles and have not read this page do continue to give me problems. I'm also sure that the length of this page has driven away many potential models who can help me to create very good work - I cannot help it.
Reduce redundant typing work and be consistent
Whenever any model approaches me, I will give the URL of this page to her directly and this has saved me from typing the rules and procedure over and over again. Moreover, this page will prevent me from missing out any important point.
Avoid wasting anyone's time
Since I have stated the rules clearly, the model can go away if she does not agree with them as to prevent wasting of anyone's time. It is absolutely a waste of time for models to contact me and realise we have different views halfway through the discussion.
Avoid any miscommunication/misunderstanding
I try to stay as friends with people who approach me, especially those I get to work with. It is better for us to remain as strangers than to fall out during the process - before, during or after the shoot. One major problem is that many "photographers" have spoiled the "models" and thus they may have ridiculous expectations like as if they are paying for my photography services.
My goals for doing TFCD Shoot
Marketing
My portfolio is already sufficient to showcase the quality of my work and thus marketing is the biggest goal for me to do TFCD shoot. While I'm helping potential models to create their portfolios, I'm expecting them to help me to do some marketing. The minimum thing they can do is to help advertising for my social media profiles, such as Facebook page and Instagram page.

For the sake of both marketing and my interest in getting more varieties of portfolio, I'm looking for more interesting or artsy themes to work on, which will more likely go viral.
Expand portfolio at ease
Everyone can appear pretty in photographs with the help of a very good hair and makeup artist, and good planning of the shoot by the photographer. However, it depends on the looks to determine the effort to be spent. For TFCD shoot, I'm looking for good-looking models so that I can produce beautiful photographs easily, especially without the help of any hair and makeup artist.
Educational purpose
I have written many tips and articles related to photography. Often, I need illustrations. For examples, I need to display the before and after Photoshop photographs to demonstrate what is professional photo-editing and I also want to show people what is fashion gone wrong. There are many topics I wish to touch on but I need the photographs, which will require brave souls to take up.
Try/practise new shooting style or equipment
There are countless different shooting styles and equipment (lenses and light modifiers). They require hands-on to try out in order to understand and get used to.
Test "new" make-up artists
I practise cautious and will at least have a test shoot with the make-up artists before introducing them to clients. This will help to discover the make-up artists' skill and attitudes.
Help potential models and make-up artists
It is my habit to try to help others within my capability. Of course, I will only help people who really deserve it in term of their attitude.
Make friends of same interest
No man is an island and we need friends who share the same interest. I have enjoyed working with most of the people who have spent effort in creating art work with me. People who have worked with me will understand my true passion in the art. We may not be free to keep in touch but the photographs do remind us of the beautiful moments.
Learn new things (photography and others)
No one knows everything. I have been picking up knowledge of all kind even from new models.
Why do I reject models' requests for shoot?
Most of the time, I do not reject requests - they (models and model-wannabes) are the ones who have rejected themselves. Arrogance, half-heartedness, low self-esteem, lack of trust are the main killers. Photography is my passion and it means having fun for me; thus I need not put up with people who are not paying me any cent. I seek not to waste any time and effort and thus I will want to make sure every shoot is properly planned to a certain extent.
MIA
The girl approaches me and when she says her phone's battery is going flat or she is going to bed, she does not get back to me again.
Too busy The girl approaches me but she is not available until the next month. The girl replies me a few lines after a few days. The girl does not have the time to take photographs of her outfits to show me.
Alien The girl does not have any clear and recent photographs of herself to let me judge her looks. The girl claims to be an ex-model but she does not have any portfolio or modelling photograph to show me.
Unflattering appearance The girl has major flaws physically or simply below average looking, and will never produce good photographs without extreme makeover and that the angle of shoot will be very limited.
Lack of self-grooming knowledge/skill The girl looks average but has poor self-grooming skill when it is difficult to get a HMUA for TFCD shoot.
Over-confident / arrogant The girl thinks her makeup skill and fashion sense are excellent and needs no help when she is actually wrong. The girl does not heed any advice/feedback because she is flawless. The girl thinks she can produce any kind of good expression but she is actually very stiff inside her portfolio and casual photographs.
Poor fashion sense The girl has only very boring clothes that limits the shoot to normal fashion shoot that clients will be paying me to do, even though nice/stylish clothes do not need to be expensive.
Lack of trust The girl has trust issue and doubts my professionalism just because there are many black sheep out there. The girl thinks I want to stalk her when I try to find out her residential address to plan for a suitable shooting location. The girl subconsciously knows most photographers shoot with her just because of her boobs and not looks, and she thinks every photographer only wants her to do porn.
Low EQ The girl thinks the shoot is going to be sexual when she is being requested to use a set of clothes found in her Facebook photographs, taken besides her mum, that are covering her almost fully. The girl is simply not very good in communication. The girl suggests doing certain themes and rejects them.
Unfairness The girl rejects certain types of shoot that can help me more in marketing, such as swimwear, when she has already done with other photographer or friend, and obviously I can produce more tasteful and professional work.
Selfish The girl is only interested in doing themes that she wants that will not benefit my portfolio. The girl is making use of me so that she can showcase her sponsored items or even own apparatus for sales.
Over-conservative The girl can do very limited themes while her looks and fashion sense do not help me much in my portfolio.
Poor taste in judging photographs The girl does not know how to differentiate between good and bad photographs, and she will approach any person with camera to shoot - she will never make special effort for any good photographer because she can get any random "photographer" easily. The girl thinks she has done a photoshoot for certain theme or at certain location just because her previous "photographer" was using a DSLR, and thus reject the idea directly.
Inflexible The girl has issues with timings, location, outfits...
Low self-esteem / over-sensitive The girl thinks I'm rejecting her when I have not. The girl thinks I'm saying she is fat and rejecting her when I tell her she still has many days or weeks to tone up her body before the confirmed shooting date.
Postponement of shoot The girl has something on that is more important than the earlier arranged day and time for the shoot.
Spoiled by other photographers The girl has worked with "photographers" without proper planning and thus she ignorantly assumes a good photoshoot needs only agreement for the date, time, venue and "style of clothes" (without showing any picture).
Unfortunately, not everyone will show her true colours immediately. If it happens that I suddenly realise I cannot handle anyone's attitude or working style, I will call off the shoot even at the very last hour. I'm too exhausted to handle these people and also having the quality of my work being discounted due to their uncooperativeness.

For example, the most common bad attitude from models is that they do not show me the outfits that they are going to wear for the shoot. I have had enough of wardrobe malfunction, mismatch with the theme or location and last minute apologies that the outfits are missing or no longer fitting. It also causes me to be unable to visualize/plan the shoot just because the models think too highly of themselves, being unprofessional and indirectly disrespecting me as the photographer who is supposed to oversee everything.

Read: Good Models, Bad Models
Shoots / themes that I'm looking at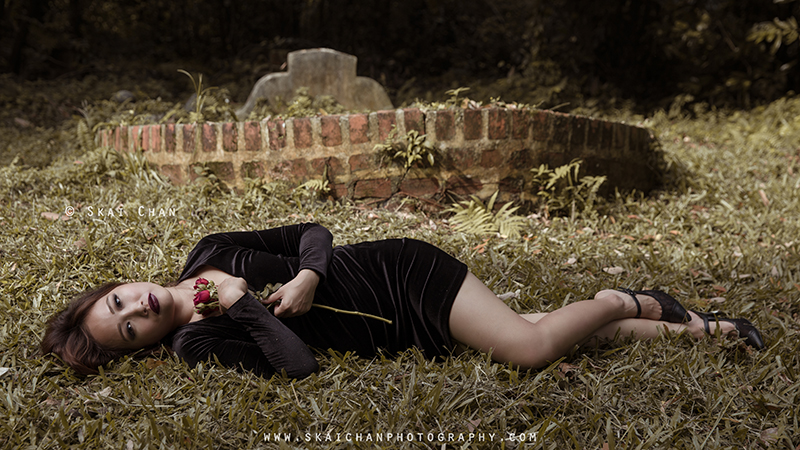 I do TFCD shoot mainly for marketing purpose. If you have the killer looks or figure, or have an interesting personality, it is easily achieveable with most kinds of theme and outfit. Otherwise, the only way to benefit me is to do either creative/unusual theme, art shoot, sexy fashion or glamour shoot. The usual kind of Garden Shoot with a normal model smiling at the camera will not benefit any professional photographer, except those who are simply looking for a date with the model.

Obviously, for every kind of shoot, I will keep them tasteful as seen in my existing portfolio; my reputation is at stake.
Creative/Unusual themes
I can't describe my ideas in full details in my modelling casting calls because I do not want others to pick up and do before me. Some of the creative themes I have already done are a basketball theme, posing with musical instruments or even toy figurine. I have also tried to shoot at unusual places like abandoned houses and cemetery.
Art shoot
Although I have never learnt dancing, I do appreciate dances a lot. Gymnasts, cheerleaders, yogis can also do very artistic moves to capture the souls of the viewers. Other kinds of art shoot can be like for examples, an elegant girl in dress floating in the water or even an emo girl on the street while I play with my lighting to create the mood.
Feminine/Sexy fashion shoot
Sexiness will usually attract more attention, which will help a lot in marketing. A sexy fashion shoot usually involves outfits like bodycon dress, bareback dress, short dress, bikini or low-cut top that will show off cleavage. Unfortunately, many "photographers" have produced low quality photographs that have printed negative thoughts on the shoot.

My style of doing sexy fashion shoot is different from most "photographers" - I keep my work very stylish and tasteful - not sleazy at all. The photographs will be leaning toward high fashion style.
Glamour shoot
While fashion shoots are about showing off of the wardrobes, glamour shoots are more about showing off of the woman's body. They are, for examples, lingerie (boudoir) or unbuttoned shirt with or without wearing bra; sky is the limit. Glamour shoot does not refer to simply nude shoot. Of course, for my shoot, all private parts must not be shown in pictures.

Many clients who have the real spending power are young or middle-aged adults who want to do glamour shoot to keep the photographs as memory before they turn old. A couple of potential clients have approached and complimented me on my work, but they think I do not have enough glamour work to showcase to them. Therefore, I'm giving higher priority to models who will take up glamour shoot.
Benefits of shooting with me
Artistic photographs
My styling mentor, Tricia Lee, is an experienced professional commercial makeup artist who has taught me to look out for flaws in the photographs. Both of us have a high standard for artistic/tasteful photographs, and thus no sexy theme will become porn-like.
Quality of photographs
I will be doing advanced editing to the photographs to what I will do for commercial standard, which may take hours for each individual photograph. Therefore, it requires lots of time and effort, and I'm not able to give you too many photographs.

You will be able to get some decent quality photographs if you can cooperate fully with me. You can judge the quality from my portfolio and compare them with other photographers' work. I may not have the equipment and assistants to create award-winning photographs yet, at least, clients are willing to pay me to have their photographs taken by me.
Safety
I do not force any model to do anything that is obviously dangerous.
No hanky-panky
You want to feel safe no matter how much or little you are going to wear during the shoot. I have heard stories from models about what many "photographers" try to do during the shoot. I'm a guy but I know how to respect my models. We are likely to be doing outdoor photoshoot in the public, unless you can provide an indoor location for the shoot or the theme requires us to be in indoor. I do not even touch my models to pose them during the shoot - you can verify this with the models who have worked with me before. What I'm eyeing for is to produce good art work.
Mental preparation
I will send you the photographs, as a form of respect, before I upload them anywhere, unless you do not reply to my text fast (within a day) or even go MIA somehow.
Reputation
If you happen to shoot with any blacklisted photographer, people who see the photographs may be wondering what may have happened during the shoot and your reputation is at stake. I may not be the best guy on earth in term of character, but I'm better than most people.
No blaming game
There're many factors contributing to the success of a shoot and often, unforeseeable problems may surface, including bad weather. Even if our photoshoot doesn't turn out well due to you lacking experience, you won't be blamed if you've cooperated with me. That means, for examples, you should have done things such as sending photographs of you in the outfits during planning phase and turning up on time for the actual shoot.

Do note that I will be using all mistakes/problems encountered for educational purposes though and I don't mean to insult or blame anyone.
Reasons you should not work with me
I'm not sure what other photographers will do to please you for TFCD photoshoot, but I have my principles and I'm not going to "spoil the market" (set bad trend, kill the rights of photographers... etc) even though it is already in a mess now. I'm a person who is endlessly trying to make every friend happy and satisfied, but please be mindful that I'm not trying to bed you.
Proper planning
We take time and effort to discuss and plan. I do not just count on luck to produce good work; I do my best in planning. Even if the final product turns out to be less pleasing than expected due to unforeseeable problems, I will be glad that I have done my best given the situation. That means my model has to cooperate with me during planning phase, including discussion of the exact outfit(s) to be used. It just takes a few minutes to snap photographs and send me to make sure we are on the same and right track and that I can visualise the shoot better. From my experience, models who give excuses not to show me the actual outfits beforehand are over-confident and lack of real experience and likely not easy to work with.
Honesty
You may not always hear the good things. I will not blindly say you are pretty when you are not, and I may point out flaws for you to improve/hide. If you have low self esteem or is doubtful of people (their intentions), you will probably feel offended. Furthermore, your admirers must have been worshipping you in social media without pointing out your flaws that may make you unable to accept the reality that no one is perfect.
No car
You do not get a free chauffeur to fetch and send you home. You are expected to walk with me to find good spots for outdoor shooting. If you are lazy, do not force yourself and end up feeling frustrated. Just do not forget that photography equipment are usually over 10kg and sometimes double or triple the weight, and you do not have the right to complain if the photographer is not.
Have only a small makeshift studio
Most of the themes I tend to be interested in are more suitable for outdoor shooting. To put it simple, you are likely not going to have the comfort of having air-con or clean chair during the shoot. If necessary, I can borrow indoor places from friends to act as a studio, which will require more time to set up and dismantle.
No assistant
For TFCD shoot, I may work on my own because my assistants are likely not available. Even if a makeup artist is present, I would avoid asking for assistance, unless I need to secure the lighting equipment from the wind. I do not like to abuse people. Therefore, I may need more time to set up my equipment, including securing them somehow. If you need someone to carry your stuff, do get your female friend along.
Low or no budget
I'm not born with silver spoon. I would rather spend the money for a TFCD shoot on buying equipment. If the item is very "small" and can make a big difference, I'm fine with it. I will persuade my team member(s) not to waste money as well. So, renting of studio or hotel is a no-no for my TFCD shoot, unless we have a sponsor.
Small number of photographs
If you weigh quantity over quality, you are going to be disappointed while I'm going to be even more disappointed in you. Even if you are lucky enough to get a good makeup artist to work together, your face will still be required to be touched up. It takes time to filter and edit photographs. I have experienced spending five hours just to touch up one photo to the extent that my wrist started aching. If I were to work on more photographs, I will not be able to keep up with my patience and there will be many photographs that are under-satisfactory despite you may not be able to tell the flaw(s). Lastly, if you are the type of person who wants a lot of photographs in the same outfit and location, trust me, you do not know how to appreciate photographs.
No raw photographs
If you are someone who knows a bit of PhotoShop or Lightroom, you still do not have the right to insult the photographer by implying that you can do the same or better post-processing job. The actual taking of photographs together with post-processing work represents the photographer's work. No good photographer will allow you to do editing work and credit to him; you are only going to tarnish his reputation. Of course, there are some "commercial" photographers who do this to please the "models" because they aim to enjoy the process of shooting naked models instead of creating additional art work for their own portfolios. Every shoot I do will be for my portfolio, although I'm trying to enjoy myself during the shoot, in a clean and decent way.
You do not get to choose the photographs
I may allow you to view the photographs on my camera and highlight which photographs you like a lot. However, the final decision lies with me. Firstly, photographers hold the rights and secondly, different people may have different opinions. You work with me because you trust my taste.
You are not allowed to edit or crop any photograph
Phototaking and post-processing (editing) come in a package, just like a baker who bakes and adds toppings at the surface of his cake. The final photographs that are sent to you are edited to my liking and you believe in my taste and skill as a photographer, or otherwise, pass a camera to your grandma to help you take photographs instead. That means if you like certain filter of an application or prefer the photograph in square dimension, you are still not allowed to edit.
Speed
I cannot return you the photographs fast. I have my life and work, and I have my clients to answer to. Some photographers can promise you to give you the final photographs, with or without editing, within a day, a week or a month - I cannot give any empty promise. At least I know my final photographs have certain quality. If I have stated on my service agreement for clients that they would receive their photographs within two month, don't expect a better "treatment" than those who are helping me with my ricebowl.
More exposure
This is actually very good for new models, but in case you are socially awkward or just want to keep a super duper low profile, you should not work with me. The main reason for me to shoot with you is probably for marketing and thus I will post the photographs online and even submit for competitions. Therefore, there is no way I'm going to shoot for you as collaboration and not upload the photographs - remember that I do not owe you anything.
I do not take down any photograph
In future, if you somehow regret having your photographs taken due to whatever reason (eg. your mama or boyfriend not happy), I will not entertain your request. I do not let anyone make use of me when they are happy and then kill all my effort (including doing of write-up, resizing the photographs to web versions, coding the new page and linking various pages to each other) when they somehow change their minds. Note that I do not even entertain any client who does not want me to publish any of the work - I have even turned down shoots from big companies.
Symptoms that you are not interested
"If you are not serious, people can feel it through your actions; no sweet words can cover up your lack of interest."
Besides for marketing purpose, I'm always on the lookout for suitable TFCD models to accomplish various shooting themes and concepts that not many paying clients would be suitable for. Unfortunately and fortunately I have met uncountable number of time-wasters. This is the main reason I try not to plan too much until I confirm the model is serious and I'm sick of model approaching me and asking me for ideas for the shoot. Ideas are valuable, especially customized ones.
I have been dealing with many fickle-minded girls who have always sounded chatty and delightful during our initial discussions. I suppose they have also messaged a few photographers at the same period of time. Obviously, they cannot tell the differences between professional and amateur work, or at least they do not foresee the photographs I'm going to produce with them would make a difference to them.

Here are some tips to find out if you are really interested and serious about doing photo shoot or NOT:
You take ages to reply my messages
You reply with any unconstructive message (e.g. "lol") and stop
You cannot confirm the date and time for our shoot
You dare not promise me that you will shoot after confirming our shooting date
You take ages to prepare photographs of your outfits to send me
You postpone our shoot because of your newly scheduled tuition or driving lesson etc
You do not sleep early for the early morning shoot
Read: How to tell if someone truly appreciates a photographer's work
FAQs
For other non TFCD related questions, do refer to the main FAQs page.
Q. Can you do TFCD shoot with me?
A. Just read the entire page and provide me with the details in order for me to judge and decide. You need to have a little bit of IQ and understand that no photographer will work with you without knowing your exact looks. He will also not be able to think of a theme for you without knowing what kind of wardrobe you own.

Q. Can I don't reply you some of the sensitive details?
A. No, I don't earn anything from doing TFCD shoot and I have limited time in taking up projects. Thus, I expect to qualify every model properly and have proper planning in order not to waste my time. Most of the details that you think are sensitive are likely to be on professional models' comcards and online modelling profiles. Let's just stay professional.

Q. Why do you need the details?
A. To judge you and plan the shoot, including the types of clothes that will fit you and the theme. Different clothes suit different body figures.

Q. Why do you even need to know where do I stay?
A. To be honest, given your level of intelligence and trust, there's a high chance we will have conflict even before the shoot. It's obvious I will try to plan a shoot not too far away from your house if possible - I won't want to make you travel to Pasir Ris if you are staying in Boonlay. I also want to consider the time of the shoot, given how convenience is the mode of transport from your house to the shooting location. You don't even have to tell me your house number and I'm not interested in doing housevisiting to meet your parents.

Q. Do your friends need to provide the details as well?
A. If I have already met them, most likely no. However, I will still need to know the outfits and some of the details.

Q. I'm just a teenager, am I eligible for TFCD shoot with you?
A. Yes, as long as the shoot benefits my photography. Models usually start from young. However, young models usually give more problems - limited clothes, extremely conservative, lack of communication skill etc.

Q. Do you only shoot young girls?
A. My expertise is working with girls and for TFCD shoot, I only work with female models. I don't go for young models and instead, I rather go for more mature ladies who are likely to give less problems. However, most girls who are inspired to become models are younger girls and that's why there are much more young girls who have approached me. My female adult friends are not interested in photography while clients prefer to keep the photographs private.

Q. I'm married, am I eligible?
A. I do professional shoot and I'm not trying to date you. Therefore, your relationship status isn't a big concern - if you have a boyfriend or husband, you better make sure they are agreeable to you doing a shoot with me.

Q. I'm very short, am I eligible?
A. Height does not matter too much in still photographs as long as your body proportion is good - body VS legs. Of course, you may be at disadvantage compared to taller girls with good body proportion.

Q. Will a HMUA be provided?
A. I will always try to get a HMUA since one of the reasons for doing TFCD shoot is to test new HMUAs and help my existing HMUA friends to build up their portfolios. However, it's subjected to various factors. For example, if the model doesn't seem firm, I won't want to risk wasting anyone else's time to discuss. If the shoot is impromptu or it has to start very early in the morning, I may not look for a HMUA. Of course, the model must be able to do very basic and decent makeup, given also that the shoot requires a simple look.

Q. What kinds of shoot are you looking at?
A. I'm doing TFCD shoot (limited) mostly for marketing purpose and thus I'm looking at themes that are more artistic or creative that can increase viewership. I do have many interesting ideas in mind but they require suitable model, wardrobe, props and location and I don't expect to pay for a non commercial shoot.

Q. For fashion shoot, what kind of clothes do you want me to wear?
A. You show me what you have instead of me racking my brain and then you tell me you don't have it. By doing it, I'm also able to judge your taste.

Q. Do I need to wear the clothes to snap photographs for you?
A. If there are too many of them and you are lazy, you can take photographs without wearing them. After we scale down the number, you have to put them on because it is difficult to judge the exact design, cutting, length and the "feel" without you wearing them. However, I may miss out some nice clothes since I won't know the actual design and cutting. This is why fashion shops have mannequins.

Q. Why do you do sensual shoot?
A. Reasons why I love the art.

Q. Do you only do sensual shoots for TFCD?
A. Sensual shoot is just one of the types of shoot I do and I'm open to various types of shoot. Most of the time, it depends on individual model. If the model doesn't have the look or aura of a supermodel and there's no interesting theme I have in mind for her, the easiest choice is sensual or art shoot that can help in term of marketing value. Unfortunately, most of the girls who have approached me for TFCD shoot can't fit into anything.

Q. Do you do nude shoot for TFCD?
A. It depends on the model's looks and intelligence, and trust in me. It's a form of art that I wish to show others that it can be done tastefully as well. I will likely use Photoshop to hide the private parts (nipples and vagina), such as drawing a line over, in order to be able to present them to a wider range of audience.