Toy Story Themed Photoshoot with Maisie Chew




Maisie is my cute "Cowdung xiao mei mei". She is definitely not a bimbo but someone with a useful brain filled with creativeness. She is pretty by nature and needs no makeup to be alluring.

Maisie is kind by nature who offers help to the needy, especially the animals. She also gives unconditional support to friends. She is more expensive than a jade and my camera.

Maisie is definitely unique in all aspects. She does not fancy pleasing words like most girls do even though she is truly a girl, less hourglass figure. She has high tolerance towards others, especially my craps and verbal abusiveness towards her. In fact, she uses her heart to judge sincerity and jokes. I appreciate her for putting trust in me and believing all nasty words are meant to be teasers except those about her figure.

We share common interests such as liking for animals even though my dog, Luckie, is obviously cuter than her bunny by the delicious chocolate name of Hershey. My dog barked less at her compared to others during their encounters and he did not chew her up despite everyone urging him to do so - Maisie! Chew Maisie! Chew!

Maisie is most mesmerizing when she does cooking. When she ties her hair up and behaves like every man's dream wife, her mature outlook warms up the entire kitchen within a cool temperature. She has successfully proven to the world that dolling up a little "auntiely" can be charming as well.

I have waited for nearly half a year for her to do photoshoot with me. She has given enough excuses to be crowned the title of Cowdung XMM since she is too sweet to be addressed as bullshit.

I was glad that she was only late for 15 minutes. She was by then the only model who had managed to meet up with me for the good sunlight at 7.15am. The sky was weeping but soon overwhelmed by the liveliness of Maisie. I liked the fact that she had ideas that helped to kick everything started. The only problem was that she was too eager and insistent to call for "cut" before I could find more flattering angles and expression of hers. She was in a feminine black dress but she was not confident that it was nice. My Cowdung XMM wore the same "ugly" black dress until night time.

She is a girl, she is a Maisie and she is amazing.
Featuring ↬
Maisie Hershey Chew
Makeup Artist (MUA) ↬
Maisie Hershey Chew
Wardrobe ↬
Maisie Hershey Chew
Props ↬
Maisie Hershey Chew
Camera ↬
Sony NEX 7
Lens ↬
Sony 50mm F1.8
Lighting ↬
Natural light
Place ↬
Chinese Gardens
Date ↬
28 Mar, 2013
Photo Editing type ↬
Advanced
Disclaimer for write-up
Other Themed Photoshoot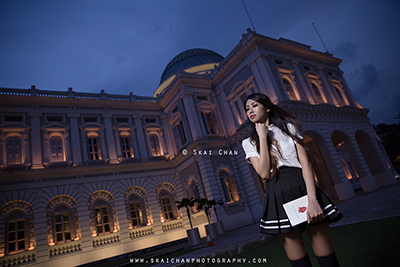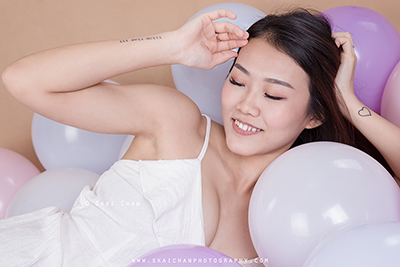 More
Themed
albums Portrait photography > All albums > All Themed albums
Page last modified on Thu, 26 August 2021