Art Photo Shoot - Isabelle Raphaela Leong




This was an implied nude tattoo art shoot to feature the tattoos and demonstrate to people with inks that they could do tasteful art shoots that focus on both their faces and inks - both that should be documented down before they grow older. The concept of implied nudity added sexiness to the art work. As usual, making these works tasteful was one of the biggest challenges for any sexy shoot.

As I wished to create more tattoo shoot albums to have a larger variety of samples for potential clients, I tried to find a volunteer who would allow me to showcase the album to the public. I started by posting a poll via Instagram to look for volunteer and Isabelle kindly responded to it.

I gave her one of the existing albums on my website to showcase exactly what I was looking for - a naked model with inks whose private parts were not shown - and I was very glad that she was open to the idea. Then I gave her the links to my lengthy but detailed terms and conditions for collaboration work and she agreed. However, she was busy and thus said she would get back to me.

About a month later, she got back to me and we started discussing via WhatsApp over the details. Since the photo shoot was going to be very sexy, I tried hard to find out more about her and also to highlight more details to her.

Isabelle was very humble. She initially asked me if her (plus size) body would work for the shoot but I assured her that as long as she's open-minded, we could do something nice. Later on, I told her that the girl inside the tattoo art implied nude shoot album I had shown her wasn't slim as well.

I highlighted to her that my usual style was to focus a lot on looks and I wanted to make every model look pretty and slim. I would do it with the help of my camera equipment, her angles (postures), my lighting and a black backdrop (easier for editing). I would eventually use Photoshop to touch up.

The usual problem of models was their boyfriends. However, Isabelle's boyfriend was encouraging towards her after seeing the sample and my portfolio. She did ask him years back about doing tattoo shoots and after doing researches on his own this year, he was okay with it. Since we were doing a tattoo art shoot, which wouldn't require her to display sensual expression or body posture, unlike boudoir shoot, I was certain that her boyfriend was supportive of this shoot.

To give her a head up, I honestly highlighted to her that photographers would usually get to see almost everything (referring to her body) during such implied nude photos shoots but I would not touch any model.

Isabelle was very committed. She even searched online for samples of nude shoots and discussed them with me. She had an idea of using a black cloth as prop and tried to get it on her own.

She spent time and effort to take selfie to show me her body shape (private parts covered) and her 13 tattoos to give me a good idea to plan for the shoot. I was straightforward and immediately told her I wouldn't be covering all of them since some were at weird places. It seemed like she didn't have any expectation - knowing well that she was simply volunteering to help - and thus throughout the discussion phase, she didn't mention any expectation of the result.

I shared some stories of my previous photo shoots with her so that she would take note of some possible problems. I told her about some people ended up making the photo shoots awkward. She also shared some interesting stories of her doing the tattoos and other photographers who had approached her.

I tried to sound out if she was confident about her looks and body and she was very positive. I was frank to her that she had nice face and big asset, and although she's not perfect, the result of the shoot would be very powerful if I could manage to make her look good.

Of course, since it was a sexy shoot and she should be clear of the plan, I double confirmed with her that she would be naked without panty on. I assured her our shoot would be a much more challenging one because she had earlier done an outdoor photo shoot with another photographer who was using natural light. She was very positive about it and ready to take up the challenge.

It was a long and great discussion that would build rapport and trust.

Before the shoot, my main fear was that it was going to take far too long to get a good photograph taken. I was quite worried due to my previous experience of working on focusing on model's face and body part. It wasn't easy to adjust the light to point on a certain small part (tattoo) of the body because any slight twitching of the body would cause the light to misalign. However, as I proceeded into the shoot, it wasn't the only challenge I had to face.

The reason why I wasn't concern about Isabelle's figure was that I had worked with a few plus size models before and not many people could spot which were the albums. One of the albums was the sample I had shown her when we first discussed about this tattoo phoot shoot.

While I was taking hours to set up the makeshift studio, inclusive of moving furniture and cleaning up the place, Isabelle went to get her hair and makeup done. I set up three lighting but tried to keep it down to two. One main light was to light up her face softly while another was to light up her tattoo. I lost much of my energy because of the set-up.

Isabelle arrived with a friend who was helpful enough to help me to guide her physically and verbally since I wouldn't want to have any body contact with my models. We had laughter. However, her friend didn't stay through the shoot and I missed having an assistant.

The first challenge was to light Isabelle's face up beautifully while using the light to shape her body and create an illusion to look slimmer.

The second challenge was to pose Isabelle in flattering ways to show her beautiful curves wherever possible. It was extremely energy-consuming as it required her to twist and bend her body, stand on a foot. I tried to do a mirror image for her to follow and also showed her the LCD screen at the back of my DSLR so that she could see what went wrong and make necessary minor adjustments. We repeated this many times for each pose or tattoo that we wanted to capture.

The third challenge was to try to cover up certain tattoo so as not distract the view on the tattoo that we were targeting at. It involved extra twisting of her arms and legs. She had to hold her positions.

The fourth challenge was to make sure the tattoos were not distorted. While she twisted her body parts, her skin was pulled and thus many times, the tattoos on certain parts of her body got distorted. It added on to the burden and we had to retake many times.

The fifth challenge, which was well anticipated, was to light up the specific tattoo. Since the focuses of the shoot, to my usual style and also as discussed with Isabelle, was on her face and tattoos, I had to make sure the specific tattoo is well lighted up as well and not in a darker tone. The problem was that it was impossible for Isabelle to hold position for long while I adjusted and fired a shot to test if the light was targeting at the exact small area. Whenever I thought the setup was done, I got Isabelle to start twisting her body or body parts but the position of the tattoo would be moved. We did a lot of trials and errors, thus wasting many shutter counts. I was very glad that Isabelle was very patient throughout.

The sixth challenge was the limited space. After all, it wasn't a standard studio and I didn't have the width to extend my backdrop to three metres. Thus, it wasn't easy for Isabelle to do any shoot with her full body on the ground.

The seventh and last challenge was on my physical body. Since I had to make adjustment physically to my strobes in order to find the most flattering way to light up Isabelle and her tattoos, it drained my energy and also hurt my fingers. Since I also had to move forward to adjust the strobes and then backward, then kneel or squat to take the shot, there was at a point of time, my leg was almost cramped.

We actually had a dinner break in the evening before returning to resume the shoot. The makeup artist arrived to join in. By then, Isabelle and I had already run out of ideas how to capture those tattoos individually together with her face. Therefore, the makeup artist proposed us to do a general shoot that was targeting on any single specific tattoo. Isabelle was hardworking enough to persist on but since the goal of the day was fulfilled with a few of the tattoos already captured, we called it off a day.

I fired a total of around 211 shots for this shoot, which was quite impressive given that we had to make huge amount of adjustments on both her poses and the strobes. The small details were the killers. For every pose and tattoo, we also took many shots. Even for the first photograph of the simple close-up shot, I fired 43 shots, partly due to warming-up. Therefore, the result was far beyond my expectation of getting at least four good photographs.

Since I was busy working on other earlier albums, I didn't start working on the album for post-production immediately. 10 days after the shoot, Isabelle was anxious and tried to find out the status of the album in our group chat. I wasn't sure if she was comfortable and thus I had to private message her to update her on the difficulties.

I told her that her photographs would take longer time to edit due to the nature of the shoot - she's showing more skin than most other shoots and there would be more things to edit. I highlighted that I would have to take care of her scars and stretch marks. Since my photographs were sharp and clear and since mostly were close-up, which would showcase any flaw more, it would add on to the post-production work. However, I assumed her that if she were to zoom in to my finished work, she would be able to tell the difference.

I laughed to myself when she suggested I should update the makeup artist as well, because I had worked with the makeup artist probably over 30 projects (albums) and she knew my working style quite well. For every shoot, I had also told her truthfully about the merits and flaws of every model, in terms of both looks and behaviours, giving her a chance whether to take up the project. Putting it in another way, the makeup artist knew everything to the point that she could even easily put me in a terrible light if she were to spill out our private discussion. Or simply, she knew the effort I had put into each album.

Into post-production, as expected, the most tedious work was to clear up the scars and stretch marks. Isabelle was the proud owner of some cats and thus needless to explain the huge amount of scars on her body, especially hands. As most people had some stretch marks, it wasn't surprised that Isabelle had quite a lot, given that she was thicker than most girls.

Since it was my usual style and that most of my clients and friends would want the stretch marks to be removed for a professional shoot, which I would like to showcase the work to potential clients, I took time and effort to remove everything. Of course, if the highlight of the shoot were to be on the stretch marks, they shouldn't be removed.

I had tried to get everything right during the shoot, including the lighting and poses, and therefore, reducing the amount of post-editing work. Since my art was to focus on beauty, I had tried to make her look much slimmer during the shoot by working on (1) her poses, (2) my lighting, (3) my lens, (4) angle of lens and (5) the props.

Lastly, I used Photoshop to further shape her already slimmer body in the photographs. I worked exactly to my usual style as described on my website by virtually reducing her weight proportionally where possible to a limit. Since she's a plus size model and since she had told me she was confident with her body during our discussion, I allowed viewers to tell that she's slight meaty instead of turning her into a bamboo. However, in certain poses that she was sitting down and showing some of her back, I had to do more editing so that it wouldn't look like she had a hunchback and also to beautify the pictures to cater to the taste of majority of the viewers.

I didn't take note of the time but on average, it took probably three hours to work on each photograph. I chose the best photograph out of each of the main tattoos that we had worked on and then a few of the freestyle ones that were done at the end of the shoot. There were nine photographs in total and I was glad that I had under-promised and over-delivered the "one to six" photographs as indicated on my terms and conditions again.

Initially, my greatest worries was the kind of shoot people would sweet-talk Isabelle to do after she uploaded the photographs, which were very sexy. However, I came to realise that she and her boyfriend were old enough to make good decisions on their own.

My vision for doing photo shoots with people of thicker body is to build confidence in them and motivate them to live healthier. Although professional photography is able to make them look much slimmer even before the use of software (PhotoShop) that make wonders, and that plus size has its beauty while character is most important in a person, it's still more advisable for them to slim down for good health purposes.

Nevertheless, I was thankful to the entire team for this project, especially Isabelle who had been so hardworking and trusting, and polite to me throughout.
If you appreciate my work, passion and character,
do show some support by following my
Instagram
&
Facebook
, both at
@skaichanphotography
.
If we have worked together before, do write me a
testimonial
!
Disclaimer for write-up
Other Art / Glamour Photoshoot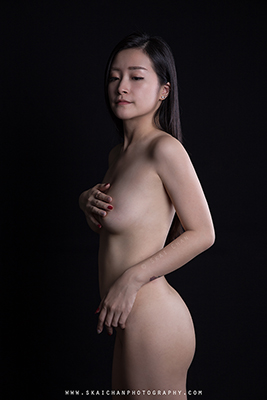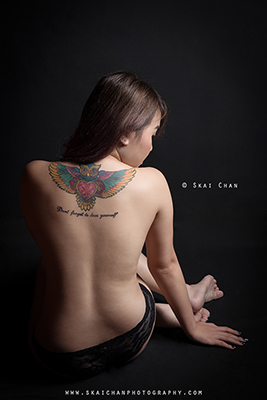 More
Art / Glamour
albums

View ALL albums