Military Themed Glamour Photoshoot with Nathalie Blue




Nathalie was a very chatty girl who had contacted me to set up a shoot long before she came over to Singapore.

We underestimated the journey to get to the exact location and ended up taking excess time to reach there. Nathalie was pulling her big luggage on the wheels while my 10 over kilograms of gears seemed to be dragging my legs.

I also managed to grab the help of my good friend, Lovelle, who answered to my last minute call as my assistant had something on. She took a cab down to join us and even bought drinks for us. It turned out that Lovelle was much more than just a flower vase. She helped to touch up on Nathalie's makeup and later gave lots of suggestions. It was quite impossible to find such a nice friend.

We were racing against time to get this shoot done before the last ray of sunlight disappeared. Most parts of the ground were unaccommodating as we were on a slope and a tiny bit of wind could easily blow my light stand over. In fact, I did ran over to save my main light once before adding gears below to secure it more. Apart from that, I was basically running all over the place, climbing stairs and walking along the narrow edges to try the lighting, not to forget to move the bag along with the main light. The fearless mosquitoes were not beaten off by my insect repellent spray and we were forcefully kissed by the sneaky pests.

Nathalie, apart from her outstanding figure, was a normal looking girl until the shoot began and her modelling expression surfaced. While art and porn were often being separated by just a fine line, Nathalie made the picture distinctively tasteful. She was extremely professional during the shoot. I appreciated the trust she had placed in me to work on such strong theme.

Eventually, Nathalie's friends gave both Lovelle and I a lift out of the place.
Featuring ↬
Nathalie Blue
Wardrobe ↬
Skai Chan
Credits ↬
Lovelle Tan
Camera ↬
Canon 6D
Lens ↬
Canon 24-70mm F2.8L II
Strobe ↬
Canon 600 EX-RT, Yongnuo YN560 EX-III
Location ↬
Labrador Park
Date ↬
26 June, 2015
Photo Editing type ↬
Advanced
If you appreciate my work, passion and character,
do show some support by following my
Instagram
&
Facebook
, both at
@skaichanphotography
.
If we have worked together before, do write me a
testimonial
!
Disclaimer for write-up
Other Glamour Photoshoot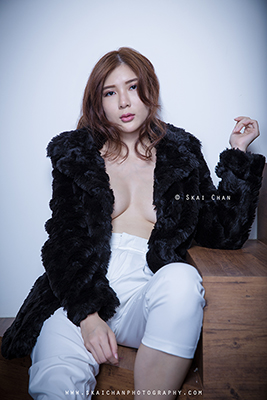 More
Glamour
albums Portrait photography > All albums > All Glamour albums
Page last modified on Wed, 19 May 2021