Closet Themed Photoshoot with Rachel Liew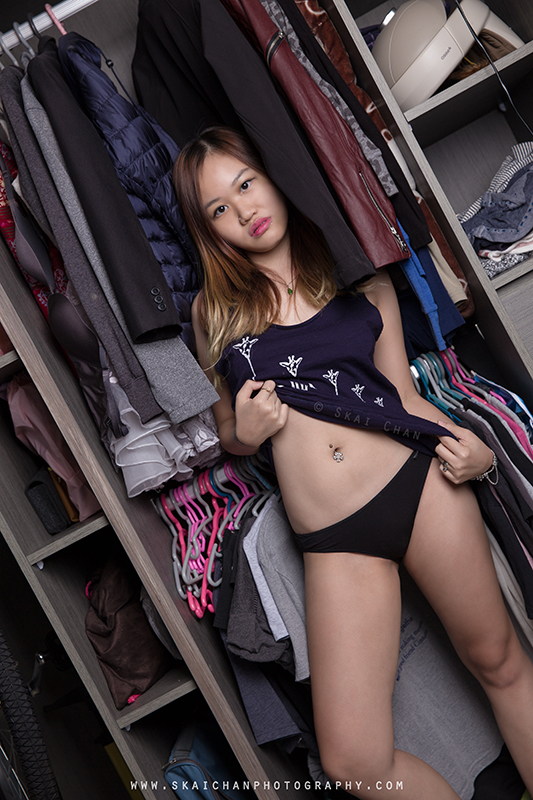 The closet photoshoot was another edgy concept that I had on my to-do list since the beginning of my portrait photography journey. Fortunately, I was in luck after so many years.

Firstly, Rachel was open to the concept. Given some other girls, they might have doubts and even if they were to try it, they might look awkward. To put it in simple words, different people had different muscle memories and some were more into the modelling portfolio kind of photoshoot while some could be very creative with such a concept. Of course, I would enjoy working with versatile models.

Secondly, the closet was tidy enough that not much packing work was required for the set-up. Thus, I would only have to change my light modifiers before we proceed with the photoshoot.

Thirdly, Rachel was light enough to sit on it. I had huge doubts about the quality of the new furniture and I was very worried that the wood would break; then I would be guilty to make the suggestion.

Lastly, Rachel did extremely well within a short time. I briefly explained the concept to her and did only a short demonstration of poses. She nailed it. In fact, I thought her performance for this concept was the best so far.
Featuring ↬
Rachel Liew
Hairstylist ↬
Rachel Liew
Makeup Artist (MUA) ↬
Rachel Liew
Wardrobe ↬
Rachel Liew
Camera ↬
Canon 6D
Lens ↬
Canon 24-70mm F2.8L II
Lighting ↬
Godox AD600BM, Cononmark B4
Place ↬
Tampines (indoor)
Date ↬
05 July, 2020
Photo Editing type ↬
Advanced
💲 Photographer's fee ↬
Prices & packages for Themed photography
Follow my Instagram & Facebook to get more updates.
Other Themed Photoshoot
Portrait photography > All albums > All Themed albums