Maternity/Pregnancy Boudoir Milk Bath Photoshoot with Vanessa Poh




I left my house after four o'clock in the morning for this shoot in my zombie mode. During usual days, I would still be working in front of my computer at this hour. I met up with Nicole somewhere near her studio before setting off to the venue together in a Grabcar.

Upon reaching the hotel's lobby, a staff saw us and told us that the hotel guest had to come down to pick us up personally. We were having loads with us and thus it was impossible for us to bluff our way through by saying we were going back to our room after a walk. We could have taken the beautiful stairs up to the second level once the staff had left. Since my mind wasn't even functioning properly, I decided we should go by the book instead. Therefore, instead of the initial plan to wait inside the room, Vanessa had to come down.

It was the second and also last day of her staycation. I was glad that at least we could start early so as to get more time for the shoot. In fact, the first part of a private portrait shoot was usually a warm-up session and thus it would require more time in order to get more natural looking photographs, especially for non-models.

I was quite amazed by the tall ceiling of the room. The interior design was cosy and romantic but I could foresee the difficulty of working on the shoot, given that Vanessa very much preferred using natural light. The bathroom separated the main area from the windows, and thus, the sunlight that could reach the main area would be very directional. Given this, the contrast of the light and shadow would be huge on anyone's face if I were to shoot from the direction towards the bathroom. Backlighting was a cool effect to create emotion but I didn't want to go for a dramatic or moody feel since pregnancy was a happy thing.

I felt quite bad since Nicole had to work on Vanessa's hair and makeup using the dim lamp from the room. The light was warm colour and also rather harsh.

My bonus entertainment was to look at the unborn's elder sister terrorizing on the bed in her sleep. Her dad was probably used to her kicking around.

Once the makeup was done, we went out to the pool side to kick off the shoot. Soon, I realised that I had made a big mistake - when I was testing shots earlier, I had replaced my usual lens with a wide angle lens. I had left everything inside the room, except for a speedlite and softbox that was portable. I had to make do with whatever I had in order not to trouble anyone.

The pool area was surrounded by trees to my disappointment - it wasn't special in any way. The place wasn't an ideal venue for shoot. The sun was out but the ambient light was kind of dull. Without good background, I would have focused more on my models usually with tighter framing while also creating more bokeh effect. The wide angle lens attached wasn't meant for these purposes. Anyway, Nicole had to leave soon and thus I had lost an advisor to give ideas and also handle the hyperactive little girl.

Later on, we went back to the room and continued with the shoot. I faced the backlighting issue as predicted. I wanted to make use of the nice room but gave up because it would involve more packing and shifting of most of the items. I didn't have to do the job myself but I really hated troubling people. Therefore, I chose to make do with whatever was available.

The last session at the bathtub was quite fun. The reflective surfaces limited my angle and creativity. Vanessa's hubby helped us to prepare the milk bath. Throughout, I was actually very worried about her safety because she could slip down into the water.

At the end of the shoot, I was given a ride home right to the carpark next to my house's lift. I was blessed.

As promised, I wouldn't write about Vanessa, except that it was the first time I realised she was fat.
Featuring ↬
Vanessa Poh
Hairstylist ↬
Nicole
Makeup Artist (MUA) ↬
Nicole
Wardrobe ↬
Vanessa Poh
Credits ↬
Eugene Teo
Camera ↬
Canon 6D
Lens ↬
Canon 24-70mm F2.8L II, Canon 16-35mm F4L
Strobe ↬
Yongnuo YN560 EX-III
Location ↬
Hotel Fort Canning
Date ↬
20 August, 2018
Photo Editing type ↬
Advanced
If you appreciate my work, passion and character,
do show some support by following my
Instagram
&
Facebook
, both at
@skaichanphotography
.
If we have worked together before, do write me a
testimonial
!
Disclaimer for write-up
Other Maternity Photoshoot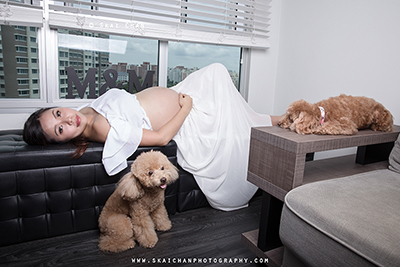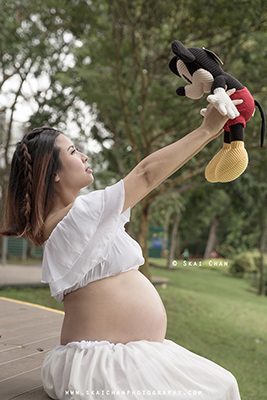 More
Maternity
albums Portrait photography > All albums > All Maternity albums
Page last modified on Wed, 19 May 2021