Fitness Workout Photoshoot with Raymond Chan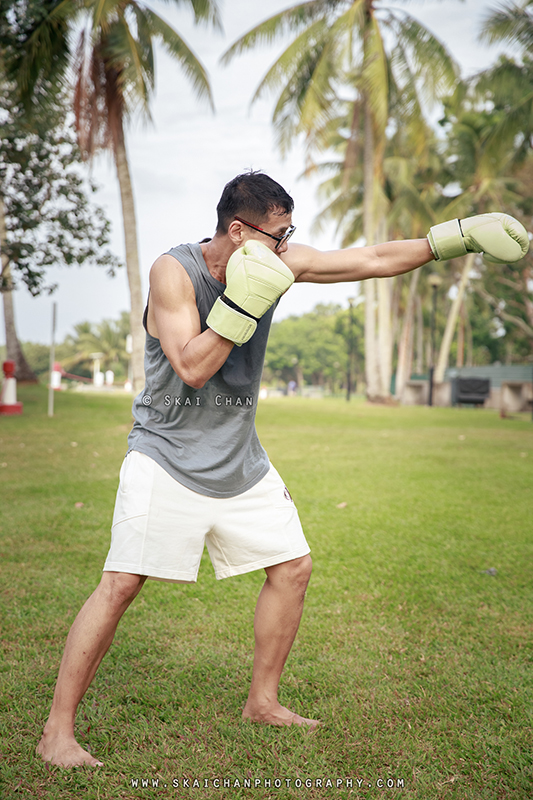 The second set of the photoshoot with Raymond was the main event—a casual fitness shoot that we had extensively discussed beforehand. Raymond had thoughtfully organised a meeting to go over the details, emphasising his desire for a natural and unretouched look, both in terms of lighting and post-processing. He acknowledged that he wasn't currently in peak physical condition, but with an impending extended holiday and a less strict diet plan, we agreed that this would be a documentation of his present form, with the prospect of a more professional fitness shoot in the future.

During our discussion, I proposed a location that took Raymond by surprise—Pasir Ris Beach instead of the more conventional Sentosa beaches. This suggestion stemmed from my desire to make each photoshoot unique and special. Pasir Ris Beach, with its distinctiveness and the added convenience of being close to his home, resonated with Raymond. Familiarity with the location also meant he'd feel more at ease, which would positively impact his performance.

On the day of the shoot, we met at White Sands Shopping Centre, where Raymond had some errands to run. From there, we drove to our destination together. However, the most unexpected challenge arose when we encountered issues exiting the carpark, near the gantry—a minor hiccup that tested our patience.

Our initial plan to arrive early, familiarise ourselves with the beach, and discuss the precise starting point for the shoot didn't come to fruition due to the delay. Nevertheless, we adapted swiftly and efficiently to the situation.

I was pleasantly surprised by the assortment of props Raymond had brought along, including a dumbbell, all personally transported from the carpark to our shooting location near the beach. This freestyle shoot allowed us to throw ideas back and forth. Raymond fearlessly tried out different poses and exercises, while I maneuverer around to find the most flattering angles for the shots. Fortunately, the beach wasn't too crowded, and we only had to occasionally navigate around a few beachgoers during the shoot.
Featuring ↬
Raymond Chan
Hairstylist ↬
-
Makeup Artist (MUA) ↬
-
Wardrobe ↬
Raymond Chan
Camera ↬
Canon 6D Mark II
Lens ↬
Canon 24-70mm F2.8L II
Place ↬
Pasir Ris Beach
Date ↬
03 August, 2023
Photo Editing type ↬
Basic
💲 Photographer's fee ↬
Prices & packages for Fitness photography
Check out the details on how I craft my portfolio pages and the disclaimer on the write-ups.

Follow my Instagram & Facebook to get more updates.
Other Fitness Photoshoot
Portrait photography > All albums > All Fitness albums