Fitness Photo Shoot - Angela Arlene Quek




This was one of the most memorable shoots due to the tiring but fun journey. It was insane of me to be carrying my equipment and covering a round of Macritchie Reservoir by feet. I had to bring along my 600-watt strobe since it was getting "late" (near noon) and I thought I might need the power to overcome the harsh light; hence, it added on to the bulkiness and weight of my loads. Since we would be walking on sand, rocks and slopes, I couldn't use my trolley and thus I had to carry all the equipment over my shoulders. I hadn't recovered from my old shoulder injuries.

Angela and I met up at Newton MRT station before we took a bus over to the reservoir. We scrambled for coins as her ez-link card didn't have enough value. It was a stunning but interesting start of the day. She was blur but cute.

She had an allergic the night before and rashes had appeared on her face. In order to keep her promise and not waste my time, she went ahead with the shoot, having to put makeup over the rashes, which was definitely a gigantic sacrifice. I assumed most other people would simply postpone the shoot given this unforeseeable situation.

We began our journey at the "main entrance" opposite Mount Alvernia Hospital and walked towards Treetop Walk. By then, it was late morning and the sun was already showing his arrogance. During the journey, we had great conversation while I struggled to survive with the heavy and bulky load, yet having to put up a relaxing front - it's about "being a man" thing.

Angela helped me with my load and I passed her the lightest but bulkiest item – the beauty dish (light modifier). She was so sweet that she offered to share her precious "cat shit coffee" with me. I got to learn a lot of interesting things about her, including her "wushu" base. At least I knew someone would be able to protect me inside the mini-forest - not so sure about the strength of the monkeys though. Her innocent looks and character further sweetened the tough journey.

Although I had been to Macritchie Reservoir numerous times, it was the first time I took Macritchie Nature Trail. I had the luxury of reading map from smart phone with GPS but still felt quite uncertain because of my heavy load - I had no idea how far I could go.

Halfway through the trail, we decided we had to get started somehow. An analogy would be the situation of waiting for the bus at a bus-stop - we didn't know if the next bus would be better or worse. It wasn't the best location but it was rather interesting. The narrow path and direction of sunlight from the top were not doing the shoot good. We had photobombs very often that caused disruptions.

I also had problem positioning my light and I decided to keep it simple by not setting up a second light. I had to take into account that if I wanted to lower the ambient light so as to eliminate the "spot light" effect while also to keep the photographs sharp and soft, the background might be too dim since my artificial light would not travel far as to not overexpose Angela's face. Unfortunately, the ambient light changed rapidly that it gave me a hell of time to change the setting of my camera and light.

Angela pushed herself hard for some of the poses. For example, we tried to take some running shot and she insisted to run from a distance away in order to keep it natural. She even went into the grass area some distance away from the main road. Her commitment stunned me.
If you appreciate my work, passion and character,
do show some support by following my
Instagram
&
Facebook
, both at
@skaichanphotography
.
If we have worked together before, do write me a
testimonial
!
Disclaimer for write-up
Other Fitness / Yoga Photoshoot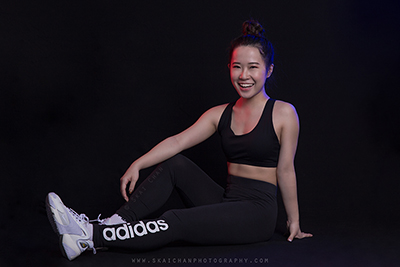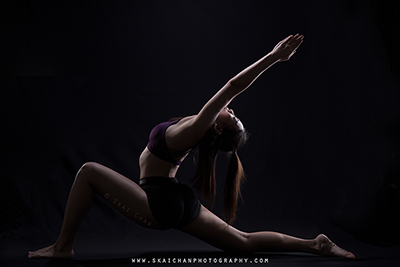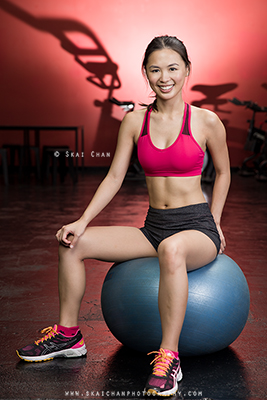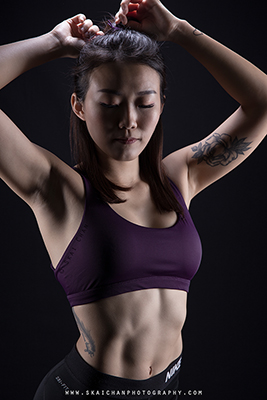 More
Fitness / Yoga
albums

View ALL albums