Editorial Violin Photoshoot with Hannah Tan




The makeup for this shoot was done at Nicole's studio and thus we got to enjoy some premium Chinese tea served by Xinhao before the shoot.

This was the second time I met Hannah; the first time was just a brisk encounter. Since she was chatty, we managed to keep the conversation lively with sparks, less any physical fight.

It was an unfortunate yet fortunate day. It drizzled for some time and thus the ground was wet but the rain stopped in time for our shoot. Although the shoot was somehow delayed, Pamela was around to give us a lift to reduce time wastage. Pamela dropped us at the visitor centre. We waited for her to find a parking space before walking towards the reservoir.

By the time we put down our belongings, the sunlight was dim as it was getting late while the sky was still covered with gray cloud. The main headache was that the place was undergoing development and thus the angle for shoot was limited. While Nicole was doing touch-up for Hannah's makeup, I had a slow jog around the park to look for good spot.

We started warming up soon. I began with my strongest strobe at a cosy area near the shelter we had placed our belonging at. The biggest challenge was to avoid the tall construction machines like the cranes at a distance away. Soon, even the lowest power of my strobe was too strong for the environment and I had to replace it with a speedlite instead and played with my camera setting. Although I could easily light up Hannah's face beautifully with very soft light, it was pointless for an outdoor shoot if the background was too dark; I could have opted for a studio shoot if I wanted to capture a "black" background.

My next plan was to shoot at one of the water platforms that were meant to launch kayaks. Unfortunately, the gates were lock and Pamela could be worrying that I would kick her precious daughter into the water during the shoot. I gave up the idea.

We ended up doing the next session next to the water that was separated by bushes. Nicole was there to do touch-up and adjustment of Hannah's hair while Pamela showed her might as a teacher to guide Hannah into giving us a great violin performance. Unfortunately, it wasn't a good day to catch the sunset.

My next plan was to proceed towards the Marina Bridge next to Marina Barrage. I knew we could get some great shots along the way and thus I sought their agreement to proceed with the adventurous idea. Pamela volunteered to go back to pick up her car alone and wait for us at the other side so that we didn't have to walk all the way back after the shoot. Nicole helped me in pulling my trolley like an air stewardess while I carried my bulky lighting like a weightlifter.

I counted myself lucky for Hannah was very cooperative. Whenever I suggested trying out some shots, she was ready to put on her heels and waited for me to find composition and test light. She wasn't even frustrated when I made her walk a distance back along the route as I realised there wasn't any better spot ahead to do a night shoot with the cityscape. Her easygoingness allowed me to proceed with the shoot without any worries.

The park was filled with visitors. There were people taking stroll and also cyclists in groups. Therefore, it was almost impossible to set up a second light to separate her from the background. While doing the shoot, I had to constantly watch out for cyclists while securing my big softbox from the wind. Stretching my legs to secure my light stand in awkward position didn't make me a gymnast but I was happy enough that I was able to walk after that shoot session.

It was an extremely long walk towards Marina Barrage. Somehow, the route was bending towards the left instead of being a straight road along the water. The three of us were drained and thus we maintained silence for half of the journey.

Pamela was the saviour who had bought McDonald's dinner for us as we met up with her nearer to the bridge. After reaching Marina Bridge, we tried to regain some energy with the food.

Nicole did a touch up on Hannah's makeup and hair before we proceeded with the last session of the shoot. We faced problems with photo bombs and sometimes I suspected they wanted to take photos with Hannah but were too shy to approach us.

I was amazed when Hannah wanted to proceed with another theme that we had earlier discussed. However, we were dead beat and her two gowns weren't suitable for it.

After the shoot, Pamela gave us a lift back to Nicole's studio. Nicole and I ran through the raw photographs on the big monitor and we were very happy with the results.

I was gratified as the shooting locations were some of the locations in my mind since I began doing portrait photoshoot but I didn't have the chance to go there. For this shoot, I had a great team. Although I could have done a better day shoot if the weather wasn't bad, it was good enough.
Featuring ↬
Hannah Tan
Hairstylist ↬
Nicole
Makeup Artist (MUA) ↬
Nicole
Wardrobe ↬
Hannah Tan
Credits ↬
Pamela, Xinhao, The Muses
Camera ↬
Canon 6D
Lens ↬
Canon 24-70mm F2.8L II
Lighting ↬
Cononmark I6M, Yongnuo YN560 EX-III
Place ↬
Gardens by the Bay East & Marina Bridge
Date ↬
15 November, 2018
Photo Editing type ↬
Advanced
Disclaimer for write-up
Other Themed Photoshoot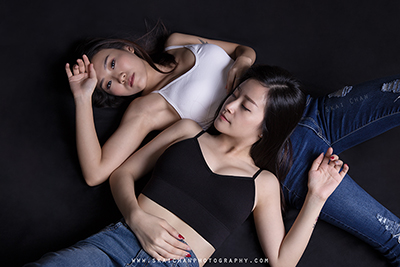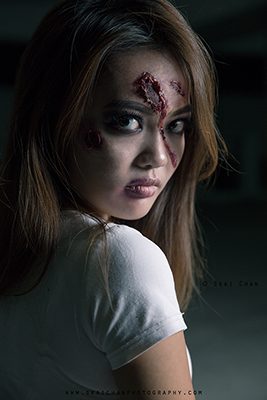 More
Themed
albums Portrait photography > All albums > All Themed albums
Page last modified on Thu, 26 August 2021